This post may contain affiliate links and we may receive a commission if you make a purchase through our affiliate link at no extra cost to you. Please read our disclosure policy for more information.
Ever found yourself in a situation where you want your Etsy shop URL/link to share with your friends and families but are not about to find it?
If you have an Etsy shop, you likely know about the shop link or URL. This is a unique web address for your shop that you can use to find your shop online, and it can also be used in other places like social media and email marketing.
In this blog post, we will discuss how to find an Etsy shop link for your shop so that you can use that with your friends and families or even use that for your shop promotions. So if you are wondering how to find my Etsy shop link then this post is for you.
How To Find Etsy Shop Link or URL
To find your Etsy shop link or URL you have to replace "shopname" with your shop name from the URL dummies given below
https://shopname.etsy.com
OR
https://etsy.com/shop/shopname
Now just copy and paste this URL into your browser and you will land on your shop.
So I have just answered your question about what is my Etsy shop url.
How To Shorten Etsy Shop Link
Etsy shop links are usually long and hard to remember but you can easily shorten it using a URL shortener. This is a neat, easy-to-remember way to share your shop with others.
Simply go to bit.ly, create an account over there and paste in your long shop URL.
Bit.ly will automatically create a short URL for you. This shortened URL can then be shared with others on social media or through email. When someone clicks on the link, they will be taken directly to your Etsy shop. You can use the same steps to short your product links as well.
You can also use bit.ly to track how many people are clicking on your links.
So that's how to find your Etsy URL, Isn't it cool?
How To Find Etsy Listing ID
A listing id is a number that appears in the listing URL, and it's important because some tools like CORJL ask for a listing id when linking a design template to an Etsy listing.
But how do you find your listing ID?
The listing id is present at the end of your product URL.
On Etsy, the listing URL looks something like this:
https://etsy.com/listing/listingID
Here, the last part is the listing id and it is a number.
So how to get it?
Just visit the Etsy Shop Manager and edit the listing that you want to get the id of.
Now, you don't have to edit anything just take a look at the browser's URL bar, and you will see something like this
https://www.etsy.com/your/shops/myPetStore/tools/listings/stats:true/998735763
Here, the "myPetStore" is your shop name and the number present at the end is that listing Id
3 Ways To Rank Your Etsy Shop On Google
When you think of search engines, the first one that comes to mind is Google. It's no secret that ranking your Etsy shop on this platform can bring you a lot of benefits in the form of more organic traffic and, ultimately, more sales. But how to do it?
Let's take a look at some of the important points that are responsible for your google rankings
Use Targeted Keywords
When it comes to getting your Etsy shop seen by more people, using targeted keywords is crucial. You want to make sure to include your target keywords in your shop title, tags, and description.
This will help you rank higher on Google and bring in more organic traffic. And the more traffic you have coming to your shop, the more sales you'll likely make!
So be sure to focus on keyword research and use those keywords throughout your shop and listings for the best results.
Choose Less Competitive Niche
There are many benefits to choosing a less competitive niche for your Etsy shop and products. One of the most important benefits is that you will get more organic traffic.
This is because there are fewer people targeting the same keywords as you, so your shop and product pages will rank higher on Google search results pages.
Additionally, a less competitive niche means that there is less competition for buyers' attention, so your products have a better chance of being seen and purchased. Ultimately, this can lead to more sales and better overall shop performance.
Have Better Ratings
When you're looking to rank higher on Google, having better ratings and reviews on your Etsy shop is a great way to start. This is because Google trusts sites that have quality products and higher CTRs (click-through rates).
Having good ratings and reviews will help boost your click-through rate and Google will reward you with higher rankings.
Can We Add Personal Website Links On Etsy?
Yes, you can add your personal website link in your shop's about us section only.
There are a few things to keep in mind when adding a personal website link on your Etsy shop. First, the link should take customers directly to your website, not to a spam or phishing page.
Secondly, make sure that you do not use one-liners like "Buy From Our Shop" to promote your personal website and kill Etsy sales.
Finally, remember that links to personal websites are not allowed in the product descriptions of your Etsy listings you can only add your site URL in the About section of your shop.
How To Claim Your Etsy Shop On Pinterest
So, unfortunately, Pinterest does not allow claiming your Etsy store on your Pinterest profile.
For the longest time, Pinterest has allowed its users to directly connect their Etsy store to their Pinterest account by just claiming their Etsy account.
How it was beneficial?
Well when you claim your Etsy store on Pinterest, and if someone shares or repins your pins on their boards, your info will appear next to that and you will get a mention on that repin that this pins belongs to this person.
But not anymore!!
Here's what Pinterest has to say about claiming your social account on Pinterest: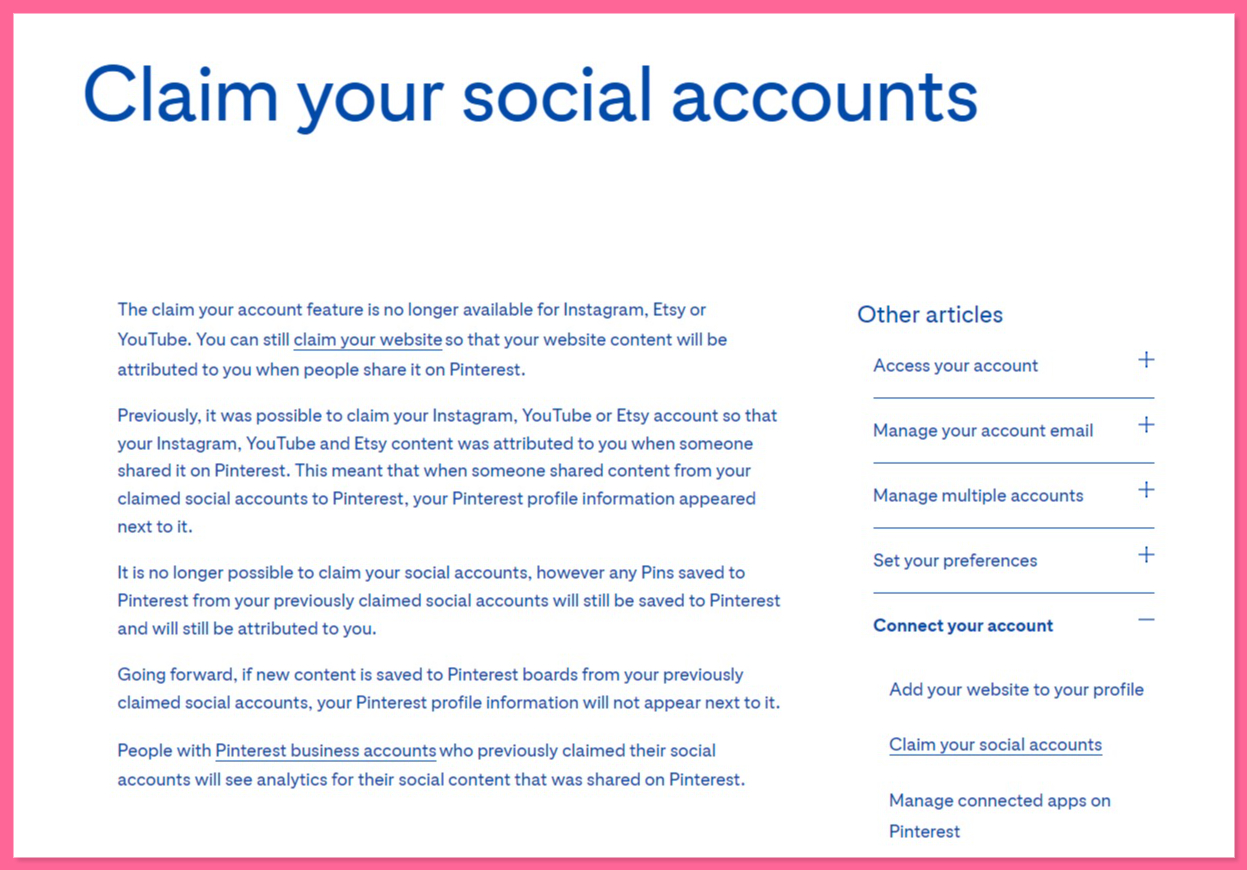 That means you can no longer claim your Instagram, Youtube, and Etsy accounts on Pinterest.
You can still claim your website on Pinterest if you have one, doing this will attribute you every time when someone shares your content on Pinterest.
You can watch this amazing video by Deborah Engelmajer for more info.
FAQ
How do I copy my Etsy shop link to Instagram?
You can simply copy and paste your Etsy shop URL to your Instagram bio as that is the only place on Instagram where links are actually clickable.
If you think the URL is quite long go to a URL shortener website like bit.ly and shorten your shop URL and then paste that shortened URL on your IG bio.
For multiple links, you can use services like Linktree as well.
Conclusion
In conclusion, finding an Etsy shop link or URL for promotion on social media is relatively easy. By following the simple steps listed in this article, you will be able to find your shop link and start promoting your Etsy shop on different social media platforms.
Thanks for reading!!
Also Read:
How To Sell Digital Downloads On Etsy | 6 Easy Steps
How Much Money Can You Make On Etsy (The Reality!!)
How To Put Etsy Shop On Vacation Mode (Easy Steps!!)
How To Take Best Etsy Product Pictures (6 Photography Tips!)
What Are Etsy Offsite Ads! Are They Worth It?
How To Add Product Variations To Your Etsy Listing: The Right Way
How To Download Etsy Digital Files In Your Laptop Or iPhone
Hey there! I'm Rohit Lohia, a passionate SEO enthusiast and the proud founder of Branded Bucks. I'm all about helping small business owners achieve success online through my blog. Join me on this exciting journey as we explore ways to make money online and build a thriving digital presence.