This post may contain affiliate links and we may receive a commission if you make a purchase through our affiliate link at no extra cost to you. Please read our disclosure policy for more information.
Are you looking for the best tools to find SEO keywords for your Etsy products?
Search engine optimization (SEO) is one of the most effective ways to increase visibility and boost sales on Etsy.
In order to get more sales on Etsy, it's essential to use the right keywords in your product titles and descriptions.
In this article, we'll be discussing 6 great SEO keyword tools that can help you find the best keywords for your Etsy products and rank higher in etsy search
Why Do You Need a Keyword Tool For Your Etsy Shop
If you are an Etsy seller, it may be hard to come up with the right keywords for your Etsy listings.
Knowing which words and phrases customers use to search for items is essential for success on Etsy.
That's why having a keyword tool is so important.
A keyword tool allows you to research the right keywords that people are searching for.
The importance of finding the correct keywords cannot be understated when it comes to promoting products on Etsy.
With a keyword tool, sellers can easily find highly searched terms and phrases related to their products and services as well as view how they stack up against their competition.
This helps sellers create more effective SEO strategies that will boost their visibility and increase sales.
Additionally, sellers can make sure they are not missing out on any potential opportunities by uncovering new keywords that could draw in more buyers.
Related Articles:
How Much Can You Make Selling Art On Etsy (Exposed!!)
22 Best Digital Products To Sell On Etsy (Real Examples!!)
How Much Can You Make Selling Art On Etsy (Exposed!!)
How To List a Digital Download On Etsy (Step By Step!)
6 Best Etsy SEO Keywords Tools
Here are some of the best keyword research tools for Etsy that you can start using from today and skyrocket your sales.
1. eRank (My Favourite)
First on the list is erank, a powerful keyword research tool designed specifically for Etsy sellers.
With this tool, users can easily track and analyze competitor data while finding new profitable keywords they can use in their product listings.
It also offers advanced features such as automatically suggesting new relevant keywords based on existing ones, helping users optimize their shop's SEO rankings quickly and efficiently.
It provides valuable information like trending keywords, monthly search volume, competition for a particular keyword, tags used by your competitors, etc.
Along with that, it offers additional features like listing audit, competitors sales tracking, trending items, advanced keyword tool, etc.
It comes with a free plan but with some limitations and I guess it is good for giving it a try.
eRank Pricing
The best thing about eRank is you can get started with a free plan without using and debit or credit card.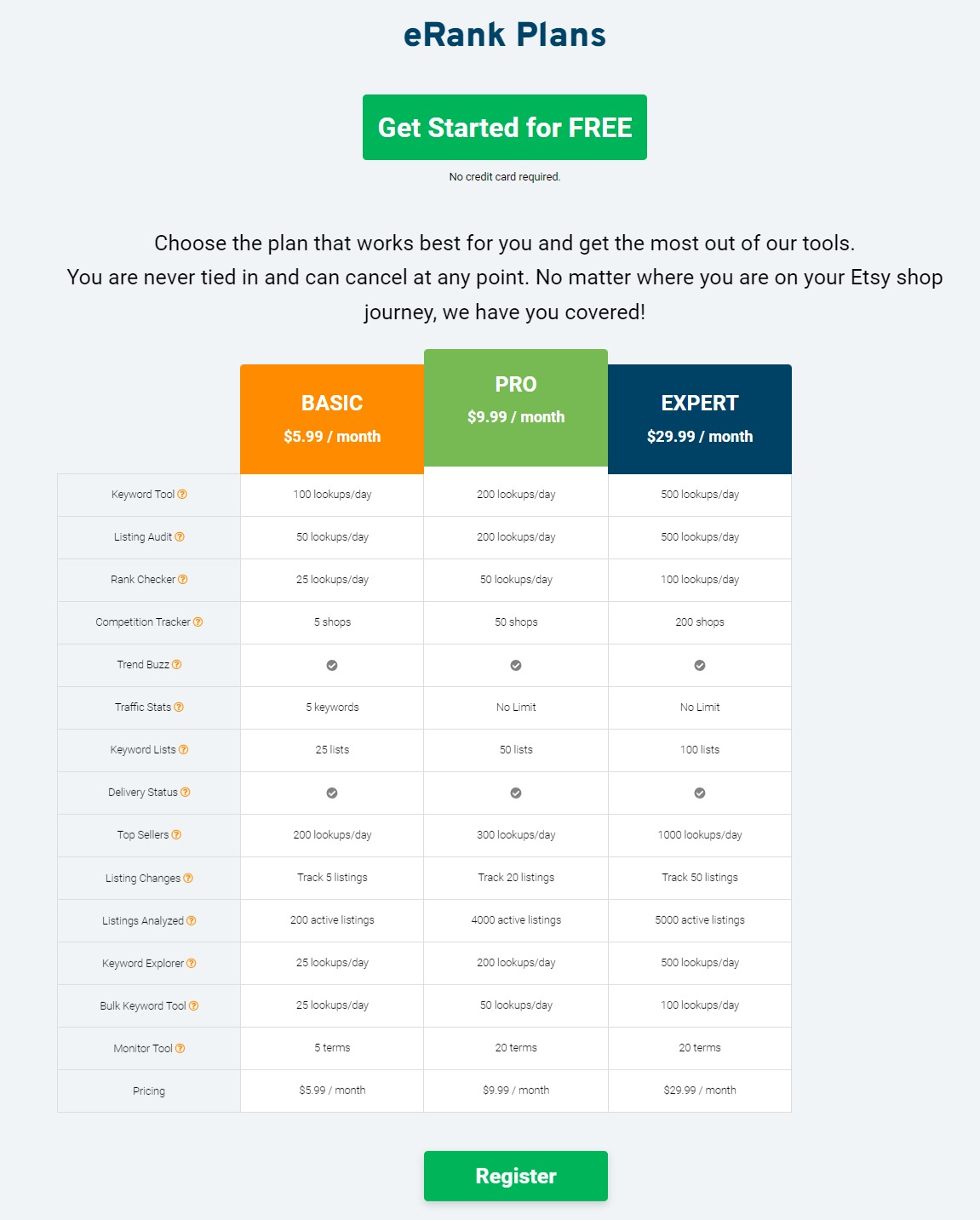 2. Keywords Everywhere
Keywords Everywhere is a browser extension that shows related searches and other keyword data right on your web browser.
It is not specifically designed for Etsy sellers but it can be used to get an idea about how many people are searching for a particular keyword.
Whenever you search for a particular keyword on Etsy, it provides you with a monthly search volume for that particular keyword and all the related keywords right there in the search bar.
You can see the screenshot below and get an idea about how keywords everywhere work.
However, it is good for finding keywords data but you cannot do any type of Etsy competition analysis, listing audit and other SEO stuff related to Etsy because this tool is not specifically designed for etsy.
Keywords Everywhere Pricing
Keywords everywhere do not have any monthly or annual plan like other tools, here you need to purchase credits but they are very cheap.
For $10 you get 1,00,000 search credits and these are enough for 3-4 months.
3. Marmalead
This powerful tool enables users to research what keywords will bring them more views and sales.
It offers insight into how competitive each keyword is, as well as estimated monthly search volume and click-through rate estimates so users can make smart decisions about which words they should target.
It is much similar to eRank but it is quite expensive as compared to eRank.
They both provide the same data whether it is monthly search volume for keywords or competition.
Both the tools are great but I personally prefer eRank because it comes with more advanced features and is affordable.
Marmalead Pricing
They only have one plan and that costs around $19 per month.
4. Ubersuggest
Ubersuggest is one of the best tools to get started with keyword research for an Etsy shop.
Owned by Neil Patel, this keyword research tool can help you find out relevant search terms related to your Etsy listing for maximum organic search potential.
It offers detailed insights into keyword trends and searches volumes in real-time.
Its clean dashboard provides quick access to related terms and data from top competitors so you can stay ahead of the game.
Again this tool is for general-purpose keyword research not for Etsy specifically but you can use this to get an idea about the popularity of the keywords.
It does come with a free plan that gives you some limited searches per day so if you do not have a budget you can try this out.
Ubersuggest Pricing
It comes with monthly and lifetime plans.
The monthly plan starts at $12/Mo and the Lifetime plan starts at $120 for a lifetime.
Some Free Options
If you are looking for completely free options for doing keyword research for your Etsy shop then you can consider these options:
Google Keywords Planner
Google Keywords Planner is a free tool that anyone can use to research keywords for their Etsy shop.
With the Google Keywords Planner, you can identify words or phrases related to your product that people are actually typing into search engines. You can also use it to determine how competitive certain keywords are in comparison with other keywords.
By studying these metrics and identifying top-performing keywords, you can optimize your titles accordingly and make sure they appear in front of the right audience.
But this tool is not specifically designed for Etsy so you will not get additional features as you get in other tools like competitors sales tracking, tags finder, etc.
Pinterest Search
You can use Pinterest to research keywords for your Etsy listing.
Utilizing the search bar provided by Pinterest, you can enter in a keyword that best describes your product or service.
When you type in the word, Pinterest will automatically complete it with suggested words and phrases.
By taking advantage of this feature, you can come up with several variations of keywords related to your product.
Furthermore, if you click on a keyword suggestion made by Pinterest, even more, relevant words and phrases are generated at the bottom of the search bar.
This helps you find even more ideas for potential keywords that may not have occurred to you previously.
In addition to using auto-complete suggestions, scrolling through pins related to your item is also an effective way to brainstorm new keywords for your Etsy listing.
Final Words
So these Etsy SEO Keywords Tools are sure to improve the visibility of your shop. Taking the time to implement keyword research and optimize your titles, tags, and descriptions is key to success.
With these tools, you'll be able to find popular keywords that will make it easier for potential customers to find you and shop from you.
My personal suggestion is to go with eRank as I personally use it and it is an amazing tool specifically designed for Etsy.
But don't be overwhelmed by the choices — take your time to research each option and find the one that fits your needs best.
Thank you.
Hey there! I'm Rohit Lohia, a passionate SEO enthusiast and the proud founder of Branded Bucks. I'm all about helping small business owners achieve success online through my blog. Join me on this exciting journey as we explore ways to make money online and build a thriving digital presence.