This post may contain affiliate links and we may receive a commission if you make a purchase through our affiliate link at no extra cost to you. Please read our disclosure policy for more information.
Hey, there sellers!! Rohit this side is back again with another Etsy tutorial and this time we gonna discuss how to sell pdf on Etsy.
Selling Pdf is one of the famous ways to make passive income on Etsy.
Why?
Because Pdfs are considered digital items that means you only create them once and keep selling them again and again without ever worrying about inventory management and shipping.
Isn't it cool?
Well, today in this step-by-step guide I will teach you the complete process of selling pdf on Etsy from creating the Pdf files to listing them on your store, everything will be covered here.
So let's start!!
How To Create PDF To Sell On Etsy
Before discussing how to sell pdf on Etsy we should know how to create PDFs to sell on Etsy.
Choose a Category
Well, PDFs I just a file format, and various types of digital products can be sold in PDF format, it can be a planner, a calendar, a kids color filling book, etc.
So first, you have to decide what type of product you want to sell and then we will move ahead with the designing part.
Launch Your Canva
So to design these PDF files, there is a popular web-based tool called Canva that I've been using for the past 4 years. It's really handy because it has a huge library of different elements, graphics, images, and fonts that you can use to create your designs.
You can easily create any type of PDF design inside canva and once you finish creating your design in Canva, make sure to download it in PDF format.
This is important because canva will give you multiple options to download the design (like JPEG, PNG., etc) but PDF files work best for selling digital products on Etsy.
I can't explain the whole process here, but I have a video recommendation for you. It will guide you on how to create a PDF to sell on Etsy. You should watch it to learn all the details.
Selling digital products on Etsy can be a great way to make money if you have the right tools in your pocket.
Canva is a tool that can help you create these digital downloads easily. When you have your design ready, you can list it in your Etsy shop, and people will be able to buy and download your digital files.
I hope this explanation helps you understand how to use Canva to create PDF files for selling digital products on Etsy.
Now let's move on to our next step on how to list pdf files on your Etsy store.
How To Sell PDFs On Etsy (Listing Your PDF)
So after you have a handful of digital items to sell on Etsy it's time to list them up on your Etsy store.
So here I am considering that you already have an Etsy shop if you don't you will find a lot of tutorials on my blog on how to create an Etsy store.
So in order to list your PDF for sale on Etsy you have to create a new digital listing on your Etsy store.
Related Posts
To do so, follow the mentioned steps:
Step 1: Go To Your Shop Manager
So first, log in to your Etsy store and access your "Shop Manager" by clicking on the little "Shop" icon from the top right of the screen.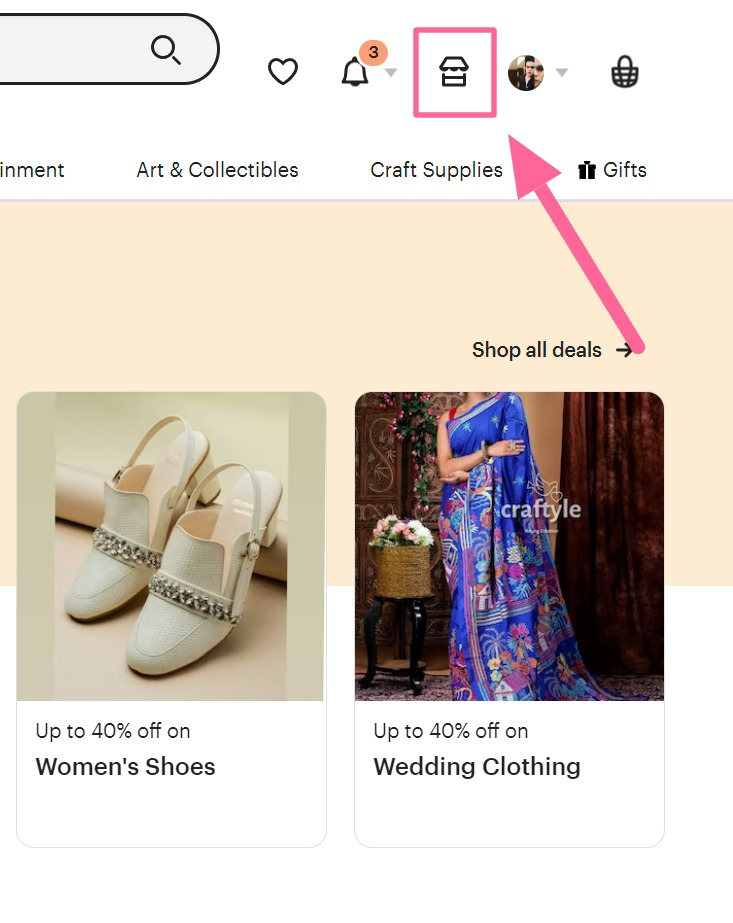 Step 2: Create a New Listing
Create a listing by clicking on "Listings" from the left sidebar and then clicking on the black button "Add a Listing"
Step 3: Upload Images, Titles, Descriptions, and Tags
Etsy will now ask you about your listing details, just fill in everything one by one.
Now put your listing photos, give it a catchy title, provide your customers with an in-depth description of the article, and use the 13 tags as well to increase your SEO visibility.
Scroll down and upload your PDF file so that Etsy can deliver your PDF whenever a customer buys that particular listing.
Step 4: Do Not Forget To Mark The Listing As Digital Download
This is the main step, Etsy will ask you for the listing type and you have select "Digital Download", if you don't do this, Etsy will ask you for the shipping details and you won't get an option to upload your digital file as well.
Step 5: Publish
Finally, preview everything and publish your Etsy listing.
Congratulations, you have just listed your first digital pdf listing on Etsy.
Poplar PDFs To Sell On Etsy (Digital Product Ideas)
Here are some popular digital digital items that you can start selling as PDF's:
Printable Calendars and Planners
Recipe eBooks
Budgeting Worksheets
Coloring Pages and Books
Wall Art Prints
Handwriting Practice Sheets
Home Organization Printables
Shopping Planners/Checklists
Digital Embroidery Patterns
Greeting Cards and Stationery Sets.
Best Tools To Create PDFs To Sell On Etsy
Well, there are plenty of tools available online that can you easily sell digital downloads on Etsy but my top recommendation is always going to be canva.
And not just me, 90% of the Etsy sellers will be going to recommend you the same.
But if you still want to try out other tools to create Etsy digital downloads then here are some canva alternatives:
Corjl is an online designing platform but it is too different than canva.
With corjl, you can directly connect your corjl design to a canva listing and whenever someone places an order for that listing, corjl will deliver the files to the customer along with the instruction to edit it.
Corjl does not offer any inbuilt templates, images, graphics, etc.
You have to upload your own stuff inside the corjl to start designing.
I recommend Corjl if you have to sell advanced editable templates with heavy designing for eg if you want to create a text with glitter texture you have to do a clipping mask and that can be easily done using Corjl but not with Canva.
Glorify is a new website that offers similar functionality as that of Canva,
It is quite new and the library is not as big as Canva but the Pro account is for just $7.49 per month so guess it is value for money.
Before You Leave
So now you know how to sell pdf on Etsy, I recommend you to read our complete guide on 13 Things To Do Before Opening an Etsy Store.
This will give you a better understanding of all the crucial steps that you have to take before selling Etsy digital downloads.
So I hope you guys have enjoyed this guide on how to sell pdf on Etsy, if you have any questions do comment down below, I would love to help you out.
Peace 🙂
Hey there! I'm Rohit Lohia, a passionate SEO enthusiast and the proud founder of Branded Bucks. I'm all about helping small business owners achieve success online through my blog. Join me on this exciting journey as we explore ways to make money online and build a thriving digital presence.