This post may contain affiliate links and we may receive a commission if you make a purchase through our affiliate link at no extra cost to you. Please read our disclosure policy for more information.
Etsy is a platform that has gained immense popularity among buyers and sellers alike due to its unique and handmade items.
However, many people are unaware that Etsy also allows the sale of used items. The ability to resell used items on Etsy provides an opportunity for sellers to tap into a new market, while also giving buyers a chance to find vintage or one-of-a-kind items.
In this article, we will explore the ins and outs of selling used items on Etsy, including what items are allowed, what points to consider when selling used items, and tips for making your listings stand out to potential buyers.
So here we go.
Can You Sell Used Items On Etsy?
Yes, Etsy allows reselling of items but only in vintage and craft supplies categories. Read more about Etsy Reselling In House Rules Here.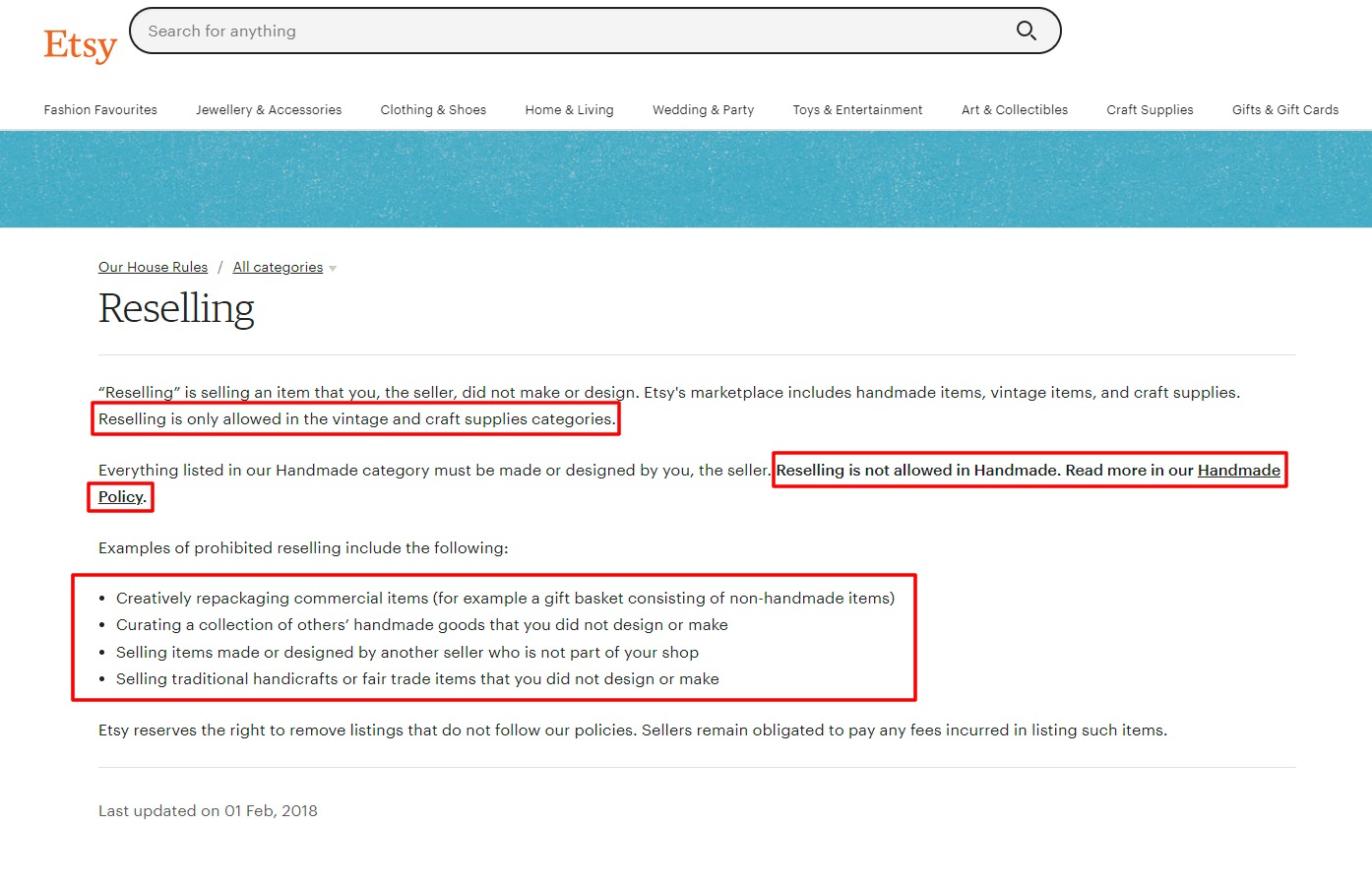 You can sell used items on Etsy in the mentioned categories but there are some restrictions and guidelines that you need to follow.
When selling used items on Etsy, you must accurately describe the condition of the item and include clear photos that show any wear or damage.
You should also disclose any repairs or alterations that have been made to the item.
Additionally, you should only sell items that you have the legal right to sell, and you should not sell counterfeit or replica items.
Note: Reselling is strictly not allowed in the Handmade category, read Etsy handmade policy here.
Related Posts
Etsy also has strict policies regarding the sale of certain items, such as prohibited items like firearms, drugs, and adult content.
It is also important to note that if you are thinking of selling items on Etsy, you need to comply with all applicable laws and regulations of Etsy, including those related to sales tax, product safety, and copyright infringement.
Tips To Sell Used Items On Etsy
If you are still reading then you have made up your mind to sell your used items on the Etsy platform.
Here are some tips which you can follow to sell your items without any hassle.
Accurately Describe Your Item
If you are selling a used item on Etsy, it becomes important to accurately describe the condition of the item as I told you earlier.
This means providing a clear and detailed description of the item's condition, including any flaws or imperfections.
It is important to be transparent and honest about the condition of the item, as this will help to avoid any confusion or disappointment on the part of the buyer.
For example, if the item has a small tear, scuff, or stain, it is important to mention this in the description.
Buyers appreciate knowing what they are buying and having an accurate understanding of the item's condition.
This helps to build trust and can lead to more sales and positive reviews.
Take High-Quality Photos Of The Item
Good quality images can play a crucial role in attracting potential buyers and showcasing the item in the best possible light.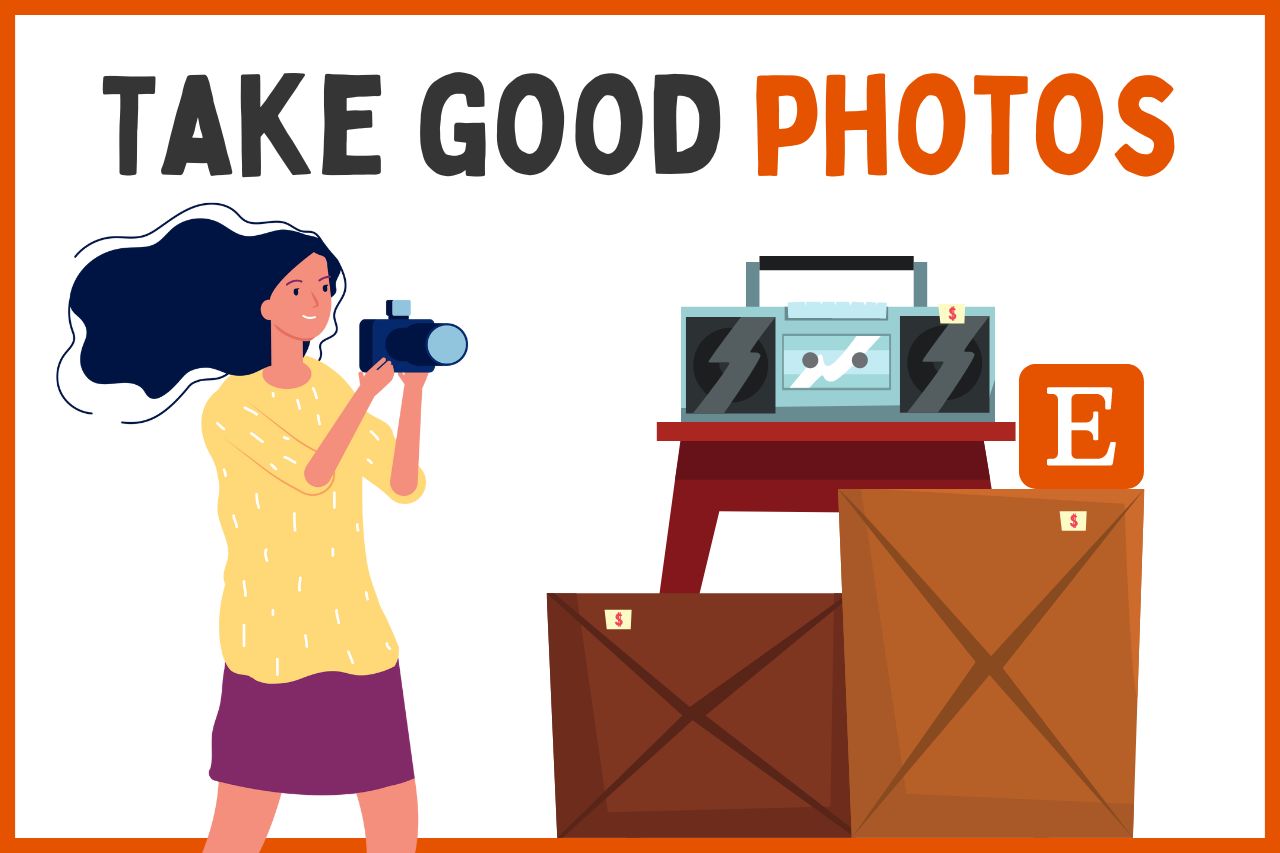 Here I have mentioned some tips for taking good photos of your item.
Use A Clean And Well-lit Background
Choose a plain background, such as a solid wall or plain sheet, and make sure the lighting is bright and even.
Click photos in natural light (in the early morning and evening) and avoid artificial lights to click photos of your item.
Read our guide on Etsy photography tips for more tips and tricks.
Take Multiple Photos
Take multiple photos from different angles and close-ups to give the buyer a complete view of the item.
Buyers can not touch the item so try to capture each and every angle of the item. This will help the buyer to make a decision to buy the item.
Show The Item In Use
If possible, show the item being used to give the buyer a better idea of what it looks like in use.
For example, if you are selling a bookcase, put up your books in it and click photos. This will give the buyer an idea about the capacity of the bookcase.
Avoid Using Too Many Filters Or Editing Software
Natural and unedited photos give the buyer a more accurate representation of the item.
Having clear and high-quality photos can help to draw in potential buyers and give them a good impression of the item and your shop.
High-quality photos can also increase the chances of sales and help to build a positive reputation on the Etsy platform.
Set A Fair Price
The third tip for selling used items on Etsy is to determine a fair price for the item. To do this, you should research the market to see what similar items are being sold for.
This will help you to get an idea of what price range is reasonable for your item and to price it competitively.
I have written an article on how to price your garage sale items, maybe you can use those strategies here as well.
It is also important to consider the condition of your item when determining its price. If the item is in good condition, you may be able to price it higher than an item in poor condition.
Additionally, it is important to factor in any relevant market trends, such as the popularity of the item, the time of year, and the overall state of the economy.
Setting a fair price for your item is important, as it can help to attract potential buyers and increase your chances of making a sale.
If your item is priced too high, it may not sell, and if it is priced too low, you may not make a profit.
By taking the time to research the market and determine a fair price for your item, you can increase your chances of success when selling used items on Etsy.
Offer Good Customer Service
Providing good customer service can help to build trust and establish a positive reputation, which can lead to repeat business and positive reviews.
Here are some ways to provide excellent customer service when selling used items on Etsy.
Respond Instantly To Customer's Messages
Respond to messages from potential buyers and customers in a timely manner to show that you are committed to providing good service.
Be Friendly And Helpful
Be friendly and helpful in your interactions with your customers. Answer any questions they may have about the item listed on your Etsy shop.
Have a Flexible Return And Exchange Policy
Be flexible with returns and exchanges, and be willing to work with the buyer to find a solution that works for both parties.
Pack The Item Carefully
When shipping the item, make sure to pack it carefully to ensure it reaches your customers in good condition.
Promote your listings
The next tip for selling used items on Etsy is to optimize your product listings. To maximize your visibility and reach on Etsy, it is important to optimize your product listings with keywords and descriptive information.
Use relevant keywords in your product title and tags to help potential buyers find your item.
Write a detailed product description that includes all the relevant information about the item, such as its condition, measurements, and any notable features.
Also, make sure to keep your pricing and shipping information up-to-date to avoid confusion and ensure a positive buying experience.
FAQ
What Cannot Be Sold On Etsy?
Etsy has strict policies to maintain a safe and trusted marketplace for both buyers and sellers. Here is a list of items that you can not sell on Etsy.
Illegal Items
Illegal or prohibited items, such as drugs, weapons, or stolen property, pose a risk to both buyers and sellers and are not allowed on Etsy. This helps to keep the platform safe and secure for everyone.
Dangerous items
Dangerous items, such as fireworks, toxic chemicals, or hazardous materials, can cause harm to others and are not allowed on Etsy.
Counterfeit
Counterfeits or replicas of brand names or designer products are not allowed on Etsy as they infringe on the intellectual property rights of others and may get you in legal trouble.
Read our post on Etsy copyright infringement here for more information.
Adult items
Adult items that are sexually suggestive or graphic in nature are not allowed on Etsy as they may not be suitable for all users.
Does everything on Etsy have to be handmade?
No, not everything on Etsy needs to be handmade. Etsy provides a marketplace for handmade, vintage, and unique goods, but it also allows for the sale of some handmade-style or manufactured items.
Etsy allows for the sale of some handmade-style or manufactured items that are designed to look like handmade goods but must meet certain criteria.
These items must be designed and made by the seller or their team, be produced in small quantities and use materials and processes that create a unique and high-quality product.
Final Thoughts
Selling used items on Etsy is possible, but it is important to follow the platform's policies and guidelines.
Make sure that you are transparent to your customers and provide them with all the information about the item.
Pricing the item right is an important factor. Research the market and price your item according to its demand and condition.
Happy selling!
Hey there! I'm Rohit Lohia, a passionate SEO enthusiast and the proud founder of Branded Bucks. I'm all about helping small business owners achieve success online through my blog. Join me on this exciting journey as we explore ways to make money online and build a thriving digital presence.