Etsy has become a go-to platform for many people looking to sell handmade or vintage items. But did you know that you can also sell digital products on Etsy?
From templates to planners, there is a wide range of digital products that are in high demand on Etsy.
If you're looking to make some extra cash by selling digital products on Etsy, you're in luck!
In this article, we'll give you some real examples of digital products that are in high demand and selling like hotcakes on Etsy.
What Are Digital Products?
A digital product is a product that exists in digital form. This means it can be downloaded and used on electronic devices like computers, laptops, smartphones, and tablets.
Examples of digital products include printables, e-books, social media templates, digital arts, etc.
Why Sell Digital Products on Etsy?
As a seller, there are some great advantages to selling digital products
No Shipping Cost
Digital products don't need shipping as they are downloaded digitally.
No Inventory Cost
You don't need an expensive warehouse to store digital items, they can be stored in your Computer, laptop, or on the cloud like Google Drive.
No Packaging
Digital items do not require any type of packaging, they are transferred digitally and can be downloaded instantly after a successful purchase.
Make Once, Sell Forever
Another advantage of digital products is that they can be sold multiple times.
"Make once, sell forever". This means that the seller can sell the same item again and again for unlimited times and that's why they are a great source of passive income.
You just invest your time only once while creating a digital item and then sell it multiple times for more profit.
Here are some of the top reasons why you should sell digital products on Etsy:
You have complete control over your product.
You can reach a global audience on Etsy organically.
Very less fees that include $0.2 listing fees + 6.5% transaction fees on every sale
There are no production or shipping costs associated with digital products.
You can offer discounts and coupons to attract buyers on Etsy.
You can easily update and change your product listing as needed.
You can offer customer support through Etsy's messaging system.
Etsy handles all payment processing for you.
Popular Tools To Create Digital Items For Etsy
Canva: Canva is a user-friendly graphic design tool that is perfect for creating digital products for Etsy. It has a library of built-in templates and easy drag-and-drop tools that make design simple and quick.
Corjl: Corjl is a web-based app that allows you to easily create, edit, and personalize digital products. It is used to create high-quality advanced designs that cannot be made using canva.
Templett: Templett is another great tool for creating digital items. It is a great alternative for corjl.
Adobe Photoshop: Adobe Photoshop is a widely used program for crafting layouts, graphics, logos, and photos. If you're proficient in Photoshop, you can create some amazing digital products to sell on Etsy.
Procreate: Used for creating and selling digital illustrations
22 Best Digital Products To Sell On Etsy
Social Media Templates
Social media templates are pre-designed graphical layouts that can be used on social media platforms like Instagram, Facebook, Twitter, and Pinterest.
They help you save time by allowing you to quickly create beautiful posts or stories without starting from scratch.
They come in a variety of options like Instagram post templates, Facebook cover templates, Youtube thumbnail templates, etc.
Cliparts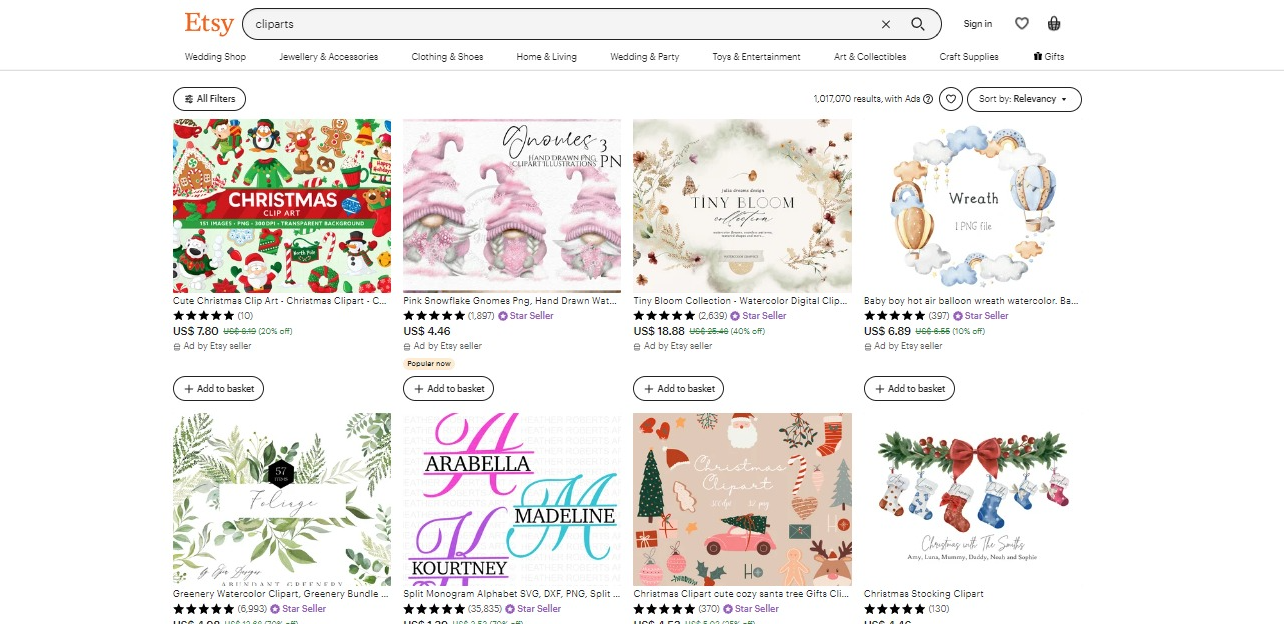 Cliparts make great digital products because they are easy to produce and there is a low barrier to entry. You don't need any special skills or equipment to create them, just a basic knowledge of drawing and tools like adobe photoshop or illustrator.
Plus, cliparts can be used for a variety of purposes. You can sell them as web graphics, social media icons, or even printables. There is a huge demand for cliparts, so you'll be able to find buyers easily.
SVG's
SVG (scalable vector graphics) is one of the best digital products to sell on Etsy.
Why?
Because they can be used for so many different things!
SVGs are perfect for use with Cricut machines, Silhouette machines, and other cutting machines. They can be used to create custom T-shirts, mugs, wall decals, and more.
If you know tools like Adobe illustrator or photoshop you can easily create and sell SVGs
Digital Papers
Digital papers are great because they can be used for a wide variety of purposes. Scrapbooking, card making, invitations, and even website design are just a few of the things that digital papers can be used for.
With so many uses, it's no wonder that they're one of the most popular items sold on Etsy.
Fonts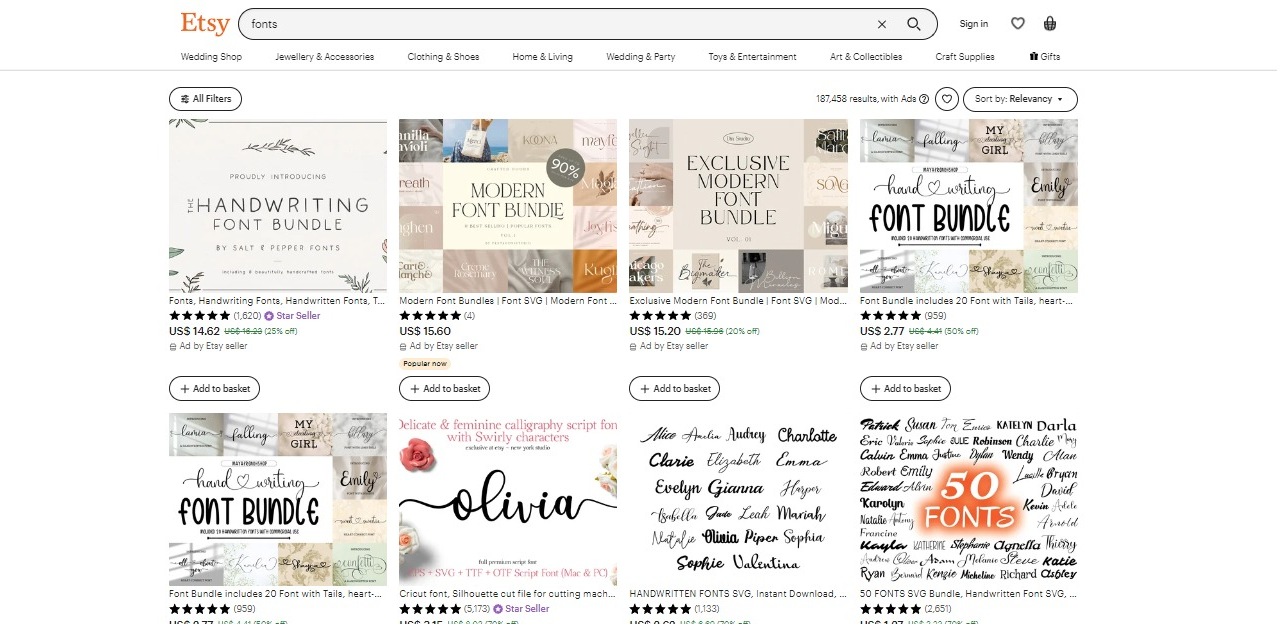 With so many people wanting unique and stylish fonts for their projects, fonts are always in demand.
If you have a decent knowledge of font designing, you can create your own fonts and start selling them on your Etsy store.
Kids Coloring Pages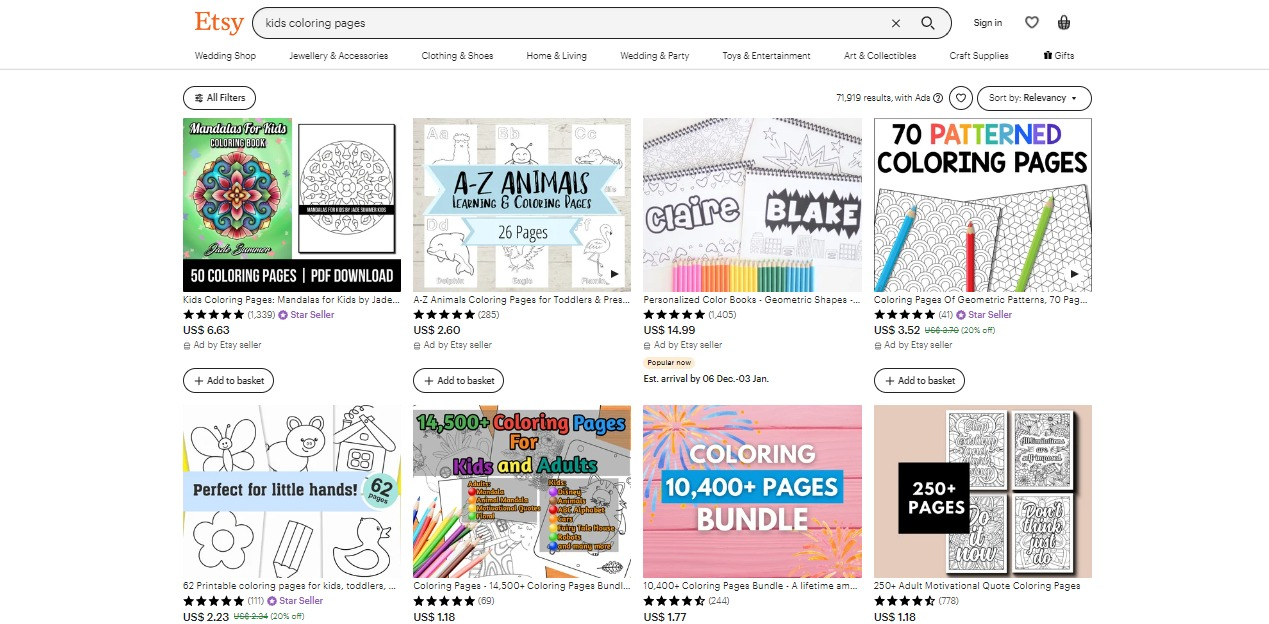 One of the latest trends on Etsy is kids coloring pages. These are printable coloring pages that can be downloaded and printed at home.
There are a variety of designs to choose from, and they are perfect for keeping kids entertained during rainy days or long car rides.
Some of the most popular designs include animals, flowers, and geometric shapes, and believe me these are very easy to create.
Wedding Invitation/Card Templates
Wedding card templates are also a great choice for Etsy sellers. With so many couples planning their weddings on a budget, DIY wedding invitations are a great way to save money.
Wedding card templates allow couples to personalize their wedding invitations without spending a lot of time or money.
You can easily create beautiful wedding card templates using Canva, Photoshop, or another design program.
Stock Photos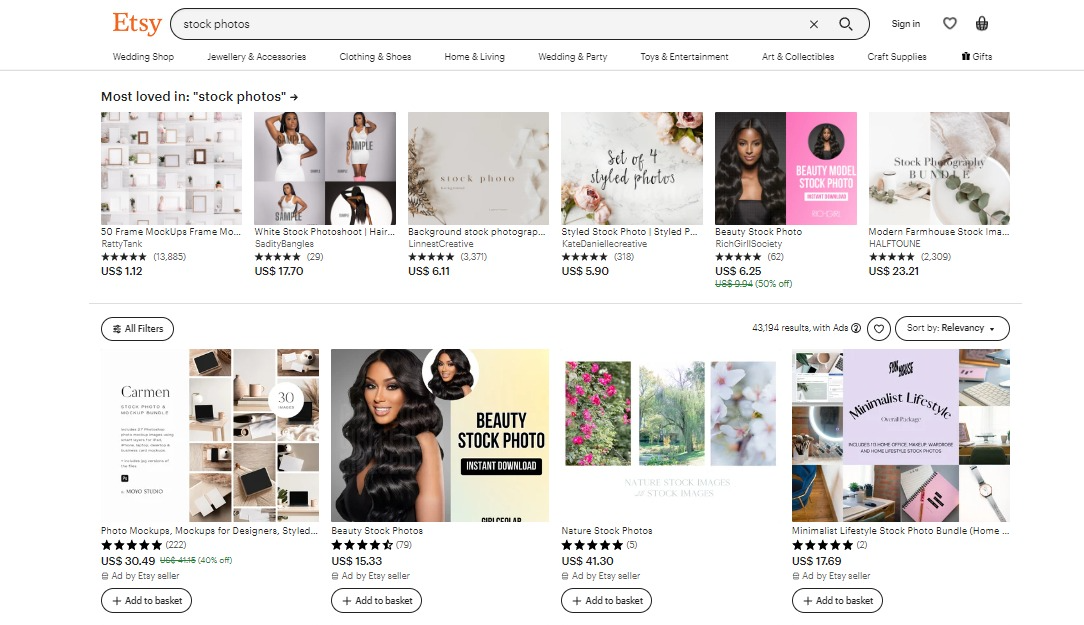 If you have a basic knowledge of photography then you can start selling stock photos on Etsy.
People are always looking for new and interesting photos to use in their projects, and if you can provide them with what they're looking for, you'll be successful.
Take some time to browse other people's stock photo shops and see what sorts of images are popular. This will give you a good idea of what people are looking for and how much they're willing to pay.
Lightroom Presets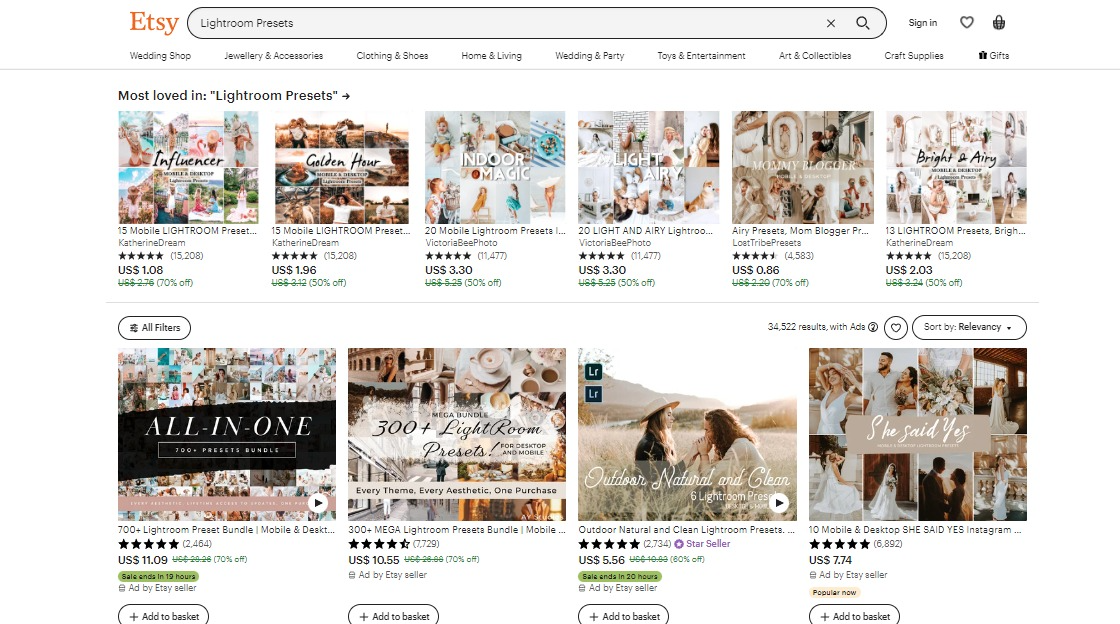 If you're a photographer, chances are you've heard of Lightroom Presets. Presets are basically like filters for your photos – they're a quick and easy way to edit your photos with just a few clicks.
There's a huge market for Lightroom Presets – people love the convenience of being able to quickly edit their photos with just a few clicks. And as a photographer, you have a perfect skill set to create beautiful presets that others will love!
Creating Lightroom Presets is actually quite easy – all you need is Adobe Lightroom and some creativity.
Gift Tags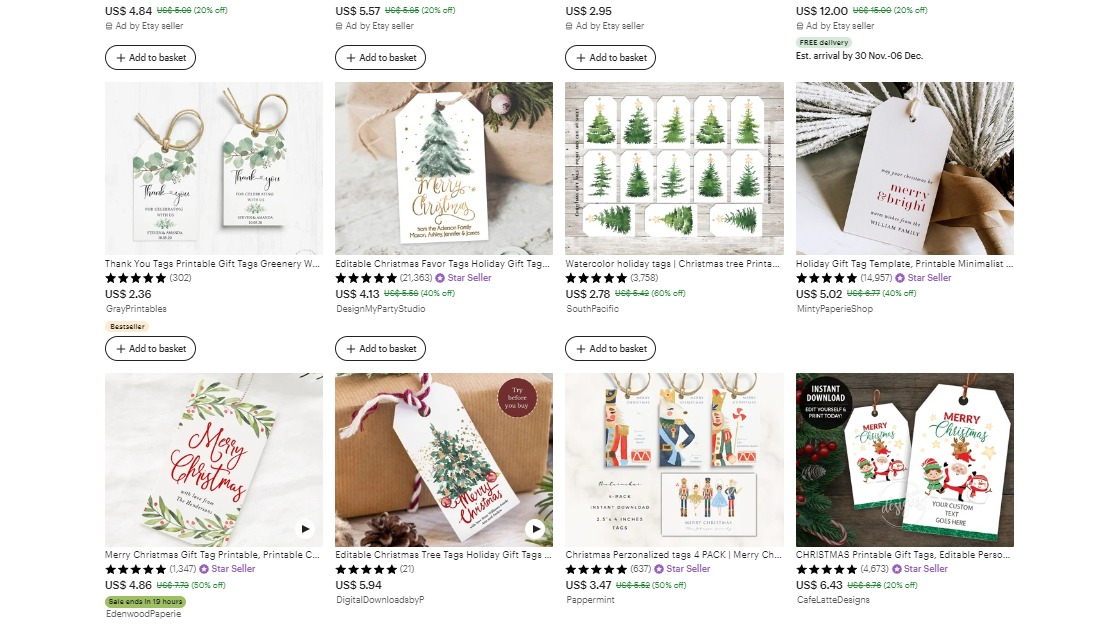 All of you are already aware of gift tags, right?
But you may be wondering that gift tags are physical items and we are here talking about digital stuff.
Well, for those who don't know, you can also sell gift tag design templates on Etsy.
You can easily create gift tag designs using canva and let people download and print them from the convenience of their homes.
There is a large market for gift tags on Etsy. People love to buy them because they are unique and allow them to personalize their gifts.
Logos
With so many businesses needing branding, there's always a demand for custom and premade logo templates.
If you have experience with graphic design and branding, you can consider creating some logo templates on your Etsy shop that small business owners can purchase and use for their own brands.
Procreate Brushes
Procreate brushes are another great option for digital sellers on Etsy. If you're familiar with the Procreate app, then you know how powerful it is for creating digital art.
And as more people discover the app, the demand for high-quality Procreate brushes is only going to increase.
Then why not create some custom brushes for other artists to use?
There are all sorts of brush packs you could make, from calligraphy to watercolor and beyond.
Photoshop Resources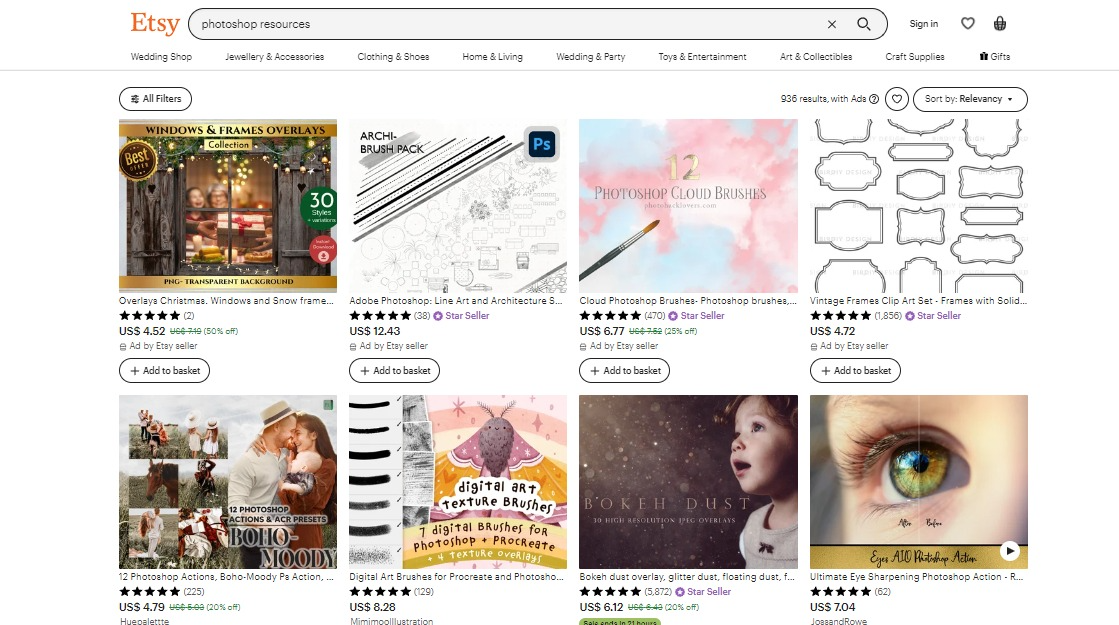 There's a huge demand for high-quality Photoshop resources like brushes, textures, and actions.
Photoshop artists are always keep on looking for new resources to use them in their next project.
If you're a skilled Photoshop artist, you can easily create these types of photoshop resources and sell them on Etsy.
Printables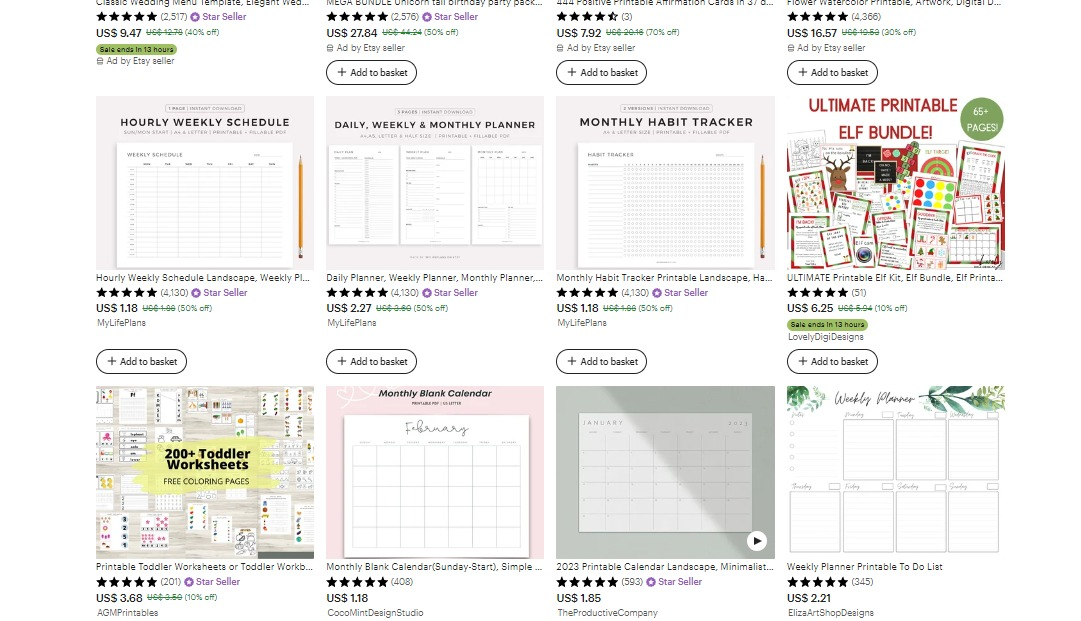 Printables are pre-designed PDF files that can be printed at home. They are great for things like wall art, planners, party decorations, and more.
There are a few different ways to create printables. You can use tools like Adobe Photoshop, Illustrator, or InDesign. Or, you can use web-based apps like Canva or PicMonkey.
Digital Planners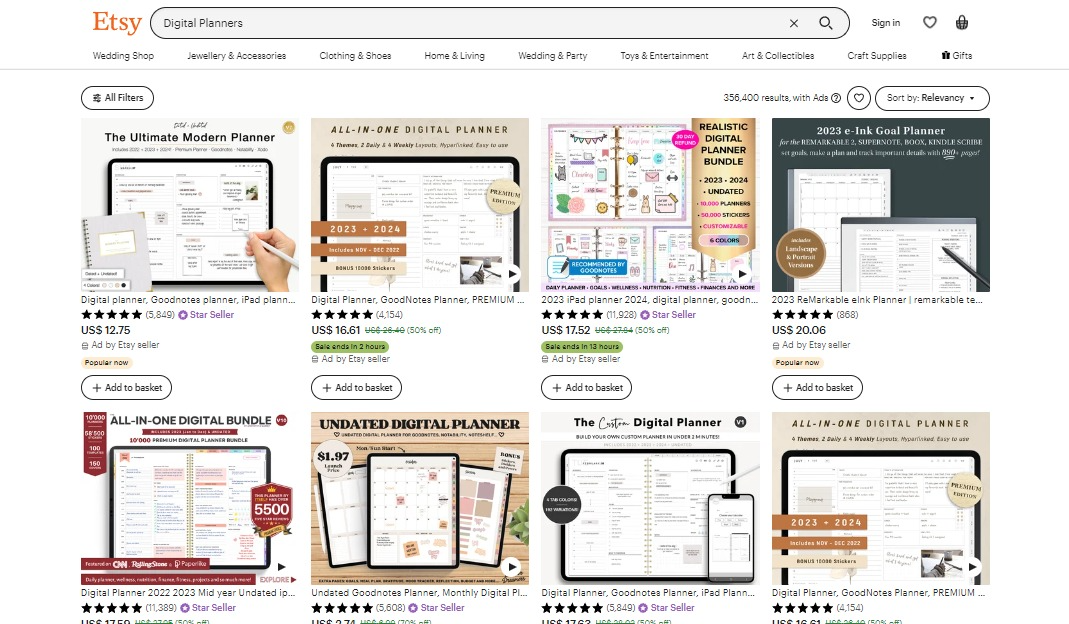 Another great digital item to sell on Etsy are digital planners. These have become extremely popular in recent years, as more and more people are looking for ways to stay organized and keep track of their schedules electronically.
If you can offer a good selection of high-quality digital planners, you'll definitely be able to find buyers.
Business Cards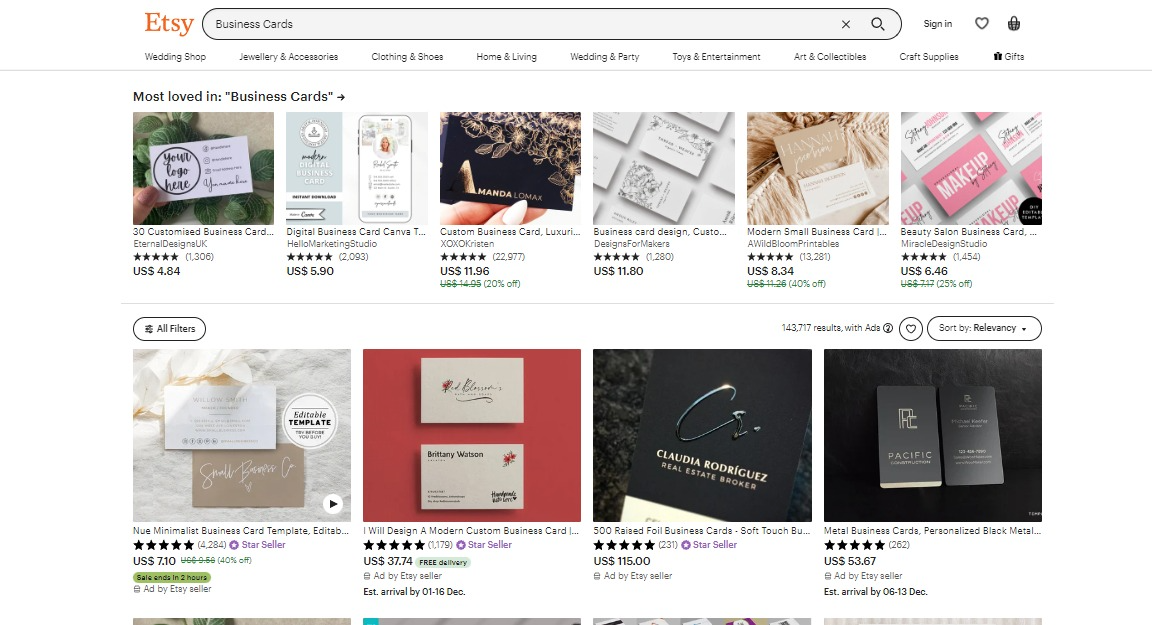 With so many people starting their own small businesses these days, having high-quality business cards is more important than ever.
You can easily create beautiful business cards using Canva or another design program, and there's no shortage of buyers looking for them on Etsy.
Website Themes
Website themes are another great digital item to sell on Etsy.
If you have web designing skills, you can create unique themes for buyers to use on their own websites.
You can also use platforms like WordPress, Shopify, Squarespace, Wix, etc to create websites and themes for your customers.
Pinterest Templates
With over 300 million monthly active users, Pinterest is a goldmine for businesses of all types.
And, as an Etsy seller, you can take advantage of this by offering Pinterest templates.
These templates make it easy for your customers to create beautiful pins that will help promote their businesses.
Greeting Cards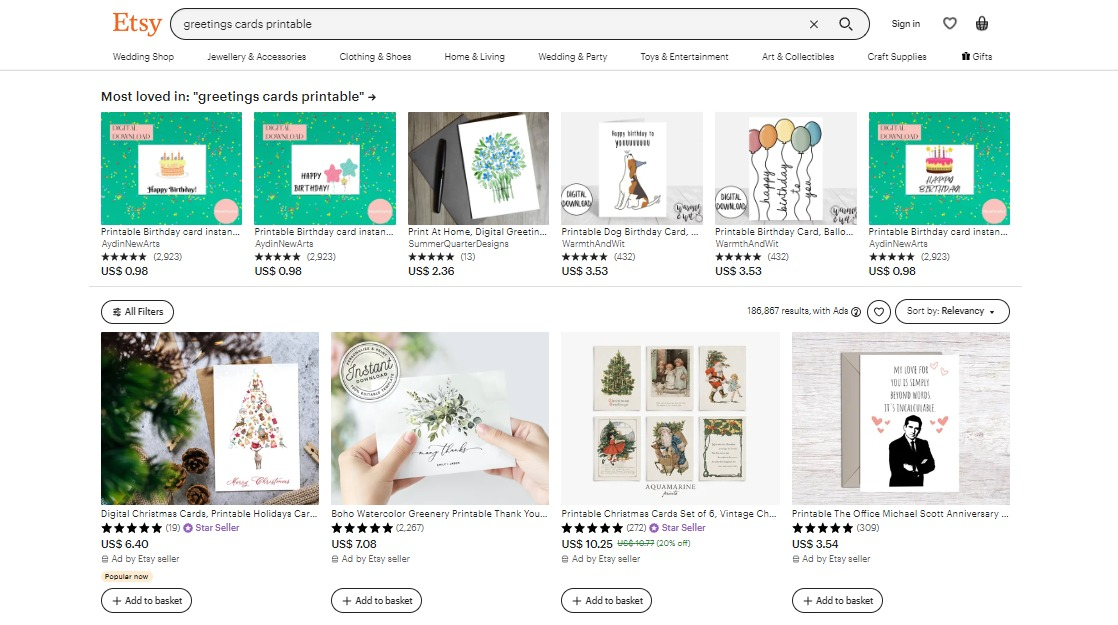 Greeting cards are another great item to sell on Etsy. They're perfect for all occasions, whether it's a birthday, anniversary, or just because.
They are always in demand, and with the ability to personalize them with photos and messages, they make for a great digital product.
Calendars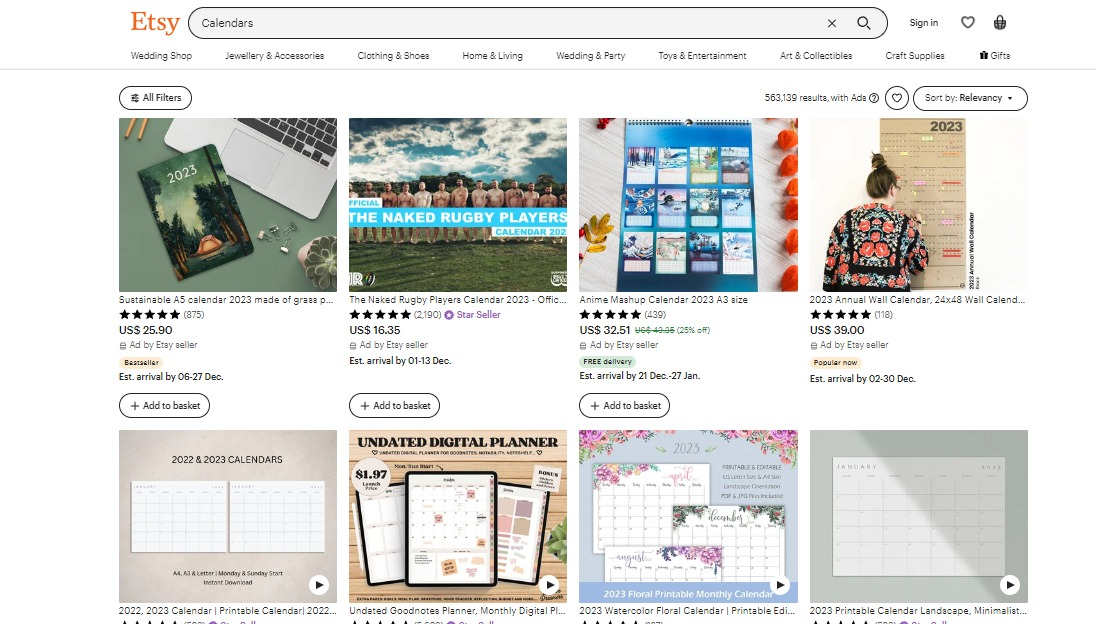 Calendars are a great way to stay organized and keep track of important dates. They also make great gifts!
Customize each month with different photos or themes to create a one-of-a-kind calendar that your friends and family will love.
Digital Portraits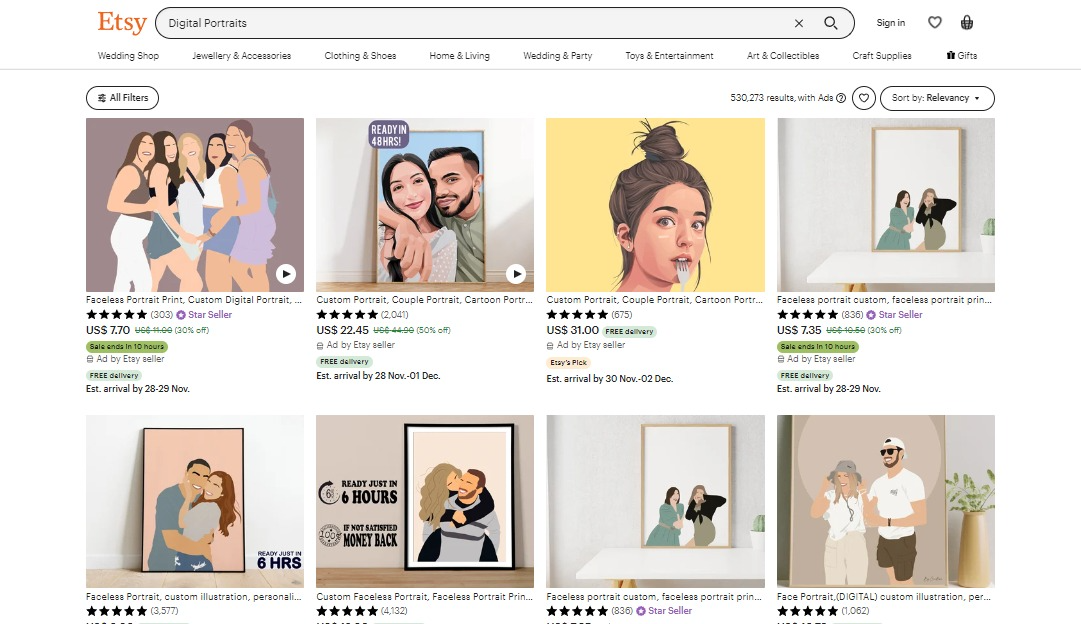 Custom digital portraits make great gifts for family and friends. They can be used as desktop wallpaper, phone backgrounds, or printed and hung on the wall.
People love getting custom portraits made of themselves, their friends, or family members. They are unique and thoughtful gifts that people will cherish for years to come.
But, for creating digital portraits, a good knowledge of digital drawing and applications like procreate is required.
Resume Templates
Resume templates are a great item to sell on Etsy as they are highly customizable and can be used for a variety of purposes.
Buyers can use resume templates to create their own resumes, CVs, or even cover letters.
I suggest you create unique and professional designs that will help people stand out from the crowd.
FAQ
Can You Earn Passive Income With Digital Products On Etsy?
Yes, you can! Digital products are a great way to earn passive income on Etsy.
Once you create your product and upload it to Etsy, you can sit back and let the sales come in.
And, since digital products don't require any shipping, you don't have to worry about packaging, shipping, and returns.
Do I Need To Be A Professional Designer To Sell Digital Products On Etsy?
Not necessarily. While it definitely helps to have some design skills, there are plenty of web-based design tools that anyone can use to create beautiful digital products.
Foe eg. Canva is a great option for creating printables, business cards, and more.
What if I'm not good at creating or designing?
If you're not good at designing or creating, you can always hire someone to do it for you.
There are many designers that are ready to work as a freelancer, who would be happy to design digital items for you.
What printables sell well on Etsy?
There are a ton of different printables that sell well on Etsy.
Some of the most popular include printables for:
-Wedding
-Party
-Baby shower
-Kids
-Budgeting
-Meal planning
-Fitness
-Beauty
Final Words
In conclusion, these are a few examples of the best digital products that sell really well on Etsy. If you're looking to start selling digital products on Etsy, these would be a great option to start with.
Be sure to do your research and find a niche market for your product.
With a little creativity and marketing savvy, you can build a successful business selling digital products on Etsy.
Hey there! I'm Rohit Lohia, a passionate SEO enthusiast and the proud founder of Branded Bucks. I'm all about helping small business owners achieve success online through my blog. Join me on this exciting journey as we explore ways to make money online and build a thriving digital presence.