This post may contain affiliate links and we may receive a commission if you make a purchase through our affiliate link at no extra cost to you. Please read our disclosure policy for more information.
Do you want to change your candle-making habit into a business on Etsy, but do not know how?
If yes, you have landed in the right place.
Starting a candle business on Etsy is a great way to turn your passion for candle-making into a successful business.
With millions of buyers on the platform constantly looking for handmade stuff, Etsy provides a large audience for your candles and offers an opportunity to reach a global market.
It does not matter whether you are an experienced candle maker or just starting out, this article will provide you with the knowledge to take your candle business to the next level.
And these are just a few keywords, in reality, there are thousands of such keywords that people are searching for.
How To Start a Candle Business On Etsy?
Here is a complete guide on how to start a candle business on Etsy as a beginner.
With the right strategy and effort, you can turn your candle-making hobby into a profitable business.
However, like any business, it requires careful planning, hard work, and dedication.
Keep reading to know in detail about each step you need to take in order to start a candle business on Etsy.
Also Read: How To Start a Jewellery Business On Etsy (Full Guide)
1. Research
The first and foremost step in starting your candle business on Etsy is to research the marketplace and the competition.
By researching the market, you can gain a better understanding of the current demand for candles on Etsy, identify potential competitors, and determine what you should do in order to stand out from the crowd.
Here I have mentioned some areas which you can research before starting your candle business on Etsy.
Research Popular Types Of Candles
Browse Etsy's candle section to see what types of candles are currently selling well and what the competition is like. Look for patterns and trends in terms of candle scents, colors, packaging, and pricing.
Analyse Customer Reviews Of Your Competitor
Read customer reviews for candles that are similar to the ones you plan to sell. This can give you insights into what customers are looking for in terms of scent, design, and price.
Identify Your Target Audience
Determine who your target audience is by considering factors such as age, gender, lifestyle, and interests.
When you know who your audience is, you can create candles that they'll really love.
By doing this, you can also make sure that your marketing efforts are targeted towards them.
This means that you'll be able to promote your candles in a way that appeals to your customers and makes them want to buy your candles.
Estimate Demand Of Candle On Etsy
Look at the number of sales and reviews for candles similar to what you are thinking to sell.
This will give you an idea of the demand for certain candles and help you determine whether people are interested in that type of candle or not.
This, in turn, will increase your chances of getting success in the candle business.
2. Finalise Your Products (Candles In Our Case)
Once you have researched the candle market, it is time to finalize the type of candles which you are going to sell on your Etsy shop.
There are a number of candles that you can choose to sell on your Etsy shop like container candles, pillar candles, taper candles, votive candles, floating candles, gel candles, etc.
Decide which type of candles you are going to make and sell on your Etsy shop. You can sell multiple types of candles in your shop too in order to attract different types of customers.
The choice is yours!
Types Of Candles
Let's learn about different types of candles which you can make and sell on your Etsy shop to turn your hobby into a profit-generating business.
Pillar Candles
Stand-alone candles, usually cylindrical or square in shape, are often used as decorative items or for creating a relaxing ambiance.
Votive Candles
Small, cylindrical candles that are designed to be burned in votive holders for a short amount of time.
Taper Candles
Thin, cylindrical candles that taper at one end, designed to be placed in candlestick holders and burned from the top down.
Scented Candles
Candles that are infused with fragrances, such as essential oils or synthetic scents, create a specific scent or ambiance.
Floating Candles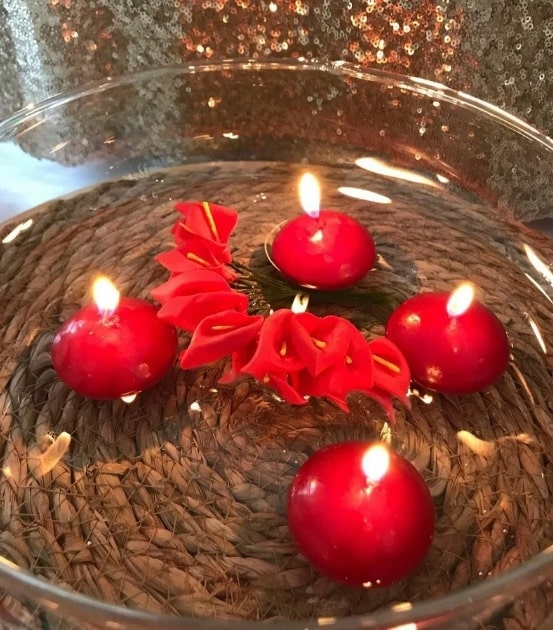 Candles are designed to float on water and are often used for decoration or relaxation in a bath or pool.
Tealight Candles
Small, round candles are designed to be burned in tealight holders and are often used for decoration or as a source of heat.
Jar Candles
Candles are poured into glass jars or containers and are often used as a decorative items or to fragrance a room.
Wax Melts
Small, wax-based fragrance products are designed to be melted in a wax warmer to release their scent.
Massage Candles
Candles are formulated with a blend of wax and oils and are designed to be used for massage or as a moisturizer for the skin.
3. Gather Raw Material
Once you have researched the marketplace and decided what type of candles you are going to sell on your Etsy shop, now is the time to stock up on raw materials.
This involves obtaining the raw materials, equipment, and tools that you will need to make your candles. Here are some of the essential supplies you will need:
Wax
This is the main ingredient of your candle.
You can choose between different types of wax, such as soy wax, beeswax, or paraffin wax, depending on your preference and budget.
You can easily get the required wax from your local supplier or you can also buy from Etsy.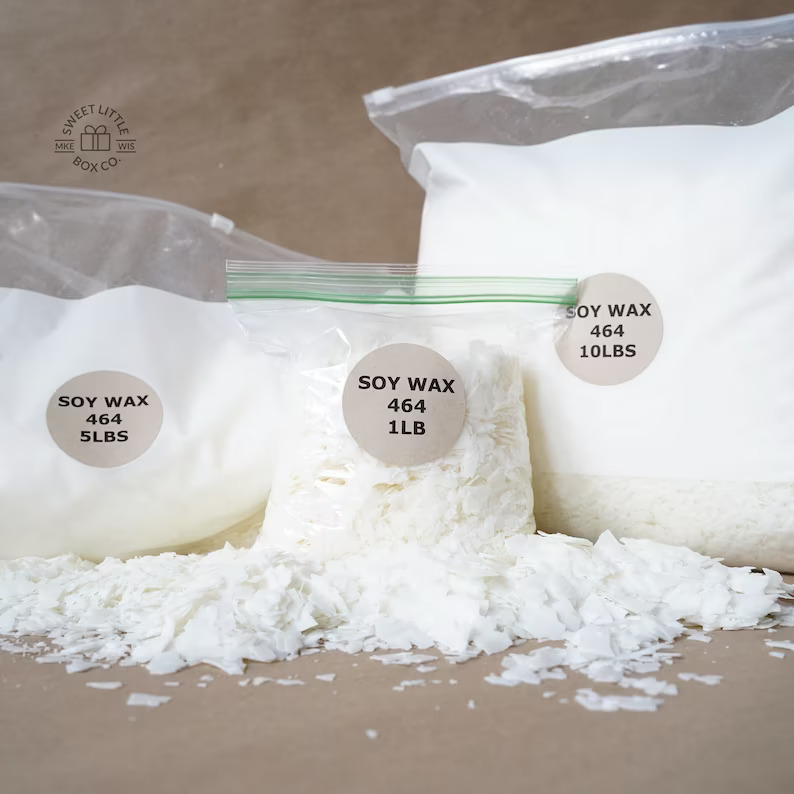 The type of wax you choose will affect the properties of your candles, such as the burn time, scent throw, and appearance.
Wicks
These are the strings that you'll insert into your candles to create a flame.
You can find wicks in different sizes and materials, such as cotton or wood, depending on the type of candle you're making.
Before deciding which wick to buy, consider factors such as the diameter of the wick, the wax you are using, and the desired burn time.
Fragrance Oils
These are optional but can add a lovely scent to your candles.
You can choose from a variety of fragrance oils, such as lavender, vanilla, or peppermint, depending on your preference and the season.
Dye
This is also optional but can add a pop of color to your candles.
You can find dye in different colors, such as red, blue, or green, depending on your preference and the theme of your candles.
Containers
These are the vessels that will hold your wax and wicks.
You can use jars, tins, or tea cups, depending on your preference and the type of candle you're making.
Before finalizing any container, check the size, shape, and material.
Packaging Materials
Good packaging material is essential to ship your candles safely to your lovely customers.
Choose packaging materials that are sturdy, attractive, and represent your brand.
Here are some of the basic materials that you'll need in order to ship your candles safely:
Bubble wrap: Wrap each candle with bubble wrap to provide cushioning and protection during shipping. This will help to prevent the candles from getting damaged or broken during transit.
Box: Choose a sturdy box that is large enough to handle all the candles without squishing them. Make sure the box is strong enough to withstand the weight of the candles, and that it is properly sealed.
Packing Peanuts: Fill any empty space in the box with packing peanuts to prevent the candles from shifting during shipping. This will help to further cushion the candles and protect them from damage.
Fragile Labels: Use "Fragile" labels on the box to indicate to the shipping carrier that the contents are delicate and need to be handled with care.
Thank-you note: Consider including a handwritten thank-you note in the package, as this will help to create a positive experience for the buyer and increase the likelihood of repeat business.
Overall, it's important to take the time to choose the right packaging materials for your handmade candles to ensure that they arrive at their destination in good condition and create a positive experience for the buyer.
Equipment And Tools
Along with the materials mentioned above you will also need basic equipment and tools to make your candles, such as a double boiler, thermometer, measuring cups, a pouring pitcher, and a stirring spoon.
Make sure to buy high-quality supplies to ensure that your candles look and perform well.
Tips For Buying Raw Materials To Make Candles
There are a few more details you need to consider before purchasing supplies for your candle business.
Quantity
Make sure to purchase enough supplies to meet your production needs. Consider factors such as the number of candles you plan to make and the production frequency.
Keep in mind that you may need to order supplies in bulk to get the best pricing.
Quality
Invest only in high-quality supplies to ensure that your candles look and perform well.
Consider factors such as the purity of the fragrance oils, the durability of the wicks, and the consistency of the wax.
Cost
Consider the cost of your supplies when starting your candle business on Etsy.
You want to keep your costs low while still using quality materials to make your candles. First research different suppliers and then compare prices to find the best deal for yourself.
Suppliers
Choose reliable suppliers who can provide you with the supplies you need in a limited period of time.
Before finalizing a supplier check out the delivery time, the quality of the supplies, and the customer service offered by the supplier.
Safety
Use only safe and non-toxic supplies in your candle-making process.
Before purchasing any supplies check the toxicity of the fragrances, the flammability of the wax, and the compatibility of the dyes with the wax.
3. Start Making The Candles & Practice
Before actually putting your candles for sale on Etsy you should have at least some stock ready for your store.
So for that purpose, you need to start making a few candles sets from the raw material that you gathered.
There are a number of different methods to make candles. Here I have mentioned the basic process which you can follow to make handmade candles.
Melt The Wax
Use a double boiler or a pot to melt the wax. The temperature should be monitored using a thermometer to avoid overheating the wax, which can cause it to lose its scent or discolor.
The temperature of the wax should not exceed 185°F (85°C).
Add Fragrance Oils And Dye
Fragrance oils and dye can be added to the melted wax to give your candles a unique scent and color.
It is important to stir well the added fragrance oil and dye to ensure that the oils and dye are fully incorporated into the wax.
Pour The Wax Into Containers
Once the wax has been melted and scented, it can be carefully poured into containers or even different types of molds. Be sure to leave enough space at the top for the wick.
Add The Wick
Centre the wick in the container and secure it with a wick sticker or wax. This will help the wick to stay in place while the candle sets. Make sure the wick is straight and the wax is level.
Cool And Set
Allow the candles to cool and set completely, which may take several hours or overnight. This will help the wax to solidify and the candle to maintain its shape.
Trim The Wick
Once the candles are fully set, trim the wick to one-fourth of the inch (0.6 cm) above the wax. This will help to prevent the wick from burning too quickly and will ensure that the candle burns evenly.
4. Set Up Your Etsy Shop
After deciding which type of candle you are going to sell on your Etsy shop and gathering all the required raw materials, now is the time to set up your Etsy account.
Here are five simple steps which you can follow to set up your Etsy shop in no time.
Create An Etsy Account
Sign up for an Etsy account and create your shop. Select a shop name that reflects your candle brand and is easy for your customers to remember.
Set Up Shop Details
Fill out all your shop details, including a logo picture, header image, and about section. Make sure to highlight your brand story in unique words and also the reason why your candles are unique.
Set Shop Policies
Establish your shop policies, such as shipping and returns policies, and make sure they are clearly visible in your shop to customers.
Choose Shipping Options
Set up your shipping options, including shipping rates and processing times. Make sure to factor in the cost of shipping into your product prices.
Setup Payments & Taxes
Set up a payment method, such as Etsy Payments, PayPal, etc, to receive payment from the customers.
Also, do your own research based on your location and provide all the necessary tax information for your business.
List Your Candles
After doing all the basic setup, you can now list your candles for sale on Etsy, including clear candle images from all angles, detailed descriptions, and accurate pricing.
Make sure to use keywords in your title and description to make it easier for potential customers to find your candle products.
5. Marketing
You have completed all the steps from doing research about your niche, gathering the raw material, setting up an Etsy account, making the candles, and listing them.
You may think that it is time to rest and see the money coming into your bank account. But you are wrong because you are left with the most important part of selling the candles online – Marketing!
According to the owners of a successful candle-selling shop, marketing is what makes you stand out from your competitors.
So what's the best and free method to market your candle shop?
It's Pinterest, Yayyyy!!!
So, set up your Pinterest account revolving around the candles you sell. Take beautiful shots of your candles and start uploading them on your Pinterest account.
Make different boards like Scented Candles, vanilla candles, candle-making process, behind-the-scenes, etc.
Slowly you'll see your Pinterest followers will start increasing and you will start getting sales.
Link your Etsy shop with your Pinterest account so that people can buy your candles after watching your pins.
You can also promote your candle business on other social media platforms than Pinterest like Facebook and Instagram.
You can also start your own website where you educate people about the candle.
Having your own website for your candles has two benefits – one, you can promote your candles and Etsy shop there and two, you can also sell your candles directly on the website.
FAQ
How To Make Your Etsy Candle Business Stand Out From Your Competitors?
To make your Etsy candle business stand out from your competitors, consider the following points:
1. High-Quality raw material
Use high-quality raw materials to make your candles to ensure that your candles are of the highest quality and provide a great scent throw.
2. Eye-Catching Packaging
Make your candles stand out with attractive and eye-catching packaging. This can include custom labels, ribbons, custom handwritten thank you cards, and packaging materials that showcase your brand.
3. Strong Branding
Develop a strong brand image that clearly reflects the qualities and values of your candle business.
This can include a memorable logo, brand color palette, and tagline that can be incorporated into your packaging and marketing materials.
4. Unique Product Offerings
Offer unique and innovative candles that cannot be easily found elsewhere. This can be achieved by experimenting with different scents, colors, shapes, and sizes.
5. Exceptional Customer Service
Provide excellent customer service to build customer trust and loyalty.
Respond to customer inquiries and feedback in a timely and professional manner and make sure to address any concerns or complaints promptly.
What Type Of Candles Sells Best On Etsy?
The type of candles that sell best on Etsy can vary depending on seasonal trends, consumer preferences, and other factors. However, some popular candle types on Etsy include:
1. Scented Candles
Candles with a strong and appealing scent are always in demand. Popular scents include lavender, vanilla, rose, and lemon.
2. Natural Candles
Candles made from natural ingredients such as soy wax, beeswax, and essential oils are becoming increasingly popular on Etsy.
Customers are attracted to the eco-friendly and sustainable aspects of these candles.
3. Handmade Custom Candles
Handmade candles with a unique and personalized touch are popular on Etsy.
Customers get attracted to these types of candles because they appreciate the time and effort put into making them.
Each candle is given special attention, which makes it stand out and feel extra special.
4. Aromatherapy Candles
Candles that offer the benefits of aromatherapy are gaining popularity on Etsy. These candles often use essential oils to promote relaxation, mood enhancement, and stress relief.
5. Seasonal Candles
Candles that are seasonal in nature are popular during the corresponding season. For example, pumpkin spice or cinnamon-scented candles are popular during the fall and winter months.
6. Decorative Candles
Candles that are used as home decor or for special events such as weddings, holidays, and birthdays are popular on Etsy. These candles often come in unique shapes, sizes, and colors.
Final Thoughts
Though starting a candle business on Etsy may seem daunting and impossible at the start but trust me it is easier than you think.
Research the candle section on Etsy and see what your competitors are doing, which type of candle is selling more, and what are the prices of the candles.
Finalize the type of candle you want to sell, collect the raw material, make the candle, and list them on your Etsy shop.
With hard work and dedication, you can turn your passion for candle-making into a thriving business on Etsy.
Remember to stay up-to-date with the latest trends, listen to your customer's feedback, and never stop learning and improving your skills.
Happy earning!
Hey there! I'm Rohit Lohia, a passionate SEO enthusiast and the proud founder of Branded Bucks. I'm all about helping small business owners achieve success online through my blog. Join me on this exciting journey as we explore ways to make money online and build a thriving digital presence.