This post may contain affiliate links and we may receive a commission if you make a purchase through our affiliate link at no extra cost to you. Please read our disclosure policy for more information.
If you're like me, you probably have a few favorite t-shirts that you love to wear.
There's just something about a soft, comfy tee that makes us feel good, right?
But have you ever thought about designing your own t-shirts and selling them online?
Well, you're in luck because Etsy is a fantastic platform for selling custom t-shirts and starting your very own t-shirt business.
Don't worry if you're new to the world of e-commerce- starting a t-shirt business on Etsy is a fun and easy way to dip your toes in the water.
Gone were the days when you need to source raw materials for t-shirts, then you need to set up factories and production lines, hiring labours, etc.
Everything has changed thanks to the print-on-demand model.
In this article, I'll walk you through the steps of how to start your own t-shirt business on Etsy using print-on-demand.
How To Start a T-Shirt Business On Etsy (For Beginners)
Starting a t-shirt business on Etsy can be a fun and rewarding way to showcase your creativity and make some extra income.
Whether you're a seasoned designer or just starting out, the process of setting up your shop and creating unique designs is simpler than you might think, but it can also be overwhelming if you don't know where to begin.
Don't worry, we've got you covered!
This section will guide you through all the steps you need to take in order to start a print-on-demand Etsy t-shirt business.
Get Familiar With Print-On-Demand Model
Well, I know most of you don't know what Print on demand is, how it works, and why it is better than traditional methods.
Well, it's time to get familiar with print on demand model so that you can understand all the ins and outs and take smart decisions while setting up your t-shirt business.
What is Print On Demand? How Does It Work?
As the name suggests, print-on-demand is a process of producing a printed item (let's say coffee mugs, t-shirts, hoodies, stickers, etc.) when it is ordered.
That means the item will only be prepared when a customer place an order for that.
The image below will give you a better idea how pod actually works.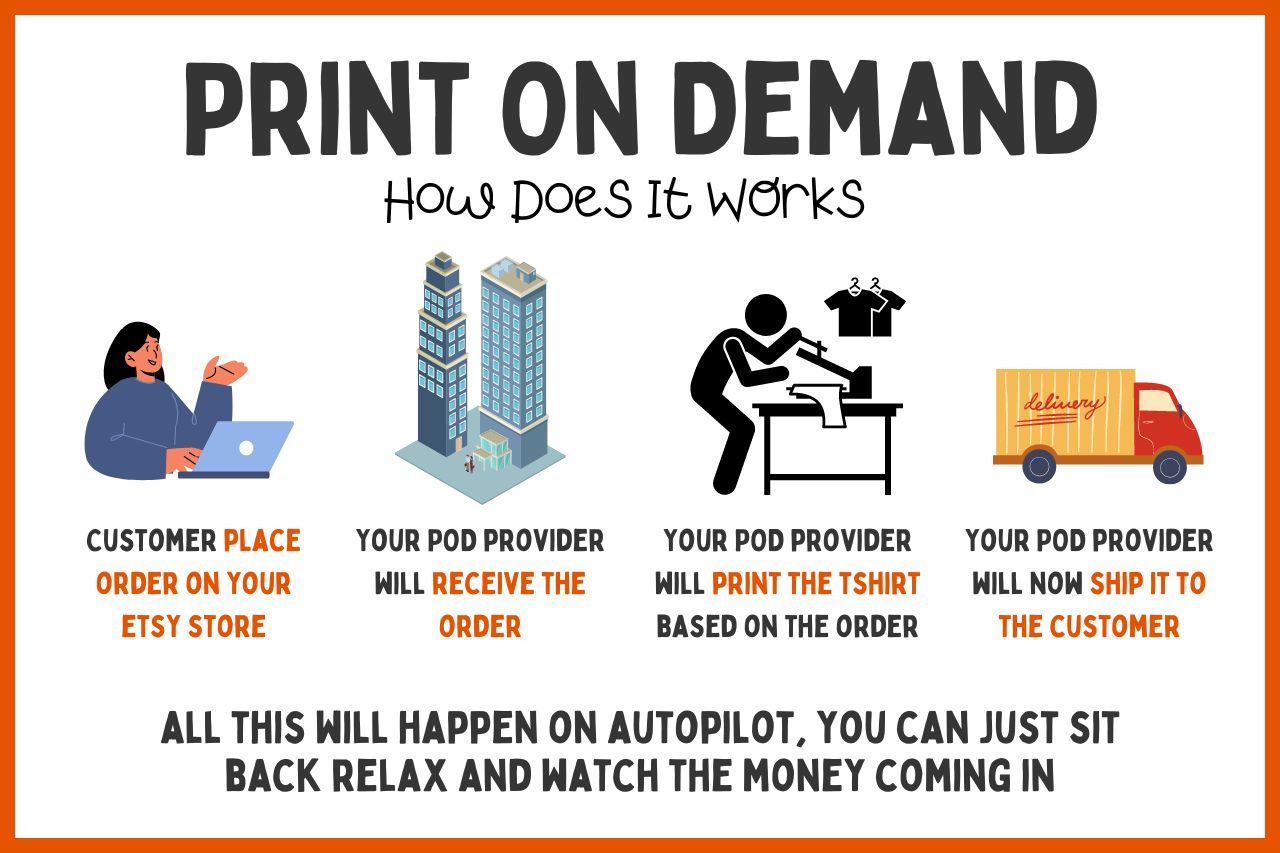 Working of POD with an example
Let's say a customer comes across an Etsy shop selling t-shirts with unique designs.
The customer likes a particular design and places an order for a size medium t-shirt.
That Etsy shop owner was using a print-on-demand company, Printful, to fulfill the orders.
The print-on-demand company (Printful) automatically receives the order (as printful was linked with the seller's Etsy store) and prints the design on a blank medium-sized t-shirt.
The t-shirt is then packaged and shipped directly to the customer with the Etsy shop owner's branding on the package.
The seller then pay the POD company for fulfilling every order after keeping his margins
This way the seller doesn't need to setup a production line, source the raw materials, or hire the labors as everything is handled by the POD company itself.
The seller can just sit back relax and focus on other aspects of his business rather than sitting and fulfilling orders day and night.
Research Your Market
The first and most important step toward starting a t-shirt business on Etsy is to research your market.
Before starting your t-shirt business on Etsy, it is important to research the market to find out what types of t-shirts are in demand and is selling well
How To Research The T-Shirt market On Etsy?
Well, the best way to do any kind of product research on Etsy is etsy itself.
Other than Etsy, who else can give you a better idea about trending products? No One.
And using this technique is pretty simple as well, all you have to do is search for some t-shirt-related keywords on Etsy and see what comes up.
Look at the shirts that are ranking at the top and check out their reviews and see what people are loving about them.
Look at their descriptions, images, and pricing to know why they are selling well.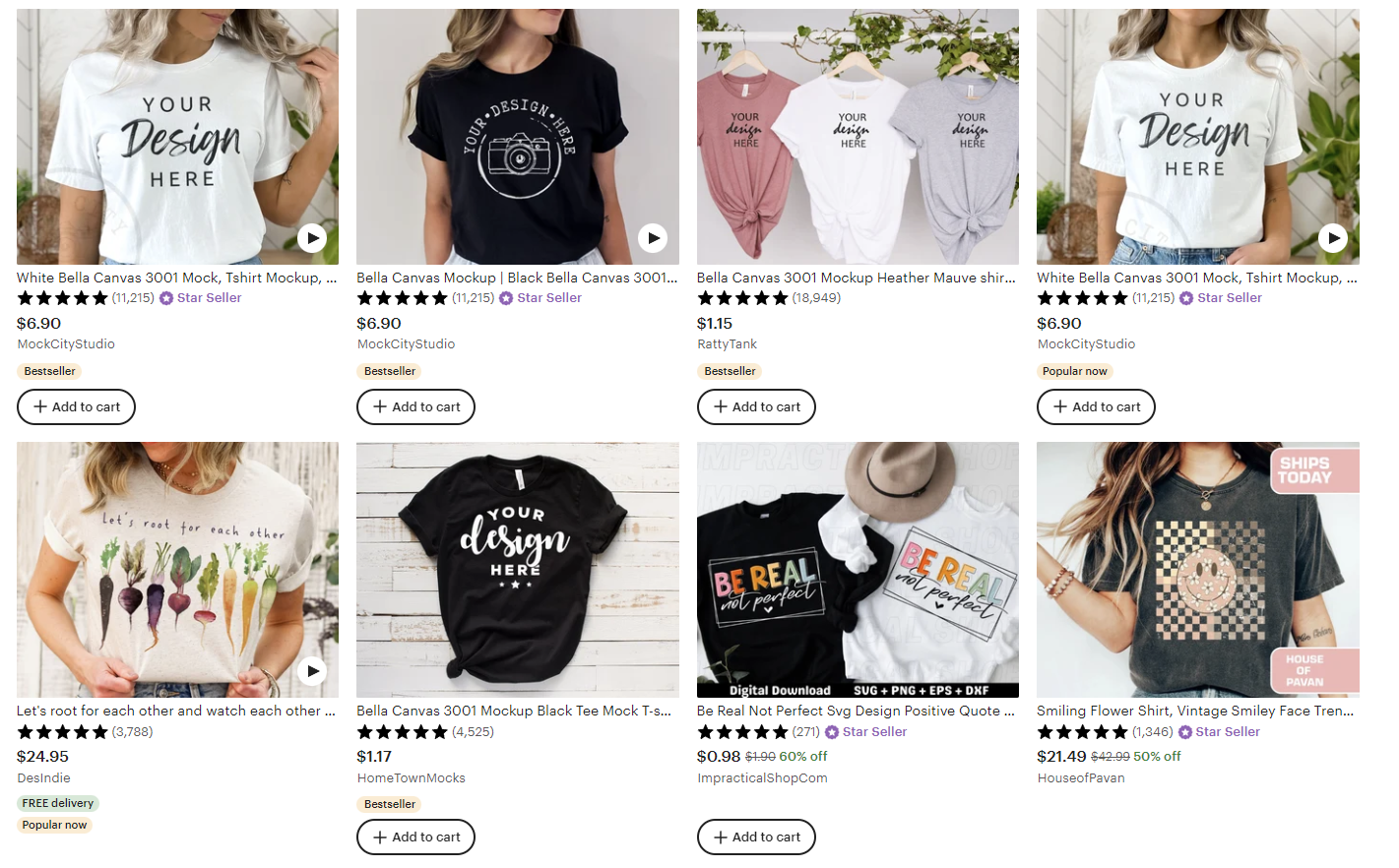 Keep doing this for multiple t-shirts and create a list of your own, later on, you can analyze the list and conclude the following:
What type of t-shirt designs is selling well?
What is the price range for successful t-shirt listings?
What's common in their listing Title?
What color people are loving?
What information t shirt listings provide in their descriptions?
Are they using any paid marketing?
By creating this type of report, there will be a high chance that the listings that you will create using this information will perform well just like your competitors.
Get a Good POD Partner
As I told you earlier, this article will focus on selling t-shirts using the print-on-demand technique and I have already explained what print-on-demand is and how it works.
So when you are done with your research you need to find out a good POD partner that will print and fulfill the orders that you will receive on your Etsy store.
When it comes to finding a good print-on-demand (POD) partner for your Etsy shop, there are a few key features to look for.
They should have a huge product catalog with multiple printing and color options
They should offer fast shipping
They should offer you good pricing so that you can have more margins
Good customer support is a must
As for some good POD websites to consider, there are several great options out there.
One popular choice is Printful, which offers a wide range of products, high-quality printing, and integration with Etsy.
They also offer a helpful mockup generator tool, which allows you to visualize your designs on different products before you start selling them. Another option is
Printify is another great option for Etsy sellers, it offers high-quality products and a range of printing techniques, as well as integration with Etsy.
You can read our guide on Printful Vs Printify: Best Print-On-Demand Company? for more information.
They also have a user-friendly platform and a wide range of suppliers, allowing you to choose the one that best suits your needs
Teelaunch offers similar features and has a focus on eco-friendly and sustainable products.
Gooten is another great choice, with a large product catalog and competitive pricing. These are just a few examples, so be sure to do your research and find the best fit for your specific needs and goals. Happy selling!
Set Up Your Etsy Shop
When you have your POD partner finalized its time to open up your Etsy store and get your store running.
All you have to do is visit here and then read all the guidelines listed by Etsy for new sellers.
They have explained very nicely about the fee structure, what you can sell, how to open a store, the difference between Etsy and Etsy plus so highly suggest you visit there before opening your store.
Once you are done with that, you can click on the "Open Your Etsy Shop" button in order to start the new store opening process.
Setup your Store Name, Policies, Logo, Payment Methods, etc and you will have your store live in no time.
Etsy may ask you to list your first item on your store in order to complete your shop-creating process, you can put a dummy listing if you don't have one ready.
Design & List Your T-Shirts
Although t-shirt printing and delivery will be handled by your POD company the designing of the t-shirts and what's going to be printed on them must be decided by you.
In short, you need to design your t-shirt designs before putting them up on Etsy for sale.
Well, you can easily create POD t-shirt designs using a tool like Canva.
With canva huge library of elements, fonts, and images, you can easily create POD t-shirt designs and upload them to your POD partner.
Once your product is created on your POD partner, you have to link it with an Etsy listing so whenever someone buys that particular Etsy listing, the t-shirt on the POD company site that is linked to that Etsy listing will be printed and shipped by the company.
For more information watch this video by Brenon Dopp
Promote Your Etsy Shop
No business can be successful without marketing, and this is especially true for print-on-demand Etsy stores.
If you're looking to increase sales and grow your etsy store, it's important to invest time and resources into promoting your store.
Luckily, there are several effective marketing strategies you can use to get the word out and attract more customers.
Here are some free and paid techniques that you can use to promote your Etsy store:
Etsy SEO: Optimizing your listings with relevant keywords and tags is a great way to improve your store's visibility in Etsy's search results.
By doing proper keyword research for every listing and writing SEO-friendly titles, tags and descriptions for your listing, you can attract more eyeballs on your store and therefore more sales.
Pinterest marketing: Pinterest is a visual discovery platform that can be a powerful tool for driving traffic to your Etsy store. By creating eye-catching pins that showcase your t-shirt designs, you can attract people to click on your pins, land on your Etsy store, and make a sale.
Etsy Ads: Etsy Ads is a paid advertising option that allows you to bid on keywords and appear at the top of Etsy's search results pages.
By targeting specific keywords that are relevant to your store and products, you can attract more traffic and increase your chances of making sales. You can set your own daily budget and adjust your bids to optimize your ad performance..
Etsy Offsite Ads: Etsy Offsite Ads is another paid advertising option that allows you to reach shoppers who are browsing other websites.
Etsy will promote your products on third-party websites, and you'll only pay a fee when someone clicks on your ad and makes a purchase.
FAQ
Is Starting A T-shirt Business Profitable?
Starting a T-shirt business can be profitable, but it depends on a number of factors, including your target market, the competition in your niche, the quality of your products, and your marketing efforts.
A Print on demand T-shirt business can be profitable because it can be started with very low investment and it has a huge potential to grow.
Also, T-shirts are a popular and versatile product that can appeal to a wide range of customers, which can increase your potential for sales.
However, success in the T-shirt business is not guaranteed. It is important to conduct market research and understand your target audience and competition.
What Type Of Shirts Sell The Best On Etsy?
Some popular types of shirts that sell well on Etsy are mentioned below.
Graphic T-shirts
T-shirts with bold and creative graphics, mascots, and slogans sell really well on Etsy. They are a choice for customers looking for unique, eye-catching products.
Custom T-shirts
Offering custom T-shirts with personalized designs, text, and images can help you stand out from the competition. Customers who are looking for one-of-a-kind products will buy your custom shirts.
Vintage T-shirts
Vintage-inspired T-shirts, with retro designs, colors, and prints, can appeal to customers who are looking for classic and timeless styles.
Eco-friendly T-shirts
Eco-friendly T-shirts made from sustainable materials, such as organic cotton or recycled polyester, are becoming increasingly popular among customers who are looking for products that are better for the environment.
Niche-specific T-shirts
T-shirts that cater to specific interests, hobbies, or causes, such as music, sports, or activism, can be popular among customers who share those interests.
It is important to note that the popularity of these types of shirts can change over time.
This is why it is important to stay current with the latest trends and market demand to ensure that your products remain in high demand.
Final Thoughts
Starting a T-shirt business on Etsy and making good profits may seem hard and even impossible in the starting but trust me it is easier than you think. Not only easy but fun too!
By following the tips and strategies we've covered in this article – from identifying your target audience and creating high-quality designs to promoting your store through Etsy SEO, Pinterest marketing, and paid advertising – you can set yourself up for success and grow your customer base over time.
Remember, building a successful business takes time, effort, and patience, but with dedication and a bit of creativity, you can create a thriving t-shirt business on Etsy that brings joy and satisfaction to both you and your customers.
If you got any questions, do leave a comment below, i would love to help you out.
Happy Earning!
Hey there! I'm Rohit Lohia, a passionate SEO enthusiast and the proud founder of Branded Bucks. I'm all about helping small business owners achieve success online through my blog. Join me on this exciting journey as we explore ways to make money online and build a thriving digital presence.