This post may contain affiliate links and we may receive a commission if you make a purchase through our affiliate link at no extra cost to you. Please read our disclosure policy for more information.
Struggling to figure out how to save your Canva designs as PDF files?
Whether you're using your phone, laptop, or tablet, exporting Canva projects to PDF can be confusing.
I've been there too! I would spend so much time creating creatives and presentations on Canva but then have no clue how to actually download them as PDFs. The default is always JPG or PNG.
But fear not! In this quick guide, I'll walk you through how to easily export your Canva files as PDFs on any device. It just takes a few simple clicks.
So if you want professional, print-ready PDF versions of your Canva designs, you're in the right place. Let's get started!
You May Also Like:
How To Save Canva Files as PDF On a Laptop or PC
Follow these steps to download your canva designs as PDF on a laptop/Macbook or Windows PC using the web version of Canva.
1. Open Canva Web & Login
Firstly, open your browser and open the Canva website by entering canva.com in the URL box.
After that, log in to your canva account using your Email & Password,
2. Open Your Canva Design
After logging in, open your design from your recent design sections that you want to download as PDF.
The recent design section is usually located on the homepage, you will see it somewhere in the middle of the screen.
3. Export as PDF
After opening your design, just click on the "Share" button from the top right corner of the screen and then click on the "Download" option.
Now click on the "File Type" drop-down menu and select "PDF Standard" from there.
Note: You can also select "PDF Print" but it will result in a larger file size and is recommended for printing purposes only.
How To Save Canva as PDF On Phone (iPhone or Android)
Follow the steps to save a Canva design as PDF on your Android or IOS devices.
1. Downloading and Opening the Canva App
The first step is to download the Canva app if you don't already have it installed on your device.
Head over to the Google Play Store or Apple App Store on your phone and download the Canva app.
If you don't want to download the app you can also use the mobile version of the Canva website in your phone browser.
For the demonstration purpose, i am also using the canva mobile in my phone browser.
Both, canva mobile and canva app have the same interface
2. Open an Existing Design or Create a New One
After logging into Canva, you can either open up an existing Canva design that you want to save as PDF or create a brand-new design.
To open an existing project, find your design under the recent designs section on the homepage itself.
If you want to create something new, tap on the '+' icon also at the bottom and choose the type of design you want to make – social media graphic, presentation, poster, etc.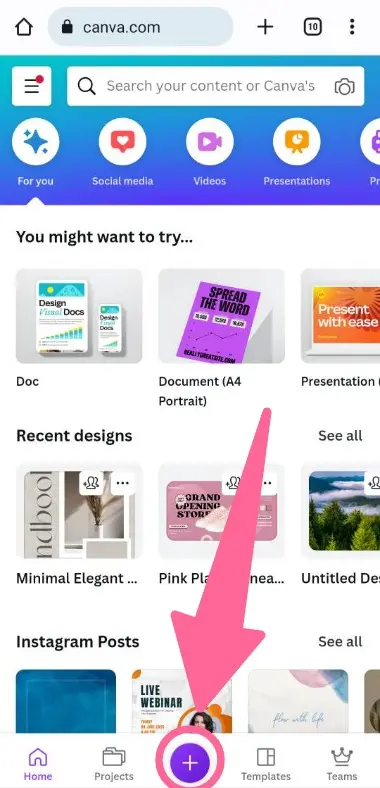 4. Downloading as a PDF
Once your design is ready, it's now time to set the right download settings to export it as a PDF file.
At the top right corner of your phone's screen, you'll see an export icon (which looks like an upward arrow).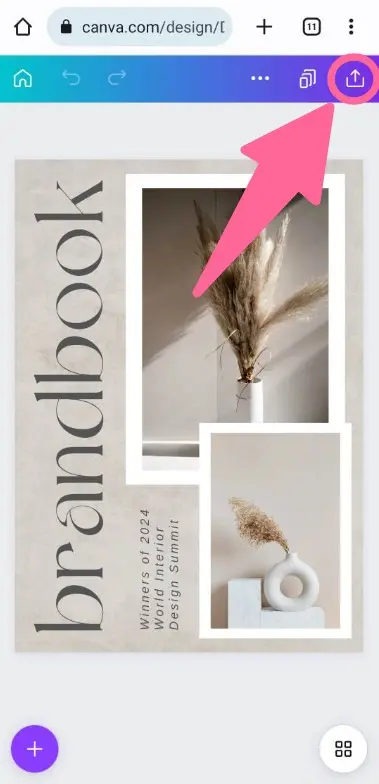 Tap on the export icon to open up the export menu.
As soon as you tap the export button, a menu will appear in front of you. From the various options in this menu, tap on the 'Download' option.
This will open another menu that allows you to choose the file format.
Under the 'File Type' options, you need to select 'PDF Standard'. This will allow you to save your design as a PDF file.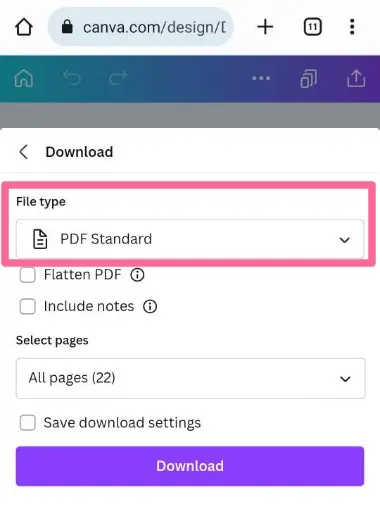 After selecting your File Type as PDF, you need to pick which pages you want to export:
You'll be able to see page numbers of all the pages/canvases in your design. Tick the boxes next to the specific pages that you want to save as PDF.
Once you've made your selections, tap on the 'Done' button at the bottom of the page.
After tapping 'Done' on the page selection screen, you'll be taken back to the export menu. Here, simply tap on the blue 'Download' button at the bottom.
The PDF file of your Canva design will now start downloading.
Once completed, it will be automatically saved within your phone's internal storage.
And that marks the completion of the process!
The PDF version of your Canva design is now safely stored on your phone.
Frequently Asked Questions
Saving your Canva creations as PDFs on your devices is quite straightforward. However, there may be some questions about this process which we've answered below:
Why can't I Download a PDF from Canva?
If you are not able to download a design in PDF from canva there can be only 2 reasons, either your internet connection is not working properly or the canva servers are having issues at that moment.
I know Canva is a big company but they do have server issues, I am the witness.
Sometimes even the auto-save feature stops working so and the editor becomes unresponsive.
Can you export Canva to an editable PDF?
Yes, you can export canva files to an editable PDF just make sure not to flatten the PDF otherwise your pdf file will no longer remain editable.
What does flatten PDF mean in Canva?
Flatten PDF means to convert a PDF file that contains editable objects like text boxes and images into a non-editable, flattened version where all the objects are merged into a single image layer.
You can still zoom and scroll a flattened PDF, but editing capabilities are disabled.
Flattened PDFs are used only for printing purposes.
Conclusion
The ability to save your Canva designs as PDFs on multiple devices is extremely convenient for designers and creators on the go.
With just a few simple taps, you can export your Canva graphic, poster, and presentation as a high-quality PDF file on your phone & laptop.
So whether you want to print it out later or easily share it with your team or clients, having the PDF version gives you that flexibility and accessibility.
Read our guide on Best Canva Tips and Tutorials for more design hacks.
I hope this detailed guide helped you learn the complete process of exporting and downloading your Canva creations as PDFs on your devices.
If you got any questions, do comment down below, I would love to help you out.
Thankyou!
Hey there! I'm Rohit Lohia, a passionate SEO enthusiast and the proud founder of Branded Bucks. I'm all about helping small business owners achieve success online through my blog. Join me on this exciting journey as we explore ways to make money online and build a thriving digital presence.