This post may contain affiliate links and we may receive a commission if you make a purchase through our affiliate link at no extra cost to you. Please read our disclosure policy for more information.
Are you tired of working with those JPEGs and PNGs file formats that easily get pixelated? Then, SVG files are the perfect solution for you!
This article is all about how to make SVG files in Canva.
And believe meme, you don't have to be a design wizard to make your own SVG files. Thanks to Canva, the popular graphic design platform, creating SVG files has become as easy as pie!
Think you can't create SVG files without complex software or technical know-how?
Think again! With Canva's huge library of elements and user-friendly interface, you can create eye-catching SVG files like a pro in no time.
Plus, the platform is so easy to use, that you will be able to create almost all types of SVG's even if you are a complete beginner.
Read ahead to learn simple steps to make SVG files in Canva and start showing off your artistic flair!
Key Takeaways
You may also like
How To Make SVG Files In Canva (3 Easy Steps)
Here are the steps you can follow to create SVG files inside Canva.
But before that, I know some people prefer watching instead of reading, so here is the video tutorial for you.
Step 1: Create a New Document
Visit Canva.com and log in to your account.
Create a new document by clicking on the "Create a Design" button from the top right corner and entering your document dimensions over there.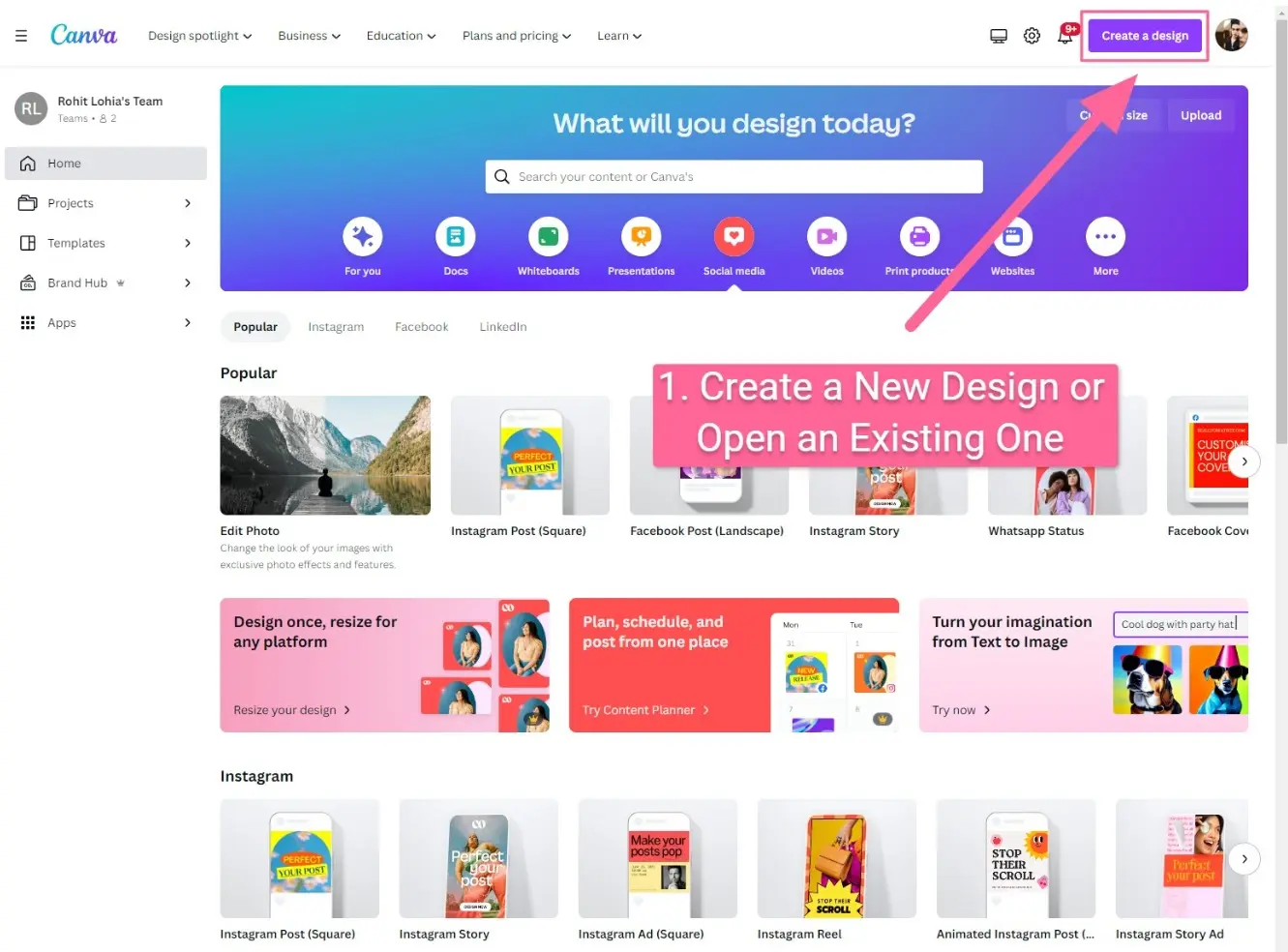 You can also choose premade documents if you want to or you can also open a premade design template.
For SVGs, a square document works the best.
Step 2: Design Your SVG
Now just like you make a normal design in Canva, you can design your SVG the same way.
Use Canva inbuilt library of stock images, vectors, illustrations, etc to make your SVG stand out.
You can also use Canva fonts to add some texts inside your SVG.
Step 3: Download the Files as SVG
Once you are satisfied with the design, you can now download your design in SVG format.
All you gotta do is click the "Share" button at the top right, then hit "Download" and choose "SVG" as the file type. Easy peasy!
And ya, do not forget to tick on "Transparent Background" otherwise your SVG will be downloaded with a white background.
Why I Chose Canva For Creating SVG's (Advantages)
So, let me tell you about Canva – it's seriously awesome for creating SVG files.
First off, it's super user-friendly, even for those who aren't design-savvy. You don't have to be a pro to get a great result.
Plus, there are thousands of premade graphic elements and illustrations to choose from, so you can get started quickly and easily without having to start from scratch.
Another great thing about Canva is that it's cloud-based, so you can access it from anywhere on any device with an internet connection.
No more worrying about losing your files or not being able to work on them because you're away from your office computer.
And, of course, there's the fact that it's affordable – you can access a lot of the features for free, or upgrade to Pro for even more possibilities.
So, if you're looking to create SVG files, I totally recommend giving Canva a try. You won't regret it!
How To Upload SVG In Canva
Uploading SVG to Canva is the same as you upload any normal image or video.
Just open your canva design, click on the "Upload" button from the right sidebar and upload your SVG file.
You can also drag and drop your SVG file into the editor directly.
How To Change SVG Color In Canva
First of all, let me clear one thing, it's not always necessary that you will be able to change the color of an SVG inside Canva, it depends upon the SVG file itself.
Some SVGs are editable while others are not.
After uploading the SVG file to Canva, if you are able to see a color palette on the top that means your SVG is editable and you can change its colors.
If you can't see it, that means the SVG is non-editable.
What will you do in that case?
It's simple, just convert your SVG into editable format and then upload it inside Canva.
How to convert into Editable format?
Follow these steps to convert a non-editable SVG/PNG/JPEG file to a fully customizable SVG file.
So as you can see, this image of a dog is non-editable, as you cannot see any color palette on the top toolbar when I selected the image.
That means I cannot edit the colors for this dog graphic.
Now follow the steps and watch me convert this image into an editable format.
Step 1: Get a Transparent PNG Version Of Your File
First of all, you have to get a transparent PNG version of your SVG file, you can easily do that by uploading your SVG file to canva editor and then downloading it from there in PNG format.
Make sure you check the "Transparent Background" option.
If you already have your graphic file in PNG format, you can skip this step.
Step 2: Convert Your PNG File Into an Editable SVG
Use a tool like Vector Magic, open it up, and then click on "Import From Folder" and upload your PNG file.
Now select mode as "Fully Automatic" and let the conversion complete.
Once the conversion is complete, you will be able to see a color palette, these are the colors your SVG is made of and will be editable in a tool like Canva.
You can click on "Custom Colors" to add more colors to the color palette, when you are satisfied with the results click "Next" and save your file as .SVG
Now your SVG is editable and you can upload this SVG to canva and you will be able to edit the colors.
How To Make Svg Files In Canva FAQ
Here are some most common FAQ that people ask around the topic "how to make svg files in canva"
Do I need any special skills to make SVG files in Canva?
No, you don't need any special skill to make SVG files in Canva. Canva is an easy-to-use design tool that allows users to create designs without any previous design experience.
Can I edit SVG files in Canva?
Yes, you can upload and edit SVG files inside Canva.
Although Canva does support SVG files but not all SVG files are customizable, it totally depends upon the SVG file whether or not you will be able to edit it inside canva.
You can upload almost any type of SVG inside canva and play around with its size and positioning but when it comes advance tweaking like changing colors, borders, etc, it may vary from SVG to SVG.
What is the difference between SVG and PNG files?
SVG stands for scalable vector graphics which can be easily scaled without losing quality. On the other hand, PNG files are raster images that do not scale very well. If you need to scale a design, an SVG file is a better option.
Why can't I upload SVG file to Canva?
There could be several reasons why you are not able to upload an SVG file to Canva. One possible reasons is that the SVG file you are trying to upload is too large.
Canva recommends that SVG images should be under 3MB in size and within 150 to 200 pixels wide
Another possible reason is that the SVG file is not saved with the SVG 1.1 Profile, which is the recommended profile for SVG files that are compatible with Canva.
Can you use canva to make SVG files for Cricut?
Yes, you can use canva to make SVG files for Cricut, after exporting the SVG from canva, you can directly import them inside the Cricut design space and then proceed further from there.
How to save as SVG in canva?
It's simple, just click on the "Share" button from the top right corner then click on the "Download" button and select File type as "SVG".
For now, only Canva Pro users can download the designs as SVG.
Before You Leave
So I hope I was able to answer your query on how to make SVG files in canva.
Now before you leave I have something special for you, do you know you can easily add shadows inside Canva using our in-depth guide on How to Add Shadows in Canva.
Adding shadows will help you to make your elements and text pop out from the background so I highly suggest you read the article.
So if you got any questions regarding "how to make SVG files in canva", you can comment them down below, I would to help you out.
And if you enjoyed this article, please consider sharing it with your family members and friends.
Thank you
Hey there! I'm Rohit Lohia, a passionate SEO enthusiast and the proud founder of Branded Bucks. I'm all about helping small business owners achieve success online through my blog. Join me on this exciting journey as we explore ways to make money online and build a thriving digital presence.