This post may contain affiliate links and we may receive a commission if you make a purchase through our affiliate link at no extra cost to you. Please read our disclosure policy for more information.
Canva is a great tool for creating templates, creatives, mockups, and digital items for commercial and noncommercial purposes.
It's user-friendly and allows you to create professional-looking designs quickly and easily.
But when working commercially, you may though "Can I use canva for commercial use"?
Well, today this article is going to answer all your questions related to:
Is canva free for commercial use?
Are canva images free for commercial use?
Can you use canva for commercial use?
Just make sure you read the entire article thoroughly so that you do not miss out on important things that may create problems for your business later on.
How To Draw On Canva Easily (New Update!!)
Can You Use Canva For Commercial Use? (License Explained)
Yes, you can use canva and all the canva library for commercial purposes including stock images, fonts, graphic elements, videos, and premade templates but with some terms and conditions.
Now what are those terms and conditions?
Let's discuss them.
Or if you prefer to watch instead of reading then watch this official video from canva that explains everything about their licensing.
Canva Free Version Licensing
As you all know canva comes with a free version also where you don't have to pay anything in order to use the tool.
But can you use designs created using canva free version for commercial purposes?
Yes, you can use all the designs created inside canva free version for commercial purposes, however, because you are using the free version of canva you won't be able to use any pro elements including photos, videos, and graphics.
You will have the commercial rights for all the canva free elements including images, videos, elements, designs, etc without paying anything.
But remember, the commercial license does not allow you to sell any of the canva free elements, premade templates, photos, and videos as it is without adding your own creativity.+
How To Check The License Of a Particular Canva Elements
If you want to play safe you can check the license of a particular element that you are using in your canva design.
Here's how to do that:
Search for an element, image, or anything you want from canva library.
Click on the 3 dots and then click on the "i" button.
Now you can see the licensing for that particular element, what is allowed and what is not is also listed there.
How To Check The License Of Third-Party Canva Elements
If you don't know, canva contains a lot of elements that come from third-party websites like Pixaby, Pexels, etc.
Now definitely canva licensing is not going to be applied to those elements as canva does not own them
So in order to check license and right for those elements you need to check their source and then licensing.
Here's how to do that: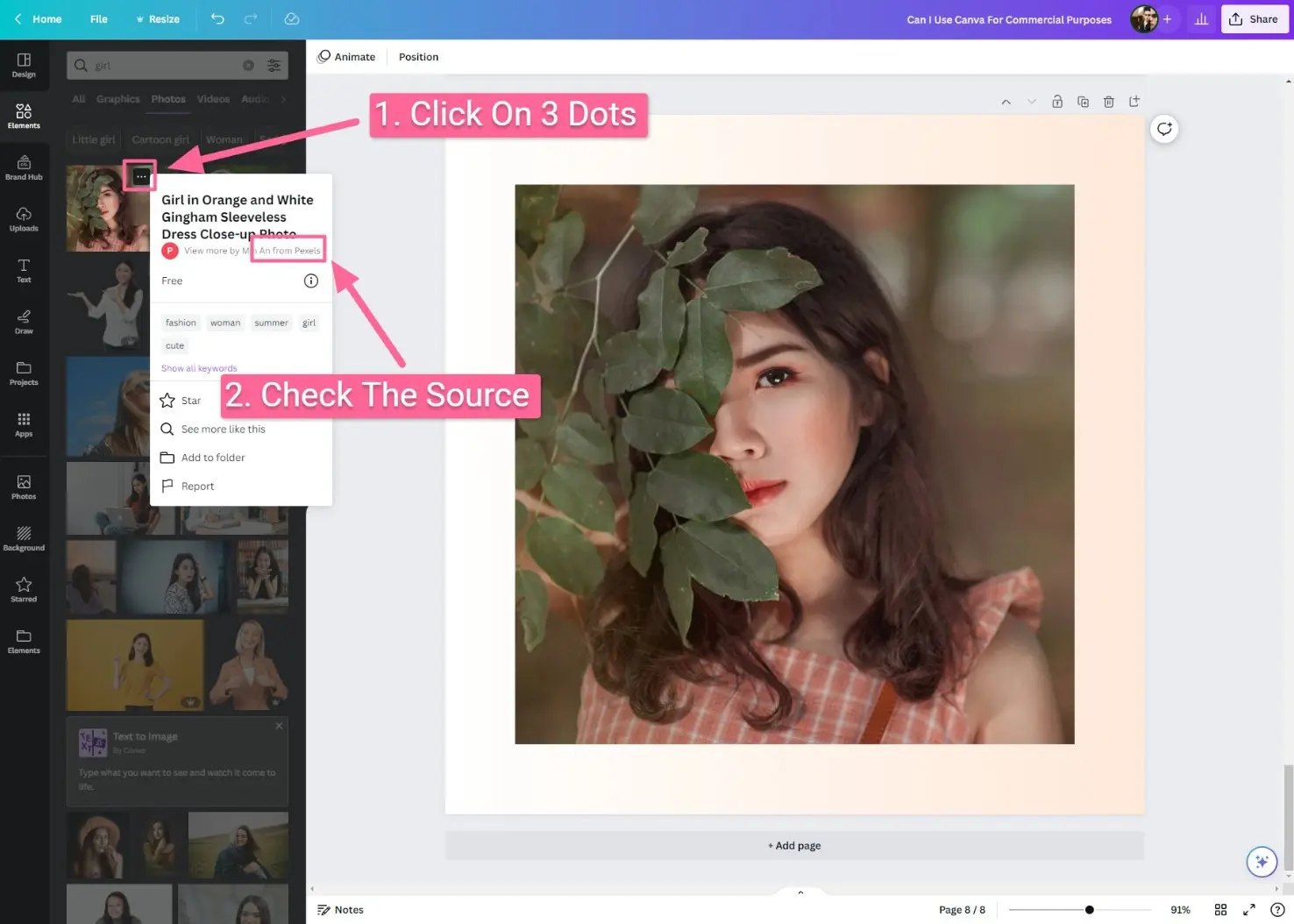 This will make sure that you are following the rules of the original author and not infringing on their copyrights.
Here's what canva said on their free content license:
Licensing in Pro Version
Some content in Canva contains watermarks. And to remove those watermarks, you can either purchase licensing for that particular element by paying a one-time fee or you subscribe to a Canva Pro subscription.
The pro version of the site offers more features and flexibility than the canva free version.
All the content in the pro version is absolutely free to use for commercial purposes and you don't have to buy any special licensing each time to remove the watermark.
The licensing is the same as that of the free version but this time you can use the pro elements as well.
How To Add Custom Fonts To Canva (Step By Step!!)
Can I Sell Digital Templates Created Using Canva
Yes, if you are using canva elements to design in the canva editor and then selling those designs that allow customers to edit the design on canva itself then you are good to go.
Canva wants you to direct your customers towards their platform, if you are doing that then you can sell unlimited templates created using canva and canva elements.
But if you are using canva elements to design in some other online tool and sending your customer to their website to edit the design then this is strictly not allowed.
Just follow their guidelines and you can easily sell canva templates wherever you want.
Do I Have To Credit The Author?
No, you do not have to credit anyone unless Canva content is used for editorial purposes, in which case the creator should be attributed.
You can use this format to credit someone: © Contributors Name Via Canva.com
For eg. © Harry Via Canva.com
Can You Use Canva Images For Commercial Use
Yes, you can use canva images for commercial purposes if you are following their guidelines.
Canva free users can only use free images for commercial purposes however canva pro users can use both free and pro images for commercial purposes.
But wait!
There are some precautions that you need to take care of while using stock images featuring real people.
Prohibited Uses Of

Free or Pro Content on Canva

When you sign up for a Canva account, you agree to their Content License Agreement.

This agreement states that the content you create using the tool is your property and that you can use it however you please, with a few exceptions.
Reselling or Redistribution
Canva's Terms of Service forbid users from "selling, redistributing or relicensing any Canva Content."
This means that users cannot resell Canva's premade templates, elements, and designs that are created by other designers, nor can they give away designs to others.
By preventing others from profiting off of Canva designs, the company maintains control over its brand and protects its intellectual property.
So be sure to read the terms of service carefully before you start creating designs, and respect the copyright of contributors.
Can You Sell Canva Designs On Etsy? (Tips For Beginners !!)
Trademarks
When it comes to registering a trademark, it has to be unique that belong only to your brand.
That means you can't use any of the free or pro content from Canva's media library for your trademark, except for fonts, basic shapes, and lines.
The reason is that other people can also use the same content, so you can't claim exclusive rights to it.
So that means you cannot trademark a simple logo created using canva?
No, you are allowed to create a simple logo inside canva using their fonts, and basic shapes and lines and get it trademarked.
For advanced logos, you can upload your own graphics or hire an artist who can create graphics and illustrations for your logo which gives you trademark rights.
You can read the canva guide on logo trademarks over here.
Remove Any Notice Of Copyright
Copyright is a form of legal protection that gives the creator of an original work exclusive rights to its use and distribution.
Copyright owners have exclusive rights to control how their work is used and shared. It also gives the copyright owner the right to be compensated if someone uses their work without permission.
You cannot remove any notice of copyright from any content on Canva.
This means that if you create Canva designs using someone else's copyrighted work, even if you change it or modify it in some way, you still need to credit the original author.
Content For Pornographic, Obscene, Immoral Purposes
Canva prohibits the use of its content for pornographic, obscene, or immoral purposes.
In the company's Terms of Service, it is made clear that users may not create or share images or videos that are "sexually explicit or suggestive," "graphically violent," or "incredibly offensive."
This policy exists to protect both Canva's users and its reputation as a safe and family-friendly platform. The violation of this rule can result in account suspension or termination.
FAQ
Are Canva Images Copyright Free
You may have come across the term "copyright free" while browsing the internet.
This term is often used to describe images that can be used without permission or attribution. So, are Canva images copyright free?
The answer is yes, the canva images are copyright free and can be used without attribution.
However, it's always important to read the license agreement before using an image to make sure you're in compliance.
How To Make A Table In Canva In (3 Secret Way!!)
Can I Use Canva Pro Fonts For Commercial Use
Yes. They are royalty-free, so there is no need to purchase additional licenses.
Fonts are an important part of any design, and with Canva Pro, you have access to a wide range of high-quality fonts to make your designs look professional.
Conclusion
So canva gives a lot of flexibility compared to other tools when it comes to using the content from their library.
However, to maintain a respectful and happy community you need to follow the basic rules that they have in their licensing terms.
Which I guess is not hard at all.
So I hope I have answered all your queries related to canva commercial use.
If you have any questions, do comment below, I would love to help you out.
Hey there! I'm Rohit Lohia, a passionate SEO enthusiast and the proud founder of Branded Bucks. I'm all about helping small business owners achieve success online through my blog. Join me on this exciting journey as we explore ways to make money online and build a thriving digital presence.