This post may contain affiliate links and we may receive a commission if you make a purchase through our affiliate link at no extra cost to you. Please read our disclosure policy for more information.
Have you ever struggled to create drop shadows inside canva? Are you also searching for how to add shadow In Canva?
Before the Feb 2021 update, it was very difficult to add shadows on your images inside canva as there was no direct way to do that.
I still remember I have to go through complicated steps just to add a shadow to an image, like creating the transparent shadow layers then uploading them back to canva and placing them behind the image.
Ufff!! it's a lot of work!!
But now guess what? Canva allows you to add shadows to your images and that too in just one click.
It is available for both free and canva pro users in both desktop and mobile versions of Canva.
Wanna see how?
Read our step-by-step instructions below on how to add shadow in Canva.
Key Points:
You may also like
How To Create Drop Shadow In Canva (Step By Step)
Here are the steps that you can follow in order to add a drop shadow to an image.
1. Create Your Design
The first step is to create a design by visiting the Canva homepage and clicking on the "Create a Design" button, and then selecting the dimensions of your choice.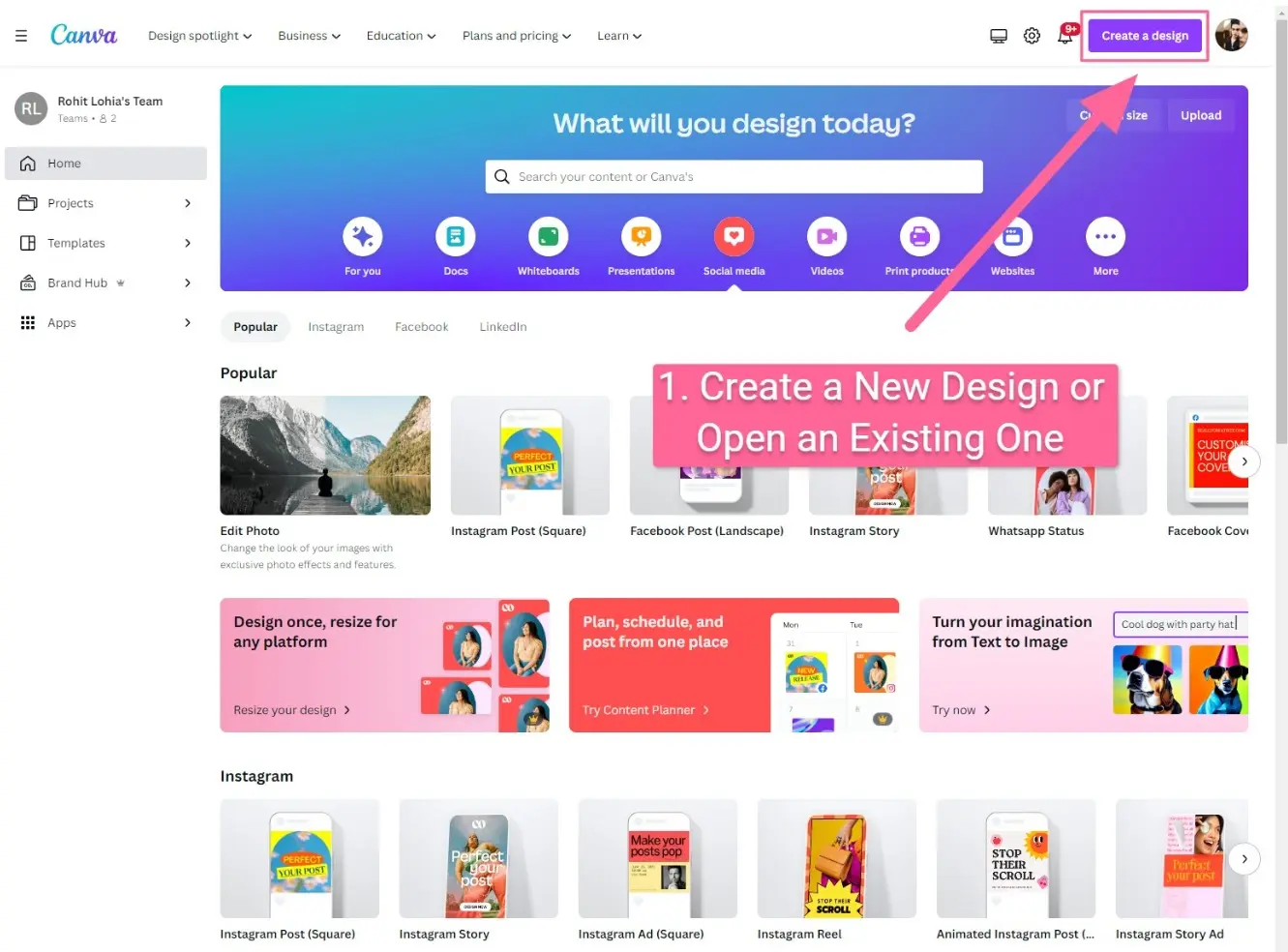 2. Upload Your Images
Once you have created your design, now you can upload your images to canva that you want to add drop shadows to, you can also use images from the canva library as this method will work with them as well.
3. Select Your Image
First, select the image that you want to add a drop shadow to.
For now, canva allows adding drop shadows to images and texts only, you cannot add drop shadows to canva elements and vector graphics like SVG directly.
Also, you cannot add shadows to multiple images by selecting them one by one, you can only do 1 image at a time.
4. Add Drop Shadow Effect
Once you have selected your image, click on the "Edit Photo" button located in the top toolbar of the editor.
From the effects menu, select the "Shadows" option.
This will bring up a submenu and you can see a total of 3 effects:
Glow: It basically adds blurry glowing edges around your image
Drop: This is the actual drop shadow effect
Outline: This adds an outline to your image.
So we will choose "Drop" as we want to add a shadow effect to our image.
As soon as you click on "Drop", you will see a drop shadow effect is added to your image.
5. Customize Your Shadow
Now, you will have multiple options to play around with your shadow effect.
Here are the options that you can play around with:
Size: To adjust the size of your shadow
Blur Amount: To adjust the blur of your shadow
Angle: To set the angle of the light
Distance: To adjust the distance between the image and the shadow
Color: To change the color of your shadow
Intensity: It is basically the opacity of your shadow
6. Save & Export
Once you are satisfied with your design, save your work and export it in your desired format.
So that's all on how to add shadow to the image in canva.
How To Add a Drop Shadow On Text In Canva
Yes, it is possible to add a drop shadow effect to your text box inside canva but the steps are a bit different from what we have followed above.
To create shadows for your text layer, just select your text layer and click on "Effects" from the top toolbar.
Now you will see a lot of Text Styles, just select the Shadow, and Voilaa!! you are done.
You have successfully added shadow to your text inside canva.
Now play around with the settings (Offset, Direction, Blur, Transparency, and Colour ) to achieve the best results.
How to Add Shadow To Canva Elements
As of now, there is no option to add shadows directly to your canva elements.
Here is an alternate way you can use to add shadow to canva elements:
First place your element on your canvas
Now select the element, and from the color palette, set all the colors to black (or whatever color shadow you want).
Now, download the transparent PNG image of the element, make sure you check the "Transparent Background" option while downloading the image.
After downloading the image, upload it back to canva and place it behind your original element layer.
Adjust the sizing of the shadow layer according to your element.
Now add some blur effect to the shadow layer by selecting the shadow layer, clicking "Edit Photo" and then clicking on "Blur", adjust the intensity according to your needs.
You can also adjust the opacity of your shadow layer to achieve better results.
How to Add Shadow to Shapes in Canva
Just like elements, canva does not have the option to add shadows to shapes.
However, you can use the same method we have used for elements to add shadows to your shapes.
You need to first completely black out your shape by setting all the colors to black.
Then you need to download the transparent PNG image of the blacked-out shape.
Now, upload it back to the canva, adjust its size to match the main shape layer, place it behind the shape layer, add the blur effect and you are done.
That's how you can add shadow to a shape in canva.
How to Add Drop Shadow in Canva Mobile
Canva interface inside mobile devices is way different than what it is on desktop, so you might get confused while creating shadows in canva mobile.
Don't worry, here we have step by step guide on how to add shadow In Canva mobile.
1. Open Your Design In Canva Mobile
First of all, open your design or create a new one in canva on your mobile phone.
You can either use the canva app or you can log in to your canva in your mobile browser. (any browser will work).
2. Add Your Image
Now add your image to the blank canvas by clicking on the round "+" button from the bottom left corner.
You can either upload your own image or you can use one from the canva library.
3. Add Shadow Effect
Now, after adding your image to the canvas, you can now select your image, click on the fx effect option from the toolbar below
and then switch from tools to effects and then select shadows.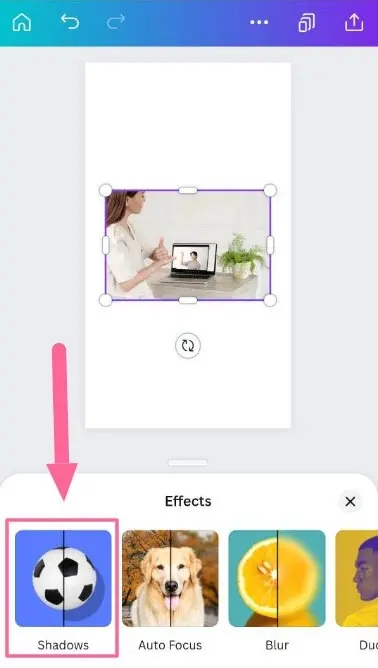 Now select the shadow style as Drop, and the shadow will be applied to your image.
You can further customize the shadows according to your preferences.
FAQ
Here are some frequently asked questions based on the topic of how to add shadow in canva.
Why can't I add shadow in Canva?
If you are not able to add a drop shadow to an image or text then that layer must be locked, you have to first unlock the layer by clicking on the lock icon from the top toolbar and then you can add a shadow to it.
How do I add a shadow to a line in Canva?
In order to add a shadow to a line, you can use the same trick as mentioned above for adding shadows to the elements.
How do I add a drop shadow to text in Canva?
Select your Text, go to Effect from the top toolbar and select Shadow from there.
Before You Leave
So I hope you enjoyed reading this guide on how to add shadow In Canva.
Now before you leave, I want you to try these 34+ Canva Tips and Tricks that helped me increase my productivity and save hours during designing.
Also, do not forget to share this tutorial with your friends and family, and if you have any doubts do comment below, I would love to help you out.
Hey there! I'm Rohit Lohia, a passionate SEO enthusiast and the proud founder of Branded Bucks. I'm all about helping small business owners achieve success online through my blog. Join me on this exciting journey as we explore ways to make money online and build a thriving digital presence.