This post may contain affiliate links and we may receive a commission if you make a purchase through our affiliate link at no extra cost to you. Please read our disclosure policy for more information.
Are you an artist looking to make some extra cash? Or maybe you're thinking about quitting your day job to become a full-time artist?
But how much can you really make selling art on Etsy?
Etsy is a huge platform for artists to sell their work but have you ever wondered how much people can make selling art on Etsy?
Well, wonder no more!
In this article, we will tell you how much can you make selling art on Etsy.
You may be surprised at just how much money people can make from this popular marketplace.
So, if you're interested in finding out more about this topic, read on!
How Much Can You Make Selling Art On Etsy
No one can give you a definite answer on how much you can make selling art on Etsy.
It depends on a variety of factors, including the quality of your artwork, how well you market your shop, and the overall demand for the type of art you sell, pricing also comes into play, and much more.
But that doesn't mean you can't be successful!
There are plenty of artists who make a full-time living off of selling their artwork on Etsy.
For eg. look at this shop, it has almost 219,664 sales and the average selling price of the items in this shop is $10

So if we do a little maths here, the owner has made around $219,6640 from this store alone.
Yes!! these numbers are achievable and people are doing it.
As a new seller, if you're selling high-quality one of kind original artworks and paintings, for example, you can easily make several $100 to even $1000 per sale.
If you're selling small prints, cliparts, illustrations, etc, you might only make a few dollars per sale.
But these types of products sell in huge volume so even a few dollars per sale will add up making you thousands of dollars per month, as a result, you could potentially make a lot of money!
So there's no easy answer when it comes to how much money you can make selling art on Etsy. It really depends on a number of different factors.
If you're passionate about your art and are willing to put in the time and effort, there's no reason why you can't achieve success on Etsy.
Does Art Sell Well On Etsy?
Yes, art sells very well on Etsy! In fact, many artists make a full-time living by selling their artwork on the site.
There are many reasons why art sells so well on Etsy. First of all, there is a huge demand for unique and one-of-a-kind items.
And what could be more unique than a piece of art?
Look at the graph below that I got from Erank, it shows the number of searches per month for all types of art on Etsy USA.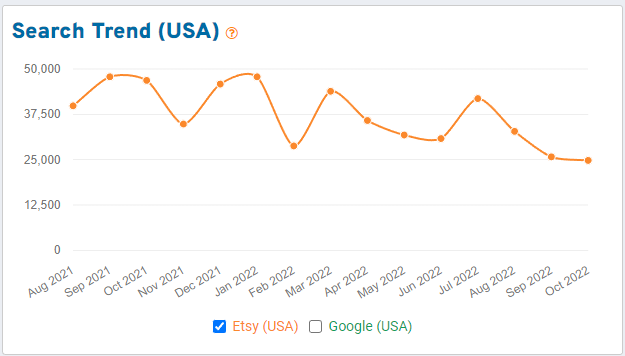 And these searches are not coming from the USA alone, people throughout the world are interested in buying artwork from Etsy.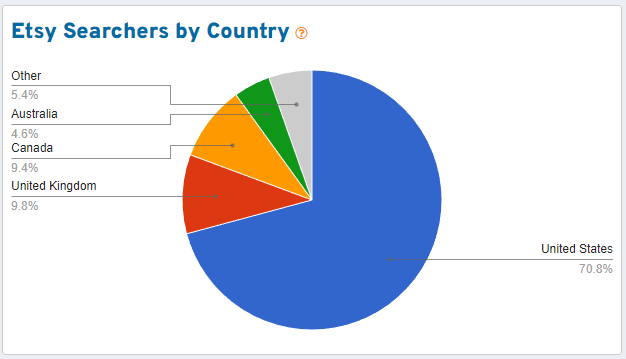 These graphs and stats made me curious and I went deep into my research then I found out some of the top keywords that people are searching for related art and artwork.
You can see in the table below, the term "Wall Art" has almost 118,000 monthly searches on Etsy and the same goes for others too.
Now you can imagine, how well-performing the art industry is on Etsy.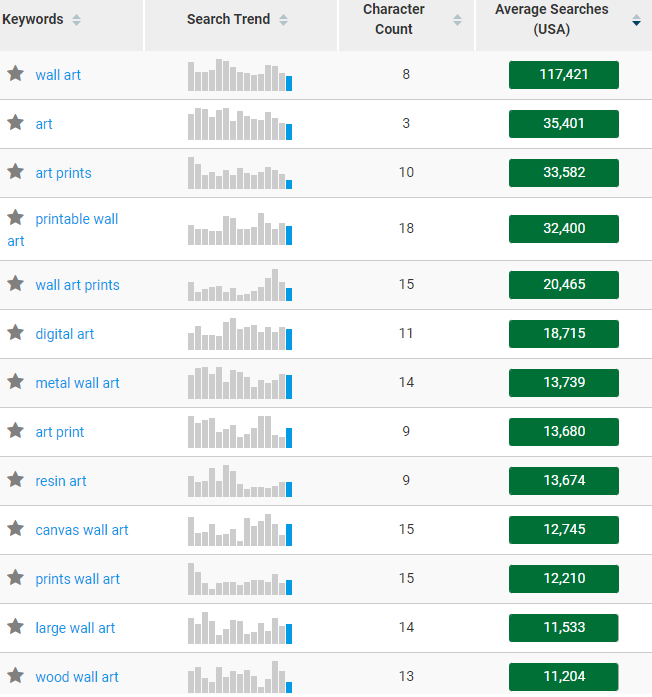 Now you can conclude that art is one of those things that people are willing to spend money on. It's not a necessity like food or clothing, but it's something that can really add value to your life.
So if you're an artist looking to sell your work, Etsy is definitely the place to do it!
Factors Affecting Your Art Earnings On Etsy
There are a few key factors that can affect your earnings on Etsy. Here are a few of the most important ones to keep in mind:
Quality Of Artwork
The first factor is the quality of your work. If you produce high-quality, professional-looking artwork, you can charge more for your pieces. hand-painted originals will always be worth more than prints, so keep that in mind when pricing your items.
Competition
Etsy is a fantastic place to sell your art, but you should be aware of the competition you'll face. There are literally millions of other artists selling their artwork on Etsy, and many of them are selling similar items to what you're offering.
You'll need to stand out from the crowd in order to make good sales on Etsy. This means offering unique items that buyers can't find anywhere else. It also means having great product photos and descriptions, as well as offering excellent customer service.
If you're up for the challenge, then selling on Etsy can be a great way to earn some extra money from your art. Just be prepared to put in some extra effort to make your shop stand out from the rest.
Supply & Demand Factor
The art world is a fascinating place. It's always changing and evolving, with new artists entering the scene and old ones leaving.
And, as with any market, the law of supply and demand plays a big role in how much money artists can make.
If there's high demand for art, sellers will be able to charge more for their pieces. On the other hand, if there's too much supply and not enough demand, prices will go down and it'll be harder for artists to make a living.
So, if you're thinking about selling your art on Etsy, it's important to keep an eye on the market. See what kinds of pieces are selling well and for how much.
That way, you can price your own pieces accordingly and make sure you're earning what you deserve!
Pricing
How you price your items on Etsy will have a big impact on how much money you make.
As an artist, you want to be paid fairly for your work. But how do you know what a fair price is? If you're selling your art on Etsy, there are a few things you need to take into account.
The first is the prices of similar items. Take a look at what other artists are charging for similar pieces and get an idea of what the going rate is. You don't want to charge too much or too little – you want to be competitive.
Secondly, consider the marketplace as a whole. What are people willing to pay for art in general? Research this and use it to help inform your pricing decisions.
Finally, don't forget about the cost of materials, production, labor, and Etsy fees when setting your prices. You need to make sure you're covering all your bases and making a profit!
Conclusion
In conclusion, if you're thinking of selling art on Etsy, go for it! It can be a great way to make some extra money, and you never know who might stumble across your page and fall in love with your work.
Just remember to be realistic about your prices and shipping costs, and don't forget to have fun!
Related Articles
Is Etsy a Safe Site To Buy From? (Why & Why Not)
How To See Sold Items On Etsy For Research (Easy Trick)
How To List a Digital Download On Etsy (Step By Step!)
How To Get Best Seller Badge On Etsy (Secret Trick!)
5 Etsy SEO Tips For Beginners | How Etsy Search Works?
How To Sell Paintings & Art On Etsy (5 Tips For Artists!!)
Hey there! I'm Rohit Lohia, a passionate SEO enthusiast and the proud founder of Branded Bucks. I'm all about helping small business owners achieve success online through my blog. Join me on this exciting journey as we explore ways to make money online and build a thriving digital presence.