This post may contain affiliate links and we may receive a commission if you make a purchase through our affiliate link at no extra cost to you. Please read our disclosure policy for more information.
Typography is one of the most critical parts of design. The right font can take your graphics from drab to fab in an instant.
While Canva offers hundreds of fonts to choose from, you may want to use a specific font that isn't available in their library.
The good news is that Canva Pro, Education, Enterprise, and Non-Profit account holders can import custom fonts to make their designs truly unique.
This guide will walk you through everything you need to know to import your own fonts into Canva.
Let's dive in!
You May Also Like:
Can You Import Font Into Canva?
Yes, you can import custom fonts into Canva but only if you are a Canva pro user.
Unfortunately, free canva users are not allowed to add or upload custom fonts.
Only Canva's paid plans (Pro, Education, Enterprise, Nonprofit) allow uploading custom fonts.
The free version of Canva just doesn't support custom font uploads. I know, bummer!
But hear me out – a Canva Pro account gives you many extra features beyond custom fonts that can really level up your design work. We're talking:
Access to over 60 million stock photos, videos and audio clips
The ability to save Brand Kits for your business
Real-time collaboration on designs
Presentation and social media tools
Premium templates and elements
And, of course…the coveted option to import your own fonts!
Canva Pro starts at just $12.99 a month when billed annually. Which isn't too bad for everything you get.
Plus, they offer a 30 day free trial so you can test it out.
My advice?
Give the free trial a spin to upload your fonts. Then decide if you want to stick with the Pro plan.
Now, moving on to the good stuff…
How To Upload a Font In Canva (Step By Step)
Here is a step-by-step guide to upload your custom fonts to Canva.
I have tried to make this guide as simple as possible.
1. Gathering Your Font Files – Legally!
You've made the leap to Canva Pro. You're pumped to upload all your favorite fonts!
First things first – you need to actually get the font files. There are a few different ways to do this:
a) Google Fonts
Google Fonts is my #1 recommendation, especially when you're just starting out. They have over 1000 free, open-source fonts available.
Just visit Google Fonts,browse for the styles you like, select a font family, and click "Download Family".
Boom – you've got your files.
Your font will be downloaded in a compressed zip format, so you have to unzip it to reveal the font files before uploading it to Canva.
Since these fonts are open-source, you can use them freely without worrying about licensing.
Read these FAQs about Google fonts for more information.
b) Creative Market & Font Shops
If you want more variety, you can buy premium fonts from sites like Creative Market and Creative Fabrica.
Fonts on these font shops are created and sold by the owner itself so be careful to read the licensing info before purchasing!
Many fonts require a separate commercial license for use in business projects, apps, logos, etc. Make sure your licensing covers your specific use case.
Here's how to get a font from Creative Market:
Goto CreativeMarket website
Login with your account
Search for the fonts
Click on the Buy Now button and complete your purchase
2. Uploading Fonts From Your Computer/Laptop
Uploading on canva web is quick and painless. Here's how:
1. Log Into Canva and Open any Design
The first step is to log in with your Canva account and open any design that you want.
It could be any of your recent designs, or you can also create a new one.
We have to access the Canva editor in order to upload a font that's why opening a design is important.
2. Click on Any Text Box (Or Add One)
Now click on any text box present in your design, or you can also add a new text box if your design doesn't have one.
3. Click On Upload Font
After selecting the text box, click on the font dropdown from the top toolbar, it will reveal a list of Canva fonts.
At the bottom of the dropdown, you will see an option "Upload a Font", click on that.
It will then open up the file browser, Now look for the font file from your system and select and upload it to Canva.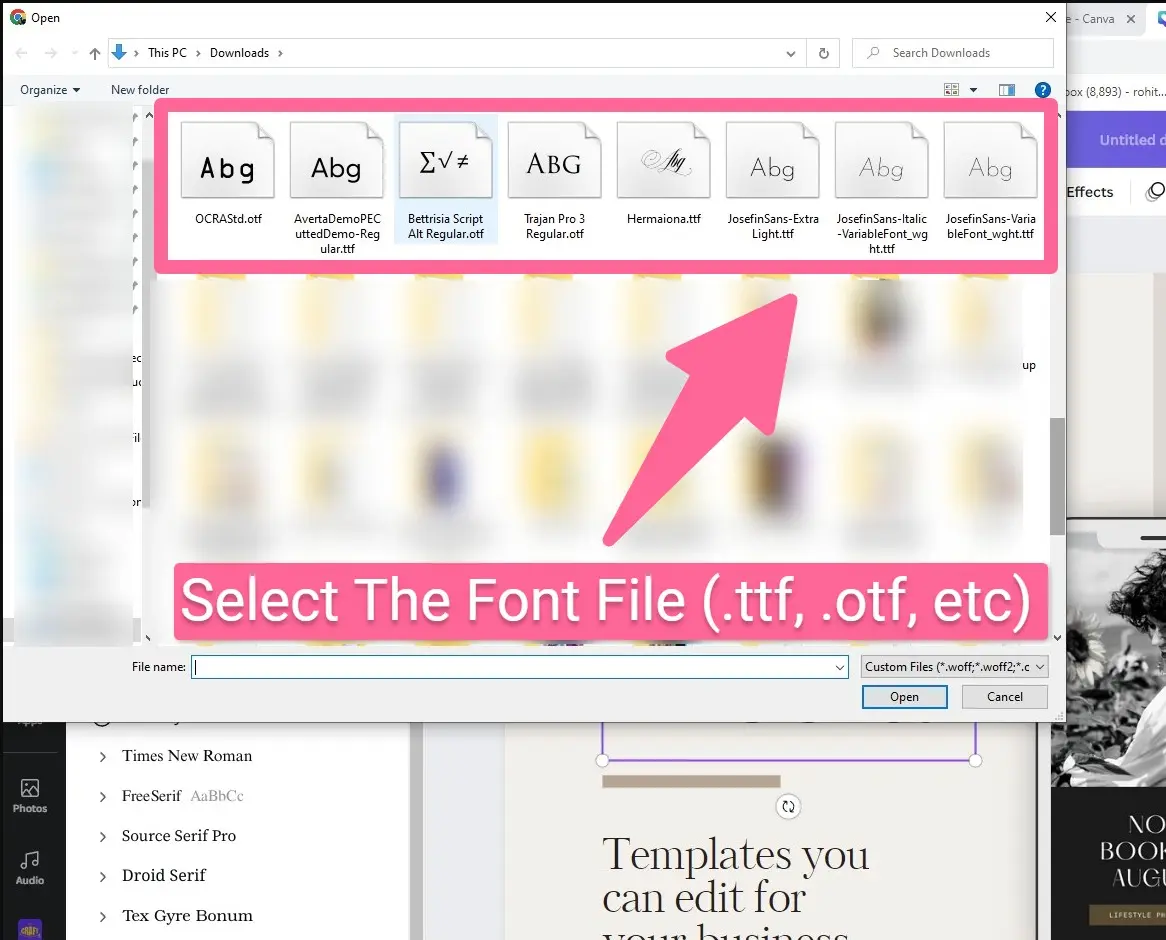 4. Confirm you have licensing
Canva will show a popup asking you to verify you have the right to use the fonts commercially.
Click on "Upload Anyway", and your font will start uploading.
How To Use Downloaded Fonts In Canva
Once it is finished, you will see your font under the "Uploaded Fonts" section, from there you can now start using the font in any of your canva designs.
3. Uploading Fonts from Your Phone or Tablet
What if you need to upload fonts on the go from your mobile device or tablet?
Unfortunately, the Canva app itself doesn't allow font uploads. I know…inconvenient.
But don't worry – you can still upload fonts through the Canva mobile website:
Open Canva in your mobile browser and log in to your account
Navigate to your Brand Kit
Tap the "Upload a Font" option
Select your font and wait for it to upload
Same process as the desktop, just on the small screen!
The trick is getting your font files onto your mobile device…
Email the files to yourself, then save them on your phone
Airdrop from your laptop to iPhone/iPad
Use a cloud storage app like Google Drive to access them
Troubleshooting: Why Isn't My Font Uploading?!
Nothing worse than excitedly uploading a font, only to get an error message!
Don't panic – here are some common issues and how to fix them:
1. Wrong file format
Double-check your font is .OTF, .TTF or .WOFF. Other formats won't work.
2. Corrupted font file
If the file got damaged somehow, Canva can't read it properly. Re-download a fresh copy.
3. Technical incompatibility
Once in a blue moon, a font just doesn't jive with Canva's system. Another option may work better.
Uploading errors happen – just take a breath and work through possible causes. You'll get your fonts up eventually!
Recap
Let's recap what we covered today:
You need a paid Canva account like Pro to use custom fonts
Carefully review font licensing and restrictions before downloading
The font format must be .OTF, .TTF or .WOFF to upload properly
Use Canva's desktop and mobile websites to upload fonts
The Canva mobile app itself doesn't support font uploads
And most importantly…
Have fun designing with your fresh new custom fonts!
Give your Canva projects a major visual boost by importing your own font library.
Hopefully, this guide got you pumped to try custom fonts in Canva!
Let me know if you have any other questions. I'm always happy to help you out.
Now go make some beautiful designs!
Hey there! I'm Rohit Lohia, a passionate SEO enthusiast and the proud founder of Branded Bucks. I'm all about helping small business owners achieve success online through my blog. Join me on this exciting journey as we explore ways to make money online and build a thriving digital presence.