This post may contain affiliate links and we may receive a commission if you make a purchase through our affiliate link at no extra cost to you. Please read our disclosure policy for more information.
If you're like me, you love the idea of hosting a yard or garage sale to declutter and make some extra cash.
But trying to figure out how to neatly organize all your stuff without tables? That can seem downright impossible!
Where on earth will you put everything so customers can easily sort through and find great deals?
Well, don't stress. I've got you covered.
In this detailed guide, I'm going to walk you through over 17 creative ways to organize a killer yard sale without using tables.
You May Also Like
How To Set Up a Garage Sale Without Tables (15 Clever Ideas)
Let's start with the most obvious question – how can you display all your items without tables? Here are some surprisingly simple solutions:
Repurpose Stuff You Already Have Around the House
The first place to look is in your own home! You'd be amazed what handy items you can repurpose into displays for your sale:
1. Plastic Storage Bins
You know those big plastic storage tubs you shove in your closet? Pull them out!
They make perfect holders for categories like linens, toys, accessories, and clothing.
If the bins are see-through, customers can easily peek inside to browse.
For opaque bins, consider taping up labels so shoppers know what's inside.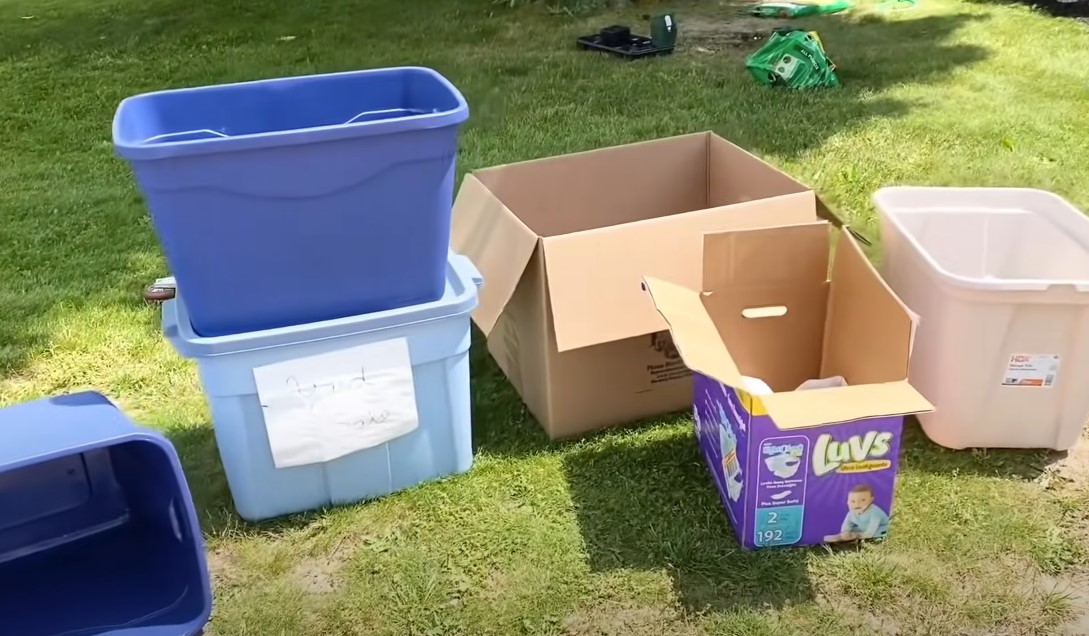 2. Use Wire Mesh Trash Cans To Display Jewelry
Here's one of my all-time favorite repurposing tricks that always impresses people.
Take an old wire-mesh trash can – you know, the kind with diamond-shaped holes all throughout.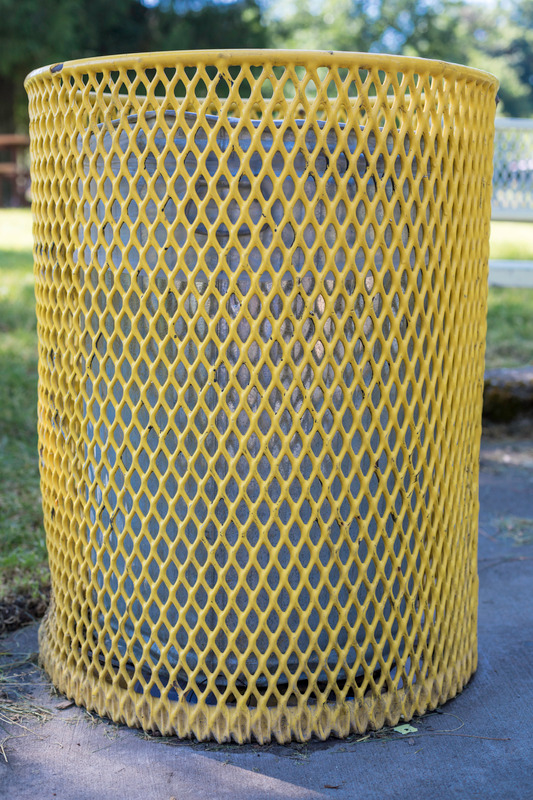 Hang necklaces, bracelets, and other jewelry from the holes to instantly create a jewelry display!
Also Read: How To Display Jewelry At a Garage Sale (6 Amazing Tips!)
It helps so much with organization and prevents tangled necklaces. I recommend placing a soft blanket or cloth on the bottom to catch any dropped items. The trash can makes a great centerpiece wherever you set it.
3. Use Plastic Milk Crates Or Storage Cubes
Plastic milk crates, storage cubes, and square bins are ideal for displaying all kinds of smaller accessories. Being able to stack lightweight crates gives you more levels to work with.
Try lining up neatly folded scarves inside one crate, then stack hats or gloves above. You can also stand handbags up inside cubes or crates so shoppers can see what's available at a glance.
They're really versatile – use them to show off shoes, belts, ties, hair accessories, craft supplies, pet toys…anything you can fit!
4. Flipped Cardboard Boxes
Don't throw away those Amazon and moving boxes just yet!
Flipping empty cardboard boxes upside down transforms them into handy little tables for lighter display items.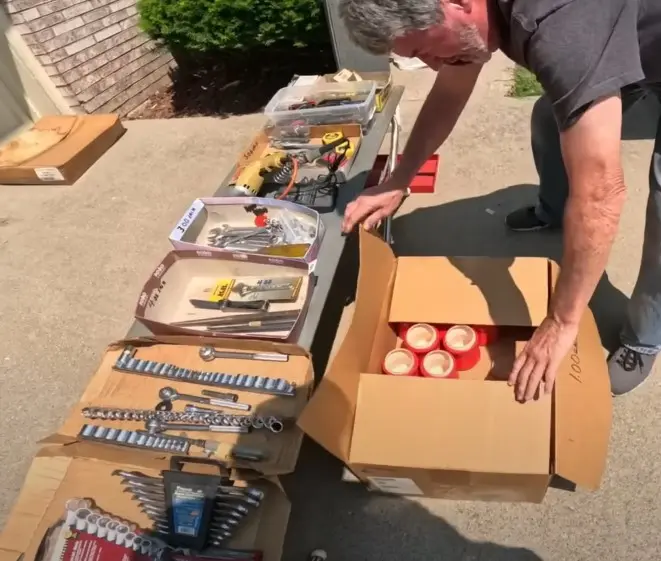 Obviously, these won't be the sturdiest surfaces, so use caution – but they're perfect for holding up things like children's books, decorative vases, small toys, craft supplies, and other lightweight items.
You can even use larger boxes like appliance or furniture boxes to create bigger faux tables. Just be wise about how much weight you place on flimsier boxes, and avoid using them for any fragile or breakable items.
5. Suitcases and Trunks
Yes, I'm talking about those classic suitcases and steamer trunks. Open them up to neatly display specialty items like antique dishware, jewelry, candles, linen napkins – anything dainty and pretty.
For a really cute two-tiered setup, you can stack smaller suitcases on top of larger ones, or even prop them open. An old train case also makes for an awesome jewelry or accessory holder.
However you incorporate them, these nostalgic pieces lend a sense of charm and sophistication to any yard sale display. They're real conversation starters!
DIY Creative Ideas
If you're feeling handy, you can also construct your own yard sale displays fairly easily using common materials:
6. Ladder Shelving Unit for Toys, Baskets & Decor
Got some old wooden or plastic ladders lying around the garage or basement? You're in business! Simply run a few boards across two ladders to create an improvised shelving unit.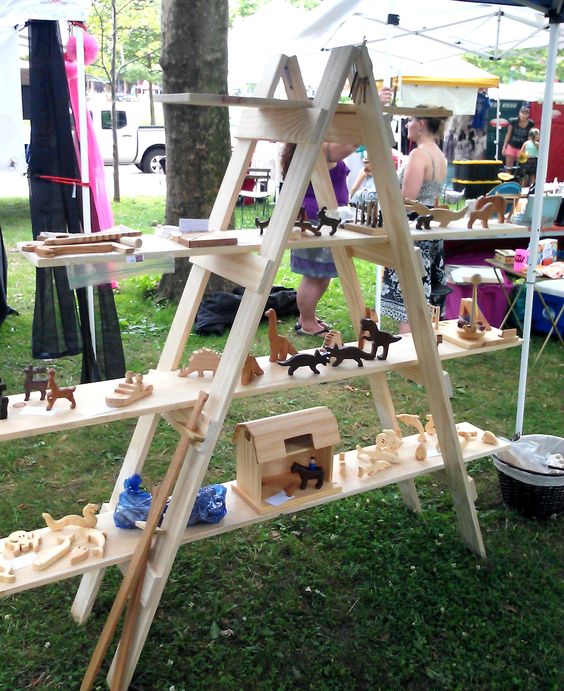 The rungs are perfect for propping up the boards to form tiers. Then use your makeshift shelving to neatly display children's toys, baskets, vases, picture frames and various home decor items.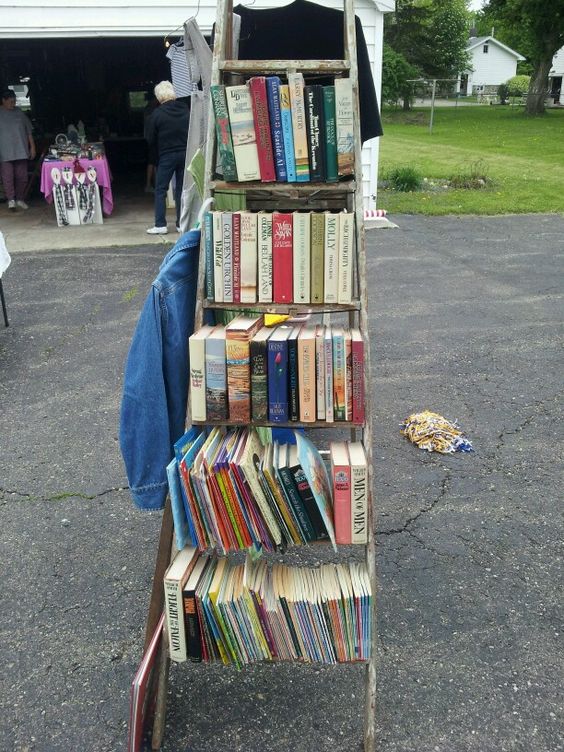 Just avoid placing anything extremely heavy or breakable on these DIY ladder shelves. Sturdy plastic ladders reinforced with boards or plywood work best. Arrange them to face your main walking path so customers can easily browse.
7. PVC Pipe Racks Are Great for Hanging Stuff
I'm a huge fan of using PVC pipe racks for displaying purses and clothes at yard sales.
All it takes is a few PVP pipe lengths and a couple of ladders, if you don't have a ladder you can use anything else to give the pipes a proper height.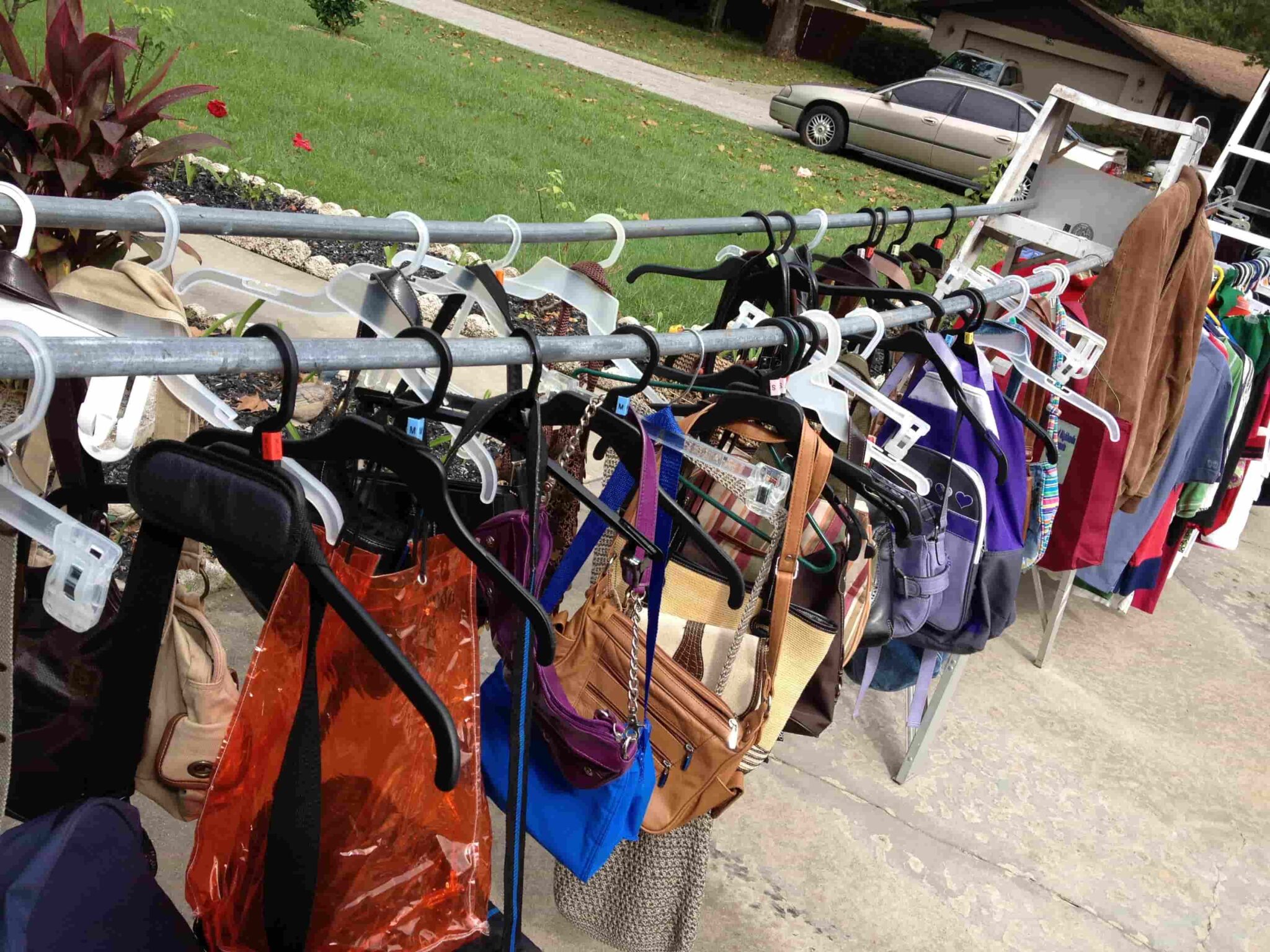 PVC clothing racks are fantastic because they're lightweight and so simple to assemble. You can use normal cloth hangers to hand clothes on the PVC pipes.
When you're finished with the sale, the whole thing comes apart again easily.
8. Simple Rope Will Also Work
If you don't want to mess with PVC pipe, you can also make a clothes-hanging system with a simple rope.
Simply tie the rope into the rafters of your garage. Use clothespins to hang sections of clothing from the rope lines.
This is perfect for organizing categories like women's, men's, children's, etc. As a bonus, customers can see everything unobstructed and it's up off the floor.
For portable rope racks, you can also hammer eye hooks into trees or posts.
Furniture & Household Items Can Double as Displays
If DIY and building stuff isn't your thing, reuse furniture you already have:
9. Small Patio Tables
If you have those tiny aluminum outdoor tables, they're perfect for displaying more valuable items like jewelry, small electronics, or collectibles.
The smaller surface forces you to minimize clutter.
10. Shallow Bookshelves
Bookshelves, hutches and open cabinets are also yard sale all-stars.
Use them to neatly line up ceramic figurines, vases, candles, baskets, craft supplies – anything you want to keep organized and upright.
Having items on secure shelving prevents things from toppling over. And customers feel more comfortable browsing without worrying about breaking merchandise.
11. Benches or Seating
Don't overlook seating like chairs, benches, stools or ottomans. These are amazing for instantly showing off things like:
Folded clothing piles
Shoe and bag collections
Hats, belts and scarves
Craft supplies
Pet toys and supplies
Simply arrange items neatly together on chair and bench seats. For a pretty presentation, try draping scarves over chair backs or laying decorative throws across ottomans.
12. Changing Table / Dressers
Put an old dresser to work by using its surface for decor or dishes. Place vases, throw pillows and framed art on top.
Use open drawers to display neatly folded dish towels, placemats, candles and kitchen prep utensils. Dressers give you plenty of tiered space to separate and show off your home goods.
Take Advantage of Your Property
The areas around your home can also be put to use! Here are some options:
13. Vehicles Make Instant Shelving for Large Items
If you're selling oversized items that won't fit on tabletops anyway, use your own vehicles as display spaces!
Open up the back hatch or truck bed to showcase outdoor equipment, tools, sports accessories, coolers…anything big.
You can also lay items flat inside SUVs and use the edge of the rear compartment as a shelf. Hang items like bikes, weed wackers and netting from trailer hitches and hooks. Get creative mixing upright and hanging items.
14. Clotheslines Across the Lawn Create Hanging Sections
Want your yard sale to be noticeable from the street?
String up a clothesline between trees or posts in your front yard. Use clothespins to hang your best clothing items and categories.
You can also decorate the lines with colorful streamers, ribbons, flags or balloons to make it eye-catching. Having visually appealing rows of clothes blowing in the breeze will draw more people's attention than just laying things on the ground.
16. Lawn & Driveway for Heavy Furniture
Need room to spread out larger furnishings, tools and equipment? Use your lawn or driveway open space to arrange bigger goods you're selling.
Laying out items on the grass or pavement lets shoppers walk around easily. And passersby can see full-size items better rather than stuff crammed on crowded tables.
Just avoid blocking foot traffic, parking areas or the street. Safety first! Also, prop furniture up on wood blocks if placed directly on damp ground.
17. Create Floors Displays with Blankets
One of my favorite tricks is creating little floor displays using things like:
Tarps or blankets – Lay down a tarp or old blanket, then neatly place items on top. This keeps things clean and adds a nice visual backdrop. If a storm pops up, tarps help protect your goods.
Rugs – Set up rug "zones" for categories like shoes, handbags, clothing, etc. Contain the items to keep it looking tidy.
Beach towels – Unfold beach towels on the grass or gravel driveway to display toys, jewelry, and other smalls. The bright colors catch people's eyes.
Where To Buy or Rent Tables For Garage Sale?
If you ultimately decide some real tables could be helpful, check out these budget-friendly sources:
Dollar stores – Stores like Dollar Tree sell super cheap folding tables that make great cashier stations or displays. They usually cost $20-30.
Facebook Marketplace and Craigslist – You can often find residents selling used tables and furniture dirt cheap…or even free if you're lucky!
Thrift stores – I always check the thrift store for weird unique pieces like old TV trays or cabinets to use. You never know what you'll find for under $10!
Other yard sales – Why not scout out tables and displays at other people's sales? Ask neighbors too if you can borrow tables.
Party rental companies – If you're hosting a big multi-family or community yard sale, sometimes renting long tables is worth the cost for the convenience.
Wrapping Up
As you can see, tables and displays do NOT make or break your yard sale success. With some creative thinking and resourcefulness, you can find all sorts of solutions using the stuff you already own!
Repurpose household containers, building materials, and existing furniture into handy sales displays. Take advantage of your property's built-in surfaces. Use tarps, rugs, and linens to define cute shopping zones.
Most importantly – take time to neatly organize and artfully arrange your sale items. Group similar merchandise, declutter areas, and highlight your best unique pieces.
With clever displays and mindful organization, you can host an absolutely fabulous yard sale with or without tables!
Hey there! I'm Rohit Lohia, a passionate SEO enthusiast and the proud founder of Branded Bucks. I'm all about helping small business owners achieve success online through my blog. Join me on this exciting journey as we explore ways to make money online and build a thriving digital presence.