This post may contain affiliate links and we may receive a commission if you make a purchase through our affiliate link at no extra cost to you. Please read our disclosure policy for more information.
Planning your next garage sale and looking to make some extra dough, eh?
Who isn't? We all want to declutter our lives and make a little moola while we're at it.
And you know what's a great way to drum up more business and profits?
Selling delicious and mouth-watering food!
I can just imagine you now – eyeing that old waffle maker and dreaming up visions of fluffy golden waffles luring hordes of hungry shoppers.
Before you fire up the grill though, let's talk about whether or not you can legally sell food at your garage sale.
I've got the down low for you here so you can make sure you don't end up on the wrong side of the food safety police.
You May Also Like
Can You Sell Food at a Garage Sale?
The short answer is: it depends.
In most places, it's perfectly legal to sell food at a garage sale, yard sale, or flea market. However, some cities and counties require you to have a permit or license first.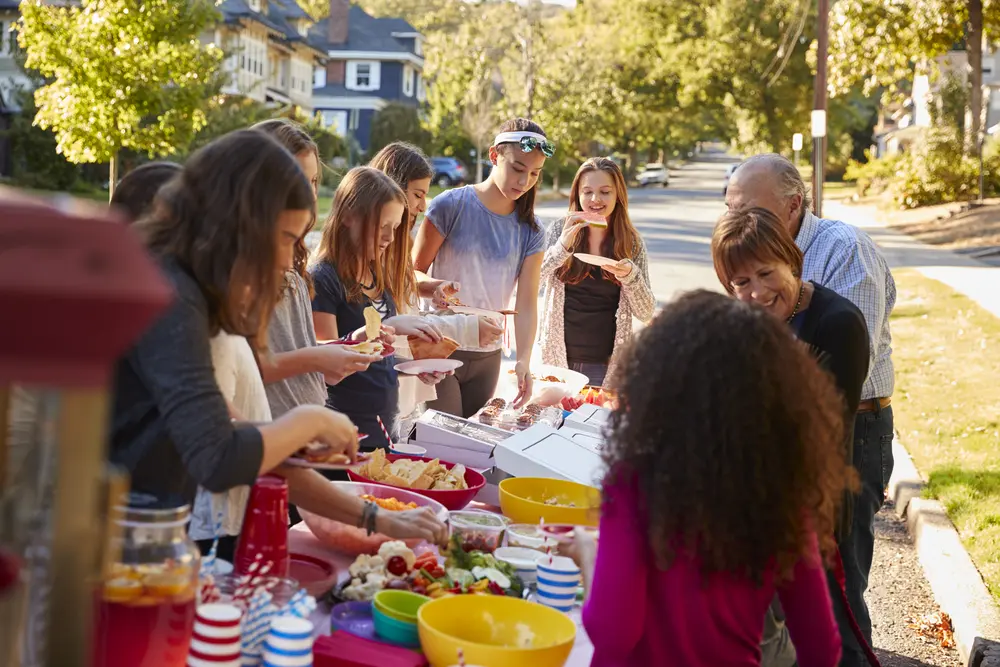 Here are the key things to consider:
Check your local regulations. Before selling any food, contact your city council or county health department to ask about permits.
Follow food safety guidelines. Store, handle, and display food properly to prevent contamination.
Stick to pre-packaged foods when possible. Sealed chips, snacks, candy, bottled beverages are safer and most of the time doesn't even require a license.
Be transparent. Let customers know if foods are homemade or store-bought. Build trust.
So can you sell food at a garage sale? In many cases, yes – with proper planning and precautions.
Let's look further at the rules and regulations around selling food at your casual community event.
Do You Need a Permit to Sell Food at a Garage Sale?
In most states, you will need some form of permit or license to sell food at a yard sale. This is primarily for health and sanitation reasons.
When you sell food to the public, you want to ensure it is handled and prepared safely. No one wants customers getting sick from items purchased at your garage sale!
Here are some common permit requirements:
Handling food from a screened booth – This provides protection from flies, dirt, and other contaminants. A folding patio gazebo works perfectly.
Having a handwashing and utensil washing station – A simple Igloo cooler with a spout can function as a makeshift handwashing station. Fill it with water and pump soap.
No permit needed for pre-packaged foods – Individually wrapped candies, chips, and bottled drinks don't require a permit. The seal keeps them protected.
However, some states allow the sale of homemade food without a permit under Cottage Food Laws.
These laws are intended to support small business owners selling non-hazardous foods. Jams, jellies, cookies, cakes, and breads are examples of cottage foods.
So be sure to check regulations in your area before selling any homemade goodies. When in doubt, apply for a temporary food service permit to stay on the safe side.
The bottom line: Contact your local health department to understand permits needed to sell food at your garage sale in your state and county. Better safe than sorry!
What Types of Food Can You Sell at a Garage Sale?
You have lots of tasty options when it comes to finding the right food to sell at your garage sale! Think portable, easy-to-eat foods that will appeal to shoppers.
1. Baked Goods
Who can resist cookies, cakes, pies, and other sweet or savory baked treats?
You may need a permit to sell homemade baked goods, but they are usually a hit.
Make sure to:
Label ingredients, especially common allergens like nuts or wheat.
Wear gloves when serving.
Display baked goods neatly on trays or stands.
Building trust is key. Reassure shoppers that you follow health requirements and sanitize work areas.
2. Pre-packaged Snacks
Avoid the permit hassle by selling sealed pre-packaged snacks and goodies.
Things like:
Chips, pretzels, and crackers
Granola bars and energy bars
Candy bars and chocolates
Popcorn packets
You can also sell canned or bottled beverages like soda, water, and juice drinks.
3. Hot Foods
Grilling up hot dogs, hamburgers, or BBQ?
You'll need proper equipment and permits.
But buyers will flock to the savory smells! Have condiments like ketchup, mustard, and relish on hand.
4. Fruit and Produce
Fresh fruits and veggies are healthy options.
Slice watermelon, pineapple, or orange wedges. Offer apple slices with caramel dip. Just be sure to keep cold items chilled in a cooler with ice packs.
5. Beverages
Quench shoppers' thirst with:
Lemonade or fruit punch
Iced tea or iced coffee
Bottled water and sports drinks
Coffee, hot tea, hot chocolate, and apple cider are great in colder weather.
What Foods Typically Sell Well at Garage Sales?
When selecting food to sell at your garage sale, go for affordable treats that are:
Quick and easy to eat – Like cookies, donuts, muffins, and packaged snacks. Shopping takes energy, so offer food shoppers can nosh on-the-go.
Familiar and classic – Hot dogs, nachos, chocolate chip cookies, rice crispy treats. It's no time to get fancy – stick to comforting classics.
Cool and refreshing – Iced tea, lemonade, fruit cups, popsicles. Hydrate shoppers on hot days.
Warm and satisfying – Grilled cheese sandwiches, veggie chili in a cup, coffee, hot cocoa. For chilly weather.
Nostalgic and fun – Snow cones, cotton candy, popcorn. Take shoppers down memory lane.
Choose crowd-pleasing foods at bargain prices, and your garage sale grub will be gobbled up in no time!
Should You Make or Buy Food to Sell at a Garage Sale?
You can save money and put your chef skills to work by making tasty baked goods, dips, lemonade, and more to sell at your garage sale. But it also takes more time and effort.
Or you can simply buy pre-packaged cookies, chips, candy, drinks etc. from wholesale retailers like Costco or Sam's Club. Less work but less profit.
Ideally, do a mix of both for variety and balance. Homemade brownies and store-bought chip bags. Your own fruit salad plus packaged crackers. Offer choices!
Tips for Successfully Selling Food at Your Garage Sale
If food is on the menu at your garage sale, follow these tips to satisfy crowds and boost sales:
Make it visually appealing. Use colorful tablecloths, signage with menu options and pricing, decorations, etc.
Follow safe food prep guidelines. Wash hands and surfaces often. Avoid cross-contamination. Store food properly.
Label items. List key ingredients and allergens for transparency.
Offer samples. Letting people try free samples encourages sales.
Have a dedicated checkout person. Don't leave the food area unattended.
Price competitively. Charge less than retail stores but still make a profit.
Bring enough. Don't run out of top-sellers too quickly. But don't get stuck with leftovers either.
Take precautions with high-risk items. Keep hot foods hot and cold foods cold.
Accept cashless payments. Have a Square or PayPal to collect credit card payments.
With tasty food, savvy presentation, and stellar customer service, your garage sale eats will be a huge hit!
Clever Ways to Package Foods for Your Garage Sale
Packaging and presentation is key when selling food at your garage sale. Some creative packaging ideas:
Personalized sticker labels on baked goods
Cello bags with ribbon ties for cookies, bars, breads
Clear clamshell or hinged containers for whole pies, cakes
Cupcake liners and to-go boxes for cupcakes
Mason jars for jams, sauces, dressings, overnight oats
Paper food boats for fries, nachos, tacos
Foil wrappers or paper cones for sandwiches/dogs
Individual bags of chips, snacks, trail mix, popcorn
Resealable plastic containers for salads, sides
Use packaging to make your homemade or pre-packaged foods more eye-catching and grab-and-go friendly for garage sale shoppers on the hunt for second-hand goods.
Fun Sign Ideas to Promote Food at Your Garage Sale
Make potential customers hungry for what you're serving up with creative food and drink signage:
Chalkboard signs with bistro-style daily specials
A giant realistic painted cookie, donut, or cupcake
Vintage silverplated trays or tiered cake stands displaying treats
A stuffed animal or mannequin in a hot dog or ice cream costume
Old bicycle with a basket or cooler filled with drinks
Mini table tents or A-frame signs with flavors and pricing
Balloons clustered together and tied down near your stand
With fun, personalized signage that captures attention, you'll have shoppers making a beeline straight to your garage sale eats.
Wrapping Up
Well there you have it, everything you need to know about selling food at your garage sale!
I hope this gave you some good ideas and tips for making your neighborhood garage sale a delicious success without any legal troubles or safety worries.
Just remember to check local regulations, handle food properly, package creatively, advertise cleverly, and your tasty treats are sure to be a hit. Happy garage sale season!
Hey there! I'm Rohit Lohia, a passionate SEO enthusiast and the proud founder of Branded Bucks. I'm all about helping small business owners achieve success online through my blog. Join me on this exciting journey as we explore ways to make money online and build a thriving digital presence.