This post may contain affiliate links and we may receive a commission if you make a purchase through our affiliate link at no extra cost to you. Please read our disclosure policy for more information.
Are you planning to have a garage sale? If so, jewelry is a great item to sell! People love buying jewelry, and it's something that they can usually find a good deal on.
However, in order to make the most money possible from your jewelry sales, you need to display them in a way that will attract buyers.
In this article, we will discuss 5 ideas for how to display your jewelry at a garage sale. Keep these tips in mind, and you'll be able to generate more income from your sale!
Before moving ahead you should read our full guide on how to have a successful garage sale.
How To Display Jewelry At a Garage Sale (5 Ideas)
If you're looking for some creative ways to display your jewelry at a garage sale, here are five ideas to get you started.
1. DIY Jewelry Stand Using Carboard and Black T-Shirt
Yes, you can use an old carbord box laying around your house and a black t shirt to create a beautiful jewelry stand for your garage sale.
It hardly takes 5 mins.
Watch this beautiful video by Leah Rae to know step by step about creating this beautiful display for your jewelry.
Leah Rae demonstrates an easy way to make jewelry displays for selling at Garage Sale using inexpensive materials like cardboard and an old stretchy t-shirt.
Simply fold a 12-pack cardboard box into a triangle shape.
Stretch a small black t-shirt over the triangle, sewing up any armholes.
Make sure seams end up on the backside.
Fold the bottom of the shirt over the base to create a smooth finish.
The stretchy shirt will conform nicely to the cardboard shape.
Fold up triangular flaps to fully cover the cardboard.
When placing this stand on outside at a table make sure to place a paver stone in the base for stability.
Drape necklaces over the cardboard and use safety pins on the backside to secure jewelry and prevent them from blowing away at an outdoor sale.
2. Using Carboard Boxes and Pins
Do you know what's great about cardboard boxes?
They're free!
And we all have tons of them lying around from Amazon deliveries or moving. So why not repurpose them to display jewelry at your next garage sale?
Well, here's an idea: use empty cardboard boxes and pins to create instant jewelry displays!
First, snag a few empty cardboard boxes – think shipping or moving boxes. Place them flat on a table or other surface.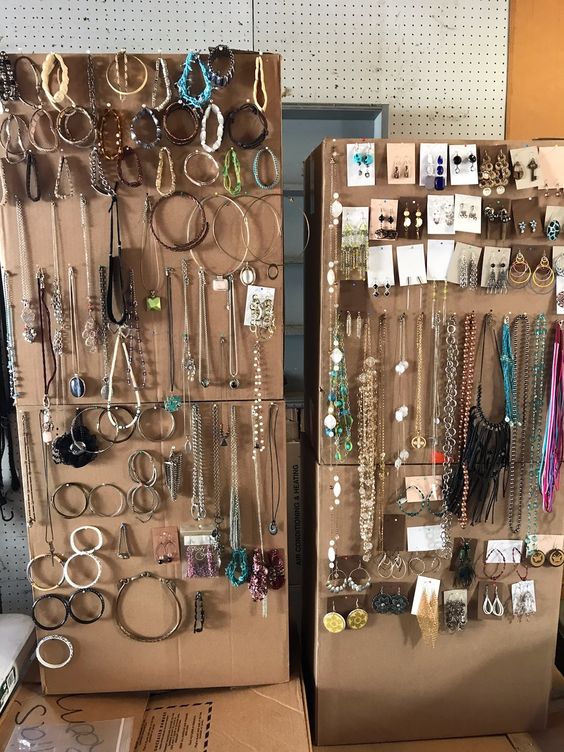 Next, grab a box of straight pins, safety pins, or even pushpins. Start poking the pins all over the boxes so the sharp ends stick up.
Now the fun part…drape necklaces and bracelets over the pins so they hang nicely. The pins keep everything in place and prevent tangles.
You can arrange pieces by color or style. Group similar things together to help shoppers easily spot matching sets.
The cardboard provides a neutral background to really make the jewelry pop. And it's recyclable when you're done!
Also Read: How To Display Clothing At a Garage Sale (5 Ways)
3. Lay It On The Table
Another great way to display your jewelry at a garage sale is to lay it out on the table. This is especially effective if you have a lot of small pieces of jewelry, like rings and earrings.
To make sure your jewelry doesn't get lost or mixed up, use small dishes or trays to keep each type of jewelry separate. You can also use clear plastic bags to organize your jewelry.
Try to label the plastic bags with price and jewelry type, this will make it easy for buyers to see what they're buying and keep track of their purchases.
Watch this amazing video by Shell Belle (please subscribe to her channel and show some love) , you will see some great jewelry displays by different garage sale hosts.
4. Using Wired Mesh Bucket
For a unique way to show off all those earrings, necklaces, and bangles, try hanging them on a wire mesh bucket.
Head to your local craft store and grab a small galvanized metal bucket. The kind with holes all over it works great.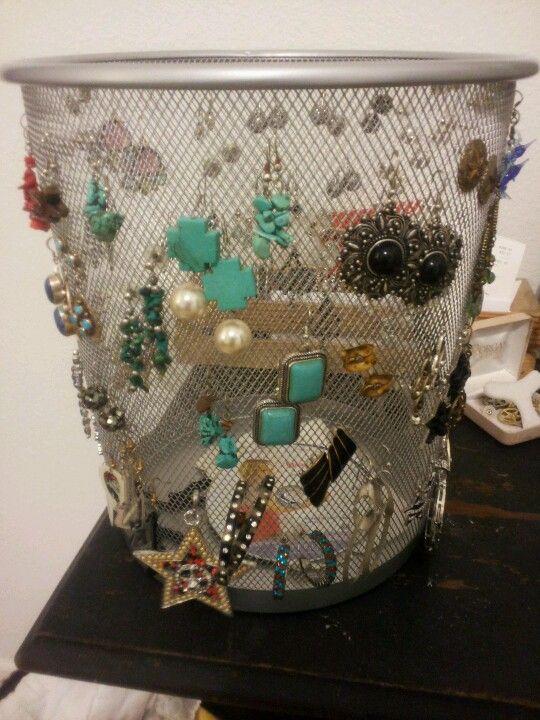 Then, simply start threading jewelry pieces through the holes. Drape longer necklaces along the outside and hang pairs of earrings from the same holes.
The wire mesh provides a ton of display space and keeps everything organized. Shoppers can easily sift through the pieces dangling from the bucket.
Feeling crafty? Spray paint the bucket or wrap some colorful ribbon around it. Add hooks to hang it from a wall or display stand.
However you decorate it, a wire mesh bucket creates an eye-catching focal point. Your jewelry will stand out from the crowd at any garage or yard sale.
So grab an empty bucket from your garage and turn it into a jewelry display holder that's anything but boring. Your garage sale gems deserve it!
Also Read: What Not To Sell at Garage Sales (10 Items To avoid!)
5. Use Bottles To Present Jewelry
You can use old empty glass bottles to display jewelry in a garage sale in order to add an element of decoration and organization.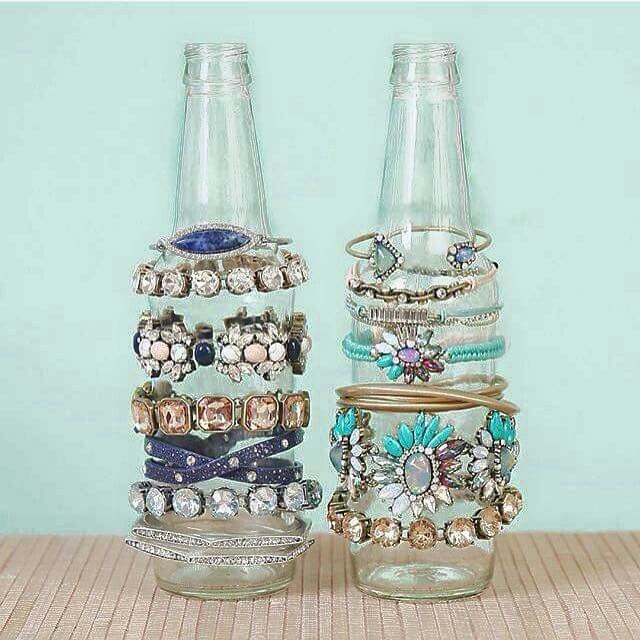 This can be done by filling the bottom of the bottle with colored stones or other materials that contrast with the jewelry.
The neck of the bottle can then be used to hang necklaces, while the body of the bottle can be used to display bracelets and other items.
6. Present Jewelry Using Clipboards
If you plan to have a garage sale, you may be wondering how to best display your jewelry. One option is to use clipboards.
Clipboards can be hung on a wall or door, or placed on a table or shelf. They provide a firm surface for attaching jewelry items with clips.
This can make it easy for customers to browse your selection.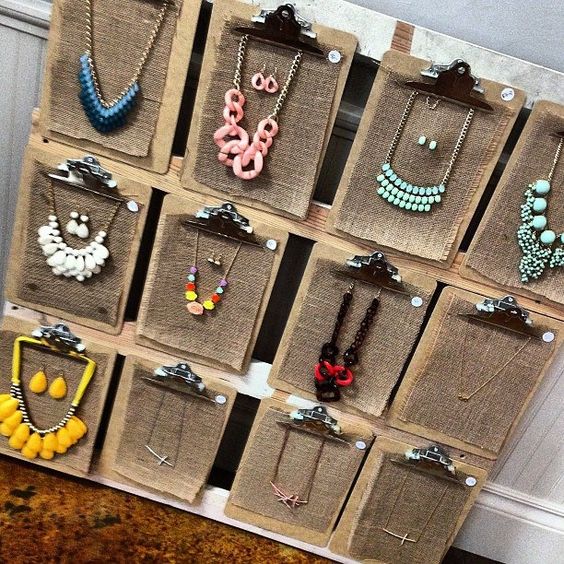 Clipboards are relatively inexpensive and can be found at office supply stores or online. You will need to decide how many you need based on the amount of jewelry you have to sell.
To attach the jewelry, simply open the clip and slide it onto the board. You can arrange the pieces however you like, and even create themed displays.
Also Read: How To Price Garage Sale Items (6 Best Ways!!)
How To Price Jewelry For Garage Sale
Pricing jewelry can be tricky – go too low and you lose money, too high and it won't sell.
I like to research similar items online to see what they're selling for. This gives me a ballpark estimate.
I browse completed eBay listings and Etsy sales to compare prices for similar vintage and designer pieces. Unique, one-of-a-kind items are harder to comp, so I may start high knowing that jewelry hagglers will talk me down anyway!
Consider what you originally paid. Don't go lower than half off retail (Not applicable for real Gold, Silver, Diamonds, etc), especially for designer pieces. My rule of thumb:
Costume jewelry – Half of the original price
Silver & Gold – Prices of silver and gold keep on fluctuating, so it's better to consider the current market price when pricing your jewelry.
Condition counts. That vintage brooch with a cracked stone won't fetch nearly as much as your grandmother's timeless pearls. Discount damaged items.
Price per piece. Smaller bundles like earring sets can sell for $5-10. Price high-end designers much higher.
Provide details like metal types, brand names, real vs. imitation. This builds trust with buyers.
And don't forget…if something doesn't sell, you can always mark it down later! Flexible pricing moves more jewelry.
Tips To Display Jewelry In A Garage Sale
Now that you have some ideas for how to display your jewelry at a garage sale, here are a few tips to keep in mind:
– Keep your displays clean and organized. This will make it easy for buyers to browse and find what they're looking for.
– Make sure your jewelry is well-lit. Natural light is best, so set up your jewelry near a window or outdoors.
– Keep original boxes and packaging. This will show buyers that your jewelry is legit and well-cared for.
– Have a mirror available so buyers can try on your jewelry. This is especially important for items like rings and necklaces.
– Be honest about the condition of your jewelry. If an item is damaged, be sure to mention it. This will help avoid any misunderstandings or disappointment later on.
Also Read: How To Find Garage Sales Near You (9 Best Apps & Websites)
Final Thoughts
Garage sales are a great way to get rid of unwanted items and make some extra cash. If you plan to sell jewelry at your garage sale, there are a few things to keep in mind.
First, decide how you want to display your jewelry. There are many different options, so choose the one that best suits your needs.
Next, make sure your jewelry is clean and organized. This will make it easier for buyers to browse and find what they're looking for. Lastly, be honest about the condition of your jewelry. If an item is damaged, mention it upfront to avoid any misunderstandings later on.
By following these tips, you'll be sure to have a successful garage sale. Good luck!
If you have any questions or comments, please feel free to leave them below. I would love to hear from you!
Happy selling!
Hey there! I'm Rohit Lohia, a passionate SEO enthusiast and the proud founder of Branded Bucks. I'm all about helping small business owners achieve success online through my blog. Join me on this exciting journey as we explore ways to make money online and build a thriving digital presence.