This post may contain affiliate links and we may receive a commission if you make a purchase through our affiliate link at no extra cost to you. Please read our disclosure policy for more information.
Do you own an Android phone or tablet?
If so, you likely use the Google Play store to download apps, games, music, movies, TV shows, and more.
While there are plenty of free apps and content available, you'll eventually come across something you want that requires real money.
Rather than linking a credit card or debit card to make purchases on Google Play, wouldn't it be nice to earn free Google Play credit instead?
The good news is, there are legit ways to get free Google Play codes and credit without paying a dime of your own cash.
In this guide, I'll show you 15 methods you can use to earn free money for the Google Play store.
You May Also Like:
18 Ways To Earn Free Google Play Gift Cards
Here are the top sites, apps, and methods I've found for getting free Google Play credit:
1. Google Opinion Rewards
Hands down one of the easiest and fastest ways to get free Google Play money is with Google Opinion Rewards.
This official app from Google sends you occasional surveys (around once a week on average) that pay Play credit upon completion.
Most surveys take less than a minute and pay between 10 cents and $1 each.
While that may not seem like much, those small sums add up over time into a nice free credit balance.
The Google Opinion Rewards app is 100% free to use (no catches) and available for both Android and iOS.
2. Gamehag
Gamehag is a unique rewards site aimed at gamers.
You can earn points called Soul Gems for
Playing new games
Completing quests
Watching videos
and many more
New games, completing quests, watching videos, social sharing, writing game reviews, and more.
Popular games you can play and earn rewards with include War Thunder, Guild Wars 2, Minecraft, and GTA 5.
Once you earn enough points, you can cash out for free Steam wallet funds, PayPal, Amazon gift cards, and yes…Google Play credits too.
3. Swagbucks
Swagbucks is one of the most popular rewards platforms on the web.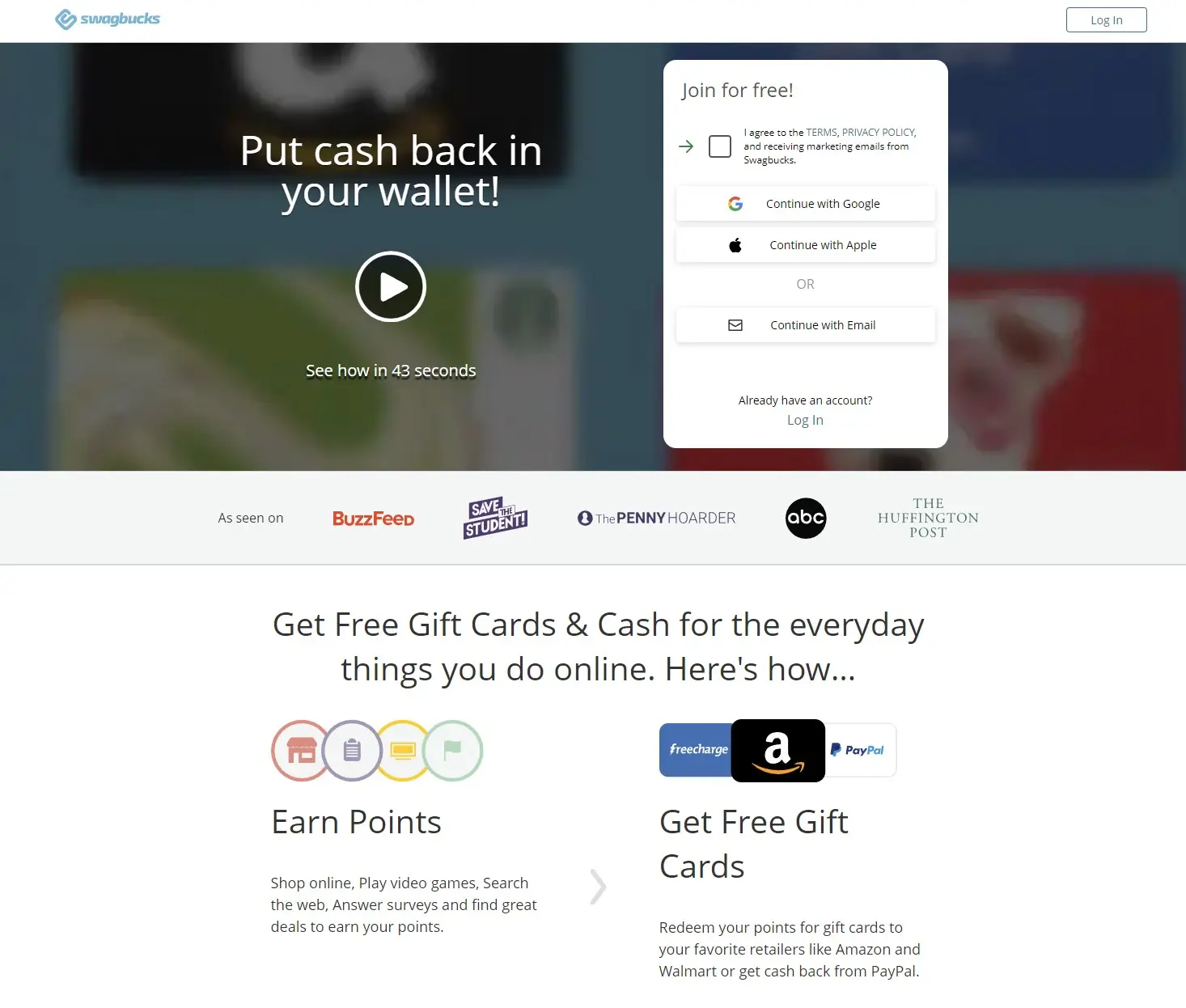 You can earn points (called SB) by completing surveys, playing games, watching videos, shopping online, discovering deals, browsing the web, and more.
Once you've gathered enough points, you can exchange SBs for free gift cards including Google Play credits.
Currently, a $10 Google Play gift card costs 1,000 SB, which you can earn in a couple of weeks or less.
Swagbucks also gives new users a $5 bonus just for signing up and earning 300 SB within 30 days.
4. S'more (Lockscreen App)
S'more is an Android lock screen app that pays you to put ads and sponsored content on your lock screen.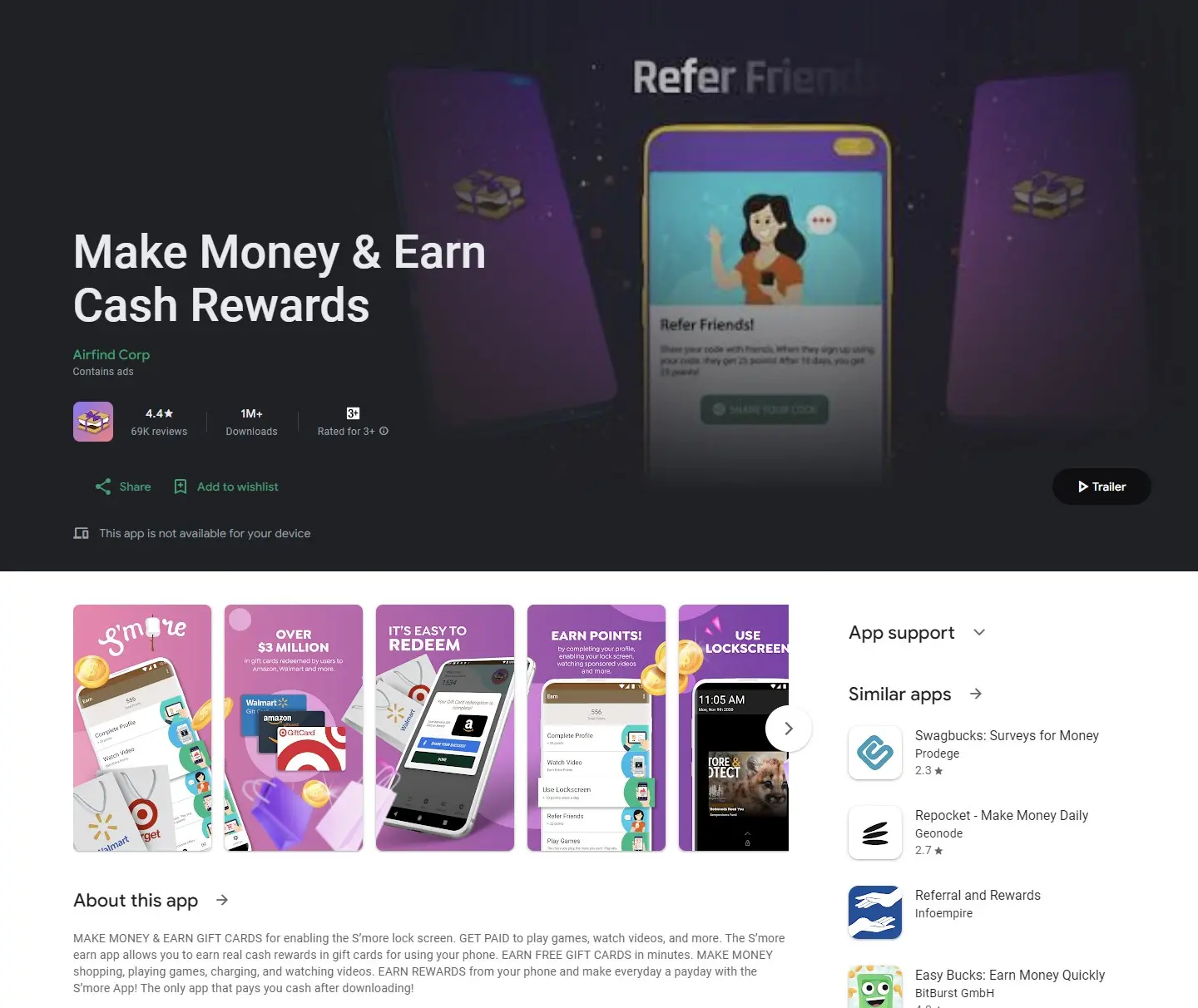 How Does It Work?
Regardless of how many times you unlock the screen or watch the ads, the maximum you can earn per day from this app is 10 points or $0.10 per day.
The earnings might seem small but it adds up I mean over a year, that's a free $36.50.
Plus, there are occasional surveys and tasks that can boost your earnings.
The only way to cash out your earnings is through gift card rewards, including Google Play credit, once you have at least 150 points ($1.5).
5. Gift Card Granny (Discounted Google Play GC)
Gift Card Granny is a website where you can buy various gift cards including Google Play Gift Card at discounted rates.
Whenever you buy a gift card from them you will receive a cashback which can be redeemed as cash out or free gift cards.
You can even sell Gift cards that you don't want, meaning you can sell your unused gift card and buy Play Store gift cards from the same marketplace, isn't it amazing?
6. instaGC
instaGC is a top rewards site that pays you to take surveys, watch videos, shop online, browse the web, and more.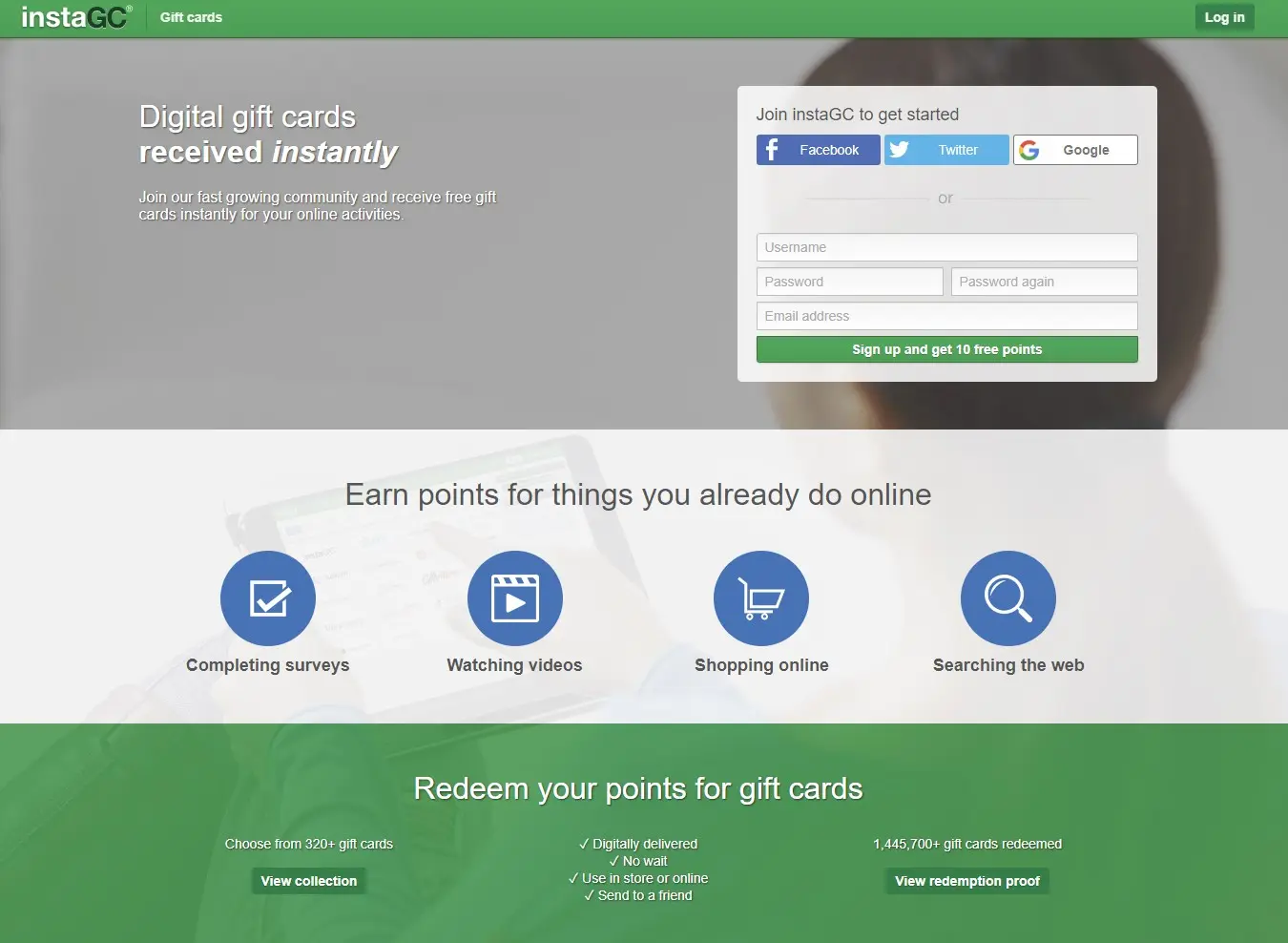 Sometimes you get occasional offers to complete like listening to music, visiting a specific website, or trying a product demo.
Here is a different way to express the same information:
What I really like about this site is that it offers a straightforward system for earning and cashing in points.
New members receive a 10-point signup bonus.
Then you accumulate points for completing various activities on the site.
When you're ready to redeem your earnings, the conversion rate is simple:
100 points equals $1.
Gift card options start at $10 and go up to $25 for Google Play credit.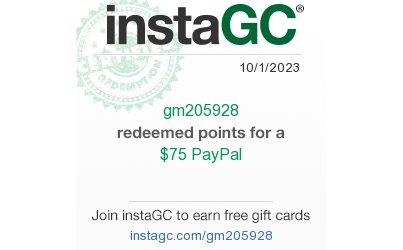 You can grow your points faster by utilizing InstaGC's referral program, you can get 110 points for each friend you refer.
Overall, InstaGC makes it easy to earn and redeem rewards with its simple point system and variety of gift card choices (over 250).
7. InboxDollars
InboxDollars is another rewarding site that pays you to complete various online activities like taking surveys, playing games, watching videos, reading emails, shopping online, applying for offers, and more.
For new users, InboxDollars offers a $5 bonus just for signing up and completing your profile.
Once you earn enough points, you can cash out for free gift cards including Google Play credits.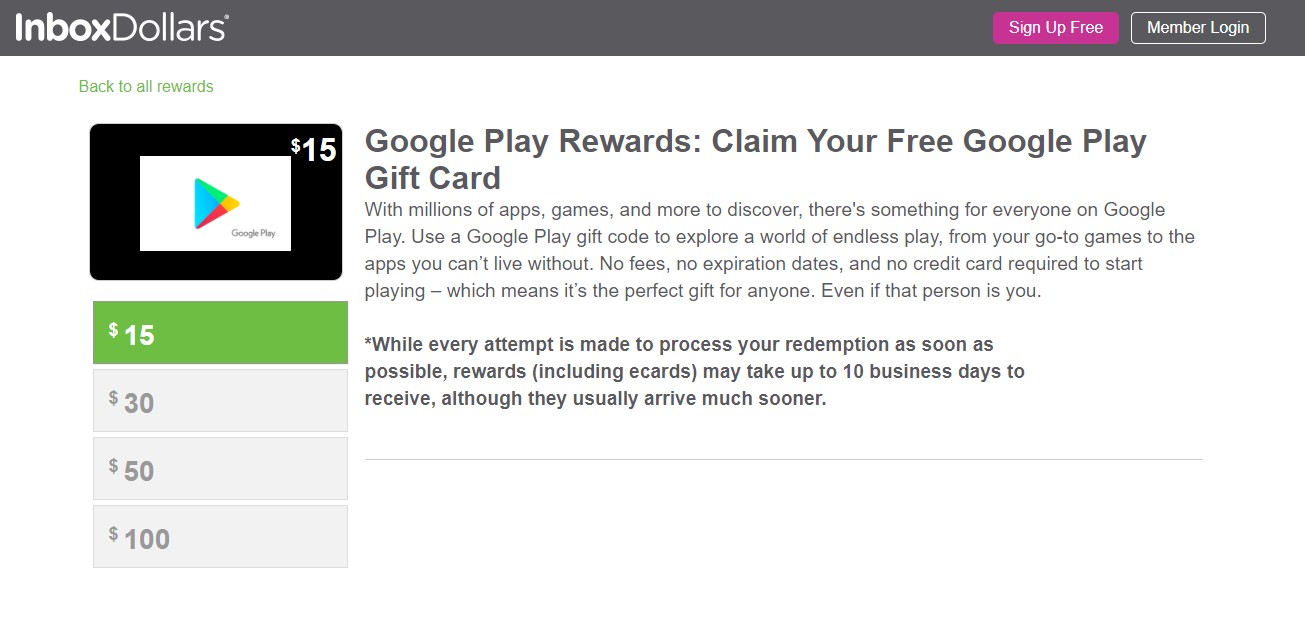 InboxDollars has paid out over $80 million to members so far, so they have a long history of paying rewards.
8. PrizeRebel
PrizeRebel features a number of ways to earn rewards points like completing market research surveys, watching videos, signing up for brand name offers, shopping online, and more.
The site offers opportunities from multiple survey providers, ensuring there's always a fresh batch available.
Once you earn enough points, you can redeem them for free gift cards and prizes – including Google Play credits.
Plus, PrizeRebel processes reward claims crazy fast, often within hours.
They also offer a referral program that pays out 30% of the points your referrals earn for life. Not bad!
9. Honey Browser Extension
Honey is a free browser extension that automatically finds and applies coupon codes at checkout across 30,000+ sites whenever you are shopping online.
As you shop online through Honey, you'll earn Honey Gold points. Once you accumulate 1,000 Gold ($10 value), you can redeem points for free gift cards, including Google Play credit.
Between automatic coupons and earning rewards, Honey is a great tool for saving money and earning free Google Play codes at the same time.
10. Fetch Rewards
Fetch Rewards allows you to earn free gift cards including Google Play credits just by scanning and submitting your receipts.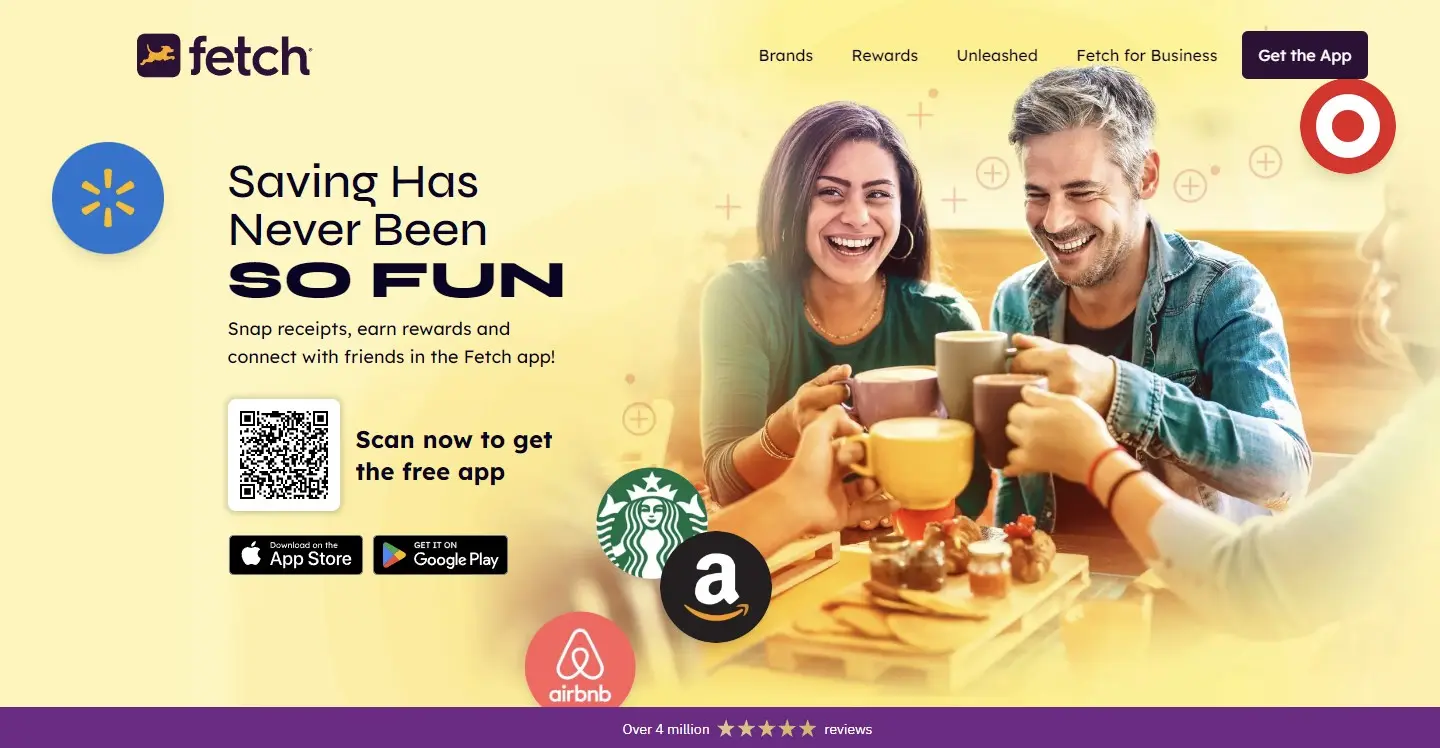 It's a super easy way to earn free rewards for your normal shopping.
All you have to do is upload grocery, restaurant, and other types of receipts from your purchases. For each brand or product you've purchased that's eligible for cash back, you'll earn Fetch points.
You can refer your friends to Fetch Rewards and you'll receive 2,000 points per referral as well.
You can redeem those points for free gift cards once you have 3,000 points or more (usually $3).
They offer Google Play, Amazon, Target, Starbucks, Uber, and tons of other rewards.
11. MobileXpression
MobileXpression is an app that pays you to share anonymous data about your mobile usage.
It's an effortless way to earn passive income since you don't have to do anything other than keep the app installed.
MobileXpression collects and analyzes your usage data to provide insights to their research partners.
In exchange, you earn points that can be redeemed for free gift cards including Google Play credit.
The app is completely passively earning, making it a great option if you want to earn rewards without doing surveys, games, or other active tasks.
12. Branded Surveys
Branded Surveys lets you earn free Google Play credit and other rewards just for sharing your opinions.
This free survey site matches you with paid surveys based on your profile.
The process is:
Branded Surveys is available in the U.S., Canada, and the U.K.
It's a quick, easy way to earn free Google Play money just for sharing your thoughts in the form of surveys.
13. Mistplay
Mistplay is a mobile app that rewards users with gift cards for playing games on their phones.
Users earn points, known as "Units," by playing games, and these Units can be exchanged for gift cards from various retailers.
How does Mistplay work?
Earnings can range from $0.50 to $1.63 per hour.
However, the exact amount you can earn depends on the time you spend playing and your Player Experience Points (PXPs).
The minimum payout varies based on the gift card you choose. For instance, you need 400 Units to redeem a $0.50 Amazon gift card.
So, Mistplay is completely legit. Users can genuinely earn points and redeem them for real-life gift cards without any hidden costs or fees.
You can redeem your Mistplay Units for in-app credits for specific games or gift cards for various retailers, including:
Amazon
Visa
Google Play
Xbox
GameStop
PlayStation
iTunes
Starbucks
eBay
Nintendo
Mistplay also offers a referral program, allowing users to earn more by inviting friends to join the platform.
However, it's important to note that you cannot redeem your points for cash or via PayPal.
14. Bananatic
Bananatic is a unique GPT (Get-Paid-To) platform, developed by Sedoc LLC in Miami, Florida, that primarily focuses on rewarding users for playing online games.
Unlike traditional GPT sites, Bananatic's main attraction is its vast array of online games, though it also offers other tasks similar to standard GPT sites.
Users earn "bananas", an in-game currency, by completing various tasks ranging from playing games, taking surveys, watching videos on their YouTube channel, to writing articles about games.
These bananas can then be exchanged for a variety of rewards including Amazon gift cards, PayPal cash, game currencies, and more.
The platform also offers a referral program where users can earn additional rewards by inviting friends.
Anyone above the age of 13 can join Bananatic, with those between 13 to 16 requiring parental consent.
While the platform provides multiple ways to earn and a variety of redemption methods, some users have reported issues with tracking their game quests and not receiving bananas after completing certain tasks.
Despite these concerns, Bananatic remains a popular choice for gaming enthusiasts looking to earn rewards and is accessible via both web and mobile apps for Android and iOS devices.
15. Ibotta
Ibotta is a cash back app that rewards you for shopping at hundreds of stores and brands. You can unlock cash back offers, shop as normal, then scan your receipt through the app to earn cash back.
While Ibotta doesn't offer Google Play gift cards specifically, you can cash out your earnings once you hit $20+ and use that money to buy Play credit yourself essentially making it free.
Between groceries, dining out, shopping online, and more, Ibotta makes it easy to earn real cash back for daily purchases. Definitely useful if you like to shop!
For those keen on exploring further, Ibotta's official website and its Wikipedia page are excellent resources.
16. Microsoft Rewards
Microsoft Rewards is a loyalty program designed by Microsoft to reward its users for engaging with its products and services.
The program allows users to accumulate points by completing various tasks and activities, which can then be redeemed for a range of rewards.
These rewards include gift cards, discounts, sweepstakes entries, and even charitable donations.
How Does It Work?
Currently, Microsoft Rewards does not offer Google Play gift cards as a direct redemption option but here are some ways you can get Google Play Gift cards using microsoft rewards:
Amazon Gift Card Route: If users have redeemed an Amazon gift card using their Microsoft Rewards points and have it tied to their Amazon account, they might be able to purchase Google Play gift cards on Amazon using that credit. However, this method is not guaranteed to work.
Walmart or Target eCard: Another potential route is redeeming Microsoft Rewards points for a Walmart or Target eCard. These eCards can then possibly be used to purchase Google Play gift cards either online or in-store. Again, this method isn't guaranteed but might work.
For a more in-depth exploration, you might want to visit the Microsoft Rewards page or the discussion thread from which this information was sourced.
17. Cash Giraffe
Cash Giraffe is a mobile application available for Android users that rewards them for trying out new games and apps.
Developed by justDice and headquartered in Hamburg, Germany, the app was launched in July 2022 and has since been downloaded by over a million users.
The overall sentiment from users is positive, suggesting that it's a legitimate way to earn some extra cash.
How Does It Work?
18. Survey Junkie
Survey Junkie lets you share your opinion on brands and products by taking surveys and completing short tasks. Each survey has a set pay rate and takes just a few minutes on average.
With over 10 million members, Survey Junkie is one of the most trusted survey panels online. And they make it quick and easy to earn rewards points from surveys.
Once you have 1,000 points ($10), you can cash out your earnings for free gift cards, including Google Play credits.
How To Redeem Google Play Store Codes
Once you've earned free Google Play credit from any of these apps and sites, you'll want to redeem it to your Play account. Here's the simple process to follow:
That's all it takes to fund your Google Play account with free credit you can use for apps, games, movies, books, and anything else in the Play Store. It sure beats entering your credit card details!
Frequently Asked Questions
How much is 100 play points Google Play?
100 Google Play points is equal to $1 in credit that you can spend on apps, games, books, movies and more in the Google Play store. So if you redeem 1,000 Play points, you'll get $10 in credit added to your Google Play account balance.
How do I buy Google Play credit as a gift?
You have a few options to purchase Play credit as a gift:
Buy a physical Google Play gift card at retailers like Walmart, Target, Best Buy, etc. It will have a redemption code the recipient enters.
Purchase an eGift card from Amazon, PayPal, or other digital gift card sellers. The code will be emailed to the recipient.
Use the Google Play Android app to send a digital gift card to someone, which allows you to set the amount and send it immediately.
Does Google Rewards give money?
Google Rewards does give you money in the form of Google Play credits.
When you complete short surveys in the Google Opinion Rewards app, you'll earn Play credits ranging from about 10 cents to $1.
While not cash, these credits can be used to purchase apps, movies, books, and other content in the Play store for free.
Can I Turn Google Play Credit To PayPal Or Cash?
Unfortunately, there is no legitimate way to convert your Google Play credits into cash or transfer them to PayPal at this time. Any apps or websites that claim they can exchange Play credits for PayPal cash are likely scams. Your only option is to use Play credits for purchases and apps within the Google Play store.
Can I Use Google Play Credit On Amazon?
Google Play credit can only be used on Google Play and cannot be used on other platforms like Amazon. However, there are a couple exceptions where Play credit may work indirectly with Amazon:
Kindle App: You can use Play credit to purchase Kindle books through the Kindle app.
Amazon Coins: You can buy Amazon Coins with Play credit, then use the Coins to buy apps/games on Amazon Underground.
But in general, no you cannot use Google Play credit when shopping directly on Amazon.com or for Amazon Prime subscriptions. The credits are strictly for Google Play.
Final Thoughts
As you can see, there are plenty of legitimate ways to earn free Google Play credit through apps, websites, and even normal shopping. While most individual methods only earn small amounts, combining several options can add up over time.
I recommend starting with survey apps like Google Opinion Rewards, Mistplay, and Survey Junkie as they provide surveys daily you can knock out in spare minutes.
Passive income apps like S'more, MobileXpression, and Microsoft Rewards are also great since they pay you automatically while you use your device as normal.
Just be sure to avoid any sketchy websites or app promising free Play codes or credits in exchange for personal information or downloading software.
Stick to legitimate survey and rewards platforms, and you'll be earning free Google credit securely.
Let me know in the comments about your favorite methods for scoring free rewards!
Hey there! I'm Rohit Lohia, a passionate SEO enthusiast and the proud founder of Branded Bucks. I'm all about helping small business owners achieve success online through my blog. Join me on this exciting journey as we explore ways to make money online and build a thriving digital presence.