This post may contain affiliate links and we may receive a commission if you make a purchase through our affiliate link at no extra cost to you. Please read our disclosure policy for more information.
As a fellow driver, I know how expensive gas and car maintenance can be these days.
It seems like costs are always going up but our paychecks don't increase at the same rate!
Well, I've got some good news for you – there are actually clever ways you can get paid to display ads on your car as you drive around town.
In this article, I'll share "5 Ways To Get Paid To Have Ads On Your Car" so you can earn extra cash to offset those annoying vehicle expenses.
You've likely seen wrapped vehicles driving around before.
These programs let companies advertise on your car's windows or body, and then pay you for helping spread their message.
It's like turning your car into a rolling billboard and getting paid for it! Pretty cool right?
Whether you want to earn a little gas money or a couple hundred bucks a month, these options make it possible to gain back some of what you're shelling out on fuel costs.
Keep reading to learn how putting ads on your car can pay off!
You May Also Like:
What is a Car Wrapping?
Car wrapping is a process of wrapping the car in vinyl sheets (fully or partially) for endorsement purposes.
Vinyl sheets come in various finishes such as matte, gloss, etc. It not only helps to promote brands but also helps in protecting the original paint of the car.
The marketing strategies of the brands have changed drastically. Now they are more focused on putting advertising posters on the cars than printing big billboards.
Putting advertising posters on cars is a much cheaper option than billboards and cars can go to any small town or area where big billboards and banners cannot.
You can fully or partially wrap the car with advertisements and drive it around the town to earn money and increase brand awareness.
You can use the extra money to pay for gas, insurance, or any other need. It is the best source of passive income, especially for people who are already gig workers.
How Much Can You Earn From Paid Car Advertising?
You won't believe that you can actually earn around $100 – $700 per month by putting small banner ads on your cars.
Although, the amount that you can earn with car advertisement depends on a few factors:
5 Ways To Get Paid To Have Ads On Your Car
Below are the ways that you can follow to get paid to have ads on your car:
1. Approaching the Businesses Manually
You can identify specific companies and local businesses that would benefit from your driving audience and geographic route.
Approach them in person and pitch custom ad placements and flexible pricing based on estimated exposures.
Small businesses with limited marketing budgets may be open to affordable and targeted options.
One idea is to put an "Ad Space Available" sign somewhere on your car with your contact information.
When driving around town, this mobile billboard will catch the eye of potential advertisers and they can contact you through your contact number.
How it works:
You approach a local brand or business manually
You can also put a small "Ad Space Available" board on your car
Meet the advertisers & business owners and tell them about your driving routine
If things go well, you both will decide on a monthly pay and complete document formalities
2. Wrapify
Website: Wrapify
Payout: According to the wrap coverage level
Full Car wrap: $264 – $452 per month.
Partial Car wrap: $196 to $280 per month.
Less than partial wrap: $181 to $280 per month.
Wrapify is one of the fastest-growing advertising companies that pay people to wrap their cars with ads from different brands.
It was founded by James Heller in 2015 and the company has partnered with Fortune 500 companies to offer advertising opportunities to local drivers.
Wrapify provides a two-sided marketplace where drivers can sign up on their platform, choose the extent of the ad wrap, and select the marketer they want to work with.
Drivers are usually paid based on how many miles they have driven, the area where they belong to, and of course, the marketer they are working with.
Here's what Emily has to say about Wrapify on product hunt.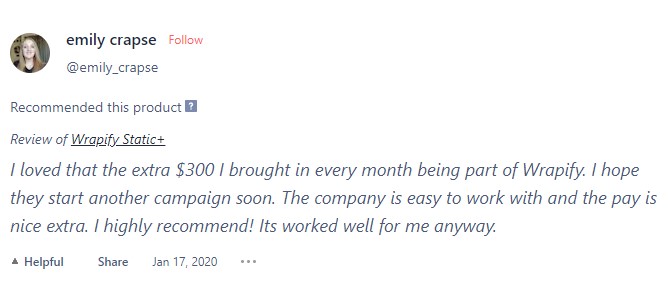 Here is a Wrapify Driver Erika sharing her experience with wrapify.
It is mandatory to drive at least 50 miles in a highly populated area to be eligible for a campaign invitation.
An average campaign can be around 1-3 months. If you wish to terminate the campaign early, then you will have to pay termination fees.
In my opinion, it is the best way to get paid to have your car wrapped.
How it works:
Download the Wrapify app and create a profile or sign up on thier Website.
Mention in your profile if you are a gig worker or not.
Drive 50 miles to get qualified to take part in a campaign.
Review and accept a campaign of your liking.
Submit a background check.
Take pictures of your car and select a shop, time, and place for ad installation.
Once the ads are installed, you can earn money by driving your car around.
Requirements:
Drivers should be age 21 or older.
Drives should have a clean background check.
The driver should own a 2010 or above model-year vehicle.
The vehicle should be damage-free.
There should be no case or ticket on the vehicle's or driver's name.
3. Nickelytics
Website: Nickelytics
Payout: $175- $250 per car wrap campaign
Nickelytics helps brands increase their awareness by putting their ads on cars. Drivers can earn between $175-$250 per car warp depending on the type and length of the campaign.
The duration of the campaign can be anywhere between 1 week- 3 months.
Earning through Nickelytics is even easier for gig workers, who are already working with Ola, Uber, Doordash, etc.
How it works:
Download the Nickelytics app and fill out basic information.
Choose a campaign of your liking.
An operator from Nickelytics will contact you and install the ads on your car.
You can choose if you want to fully wrap or partially wrap your car.
Turn on the Nickelytics app while driving the car.
Requirements:
Drivers should have a valid driver's license and a clean driving record.
Driver should not drive a vehicle more than 10 years old.
Drivers should drive a minimum of 30 miles per day.
4. Carvertise
Website: Carvertise
Payout: $450 – $1,500 per campaign
Carvertise provides an innovative advertising solution that transforms private vehicles into moving billboards.
The company connects brands with a network of drivers who display advertisements on their cars and trucks in exchange for supplementary income.
Since its founding in 2012 in Wilmington, Delaware, Carvertise has experienced significant growth.
Today, the company partners with over 550,000 drivers across 75 markets nationwide.
Major brands including Amazon, Sprint, Buffalo Wild Wings, and Blue Cross Blue Shield leverage Carvertise's services to increase impressions and expand their marketing reach.
For drivers, displaying ads provides an opportunity to defray vehicle expenses like fuel, insurance, and maintenance costs.
Carvertise's model offers a mutually beneficial arrangement for brands and private vehicle owners alike.
This creative approach transforms traditional advertising while providing drivers with a unique way to monetize their everyday commutes.
How it works:
Visit the Carvertise website and fill in the necessary details.
Carvertise will match your details with the brand and will send you offers accordingly.
Choose from various campaigns and then an operator from Carvertise will install the advertising stickers on your vehicle.
Download the Carvertise app for tracking miles and get paid via direct deposit monthly.
Requirements:
Drivers should be older than 18 years.
Driver should have a valid driver's license/insurance.
Drivers should not drive a car older than 2008 and drive a minimum of 30 miles per day.
5. ReferralCars
Website: Referral Cars
Payout: $50- $175 Gift Cards per month
ReferralCars is a car advertising company that provides drivers the opportunity to earn extra income.
The company matches drivers with commission-based and non-commission ad campaigns for their vehicles.
The application process is simple: You search their website for available campaigns in your area, fill out an online bid form with details about your car, and wait to be matched with a campaign.
ReferralCars claims drivers can earn cash and gift cards worth up to $175 each month, depending on the specific campaign and whether it is commission-based.
ReferralCars has received mixed reviews. Some users have reported positive experiences, while others have questioned the legitimacy of the program.
However, the company guarantees returns within the first 90 days, either as payments or gift cards.
How To Avoid Car Wrap Scams
Car advertising is a great way to earn money while regularly driving your car. It is an amazing source of extra money, but some people take advantage of this method.
Below are a few tips that you can follow to avoid car wrap scams.
Wrapping Up
There you have it – 5 great ways to make money displaying ads on your car as you hit the road. From small ads to full car wraps, you can choose the option that works best for your driving habits and earnings goals.
I don't know about you, but I'm ready to turn my car into a rolling billboard and start driving around town!
Just think of how nice it will feel to have your gas tank filled up on someone else's dime.
Before you get started, make sure to thoroughly read the terms and commitment length for any programs you're interested in.
You'll want to confirm you're allowed to drive out-of-state or on toll roads too. And check if the ads can be removed easily for when you sell your car.
Let me know in the comments below if you give any of these options a try! I'd love to hear about your experiences making money by driving around with ads.
And feel free to share this article with other people looking to offset their gas costs.
Drive safely and happy earning!
Hey there! I'm Rohit Lohia, a passionate SEO enthusiast and the proud founder of Branded Bucks. I'm all about helping small business owners achieve success online through my blog. Join me on this exciting journey as we explore ways to make money online and build a thriving digital presence.