This post may contain affiliate links and we may receive a commission if you make a purchase through our affiliate link at no extra cost to you. Please read our disclosure policy for more information.
I know the feeling – your shelves are overflowing, your Kindle is packed, but you just can't get enough of diving into a new story.
As much as you'd love to spend all day reading, you probably don't have the time or money to buy every book you want.
But what if I told you there are websites willing to pay you to do what you already enjoy?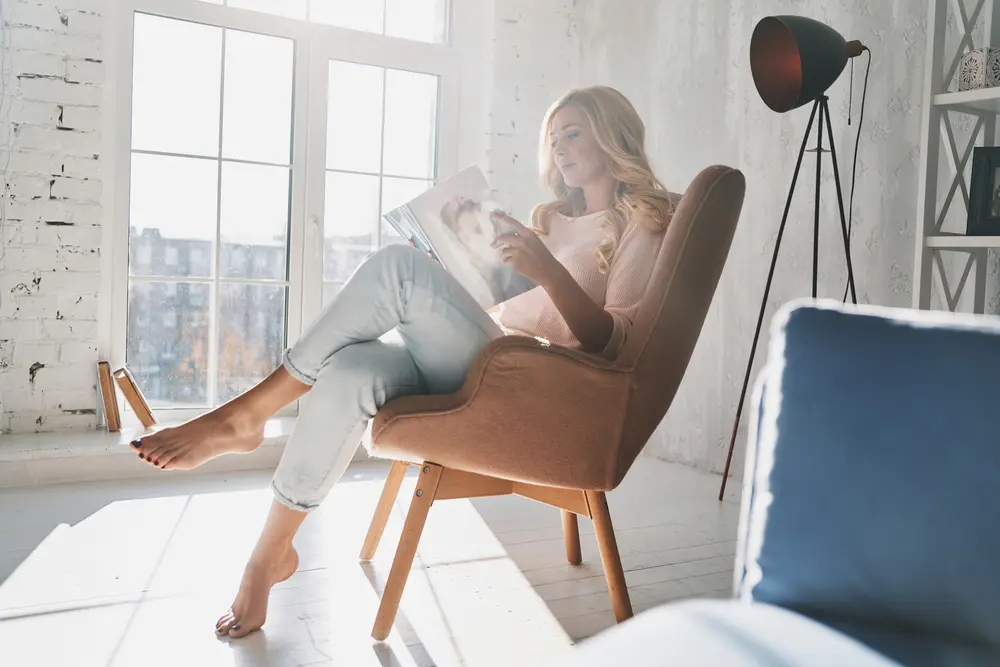 It's true – you can actually get paid to read books! Fascinated?
In this post, we'll share 10 sites that will actually pay you to read.
And we're not just talking chump change here either.
If you play your cards right, you could earn up to $200 per book review!
Not too shabby for doing something you already enjoy, right?
Then cozy up in your favorite reading spot and keep on scrolling to learn about these fantastic sites that pay you to read!
You May Also Like:
How To Make Money From Reading Books?
Here are some of the most popular ways to make money from reading books: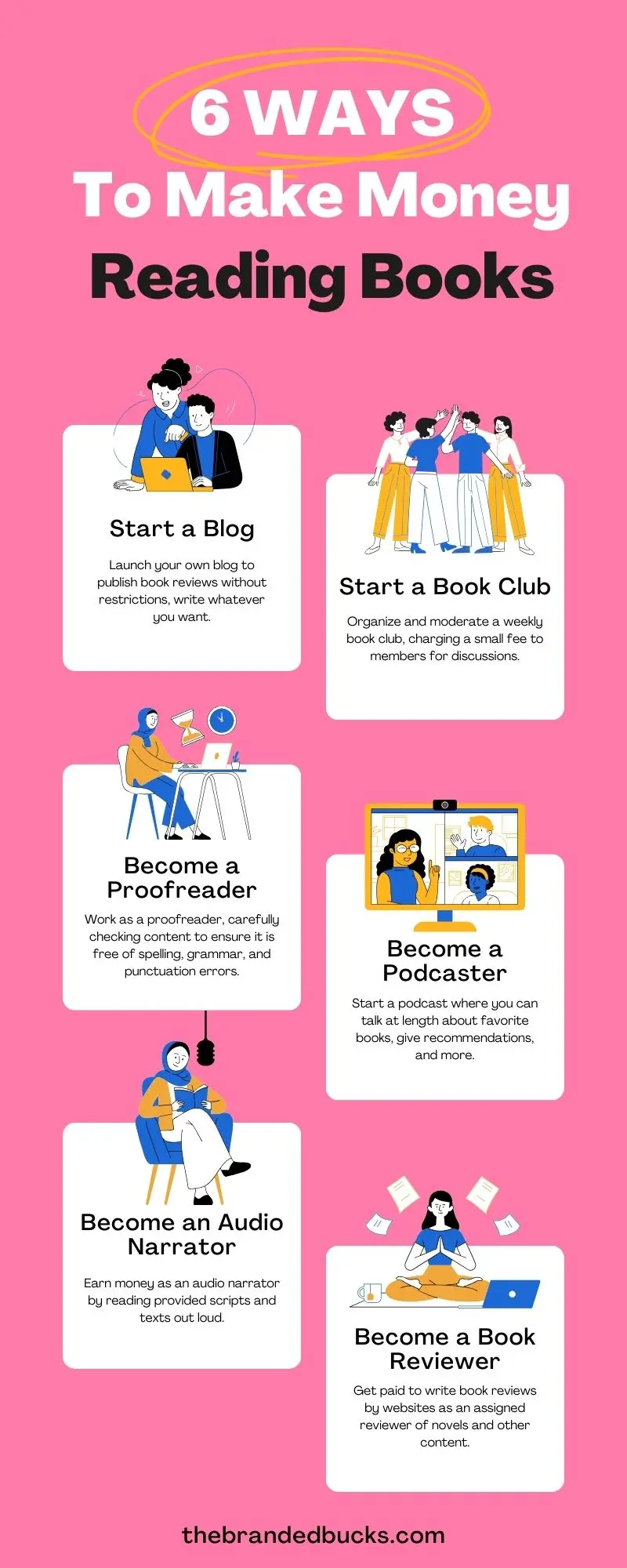 How Much Can You Make By Reading Books
Here is an updated table summarizing the ways to earn money by reading books mentioned in the previous message, including estimated earnings:
| Position | Potential Earnings |
| --- | --- |
| Book Reviewer | $5 to $200 per review |
| Audiobook Narrator | $10 to $500 per finished hour |
| Book Proofreader | $15 to $25 per hour |
| Book Influencer | Hundreds to thousands of dollars per month |
| Book Blogging | Varies, up to $10,000 per month |
| Book Club | Varies, up to $500 per month |
Potential Earnings
The amount of money that can be earned by reading books varies depending on the position.
For example, book reviewers may get paid around $5 to $200 per review, while audiobook could make anywhere from $10 to $500 per finished hour, depending on their level of experience
Book proofreaders can earn an estimated $15 to $25 per hour, while book bloggers can earn up to $10,000 per month through affiliate marketing, sponsored posts, and advertising.
10 Best Websites to Get Paid To Read Books
Below are the 10 websites that you can use to get paid to read books:
1. Kirkus
Website: Kirkus
Profile: Book Reviewer
Pay Scale: $50-$40 Pre Review
Kirkus magazine is one of the most famous websites for trusted book reviews. This website reviews self-published books even before their publication, dealing in almost every genre.
Kirkus magazine is currently looking for freelancers to review English and Spanish-language books. If you want to get paid to review books at Kirkus. Then you have to send your application with writing samples here.
After you are selected, you will be asked to share your genre preferences. According to your preferences, you will receive 1-2 books per month to review.
Then you will be given 2 weeks time to submit the review of your assigned book. Kirkus magazine pays $50 for 350 words review, and $40 for 250 words (picture books).
2. Audiobook Creation Exchange (ACX)
Website: ACX
Profile: Audiobook Narrator
Pay Scale: Project Basis
If you have good narration or mic anchoring skills, then you can also earn money by reading audiobooks in ACX.
Audiobook creation exchange is a platform for authors to connect with narrators. Then these audiobooks are sold to various sites such as Audible and Amazon.
To be a narrator at ACX, you have to create a profile and then audition for narrating a manuscript via ACX.
If you get selected, you will receive offers from various authors to narrate their books. You can then decide on payment terms and submission dates with the authors.
You can decide to get payments on an hourly basis or once the audiobook is successfully completed. You can also have a discussion over the share of royalties.
3. Fiverr
Website: Fiverr
Profile: Proofreader
Pay Scale: Project Basis
Proofreading is a process of removing all grammatical, punctuational, and spelling errors from a text. Every author or publisher hires a proofreader to bulletproof their content. Without proofreading no book can be published.
A proofreading job does not demand any specific skill or qualification. Anybody who has a good command of English, a laptop, and a steady internet connection can apply for this job.
Most of the proofreading jobs are posted on Fiverr. Fiverr is one of the best freelancing websites, it connects freelancers with clients.
On Fiverr, you can make your own profile and start providing freelance services like proofreading, ebook writing, book reviews, etc.
Clients will contact you if they are interested in your services and then once they order form you, you will get paid.
4. Booklist
Website: Booklist
Profile: Book Reviewer
Pay Scale: $15 Per Review
Booklist is yet another magazine that hires freelancers to review books. Its main aim is to give suggestions and recommendations to schools and public library workers.
Visit here to submit your application as a book reviewer on Booklet. While submitting the application the reviewers are expected to submit writing samples and a list of their preferred genres.
Each reviewer is expected to submit a detailed review around 150-175 words per book. Once the review is published on the website, you will be paid $15 per review.
If a review is put on hold for whatever reason, you will have to wait for the review to get published and then only you will receive the payment. If you reject a book, you will get fined for $5. All accepted reviewers will also get a free subscription to Booklet magazine.
5. Instaread
Website: Instraread
Profile: Summarizer
Pay Scale: $100 for a 1000-1500 words summary
If you are not interested in writing small book reviews and want to earn big then you can also be a summarizer at Instaread. Instaread is a platform that provides summaries and insights of books in text and audible formats.
Instaread is famous for in-depth summaries (more than 25mins). Whereas all other platforms only provide small summaries (around 10-15 mins).
Submit your Instaread application here. All the summarizers receive $100 for a 1000-1500 words summary. All the summaries are then further edited and covered in audio. Accepted summarizers also get free access to the Instaread app.
6. Women's Review of Books
Website: Women's Review of Books
Profile: Book Reviewer
Pay Scale: $100 Per 700-1200 Words In-Depth Review
If you are tired of just reviewing books and want to expand your horizons. Then join the Women's Review of Books platform to review not just books but also poetry, memoirs, graphic novels, etc.
Women's Review of Books is a print publication for feminist book reviews. This magazine mostly reviews books written by women. If you are interested in being a reviewer at Women's Review of Books, send them an email with your proposal here.
The company provides no specific information on how many words are compulsory for the review. However, it is generally between 700-1200 words for $100 per review.
7. Writerful Books
Website: Writerful Books
Profile: Book Reviewer
Pay Scale: $10- $50
Writerful Books is a platform that helps new and emerging authors to get their books published. They offer services such as book editing, beta reading, etc.
All book reviews in Writerful Books are written by honest reviewers. They do not use any AI software such as Chatgpt to generate reviews.
Wonderful Books is always looking for reviewers with different backgrounds and perspectives. The best thing about this platform is that it allows you to review the book of your liking.
To be a book reviewer at Writerful Books, you have to fill out the application form here. After filling out the form, an editor will contact you if your book becomes the book of the month. Depending on the quality of the review, you can receive payment between $10 to $50 per review.
8. eBookFairs
Website: eBookFairs
Profile: Book Reviewer
Pay Scale: $10 For Every 200 Words Review
eBookFairs is an online platform that helps authors all over the world to organize virtual fairs. They create a community of authors who come together to increase the awareness of each other's books.
Apart from this, eBookFairs also has a 'Paid Reader Program'. Where they recruit book reviewers to review the books listed on their platform.
If you review books that are less than 100 pages, then you won't get paid. To earn money through eBookFairs, you have to review books that have more than 100 pages and then they will pay you $10 for every 200-word review.
They have a limited number of positions open for book reviewers, so instantly submit your application here and make sure to read all the terms and conditions beforehand.
If you get accepted then you will have to write the first 2 reviews for free and you will be expected to submit at least 1 review per month. Otherwise, you will get hired.
9. U.S. Review of Books
Website: U.S. Review of Books
Profile: Book Reviewer
Pay Scale: $25-$75 (Depending Upon The Word Count)
U.S. Review of Books is a platform that provides book reviews via its popular monthly newsletter. They not only allow you to choose the book for review but also pay a handsome amount.
To be a book reviewer at the U.S. Review of Books, you have to submit an application along with your writing samples and two professional references via email. You can find the email here.
U.S. Review of Books works on a freelance basis. This means that the title of the books will be posted on their website and if you want to review it then you have to request the author.
The author will then assign the book according to your profile. Once the book is assigned to you, you will be given around 2-3 weeks to submit an honest review of the book as well as a recommendation rating.
The payment for the reviews will be purely based on the quality as well as quantity of the book. U.S. Review of Books pays around $25 for 300 words and $75 for 600 words.
10. Reedsy Discovery
Website: Reedsy Discovery
Profile: Book Reviewer
Pay Scale: Tip Basis ($1, $3, or $5)
Reedsy Discovery is an online platform that hires book reviewers to review books before their publication. It helps authors to launch and market their books via posting book reviews on their discovery feed.
To be a book reviewer at Reedsy Discovery, you have to send your application with a writing sample of a minimum of 300 words here.
Once you get selected as a book reviewer, you can browse through the available titles and select the book of your liking for reviewing. But if you have a stunning profile at Reedsy Discovery, your authors will also contact you to write reviews of their books.
You do not get paid by the authors for writing a review of their book, like other platforms. In Reedsy Discovery, if readers like your book review then they will send you tips ($1, $3, or $5). The deadline for submitting an article is set by the author or publisher.
FAQ on How To Make Money Online Reading Books
Here are some frequently asked questions on how to get paid to read books.
Can I earn money by reading books?
Yes, you can earn money by reading books. You can become a book reviewer, a book influencer, or a book blogger and earn a full-time living.
If you want some quick cash you can provide services like audio narration, ebook writing and proofreader on freelance marketplaces.
Can I earn from Goodreads?
Goodreads doesn't directly pay users, but offers indirect earnings through affiliate links, selling ad packages to authors/publishers, and revenue from book sales.
Those wanting to earn from books can try freelance reviewing or use Goodreads to connect with the book community, even without direct payouts.
Does Amazon pay you to read?
Amazon does not directly compensate for reading, but offers other ways to the authors to make money.
Kindle Direct Publishing enables earning royalties per page read when books are enrolled in KDP Select and available on Kindle Unlimited. Authors can earn up to 70% in royalties on sales in the US, Canada, UK, Germany, India, France, Italy, Spain, Japan, Brazil, Mexico, and Australia.
Additionally, Amazon's affiliate program allows users to advertise Amazon products on their sites and earn up to 15% referral fees on sales of books, music, DVDs, toys, electronics, kitchenware, apparel, jewelry and more.
So while Amazon does not pay for reading itself, authors and affiliates can benefit financially in other ways through the platform.
Final Words
And there you have it – 10 awesome websites that will actually pay you to read more books!
I don't know about you, but I'm excited to sign up and start earning while I'm flying through my reading list!
Before you dive in though, make sure to read the fine print on how payment works for each website. Some only pay out after you hit minimum thresholds. You'll want to pick the sites that best fit your reading speed and lifestyle.
Let me know in the comments if you end up trying any of these sites!
I'd love to hear about your experiences getting paid to do what you love.
If you found this article helpful, share it with your fellow bookworm friends and family so they can also explore the opportunities!
Happy reading and earning!
Hey there! I'm Rohit Lohia, a passionate SEO enthusiast and the proud founder of Branded Bucks. I'm all about helping small business owners achieve success online through my blog. Join me on this exciting journey as we explore ways to make money online and build a thriving digital presence.