This post may contain affiliate links and we may receive a commission if you make a purchase through our affiliate link at no extra cost to you. Please read our disclosure policy for more information.
If you love making your own handmade jewelry, it's high time you change your hobby into a part-time or even full-time job.
But how?
Start your jewelry business on Etsy.
You will be surprised to know how popular handmade jewelry is on Etsy. You might not understand how your hobby can make you money but people are willing to pay you for your jewelry.
Now want to start a small jewelry business on Etsy but don't know how?
Don't worry because you are in the right place. In this article, I have explained how to start selling jewelry on Etsy in five easy steps.
Keep reading!
How To Start a Jewellery Business On Etsy (a Comprehensive Guide)
Now, what you are going to read is something you will never find on the internet.
It's an in-depth guide on how you can start selling jewelry on Etsy even if you have zero knowledge about it.
Do Your Research
Before starting your Etsy shop, you should do thorough research about the niche (in your case, The niche is jewelry) and how it will strive on the Etsy platform.
Research should be the first step toward building your successful Etsy online business.
When you conduct thorough research on how jewelry businesses thrive on the Etsy platform, you will get an idea about your competitors, how profitable the business is, and all the new trends.
Let's discuss the two most asked questions by beginners who are seeking to start their own online Jewellery business on Etsy.
Is Etsy a Good Marketplace for Jewelry Makers?
It is undeniable that Etsy is a well-liked online marketplace for selling handcrafted jewelry. But is it a successful one?
That relies on a number of different factors, such as
the level of competition in your market
the quality of your jewelry
the price range you are aiming to sell your jewelry piece
If you are competing with several other jewelers offering comparable things, it may be difficult to separate from the crowd.
Additionally, shoppers might not be willing to pay what you are asking for your jewelry if it is not well-made or does not have an expensive appearance to it.
However, if you have a unique item and a sound price plan, Etsy may be a fantastic way to earn some additional cash or maybe a full-time living.
Therefore, if you are considering selling jewelry on Etsy, it is worthwhile to conduct some research to see whether it would be a good fit for you.
Which Type Of Jewellery Are Most Commonly Sold on Etsy?
There are several things to think about before selling jewelry on Etsy.
Which kinds of jewelry are you looking to sell?
What type of people do you want to sell to?
What are the most well-liked jewelry types on Etsy?
In order to answer this question, I have personally looked at the best-selling jewelry products on Etsy at the moment and produced a list of the most well-liked types of jewelry.
Custom Jewelry
Jewellery created to order is well-addressed by the customers on Etsy because customers value the chance to order a one-of-a-kind item.
For instance, charm bracelets can be personalized with the buyer's preferred gemstones, symbols, or colors.
Also, personalized jewelry is usually a special and heartfelt present to give and to receive by the near ones.
You can provide one or more jewelry customization options mentioned below to your customers
Name of the buyer
Name of children, parents, siblings, and friends of the buyer
Name of the pet (or even photo)
Birthdays and other significant dates
Customization as per buyer needs
Gemstone Jewelry
Handmade gemstone jewelry is at the top of this list. This comprises jewelry with natural gemstones on necklaces, bracelets, and earrings.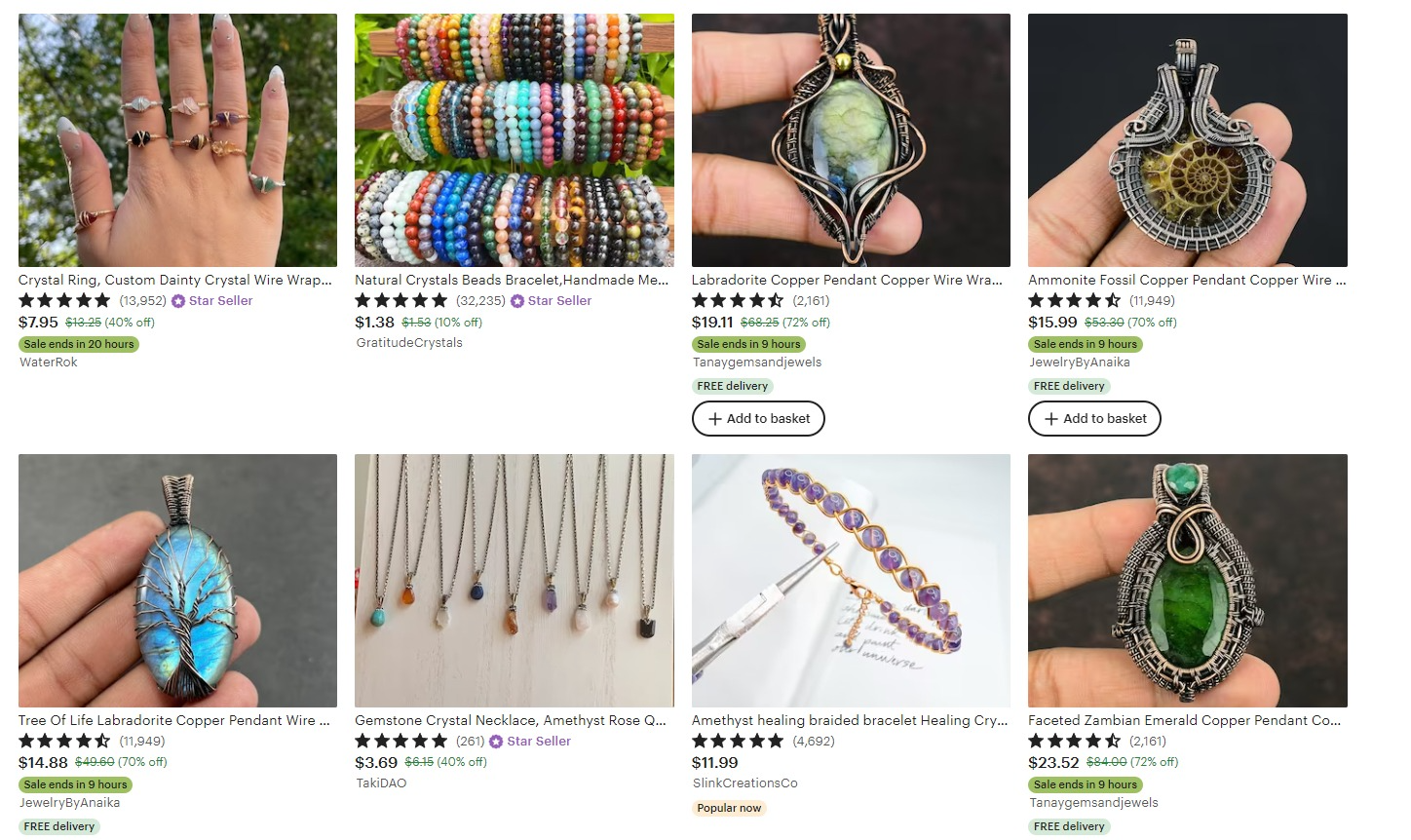 The distinctive hues and patterns of gemstone jewelry are well known, and many customers appreciate that each item is unique.
Vintage Jewelry
One of the most popular forms of jewelry on Etsy is vintage jewelry. Buyers like the distinct aesthetic and history of antique objects.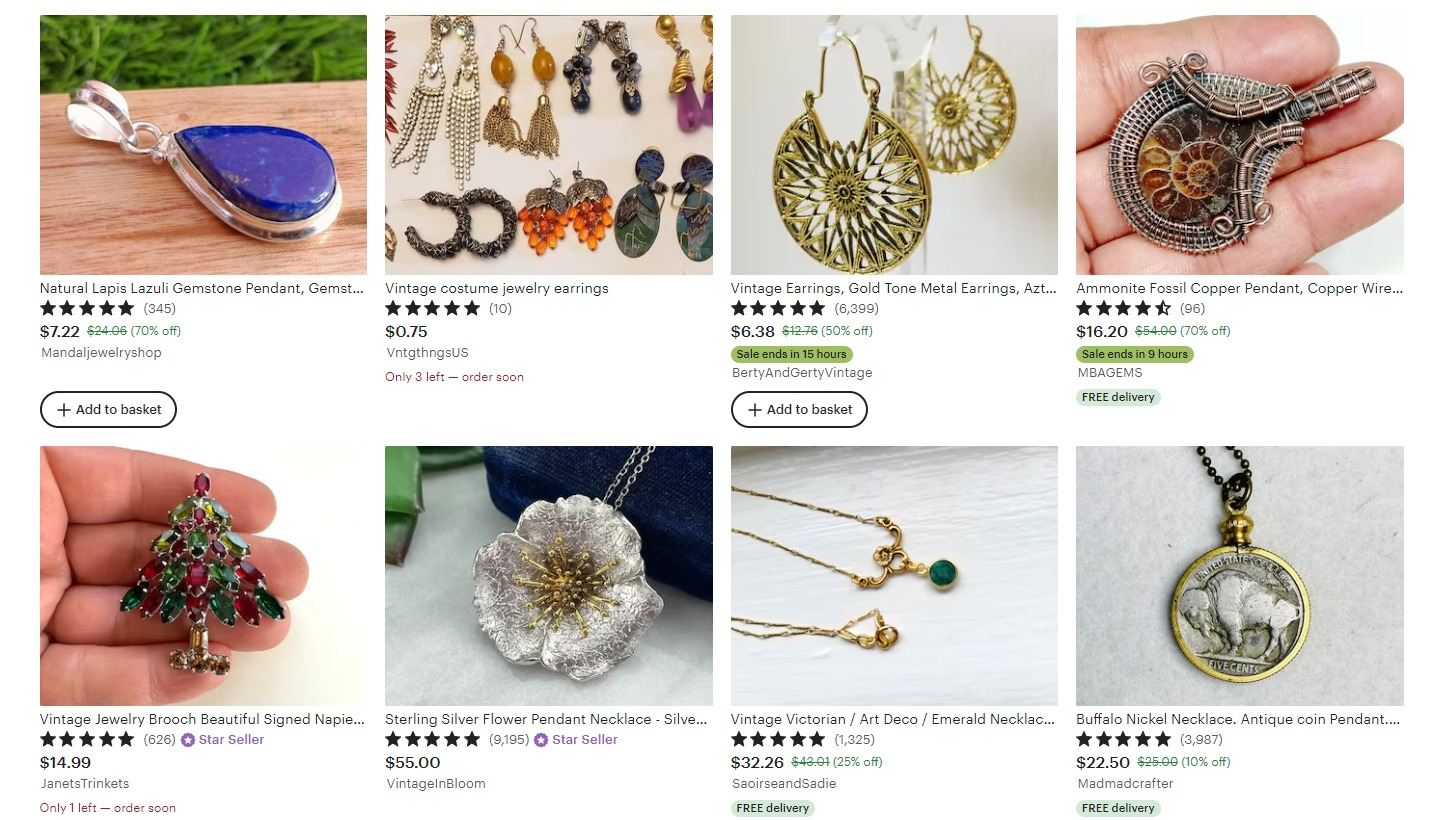 As the seller of Vintage and antique jewelry pieces, you can even demand high prices for rare jewelry pieces.
Gather Handmade Jewellery Making Materials
Once you have done your research on the jewelry niche on the Etsy platform, it is time to choose what type of pieces you will sell.
Obviously handcrafted jewelry sells hot on Etsy but you can try your luck with other types of jewelry too.
What do you need to make jewelry? Obviously the raw material.
You can choose to buy your raw material from a vendor or online. Here is a list of all the handmade jewelry-making materials and tools.
Wire/Threads
The first thing which comes to mind when you hear raw material for handmade jewelry has to be Wire, Thread, or Stringing material.
You will need the wire to thread in the beads, glass, stones, etc. there are different types of string materials like silk thread, steel wire, copper wire, silver wire, hemp cord, chain, etc.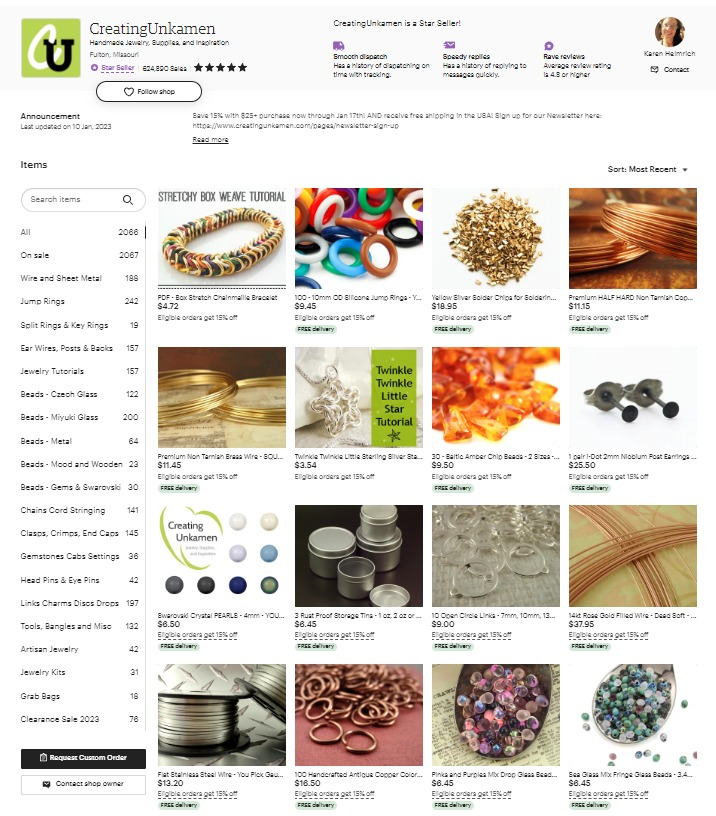 Beads
Beads are the other important raw material that you need to make beautiful handcrafted jewelry pieces.
Beads are used to decorate hair jewelry, make pendants, and in soothing jewelry.
Different types of beads used in making jewelry are seed beads, pony beads, glass beads, plastic beads, wood beads, etc.
Findings
Jewellery components that are not beads, jewels, or stringing materials are referred to as "jewelry findings."
The little pieces that go together to make your jewelry are known as findings. Eyepins, headpins, clasps, jump rings, and Earring findings are a few examples of findings.
Jewellery making tools
Tools needed to make handmade jewelry are wire cutters, knotters, chain nose pliers, split ring pliers, etc.
You will need these basic tools to open jump rings, close the ends, and for other tasks to make the jewelry.
Set Up Your Etsy Store
When you are done with the research and your raw material, it's time to setup your Etsy store.
If you already have an Etsy account you can just login and click on "Sell On Etsy".
You can now enter the information that Etsy ask about your shop, such as Shop Name, location, currency, payment details, etc.
Then you will be asked to upload your first listing on Etsy so make sure you have your first listing ready so that you can list it during the shop-creating process.
You may include your shop's policies here as well, including information on shipping and specifics for refunds and exchanges.
Make The Jewelry
So you are finished with researching the market, collecting the raw material to make handcrafted jewelry, and setting up your Etsy shop.
What to do now?
What is the next step in starting your online jewelry business shop on Etsy?
It is time to make your handcrafted jewelry from raw materials to list on your Etsy shop.
If you use the right method, basic raw materials are the only thing you need to make handcrafted jewelry to sell on your Etsy shop.
Here are a few methods that will enable you to create jewelry using basic jewelry-making material.
Beading
Make small knots in the thread or chain to make sure that the beads are in their place while you string the beads in the desired shape.
Because beads come in all various shapes and sizes, you can use a wide variety of raw materials to create jewelry to sell on your Etsy shop.
Chain Jewellery
You can also make a handcrafted charm bracelet to list on your Etsy shop. Or just simply buy a chain of your preference and add pendants to form a necklace.
Wire wrapping
Obviously, you use wire as a decorative component when you make your jewelry pieces, right?
Use a pair of pliers to produce desired shapes and spirals of the wire, by wrapping the wire around your pliers.
With the help of a pair of needle-tip pliers, securely grasp the wire to create coils and angles.
You may wrap the wire around various items to make unique jewelry pieces. Create one-of-a-kind and intriguing jewelry items using the wire wrapping method.
Macrame
Use hemp, rope, or embroidery floss to make lovely knotted jewelry. You may also experiment with various knitting techniques to give a distinctive appearance to your jewelry pieces.
Marketing
The best way of marketing any DIY or handmade item business is using Pinterest and short form content (Short videos for Tiktok, youtube Shorts, Instagram Reels, etc).
Create a Pinterst account and create few boards related to your business for eg. your board could be named as Handmade Jewelry, Necklaces, Bracelets, Bride Jewelry, etc
After that start creating pins for your jewelry and pin them in various boards.
By the time you will start getting some good traffic from Pinterest.
You can also record your jewelry-making process in a form of short videos and upload them on various platforms like Instagram, Tiktok, Youtube.
People will find your business through these short videos, visit your Etsy store and make their purchases,
You can also start a dedicated blog for your Etsy shop. Your readers will be able to know more and buy your jewelry through your content.
If you have a budget for paid advertising, go for it. But don't forget to start small, experiment, and see what works for you.
Tips to start a Jewellery Business On Etsy
After reading the above guide on how to start an earring business on Etsy by selling jewelry, I hope you have every piece of information you need to start your own journey.
To make sure that your online jewelry Etsy business is a great success in no time, here are some tips to start a jewelry business on Etsy.
Determine Your Goals: Are You Pursuing a Hobby Or a Career?
Ask yourself – Am I using Etsy to monetize my hobby? Or am I genuinely trying to start a business?
It is really important to be clear about your goals from the start. It will help you to remain on track and achieve success, especially from a financial standpoint.
If you define your objectives up front and work toward attainable targets, there is nothing that can fail your business.
Set a small number of attainable goals, such as making the first sale within 15 days of starting the Etsy shop or having a finalized logo and banner for the shop.
In this manner, you are making baby steps toward developing a profitable online store and a successful jewelry business on Etsy.
If you are committed to making your online jewelry store your primary source of income, developing a thorough business plan and keeping track of your objectives will enable you to consider the growth of your business.
What happens if your objectives are not met? Your business plan will aid you in creating a strategy to boost sales and accomplish your goals the next month.
List Your Items Carefully
The first and most crucial question to ask yourself while listing jewelry on Etsy is, "What terms would a potential customer use in the search box to search for jewelry?"
To get the most out of your product listing, accurately and thoroughly describe your product using all accessible tags.
These consist of the – tag, title, category, price, quantity, kind of item, description, and shipping information.
If you want your customers to easily find your items on Etsy, make sure these areas are filled out properly and completely.
Additionally, keep in mind that customers will feel much more comfortable making purchases from you if you provide them with as much information as possible about your product.
Upload Good-Quality Photos Of Your Product
When selling handcrafted jewelry on Etsy, high-quality product images will make all the difference.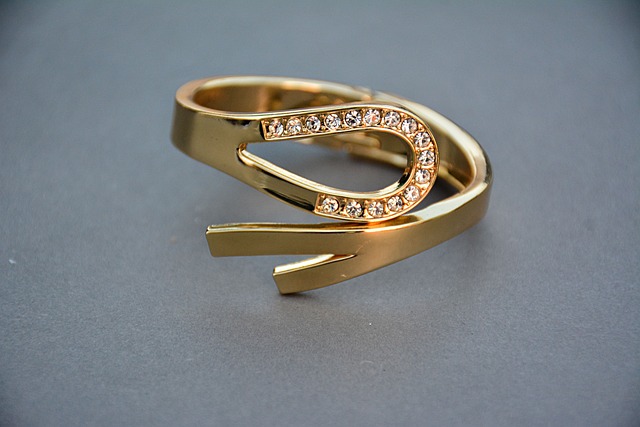 One of the most crucial elements of earning sales on Etsy is making sure that your product photographs are of the highest quality and showing your jewelry items in the best possible light.
You can read our guide on how to click quality product pics for your Etsy store.
This is because good quality product photos may make or break sales on Etsy.
Use a solid color background and place your jewelry piece in the middle, to make your product the center of the photograph.
Also, keep in mind that neutral backdrops perform better than crowded ones.
There is a lot of competition on Etsy because there are a number of Online Etsy jewelry businesses. To stand out, make use of props to highlight your jewelry piece.
People won't be able to touch your jewelry pieces because you are running an online business which is why it becomes important that your product images show every angle of the jewelry.
Once the customers have swiped through every image of your jewelry piece, they should feel as though they have carefully examined it, persuading them of its premium quality and, eventually, convincing them to buy it.
Set The Right Price
It is crucial to avoid pricing yourself out of the internet market because Etsy is the place to find handcrafted things and vintage pieces.
When selling handmade jewelry on Etsy, it is crucial to set the proper price balance. Also, be careful not to undersell yourself.
In order to determine the price of your jewelry items, ask yourself the following questions.
What is the cost of the materials used to create the product?
How long did it take you to complete the product?
What is the cost of listing the product on Etsy?
How are similar products being priced by your competitors?
Which profit margin do you hope to achieve for each product?
Though several factors decide the final price of the product, make sure the quality of your work is reflected in the price.
Has a certain jewelry piece taken you longer to complete because it required detailed work?
Price it higher than similar pieces that you have finished in less time.
To create a profitable product, multiply the cost of the ingredients by the worth of your time, then decide whether you can or should sell for a little less than your competitors.
You will be able to modestly raise your rates after your brand has gained loyal customers and their trust.
Focus More On Customer Service
You can only be successful at selling on Etsy if you have happy customers. It is important to be as flexible as you can when unusual shipping requirements are made by the customer or when you receive negative comments about your product.
When people buy jewelry from your Etsy shop, they can leave a review which can be a really important tool for the success of your business.
A positive review from the customer can show that your jewelry line is deserving of the price tag and may even persuade others to buy.
Negative reviews, though, can make customers beware of your product. So what is the solution?
Everything depends on how you react. Respond quickly and professionally to any bad feedback you get, and attempt to make things right by providing a refund or replacement if possible.
Make sure you utilize the Etsy Seller's App effectively as well. When a computer is out of reach, you can still answer inquiries quickly over the phone and give your clients the best customer service.
FAQ
Does Jewelry Sell Well On Etsy?
Yes, jewelry sells well on Etsy and it can be a profitable business for anyone thinking to start their own Etsy shop.
The success of jewelry shops on Etsy can be given credit to a variety of factors, including:
Large platform of potential buyers
Because Etsy is so well known and draws buyers from all over the world, it increases the likelihood that your jewelry will sell there.
Easy shipping and handling
Etsy assists sellers with the mechanics of sending their goods to buyers, including ways to offer international shipping and how to determine shipping prices.
Online shopping is simple
Etsy has done all the work to make using the Etsy platform simple for both sellers and shoppers, saving you the expense of building your own eCommerce store.
Individuality
The fact that Etsy shop owners offer rare, handcrafted, or vintage things that are hard to obtain is one of the site's main benefits.
If your Etsy shop has unique, rare and handicraft jewelry items, your customer will find you on Etsy to buy.
What Is In Most Demand On Etsy
Etsy is heaven for people who love handicrafts, and unique, antique, and vintage items.
But what is in most demand on Etsy that you can sell to make money? To help you out on your Etsy journey, here is a list of things most in demand on Etsy.
| | |
| --- | --- |
| Category | Examples |
| Art and collectibles | paintings, prints and other antique items |
| Home decor | candles, furniture, wall decor |
| Craft and supplies | Knitting patterns, crochet patterns, Beaded items |
| Handmade Items | Boxes, Decor items, Handmade invitation cards |
| Jewellery | Rings, Necklaces, Bracelets, Anklets, Hair vines, Nose pin |
| Wedding | Wedding bells, Bouquets, Corsages, Veils, Hats |
| Accessory | Scarfs, Hair accessories, Hats, Handbags |
| Paper and party supplies | Stickers, Antique charms, Hooks, Beads, Paper straws, Posters, Custom cards |
| Clothing | Printed shirt, Trousers, Swimwear |
| Vintage | Rugs, Fossils, Jeans, Cutlery |
Final Thoughts
Starting a jewelry business on Etsy might sound like a scary job but if you are passionate enough, it can be really fun and easy too.
Start by researching the jewelry niche on Etsy. Learn what type of jewelry sells more on Etsy, how your competitors price their products, and what they are not providing that you can provide to your customers.
After that collect raw materials to make jewelry. After setting up your Etsy shop, start making your products and list them in your shop.
One of the most important factors of a successful business is branding. Make sure you use social media platforms effectively to make sales on Etsy. If you have a good budget, you can try paid advertising too.
Happy earning!
Hey there! I'm Rohit Lohia, a passionate SEO enthusiast and the proud founder of Branded Bucks. I'm all about helping small business owners achieve success online through my blog. Join me on this exciting journey as we explore ways to make money online and build a thriving digital presence.