This post may contain affiliate links and we may receive a commission if you make a purchase through our affiliate link at no extra cost to you. Please read our disclosure policy for more information.
Are you someone who loves to help out people by sharing your knowledge?
If Yes, I have good news for you, now you can earn money by answering people's queries online.
Yes, you heard that right, you can answer questions and get paid.
No matter which field you are coming from, if you are good at something then there are websites looking for you.
So to help you find the right websites and opportunities to get paid to answer questions, I have shortlisted 10 websites that will pay you real money just for answering people's queries.
Top 10 Websites That Pay for Answering Questions
Is It Possible To Make Money By Answering Questions?
Yes, it is possible to answer questions and get paid. There are many legit websites that pay you money just to answer questions and fill out surveys.
Let me tell you how it works.
These sites are usually approached by large companies and brands to gather data from users like what color they love, how they love to spend their time, etc.
This data help big brands to improve their products and services, they will get to know more about what people are looking for, what are their problems, etc.
Also Read: 10 Easy Ways To Get Paid To Watch Netflix
That's why they spend thousands of dollars just to grab data from the audience in the form of questions and surveys.
The survey sites put all these questions in the form of surveys and whenever people complete these surveys, the site gets a reward from the brand, and then the site will cut their commission and provide you the rest of the amount.
Also Read: 10 Websites To Get Paid For Watching Videos (Easy Money !!)
So basically these websites are the middleman between you and the brands.
So answering questions and doing surveys is a legit side hustle and using that you can answer questions for money.
10 Websites To Make Money By Answering Questions
If you are looking for legit websites that will pay you money for answering questions then this section is for you.
There are several websites that will pay you to complete simple surveys.
Sites like Swagbucks & Inboxdollars offer opportunities that allow you to answer questions and earn points, which can then be used to purchase rewards such as gift cards, freebies, or you can cash out the money in your PayPal as well.
Also Read: How To Make Money By Writing Blogs (Without Experience !)
You don't need a website or any prior experience to start earning money online this way – simply sign up and get started!
So here are 7 websites to earn money by answering questions.
JustAnswer is an online platform that connects people with experts in various fields to answer their questions.
For eg. you can connect with expert lawyers, dieticians, doctors, and financial advisers online just by using this platform.
Founded in 2003, JustAnswer has become a popular source for people seeking for help and guidance in a particular field.
How does it work?
It's very simple, let's say someone asks questions and specifies a category, the site then matches that particular question with experts' profiles in that category, and the experts then can talk and answer their queries via text or call.
Talking about the price, a user can either pay for every question he asked or he can opt for a monthly subscription, the company keeps its cut and pay the rest amount to the expert who has answered the question.
How you can apply?
To apply on JustAnswer, just visit their official website and click on "For Experts" from the header menu.
Fill out the form and tell them about your expertise, qualifications, and relevant experiences. JustAnswer values experts from certain fields so make sure to mention your specific area of knowledge.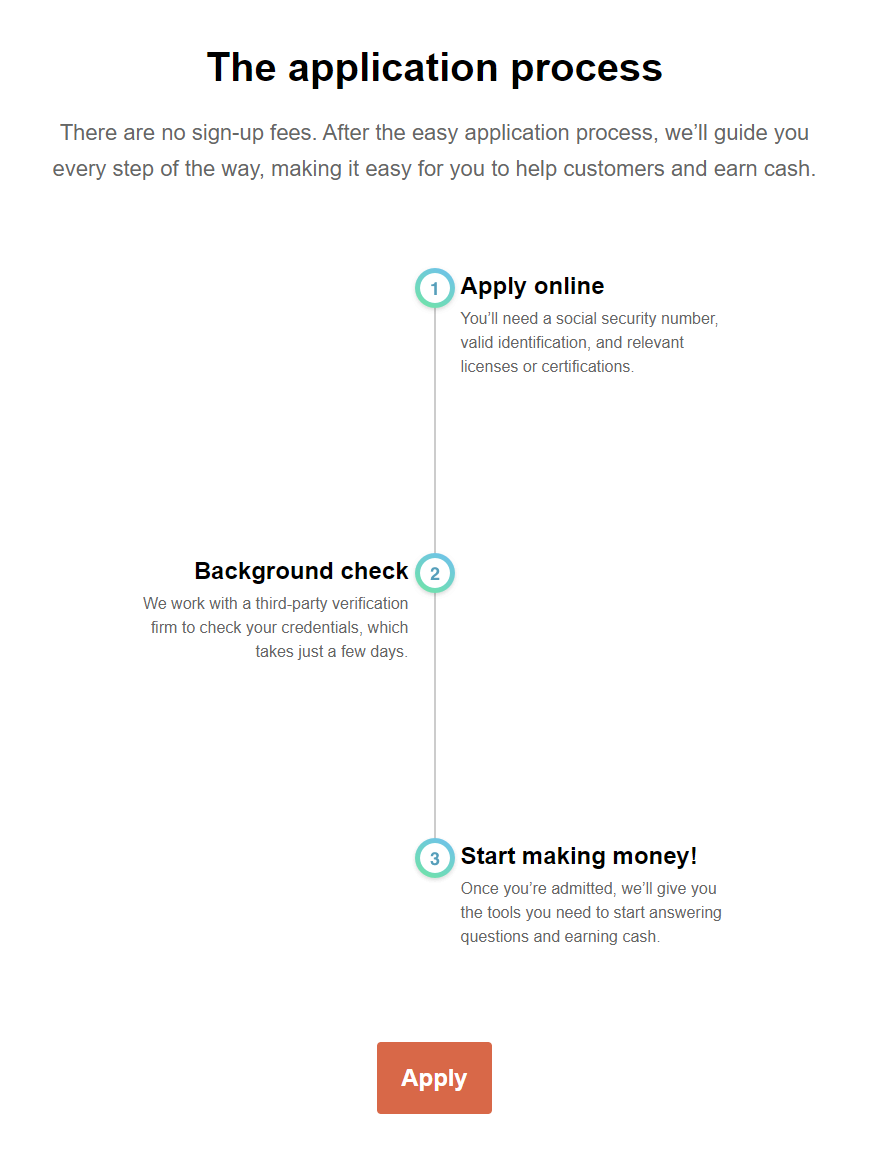 After filling out the form, just submit your application and wait for approval.
The JustAnswer team will review your application and see if you are a good fit for their platform or not.
JustAnswer will also perform a background check of your profile to verify your credentials and claims to maintain the quality of their platform.
Once everything is verified, you'll be given access to create your expert profile and start receiving questions to answer.
How Much You Can Earn? (Real Numbers)
The website itself says that experts on their platforms make around $2000 – $7000 a month on average but these numbers are only achievable if you are willing to put hard work and provide quality service.
JustAnswer Trustpilot Ratings
Well, JustAsnwer's ratings on Trustpilot are pretty good, 4.2 with almost 30K reviews, which clearly shows it's a trusted platform.
So try JustAnswer and answer questions for money.
Maven is similar to Justasnwer just a bit less popular than JustAnswer.
The same concept they follow, the user asks questions and gets their questions answered by experts in various fields, and the platform charges fees from the customers and forwards them to the experts after keeping their commissions.
Experts on Maven can earn money by answering questions in their areas of expertise.
How you can apply?
Visit Maven's official website and click on the "Earn Money Consulting" button present on the homepage.
You can then fill out your information and signup for your account.
Here's what you'll be needing to complete the application process:
Your Resume or CV
Your LinkedIn Profile URL
Contact Information
Areas Of Expertise
Professional Title
Availability
Maven will review your application and contact you through your email if they are interested in working with you.
How much you can earn?
Well on Maven people can charge based on their expertise in a particular field, eg. A business planner may charge $1000 to create a business plan for a company while a writer may charge $100 for writing an article.
Studypool is a website that matches students with tutors online.
Students can get help with their daily homework and study questions from expert tutors worldwide.
Tutors will get paid to answer students' questions.
So if you are good at a subject let's say mathematics you can help out students from all over the world, answer questions and earn money.
How you can apply?
To apply on Studypool as a tutor visit this page, click on the "Apply Now" button, enter your information, and create your account by verifying your email.

After verifying your email, you'll see a big button called as "Start Your Application Now", just click on that button and start your application process.
You will be asked to provide your personal and academic details, like your name, country, Job title, academic background, etc.
You also need to provide Id proof such as a passport, driving license, etc to verify your identity.
Once your application is accepted, you can now bid on various questions asked by students and earn money by answering questions online.
How much you can earn?
The company claims that you can earn up to $7,500 USD per month by answering questions online, but I guess this is what their top tutors were making, if I have to give you a real number it would be $1000-$2000.
Based on the amount students are paying per question this is a more realistic amount you can make.
As you can see how much students are paying per question in the screenshot above.
Note: StudyPool charges a 20% fee on your earnings which is I guess to run and maintain their platform, but it's fine.
Inboxdollars is a reputable and well-known website that has been around for 20 years.
Paid out $80 million to its members so far, Inboxdollars is a great way to make some extra cash and get paid quickly.
Inboxdollars offers a variety of ways to make money, including completing surveys, scanning barcodes and receipts and answering questions online.
The surveys come directly from big companies like Netflix, Amazon, Walmart, etc. Different surveys will pay different amounts based on the company and the time took to complete it.
You can complete daily surveys and start earning money, once you have some money in your account you can redeem it for gift cards to Amazon, Home Depot, Target, or request cash in your PayPal account.
You will get an instant $5 signup bonus added to your account.
Swagbucks is one of the most popular ways to make money online. The website allows users to do things like answer questions, take surveys, watch videos, and more.
In total, Swagbucks has paid out $549 million to its users.
And, as you can imagine, there are plenty of people who want to use Swagbucks to make some extra money.
So how does it work?
Basically, you earn points by doing things like taking surveys or watching videos.
Once you have enough points, you can then redeem them for gift cards and PayPal cash.
You will get $5 as a free sign-up bonus.
The Trustpilot rating for Swagbucks is 4.3/5, which clearly shows that this website is legit and people are making decent money from here.
Branded Surveys is an online market research platform that offers different companies the opportunity to post surveys for common people to collect data from them.
This will help the companies to gather the relevant information and to improve their products, do market research, and optimize their products according to the data provided by people.
Also Read: Make 3000$ Per Month As a Writer Without Writing Content
In return, users will points for gift cards and PayPal.
What's more, the company offers a wide variety of surveys that cover a variety of topics.
As a consumer, you can be sure that you're getting valuable information from Branded Surveys.
Opinion Outpost is a market research panel that pays its users for completing small and easy surveys.
Opinion Outpost has a variety of different companies that offer surveys to complete, each offer is different from the other and will pay differently.
This helps companies to better understand what their users need so that they can create better products and services for them.
And this means for you is that you can get paid to answer questions about the products and services that you use on a daily basis.
You can earn points for participating in surveys, which you can then use to redeem rewards such as gift cards for Amazon, Visa, or PayPal cash.
Opinion Outpost is a great way to get paid for answering questions.
The invite-only platform allows users to earn money by providing their views, opinions, and experiences.
It is available nationwide, but you'll need to have an invite code in order to join the site.
Because only selected people can join this website, this is one of the highest-paying survey sites of all.
The company has a large user base that ranges from college students to retirees. In addition to earning money, Pinecone Research provides users with the opportunity to learn about new products and services.
LifePoints is an online platform that aims to provide a community for survey takers.
The community was founded to establish relationships with like-minded people who want to help companies improve their products and services through surveys.
When you take a survey, your account will be credited with LifePoints or LPs. When you have enough LPs in your account you can withdraw them for Amazon Gift cards or Paypal cash.
When you create a new account, you will be provided with 10 Lps in your account as a free bonus.
YouGov is a British-based platform that allows people to take surveys on a variety of different topics, including politics, public affairs, brands, and products.
Users can sign up for free, and once they have registered an account they can start taking surveys on the various topics that interest them.
Each survey takes only a few minutes to complete and you will be rewarded with points instantly after completing the survey.
These points can be redeemed into gift cards and Paypal cash.
YouGov is a great way to get involved in the world of online polling, and it's also an excellent way to make some extra money while watching Netflix at home. If you're interested in getting started with YouGov then be sure to check out their website today!
Make Money By Answering Questions – FAQ
Here are some common FAQs on the topic of answering questions for money.
1. Is it possible to make money by answering questions?
Yes, making money by answering questions is possible and there are several platforms that allow users to earn by answering questions and performing surveys.
We have already mentioned few websites in our article, you can go and check them out.
2. How do I get paid for answering questions?
Payment structures differ depending on the platform. Some sites pay more some pay less, it all depends upon the brands they are working with.
Payment is usually made through PayPal or other payment systems, please check the website's payment terms for more info.
3. What kind of questions can I expect to answer?
The range of questions that one can expect to answer is varied and depends on the platform.
Some platforms host questions on specialized topics such as fashion, and healthcare while others feature a broad category of questions ranging from technology to lifestyle.
4. How much can I earn answering questions?
The amount one can earn varies based on the platform and the type of questions answered.
But do not expect to make more than $80-100 per month by this side hustle, as I told you it is not something that will replace your full-time job.
5. Do I need any special skills or expertise to answer questions?
Although having specialized skills can be helpful, it is not always required to answer questions. Basic knowledge of the subject matter should be sufficient to provide quality responses.
6. Can answering questions become a full-time job?
Answering questions can be a way to earn income, but it is unlikely that it would provide a full-time income.
It is better suited as a side hustle or a way to earn some side cash to pay your grocery or mobile bills.
Answering Questions In Spare Time Can Be An Easy Side Hustle
So that's all on how to earn money by answering questions.
In this list, we have discussed 7 legit websites that pay you for taking surveys online.
Surveys can be quick and easy ways to make some extra money, and they're a great way to learn about products and services that might interest you.
Plus, survey companies will give you cash or other rewards for completing their surveys. So there's no reason not to take one every once in a while!
If you're looking to maximize your earnings through surveys, I recommend you create an account on multiple platforms so that you can take more surveys.
Survey companies typically pay you between $0.50 to $25 per survey, which is not bad at all.
There are a few things to keep in mind before starting out as a survey respondent or online question answerer.
First, make sure that the company you're working with is reputable. There are many scam sites out there that will ask you to complete surveys for them without giving you any money whatsoever.
Second, always read the instructions carefully before beginning a survey as there is no reason to complete a 1-hour survey for $2.
So start helping these companies today by taking surveys and answering questions and build an easy side income for yourself and your family.
Hey there! I'm Rohit Lohia, a passionate SEO enthusiast and the proud founder of Branded Bucks. I'm all about helping small business owners achieve success online through my blog. Join me on this exciting journey as we explore ways to make money online and build a thriving digital presence.