This post may contain affiliate links and we may receive a commission if you make a purchase through our affiliate link at no extra cost to you. Please read our disclosure policy for more information.
Sneaker culture has exploded in popularity over the last decade.
Limited edition collabs, rare colorways, and exclusive drops have fueled demand and created a vibrant resale market.
Sites like GOAT have emerged to connect buyers and sellers of hard-to-find kicks.
But is GOAT legit? Can you trust them to authenticate shoes and safely facilitate transactions?
In this comprehensive GOAT review, we'll cover everything you need to know:
Is GOAT legit to buy and sell on?
How does the GOAT marketplace work?
Are their prices competitive compared to other sites?
Does GOAT really verify sneakers before shipping to buyers?
Can you buy and sell used shoes on GOAT?
Where does their inventory come from – 3rd party sellers or directly from brands?
After reading this review, you'll have confidence in GOAT's legitimacy and you will feel confident to take advantage of their services so let's dive in!
Is GOAT legit?
This is the most important question, so let's tackle it right away – yes, GOAT is 100% legitimate!
Founded in 2015, GOAT revolutionized the sneaker resale game with its focus on trust and transparency through authentication services.
They've established a stellar reputation and become one of the premier online destinations for buying and selling rare kicks.
Over 30 million worldwide users have joined their community.
GOAT has facilitated transactions between buyers and sellers across 170 different countries. They are a VC-backed startup valued at over $3.7 billion dollars as of 2022.
In short – GOAT is very real, very legit, and about as reputable as it gets in the sneaker resale space.
You can confidently buy, sell, and trade while trusting their team to handle transactions smoothly and securely.
GOAT Customer Reviews
Here are some customer reviews from different sources, have included both positive and negative responses, so you can have a better idea.

A user named "estabilioerik" mentioned 10 months ago that they had bought over 10 pairs of shoes and sold more than 30 pairs on GOAT.
They experienced only one issue, which was eventually resolved on its own. They emphasized that GOAT is the only app they will ever use for buying and reselling.
Another user, "ixnine", shared their experience 10 months ago, stating that their orders from GOAT, including Air Jordan 6 Infrared, Fire Red 4s, and Shadow 10s, were all satisfactory.
They praised GOAT's customer service, recounting an incident when a seller delayed shipping for authentication.
They communicated with GOAT about canceling their order and GOAT provided a full refund. Additionally, GOAT gave them extra shipping credit for a future order.
"TRAPvLORD" also shared their experience 10 months ago, mentioning that they purchased at least 6 pairs of shoes from GOAT without any issues.
A user named "Helsuz_savage" inquired about the usual shipping duration, to which "TRAPvLORD" responded.
They mentioned that it typically takes around a week to receive the order. The duration can fluctuate by a day or two, especially if the order requires authentication by GOAT.
How Does GOAT Work?
GOAT operates as a centralized marketplace connecting individual buyers and sellers globally.
They are not a retailer – the shoes come from 3rd party sellers just like eBay or Etsy.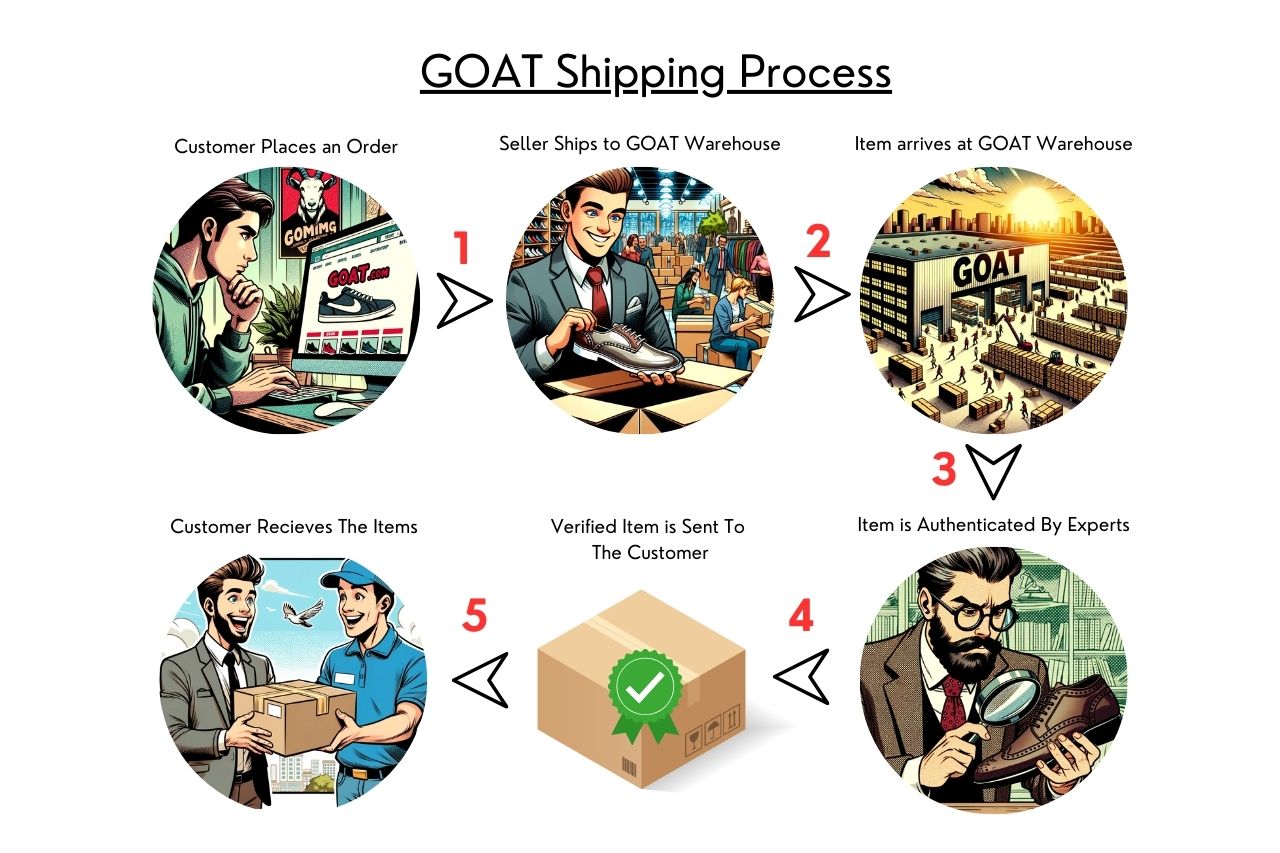 Here is the basic process:
This model allows GOAT to serve as a trusted intermediary. They don't handle payment directly. But they authenticate every item before the final buyer receives it, eliminating fakes and providing peace of mind.
Are Their Prices Cheaper Than the Competition?
GOAT offers competitive market-driven pricing compared to other popular sneaker marketplaces:
Specific pricing will always vary shoe-by-shoe based on supply, demand, and condition. But in general, GOAT strikes a good balance – you can often find better deals than StockX once shipping is factored in.
Their pricing advantage has made them a go-to marketplace for buyers seeking deals on in-demand shoes.
How does GOAT Authenticate Sneakers?
GOAT's legitimacy rests heavily on their authentication process. They employ a team of experts who verify every shoe ordered on their platform.
The exact authentication methods include:
This comprehensive, multi-layered process minimizes the chances of any fakes slipping through.
Buyers can feel confident that if GOAT approves the shoe, it's guaranteed authentic. This gives GOAT a big trust advantage over sites with less stringent verification.
Does GOAT Sell Used Shoes as Well?
Yes, absolutely – GOAT does sell pre-owned/used shoes in addition to new pairs.
Shoppers can browse listings from individual sellers offering used sneakers in varying conditions. For authenticated pre-worn options, GOAT also provides their GOAT Clean service.
The GOAT Clean program professionally cleans and restores select used shoes before listing them for resale.
These refurbished pairs represent an affordable way to get coveted styles in gently used condition.
However, as with any peer-to-peer marketplace, buyers should still closely inspect listings to confirm items match descriptions and conditions.
There have been some reports of shoes sold as new actually being used.
Ultimately, the availability of pre-verified used inventory adds great value for buyers wanting deals or vintage gems.
But a bit of due diligence is still required when purchasing pre-owned.
Do They Only Sell Shoes from 3rd Party Sellers?
Yes, GOAT is strictly a facilitator between individual buyers and sellers. They do not hold any direct inventory.
The sellers send their shoes to GOAT once purchased. GOAT authenticates and forwards the shoes along to the buyer.
This peer-to-peer model is what makes GOAT a marketplace rather than a retailer.
You can find unique high-end shoes on GOAT that may never appear in normal retail channels. For sellers, it provides access to a huge buyer base without needing to establish their own standalone shop.
GOAT connects this supply and demand while acting as a trusted intermediary optimizing convenience and security.
Is GOAT Safe To Buy From?
Buying expensive sneakers online comes with some inherent risk. But GOAT has implemented extensive protections that make transactions very safe:
1. Buyer Protection Policy
GOAT offers a broad buyer guarantee for defective, damaged, or incorrectly described items. Their customer service team will work to find a suitable resolution for any issues.
Common covered cases include:
Shoes fail authentication as fakes
Shoes are a different size than listed
Damage during shipping
Missing accessories like original box or laces
As long as buyers file a claim within 3 days of verified delivery, GOAT will issue a replacement, refund, or site credit. They stand behind every order.
2. Authenticity Verification Process
We already covered GOAT's unmatched authentication system. But it's worth reiterating how this protects buyers against receiving fake shoes.
Each order faces stringent inspection from their experts before shipping.
If anything seems off, they will get to the bottom of it – preventing flawed pairs from ever reaching the buyer
3. Reliable Customer Support
GOAT offers an amazing customer service through multiple convenient channels: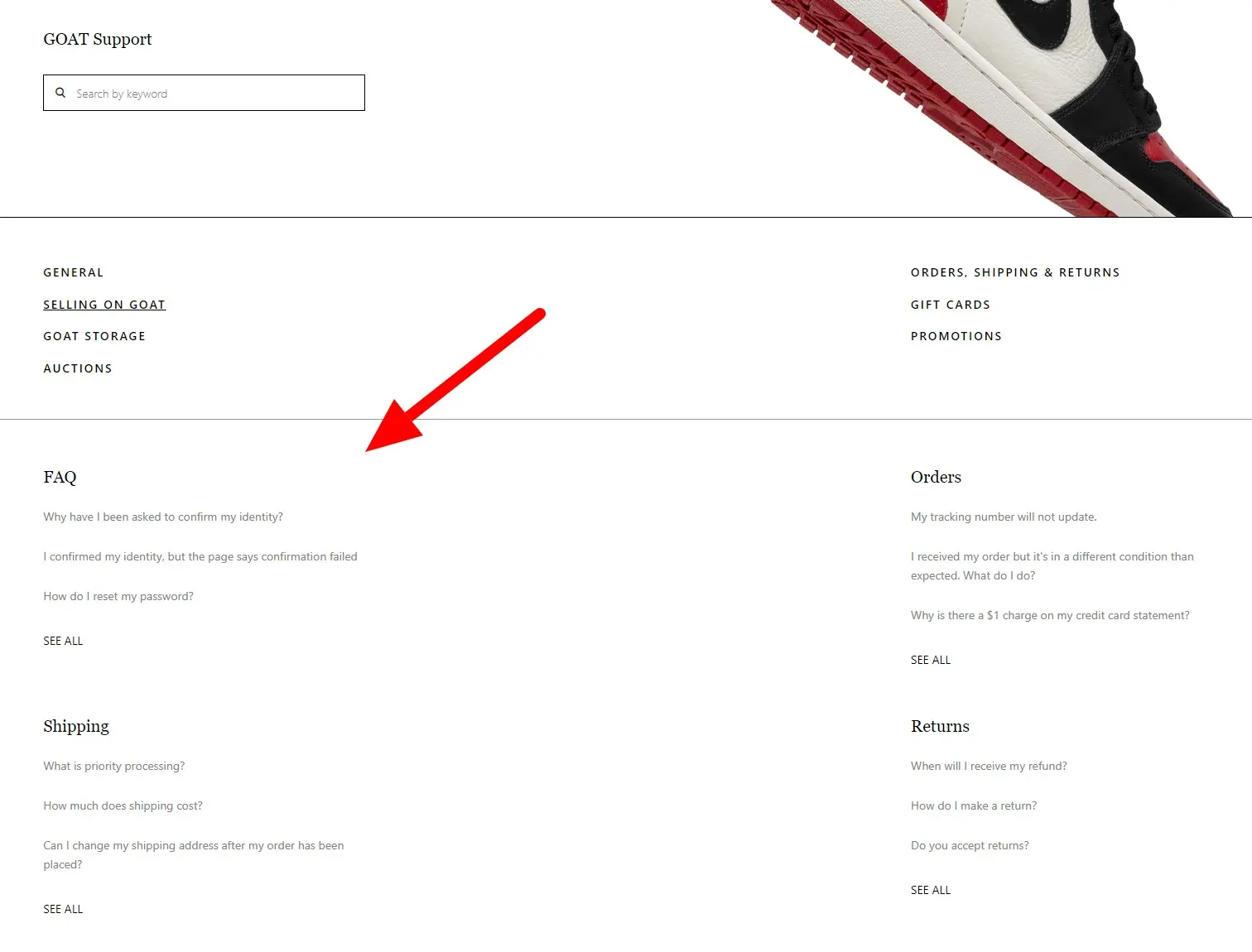 24/7 support form – Directly contact their support team by filling out a request form.
Response times are prompt across these options. Their team is committed to addressing any issues efficiently.
Between robust policies, verification, security, and responsive support – GOAT has your back as a buyer.
Is GOAT a Good Place To Buy Shoes?
Now that we've established GOAT is legitimate – should you actually buy from them? What are the key pros and cons?
The pros easily outweigh the cons. For buyers, GOAT is about as worry-free as it gets thanks to their authenticity guarantee and supportive policies.
As long as you set proper expectations around shipping times and understand their model, you can shop GOAT with total confidence.
How To Buy Shoes From GOAT
Ready to start buying from GOAT? Here is a step-by-step walkthrough:
Browse Listings
Open up the GOAT app or visit GOAT.com.
Use the search bar or browse by category to find a shoe. You can filter by brand, release year, size, and condition.
Once you find a listing, click through to view details like photos, description, and seller rating.
Submit an Offer
If you want to negotiate, click the Make Offer button on the listing page.
Enter your offer amount and expiration date. The seller will receive the offer and can accept, decline, or counter.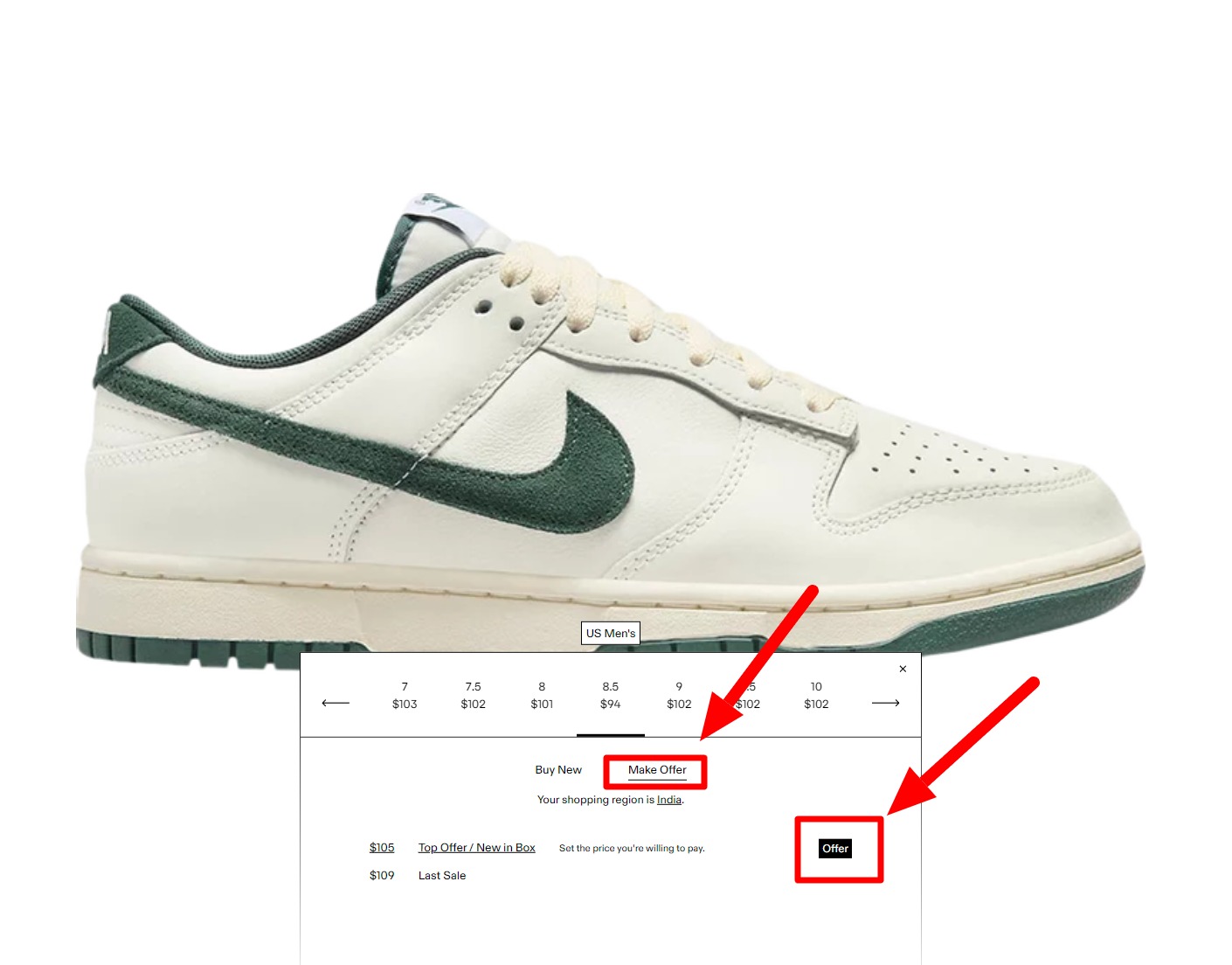 If an offer is accepted, proceed to checkout!
Direct Checkout
If you want to buy the shoes at the seller's listed "Buy Now" price, simply click the Purchase button.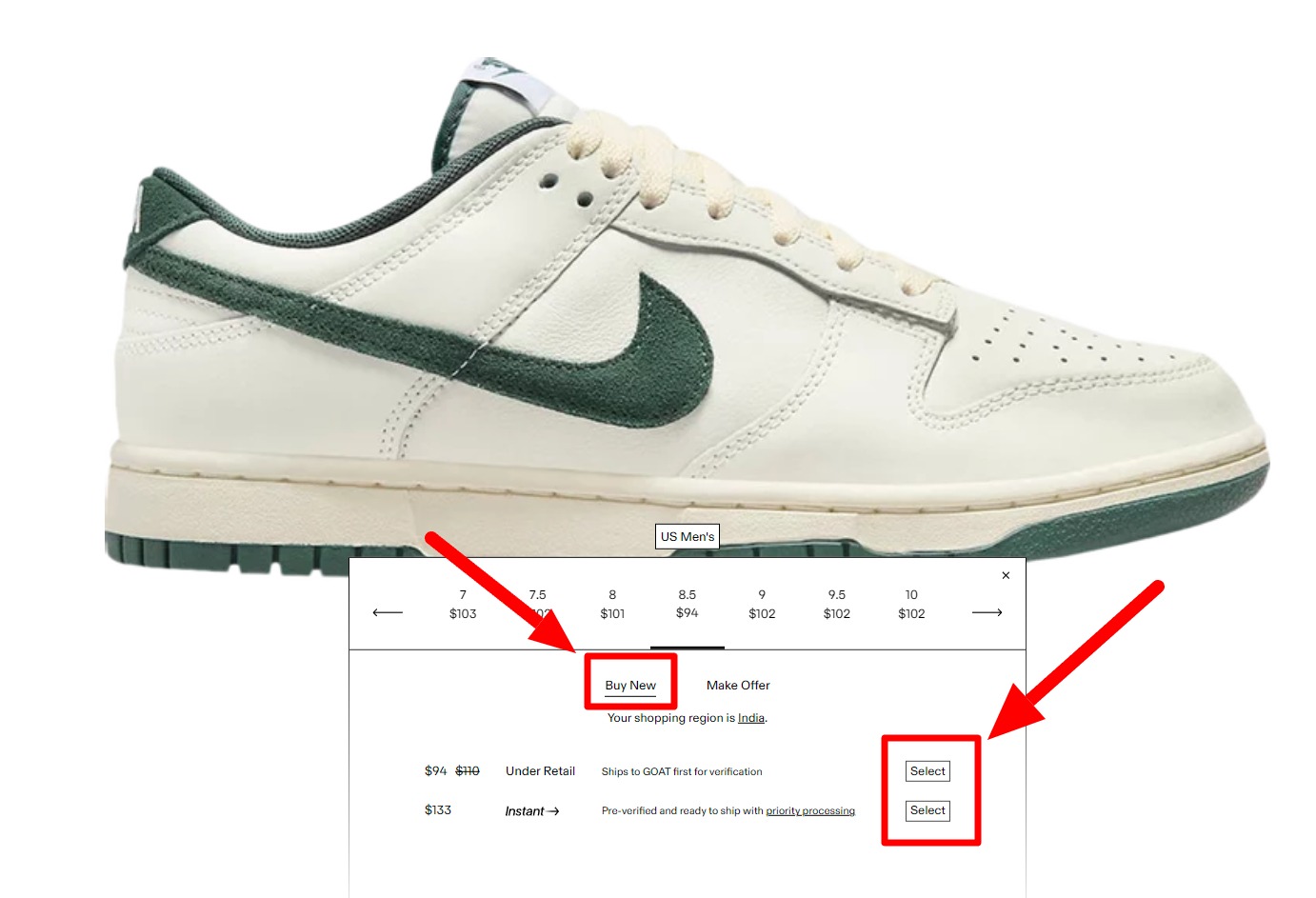 This will take you straight to checkout to complete the transaction.
In many cases you may get 2 options in the buy now section:
Under Retail: The item will first ship to GOAT for verification so the delivery will be delayed
Instant: The item will ship directly to you as it is already verified by GOAT
Checkout & Payment
Whether checking out directly or after an offer, you'll fill in your shipping address, contact info, and payment method.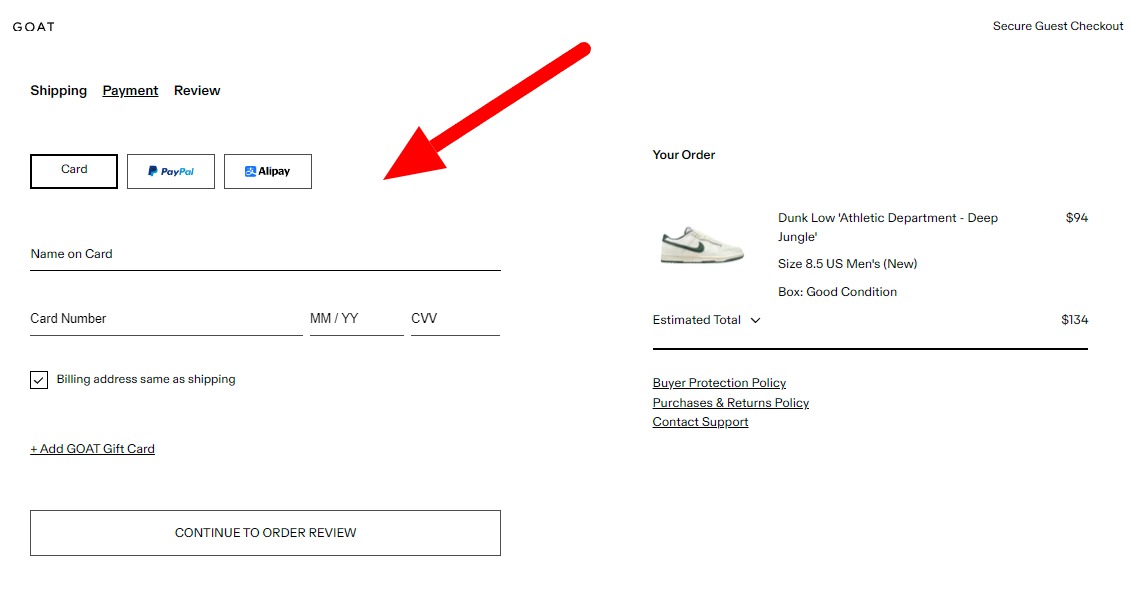 GOAT accepts all major credit cards, PayPal, and even things like Alipay.
Submit payment after carefully reviewing the order total including item cost, shipping, fees, and any taxes.
Authentication & Delivery
After you purchase, the seller will ship the shoes to GOAT for authentication.
Once verified, GOAT will ship out your order. Expect delivery in 1-2 weeks unless expedited.
Enjoy your shoes! And don't hesitate to contact GOAT support if any issues arise.
Buying from GOAT is quick, convenient, and most importantly – safe. You'll have peace of mind knowing your new sneakers are guaranteed authentic.
Is GOAT a Legit Website for Sellers?
For buyers, GOAT's legitimacy and protections are clear. But how is the experience for sellers listing products?
Overall, GOAT remains a great outlet for sellers thanks to:
Huge reach – Instant access to over 30 million members, far larger than trying to sell independently.
Smooth selling operation – GOAT handles authentication, storage, shipping, and customer service.
Generous payouts – After fees, sellers still get competitive payouts compared to alternatives.
However, there are some downsides to keep in mind:
High commission fees range from 9.5% to 25% per sale depending upon your seller ratings.
Strict policies around order fulfillment – sellers must ship within 3 business day or face penalties.
Crowded marketplace with lots of competition. Harder for new sellers to get traction.
For sellers willing to play by their rules, GOAT represents a major opportunity thanks to their industry-leading platform and reach.
But their fees and overhead are substantial.
Ultimately, GOAT offers sellers authenticity, huge demand, and process efficiency. However sellers lose margins and some flexibility compared to independent shops.
How To Sell on GOAT (Step By Step)
In order to start selling on the GOAT marketplace you need to get your seller account up and running and for that, you need to follow some steps.
1. Create a Seller Account
First, you need to request a seller account to become an approved GOAT seller.
To do this, open the GOAT app and tap on the "Sell" tab. This will bring up a form where you enter your information to apply.
2. Wait For The Approval
GOAT is very picky about who can sell because they want to ensure high-quality, authentic items.
They review applications slowly and only approve a select group of sellers. Once you are approved, GOAT will notify you by email and in the app.
After your seller account is approved, you can start listing items for sale.
3. List Items For Sale
To list an item, tap the "Sell" tab again. This will bring up the listing form.
Here, you will need to search for the item's SKU number, which can be found on the shoe box or inside the item.
The SKU number identifies the exact product. Next, select the condition of your item – for example, new, gently used, etc. Then enter the price you want to sell it for.
The most important part of listing an item is taking high-quality photos.
GOAT has strict photo guidelines to show the condition clearly. Take photos that show any damage, discoloration, flaws, or wear.
Make sure the lighting is good and all details on the box and tags are readable. Photos may be rejected if issues aren't visible or details can't be seen.
4. Edit Listings If Needed
After listing an item, it's easy to make edits if needed. Tap "Sell" then "Listings." Select the item you want to edit.
This will open the listing form again, where you can change details like size, condition, price, photos, etc. Don't forget to save your changes when you are done.
5. Ship The Sold Item
Once someone purchases your listing, GOAT will email you a prepaid, pre-addressed shipping label.
You need to properly package up the sold item. Then, drop off the package at the designated shipping location within 2 business days.
6. Get Paid
After the buyer receives their purchase and confirms it matches the listing description and is authentic, GOAT will release the payment to you.
To check your available balance, open the GOAT app and go to the "Account" tab. This will show your available payout amount.
Before sending you the money, GOAT will subtract their seller fees. The remaining amount is what you will be paid.
And please note that you can only have one GOAT seller account. Do not share, sell, or transfer your seller account to anyone else. Doing so could lead to your account being suspended or banned.
FAQs On Is GOAT Legit Site
Here are some common questions on whether GOAT is legit or not.
Is GOAT App Legit?
GOAT is seen as a legitimate marketplace for buying and selling sneakers online. It is widely praised for its authentication service that helps make sure the items being sold are real.
On Trustpilot, GOAT has a rating of 4.2 out of 5 based on over 14,700 reviews, with 72% giving it 5 stars. However, GOAT has a low 1.11 out of 5 rating on the Better Business Bureau site with 582 reviews.
Is it trustworthy to buy from GOAT?
When buying from GOAT, most buyers find it trustworthy because of its thorough checking process to ensure items are real.
The site has become one of the most reliable places for buying and selling sneakers and clothes, making it a trusted choice for buyers and sellers.
How long does shipping from GOAT take?
Shipping from GOAT usually takes 7 to 10 business days for buyers in the US.
This is because most items are first sent to GOAT authentication centers to be checked before being sent to the buyer.
However, some items listed as "Instant" can arrive in 1 business day. The exact time can vary based on the item and buyer's location, with international orders possibly taking longer.
Can you return shoes from GOAT?
Yes, according to GOAT's policy, you can return the shoes within the 3 days of their purchase.
In order to request a return you have to tap on the "Return Request" option in the GOAT app after receiving the product alternatively you can also contact GOAT customer support.
If your return is approved, you'll get GOAT Credit for the amount you paid, unless you ask for a refund to your original payment method.
For a return, you need to send the item back with a return label and packaging slip from GOAT, and the item should be in the original packaging with all tags included.
The Bottom Line
After reviewing all aspects of GOAT – it's clear their stellar reputation as a trusted sneaker marketplace is well deserved.
For buyers, they offer unparalleled authenticity guarantees, great market prices, and excellent service. You can shop GOAT with total confidence.
For sellers, they provide access to huge demand and streamlined operations, although fees reduce profit margins.
Minor drawbacks around shipping delays and overhead costs do exist. But overall, GOAT remains a best-in-class platform.
Let me know in the comment section below how's your experience after using their platform!
Hey there! I'm Rohit Lohia, a passionate SEO enthusiast and the proud founder of Branded Bucks. I'm all about helping small business owners achieve success online through my blog. Join me on this exciting journey as we explore ways to make money online and build a thriving digital presence.