This post may contain affiliate links and we may receive a commission if you make a purchase through our affiliate link at no extra cost to you. Please read our disclosure policy for more information.
Ordering sneakers online can be a tricky business. You want to make sure you get authentic shoes in the condition promised.
That's why I love using GOAT. Their authentication process gives me peace of mind that my Jordans will be real when they arrive.
But GOAT's added layer of authentication means shipping takes a little longer than some other sites.
So how long does GOAT take to ship your order?
In this article, I'll share my experience with GOAT shipping times. You'll learn:
How the GOAT shipping process works
Average shipping times for standard, instant, and international orders
Factors that impact delivery timelines
Tips to get your shoes faster
How to track your order
Let's dive in!
How Long Does Goat Take To Ship?
GOAT offers different shipping speeds depending on the item. But in general, orders ship within 7-10 business days to customers in the contiguous US.
That includes:
3-4 days for the seller to ship to GOAT
1-2 days for GOAT authentication
3-4 days for GOAT to ship to you
But GOAT divides items into standard and instant categories, each with different timelines:
Shipping Type
Timeline
Standard Items
7-10 days
Instant Items
3-5 days
Instant Items + Next Day Shipping
1 day (If order is placed before 11 a.m. PT)
2 days (If order is placed after 11 a.m. PT)
GOAT Standard Item Delivery
Items without the "Instant" tag that says "Ships to GOAT First For Verification" are standard orders.
Standard items take 7-10 business days to arrive because they route through GOAT's authentication center first.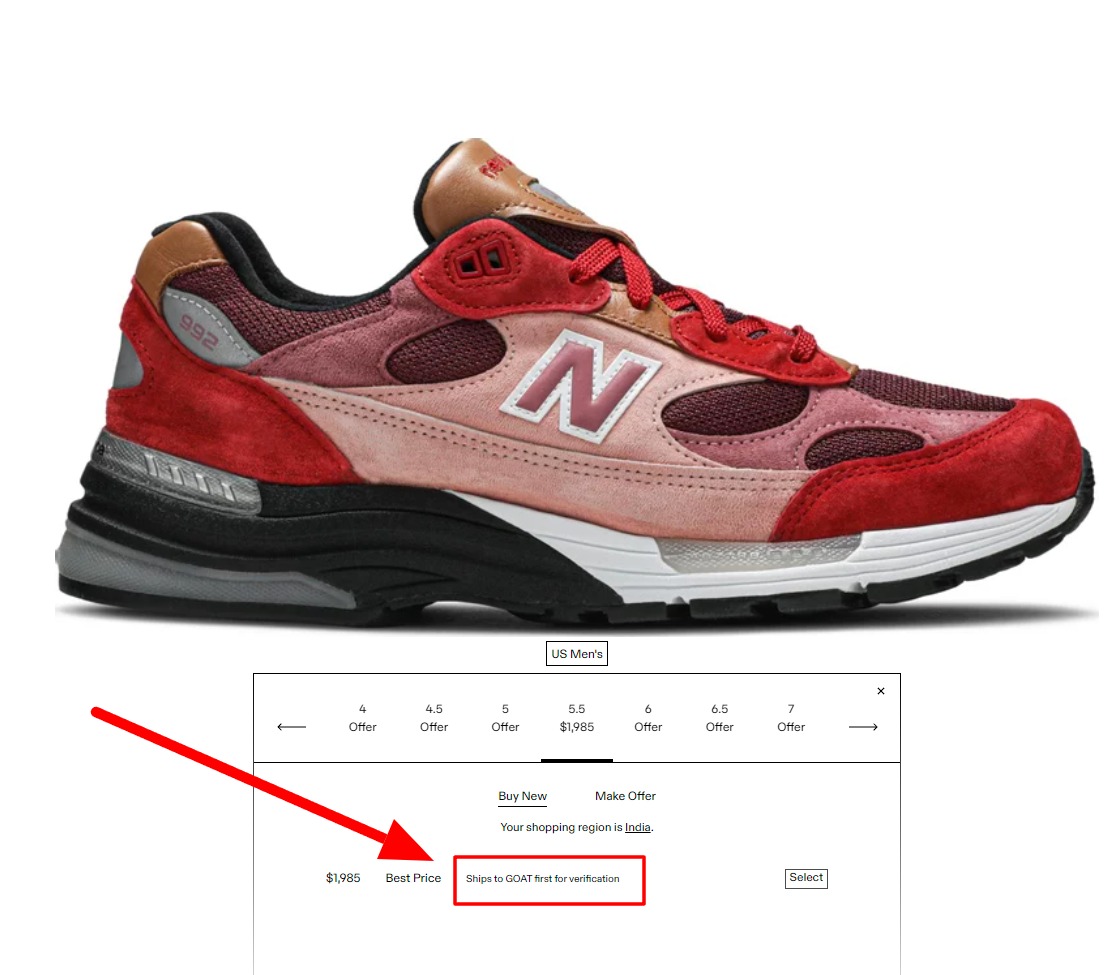 Here's the full process:
So if an order estimate says 7-10 days, it's a standard delivery item that still needs verification.
For example:
On Monday, you ordered Air Jordan 1s without the Instant Ship tag. The seller shipped them out on Tuesday. GOAT verifies them by Thursday. Finally, GOAT will send them to you Friday for delivery by Wednesday or Thursday.
GOAT Instant Item Delivery
Any sneaker or shoe that is marked "Instant" skips the authentication step. These shoes have already been verified at GOAT facilities.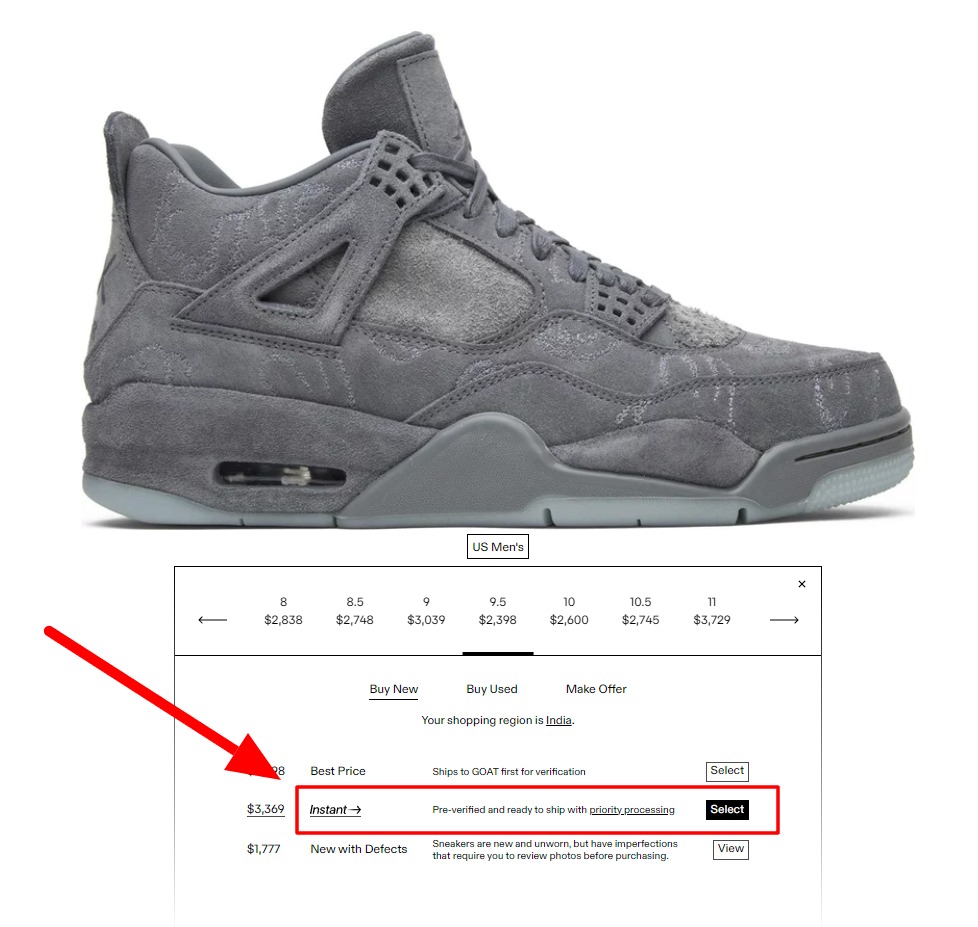 Once you purchase Instant items, GOAT ships them directly to you. Instant Ship orders arrive within 3-5 business days since they don't route through verification first.
For example:
You order Instant Ship Nike Dunks on Monday. GOAT ships them out on Tuesday. The Dunks get to you by Thursday or Friday.
Instant Ship lets you slash the GOAT delivery time significantly. But you pay a premium for the convenience.
How Long Does GOAT Take To Arrive with Next-Day Shipping?
Some Instant items are eligible for Next Day Delivery which offers the fastest possible GOAT shipping.
If you order these items before 11 a.m. PT, GOAT ships the shoes the same day for delivery the very next day.
Items ordered after 11 a.m. PT still ship fast – within 2 days instead of 1.
This overnight option is only for pre-verified Instant items to addresses within the lower 48 states (contiguous US states). But it's the speediest way to get your grails!
Does GOAT Ship During The Holiday?
Once you place an order, sellers have 3 business days to send shoes to GOAT for authentication.
But GOAT is closed on national holidays and weekends. So holidays and Sundays don't count as "business days."
For example:
You order shoes on Wednesday. Thursday is Thanksgiving, so Friday is the first business day. The seller has until Monday to ship your order to GOAT.
Plan ahead and avoid ordering right before the holidays if you want speedy delivery. GOAT needs extra time to reopen after long weekends.
What Is The Shipping Cost Of GOAT?
GOAT shipping fees depend on location and delivery speed
| Shipping Method | Price |
| --- | --- |
| Mainland US (48 States) Delivery | $14.50 |
| Delivery to Hawaii & Alaska | $25 |
| Next-Day for Instant Items | $27, plus a processing fee of up to 8% of its purchase cost |
| Priority Orders | $12 (additional) plus tax |
| Note: Extra charges may apply for heavy or multiple items. | |
Taxes and import duties add more costs for international purchases.
Now that you know GOAT's average delivery times, let's look at how the shipping process works.
How GOAT's Shipping Works
GOAT orders go through a few key steps between order and delivery: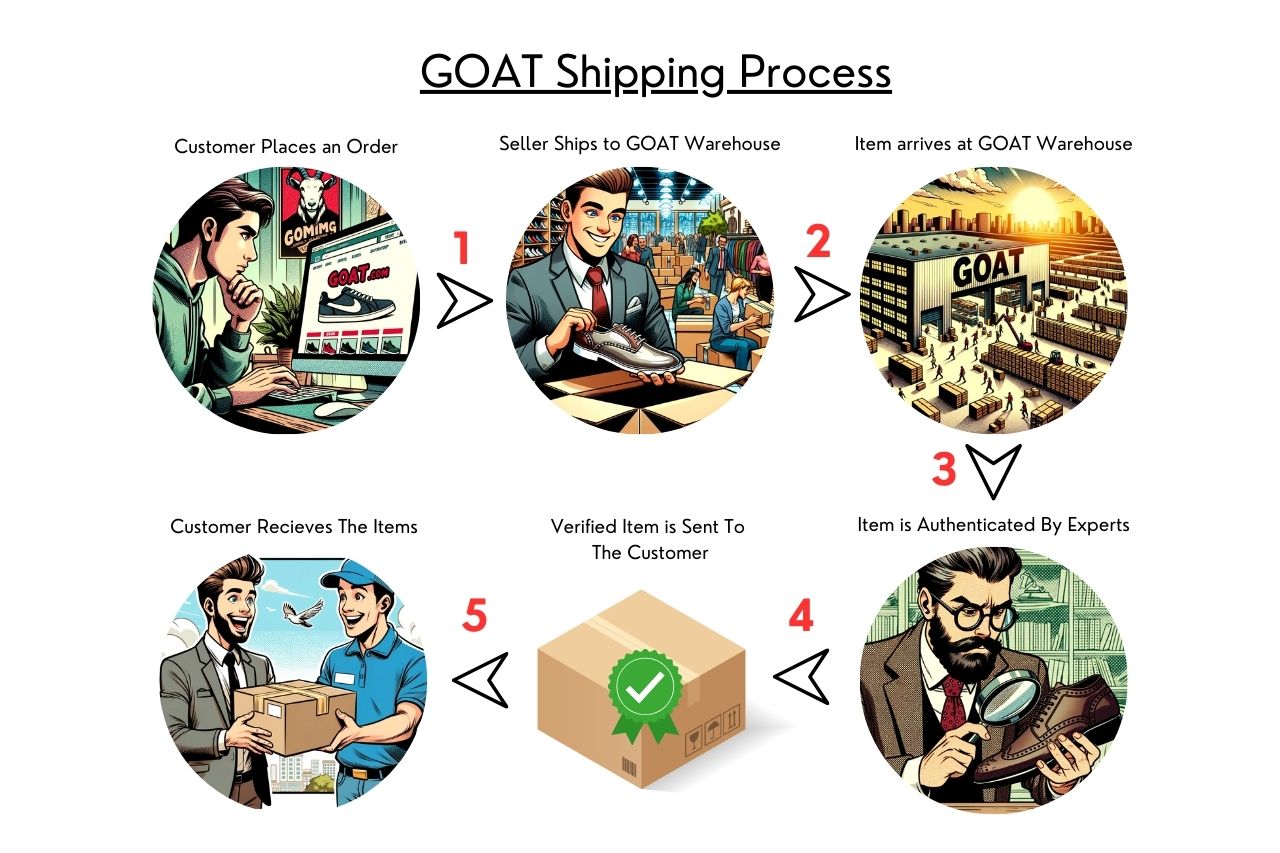 GOAT has authentication centers positioned across the US to reduce transit time. But shoes route through these facilities before final delivery.
GOAT's experts examine stitching, materials, wear patterns, and more. Their strict standards ensure you get authentic, high-quality shoes.
But the verification process tacks on a few extra days compared to regular online sellers. Patience pays off for peace of mind!
How Long Does GOAT Take to Ship Internationally?
If you don't know, GOAT offers international shipping to over 30 countries.
But international orders take much longer – between 10-25 days on average.
Shipments to Canada or Europe fall on the quicker end of that range. But buyers in Asia, South America, or Australia will wait up to a month for delivery.
What causes the longer international timelines? Customs clearance.
Every country has its own import laws controlling what gets shipped in and out. Your package has to pass through customs and clear regulations before entering your country.
GOAT does everything they can to ship quickly. But they can't control how long worldwide customs departments take to inspect and approve packages.
International buyers should prepare for an exciting month-long wait for their grails!
Factors Affecting GOAT Shipping Time
GOAT aims to ship orders ASAP after verification. But several factors can delay your delivery:
1. Shipping Method
Choosing Instant Ship or Next Day Delivery guarantees faster shipping. Standard shipping always takes longer with the added verification step.
Tip: Opt for Instant when possible to slash your wait time.
2. Courier Company
GOAT mainly uses UPS, FedEx, DHL, and USPS to ship orders.
Shipping speeds can vary between companies depending on the region.
Some companies may deliver faster to certain areas while others are quicker in different locations.
Also, If weather or staffing issues slow down carriers, deliveries get pushed back.
3. Holidays or Weekends
GOAT shuts down over holidays and weekends. Order at least 3 days before a long weekend to avoid delays.
Tip: Check calendars before buying to avoid holiday slowdowns.
4. Distance & Location
The farther your address from GOAT authentication facilities, the longer in-transit time. Rural and overseas addresses wait longer.
5. Verification Length
Rare or highly coveted shoes take more time for GOAT's experts to thoroughly authenticate before release for shipping.
Tip: Buy shoes marked as instant to skip extended verification.
6. Local Customs Laws
International shipments get held up for customs inspections and regulations. More rigid processes cause bigger delays.
Tip: Research your country's import laws to predict customs wait times.
7. Weather Conditions
Winter storms, high winds, and other severe weather slow down trucks and flights from moving on schedule.
Tip: Be extra patient during storm seasons for your region.
Now let's get into tactics you can use to slash your GOAT delivery time.
How to Make Your GOAT Order Ship Quickly (3 Tips)
Everyone wants their new sneakers ASAP. Here are 3 proven tips to reduce your GOAT shipping time:
1. Enter Your Information Correctly
Carefully double-check your shipping address, payment details, billing info, and any other required sections when ordering.
Any errors or mismatches can delay the processing and shipping of your order. Even tiny mistakes like apartment numbers matter.
For example, Imagine the scenario:
James fills out his shipping form fast, and accidentally swaps two digits in his zip code. Even though the rest of his address is right, the mistake means GOAT ships his package to the wrong local post office. From there, the post office has to reroute it, adding 4 extra days to delivery.
GOAT customer service can't speed up orders missing information. Double-check submissions to prevent processing delays.
2. Place Your Order on Monday or Tuesday
Placing the orders early in the week avoids weekend holidays that may delay your delivery.
Also, cross-check whether or not there is any upcoming public holiday before placing an order.
3. Order Instant Items With Next Day Delivery
Try to order shoes that are marked as "Instant" as these shoes are already verified by GOAT and hence are ready to get shipped directly without any further authentication.
And if you want your order super quickly, opt for next-day shipping if it is available for that particular product.
FAQs On How Long Does Goat Take To Ship
Here are answers to some frequently asked questions about GOAT shipping:
How Do I Track My GOAT Order?
Login to your GOAT account on the website or mobile app. Navigate to your Orders page, and tap on the order you want to track.
There you can find the tracking number, current status, and delivery ETA. Refresh for updates as your shoes make their journey to you!
Does GOAT Ship On Weekends?
Sometimes yes, if they have staff on hand. But often orders get held until Monday.
The only way to know for sure is to track your package. Weekend shipping is not guaranteed.
What Shipping Couriers Does GOAT Use?
For US shipments, GOAT mainly uses USPS, FedEx, UPS and DHL for transit. USPS handles final delivery from local post offices.
International orders route through nationwide carriers like DHL before transferring to local postal services.
Where Do GOAT Orders Ship From?
OAT has a warehouse in Culver City, California, which handles local shipping within the United States
Once verified, your shoes ship out from the facility closest to the seller's location. This saves transit time.
What Happens if a Seller Fails To Ship Your Item?
If a seller doesn't ship to GOAT within 3 business days, your order gets automatically canceled.
GOAT will notify you of the cancellation reason in the app or by email. You won't be charged for canceled orders.
Final Words
Hopefully this guide clears up how long GOAT takes to ship orders! Here are the key points:
Standard orders take 7-10 days
Instant items arrive within 3-5 days
Instant + Next Day offers overnight delivery
International shipments range from 10-25 days
Bad weather, holidays, and customs checks can result in delays. But choosing Instant or Next Day shipping helps slash your wait time.
Let me know in the comments if you have any other GOAT shipping questions!
Hey there! I'm Rohit Lohia, a passionate SEO enthusiast and the proud founder of Branded Bucks. I'm all about helping small business owners achieve success online through my blog. Join me on this exciting journey as we explore ways to make money online and build a thriving digital presence.