This post may contain affiliate links and we may receive a commission if you make a purchase through our affiliate link at no extra cost to you. Please read our disclosure policy for more information.
I know you've been feeling overwhelmed lately with clutter taking over your home.
No matter how often you organize and declutter, the piles of unused stuff keep accumulating – am I right?
You've been wondering, how can I possibly get rid of all this extra stuff and make a little money in the process?
Well, I've got the perfect solution for you: hosting a garage sale!
Specifically, I'm going to walk you through how to sell everything at a garage sale – from picking the date to pricing to getting the word out.
I'll share all my best tips and tricks for hosting a sale that practically empties out your home.
This will be so liberating, I promise!
Let's dive in and I'll teach you how to host the sale of the century.
What's a Garage Sale Really All About?
I'm sure you already know the basics – a garage sale is when you sell your used stuff right from your garage or front lawn. But let me break it down a bit more:
A garage sale is an informal event where people sell gently used household items, clothes, toys, books, electronics – you name it!
Shoppers will swing by your house and sort through your wares to uncover great deals.
It's a win-win – you earn extra cash from items you don't need anymore, and shoppers find bargains and unique treasures. Plus, getting rid of clutter is so liberating!
The key benefits for you are:
Making money – cha-ching! Finally earning something from the random junk taking up space.
De-cluttering – free yourself from those boxes of old dishes or kids clothes you'll never use.
Meeting neighbors – you'll chat with so many locals while hosting. Great way to connect with the community!
How To Sell Everything At a Garage Sale (My 10 Tips)
1. Pick the Right Date
Now this first tip is absolutely crucial: picking the right date!
You want as many shoppers as possible to show up.
Avoid holidays, school events, local festivals – basically any major happenings in your area.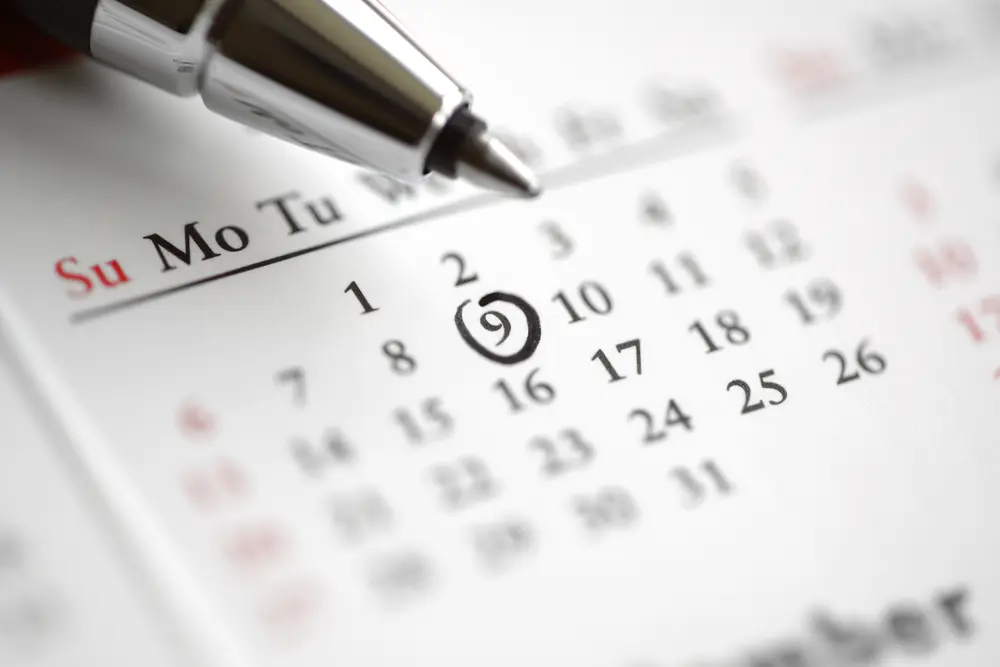 Going head-to-head with another big event nearby means lower attendance at your sale.
Shoot for a Friday through Sunday. Saturdays tend to get the most foot traffic from eager garage salegoers making their rounds.
I'd recommend at least a two-day sale, preferably three days to really maximize your odds.
More days = more shoppers.
For example, my friend Betsy purposely checked with neighbors on her street and they agreed to all host sales on the same Saturday.
It brought in crowds from all over!
If you can collab with your neighbors, I highly recommend it.
2. Gather Useful Items to Sell
Trust me, I've learned the hard way – not just any old junk will sell well at a garage sale. You want to be selective and really gather items people actually want to buy.
Also Read: 10 Best-Selling Items To Look For at Garage Sales
Take a good long stroll through your entire house – attic, basement, closets, garage, you name it.
Be totally honest with yourself.
Ask – when is the last time I used this?
Does it work properly?
Is it in decent shape?
Only keep quality items in good working condition. Get rid of anything broken or faulty. Toss any trash or items beyond repair – it will just take up precious space!
For clothes, only include stuff that's in current style without stains or damage. Check for holes in jackets and missing buttons. No one wants worn-out threads.
Donate anything usable that just isn't garage sale material – like those corduroy pants from the 90s taking up room in your closet!
There are so many charities that can reuse household goods, furniture, and clothing. Save the landfills and help others out.
Electronics are hot sellers if they are recent models in demand.
Video game consoles, tablets, smartphones, and gaming devices tend to go quick at a good price. Make sure they power on!
Furniture that is clean and structurally sound also does well – chairs, tables, dressers, sofas, etc. Just make sure people can easily access them and move them around.
A few other things I recommend gathering based on past success:
Popular toys, games, and puzzles with all pieces
Current style children's clothes
Baby items – swings, strollers, carriers
Kitchenware that's not too old or scratched up
Sporting goods and bicycles
Tools and hardware that are usable
See the theme here?
Focus on quality, popular items that people actually want, not cast-offs you're desperate to pawn off.
3. Price Items Fairly (Finding The Sweet Spot)
Finding the optimal price that actually motivates buyers is an art form.
You want shoppers to feel like they're getting a steal of a deal.
First, research prices for certain valuables like electronics, furniture, jewelry, etc.
Check online postings and thrift shops for comparable items. Price high-demand items accordingly.
For common stuff, a good rule of thumb is to price around 25-50% of the original retail value.
How much life is left of the item?
Has it been barely used or is it worn and tattered? Price accordingly.
I like to bundle similar items, like kids clothes or paperback novels.
Offer a special package price to move more products faster. Make sure everything is clearly labeled with prices.
As you're organizing and setting up, price items as you go along. Use stickers or tape price tags to everything. This also helps you sort items into different price buckets.
Trust me, taking time to price intelligently makes a huge difference in your total earnings.
Set fair prices and be willing to negotiate a little. More on that later!
4. Advertise the Sale
This tip is what separates an empty garage sale from a packed house.
You gotta get the word out so buyers arrive in droves. Here are some of the best ways to advertise for little or no money:
Yard signs – Place these at busy intersections and streets near your neighborhood. Put them up 2-3 days before the sale. People see them and get reminded to stop by.
Social media – Post on neighborhood Facebook groups, Nextdoor, Instagram, and anywhere locals will see it.
Newspapers – Many classified sections let you list garage sales for free. Old school but still effective.
Websites – List on Craigslist, GarageSaleFinder.com, and any other relevant sites. Great for casting a wider net.
Email – Reach out to friends, family, and coworkers who may want to stop by. Or tell them to spread the word.
Also Read: How To Post a Garage Sale On Facebook Marketplace (Easy!)
Also Read: How To Post a Garage Sale On Craigslist (6 Easy Steps)
Make sure to include the date/time, exact address, highlighted items, and any other key details. Give people the info they need to actually show up.
5. Display Items Neatly
Alright, your garage sale stash is pared down, priced, and advertised. Now it's time for the fun part – artfully displaying everything to attract excited buyers!
Group similar items together on tables or blankets. Keep clothes together, toys together, electronics together, etc.
This categorized setup makes it easy for shoppers to browse.
For smaller items, use tables, shelves, racks so people can easily see everything.
Place big-ticket items like furniture closer to the street to catch eyes. Have signs with pricing and dimensions.
The goal is to make your garage sale display inviting, neat, and super shopable.
Pretend you're a boutique owner attracting customers. You want people to enjoy digging through organized treasures.
Also Read: How To Display Purses At a Garage Sale (4 Display Ideas)
Make it an enjoyable experience and they'll likely stay longer buying more!
The proper display can seriously impact your sales for the better.
Garage Sale Day – Time to Make Bank!
The big day is here! You're ready to go with signs posted, items displayed, and anticipation building.
Let's go over some key garage sale day tips for success:
6. Set Up Bright and Early
You want to be 100% ready to go at least 1-2 hours before the advertised start time. Eager shoppers always show up early to a garage sale – take advantage of it!
Rope off the driveway, set up cones, place signs.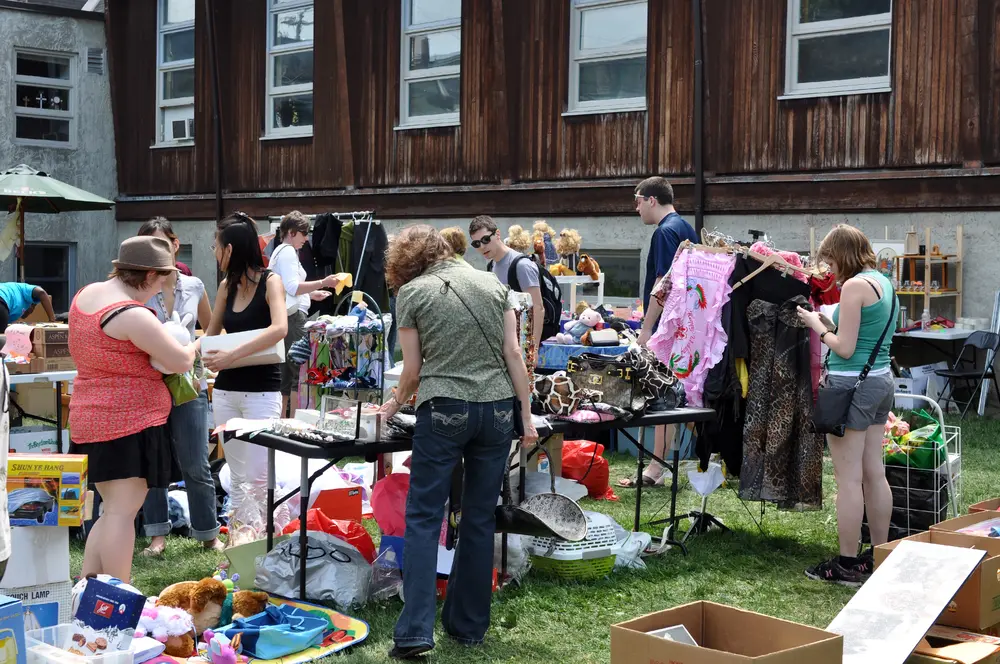 Get all your tables, shelves, racks, and displays perfect. Take a look around…you've got this!
As shoppers start wandering in, put on a smile and welcome them!
Being extra friendly establishes a rapport with customers and can lead to more sales.
Say a warm hello, let them know to holler if they need anything, and thank them for coming. They may need help to maneuver furniture or negotiate a price.
Your warm and helpful presence matters more than you may think!
7. Negotiate Fairly
When a shopper wants to negotiate on an item, hear them out politely. If you priced fairly from the start, you have room to come down a little.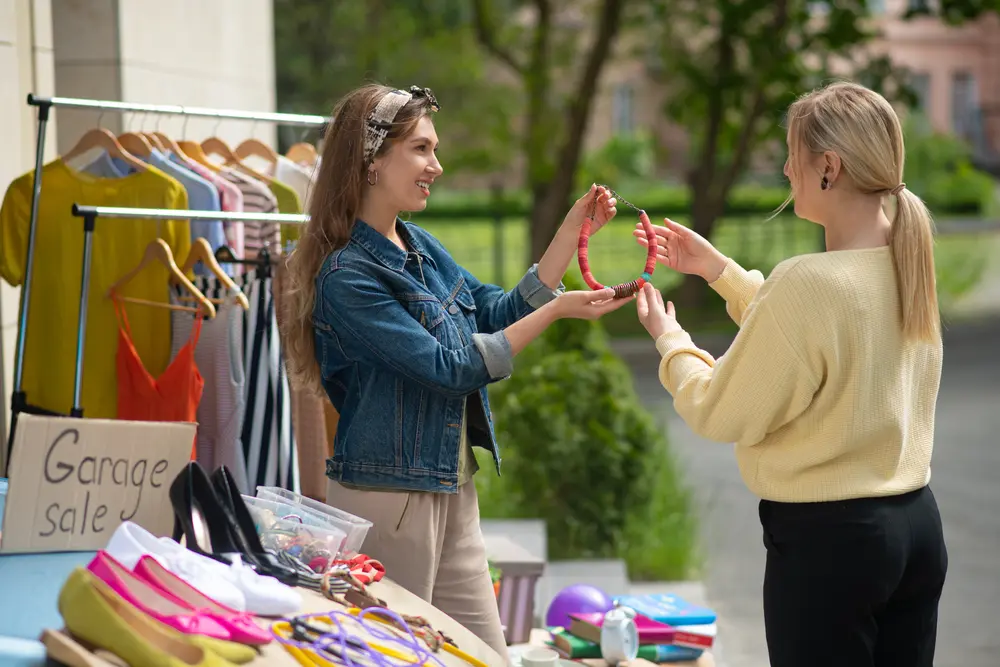 Consider bargaining down around 10-20% depending on the item and its condition. Remember the prices you researched earlier? Stick within your bottom line range.
The goal is a fair deal that makes both parties happy.
Send them off with a bargain and you with fair compensation. With garage sale regulars, I'll often negotiate a little extra because I know they'll keep coming back.
8. Accept Various Payment Methods
You want to make it as easy as possible for people to hand you money.
Have a way to accept cash, checks, Venmo, PayPal, and credit cards via Square or another processor.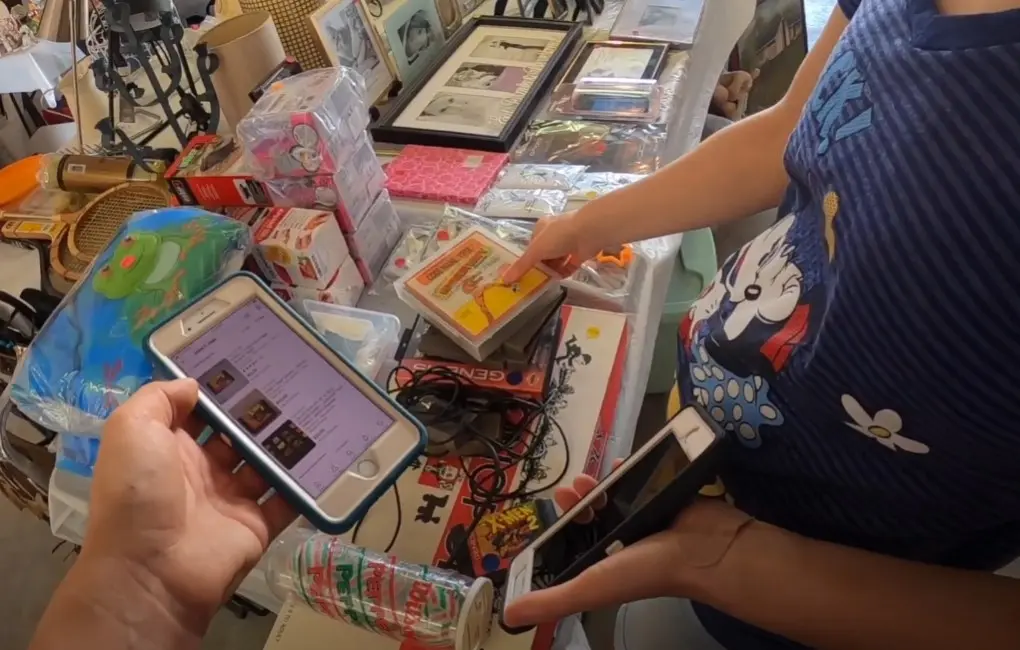 People often don't carry much cash anymore. Give them flexible options to pay with whatever's convenient. Apps are great for millennials and gen Z shoppers.
Also Read: How To Accept Payment at Your Garage Sale (Cash, Venmo, etc)
Keep a dedicated cash box or fanny pack on you. Have some small bills and change available too. Making change is inevitable.
9. Provide Bags and Boxes
Nothing slows down sales like a customer trying to carry an awkward armful of stuff to their car.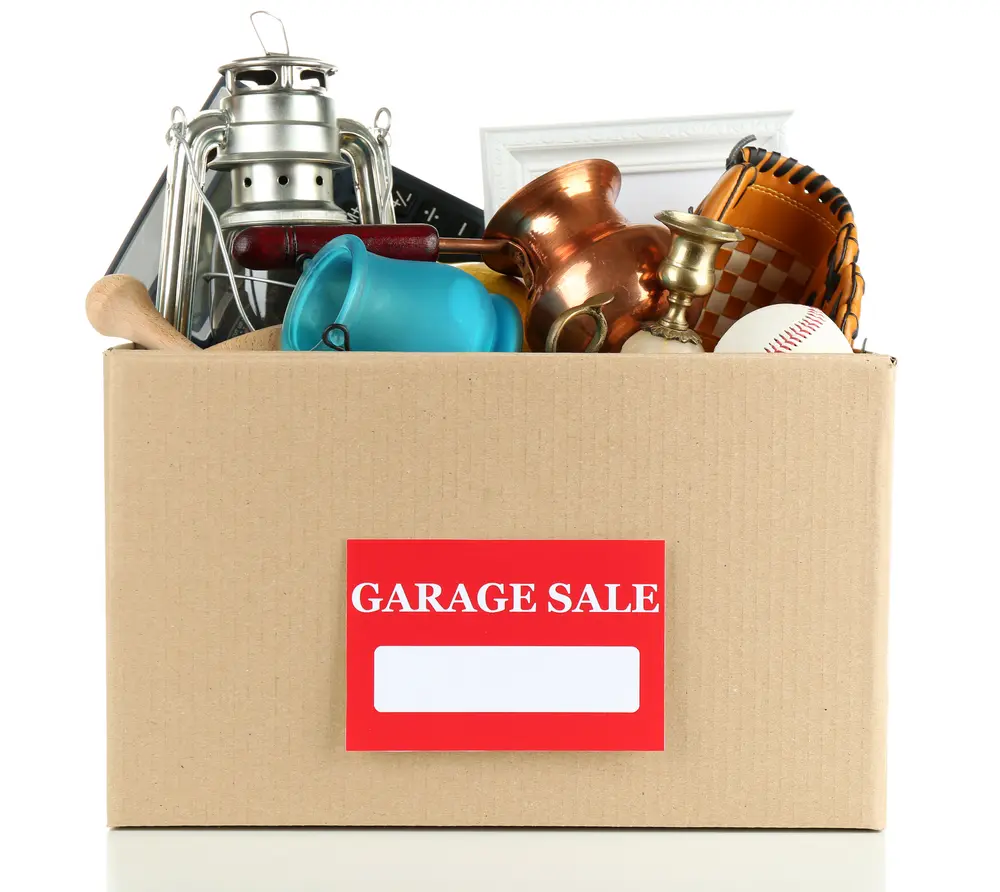 Save and provide bags and boxes for them to easily transport their newfound bargains.
Collect plastic and paper bags from grocery and shopping trips. Ask neighbors to save bags and boxes for you too.
Provide bags in sizes – have some larger bags available for bulky items.
Remove the friction of getting purchases home. It also reduces the chance of breakage on the trip. Win-win!
10. Winding Down and Cashing In
As you enter the last couple hours, it's time to mark stuff down, sell those leftovers, and count your profits!
Most sellers mark down remaining items anywhere from 25-50% with colored stickers. You can even do the "fill a bag for $5" strategy right at the end to unload products.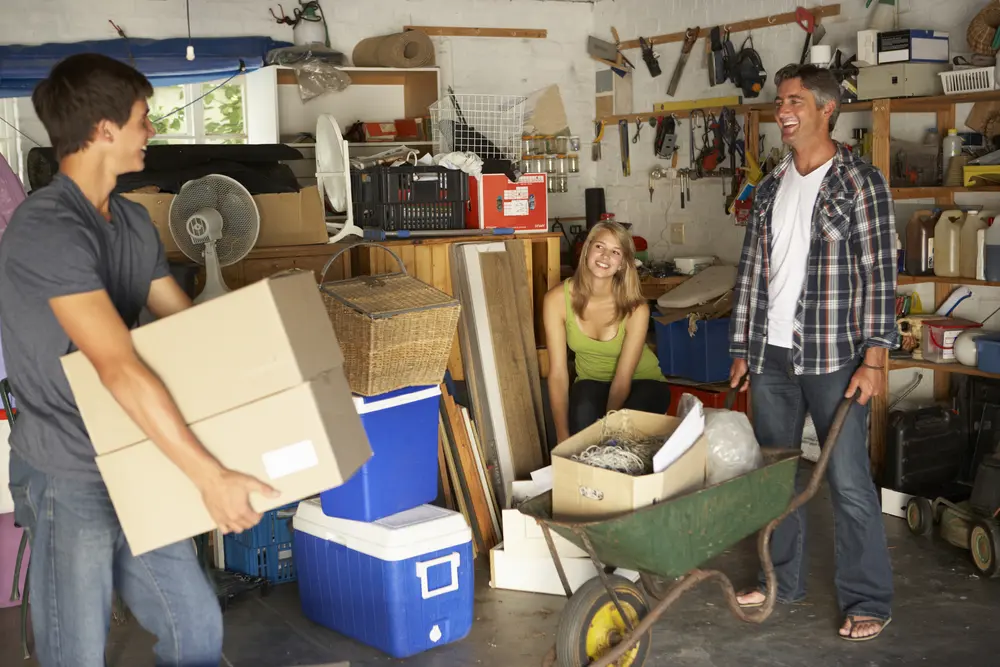 Once it finally wraps up, immediately pack up tables, racks, signs, displays. You don't want anything walking off overnight!
Donate whatever is left to a charity like Goodwill. Many will even pick up items for free. You'll feel great seeing leftovers reused rather than trashed.
Finally – total up all that beautiful cash, Venmo, PayPal, etc.
Enjoy your new funds and decluttered home!
Don't forget to grab a celebratory drink on a garage sale job well done.
Let's Review those Garage Sale Secrets
Phew, thanks for sticking with me through this garage sale masterclass. Let's recap the key tips that will set you up for success:
Optimal date – avoid conflicts, Friday-Sunday, partner with neighbors
Gather in-demand items – electronics, furniture, current clothes/toys
Price fairly – 25-50% of retail, bundle stuff
Advertise – yard signs, social media, websites, newspapers
Display organized – category items neatly by type
Be friendly – warmly greet and assist
Negotiate fairly – have reasonable flexibility
Accept many payments – cash, cards, Venmo, PayPal
Provide bags and boxes – make it easy to transport
Follow these garage sale secrets, put in the legwork, and get ready to sell it all.
Phew!! I gave everything that i had related to hosting a garage sale.
Let me know if you have any other questions – I'm happy to help. Now go make that garage sale money!
Hey there! I'm Rohit Lohia, a passionate SEO enthusiast and the proud founder of Branded Bucks. I'm all about helping small business owners achieve success online through my blog. Join me on this exciting journey as we explore ways to make money online and build a thriving digital presence.