This post may contain affiliate links and we may receive a commission if you make a purchase through our affiliate link at no extra cost to you. Please read our disclosure policy for more information.
What's up, People!
So you're looking to host a garage sale or yard sale, but you're dealing with one tiny problem – you don't actually have a garage or a yard!
No need to stress. I've got you covered with plenty of creative options to make your garage-less garage sale a big success.
See, garages make a convenient spot for people to roll up and hunt for treasures. But they're absolutely not necessary!
With a little planning and creativity, you can host a fantastic sale even without access to the oh-so-perfect garage setting.
In this guide, we'll dive into the nitty gritty on 5 different ways to host your dream garage sale without the actual garage.
I'll walk through how each method works and give you my best tips to help it run smoothly. Let's do this!
You May Also Like
How To Have a Garage Sale Without a Garage (5 Best Ways)
Here are some of my personal methods to host a Garage sale without a Garage or yard.
Note: Some of the methods may require legal permits so please do your own research before committing to any of the methods mentioned below.
1. Have a Multi-Family Garage Sale
One of my personal favorite options is to join forces with the neighbors for a multi-family garage sale.
Here's the deal – instead of hosting solo, you team up with other families in the neighborhood to sell your stuff together in one place.
Often it'll be at someone's home that has a good-sized driveway, front yard, or other outdoor space conducive to browsing and buying.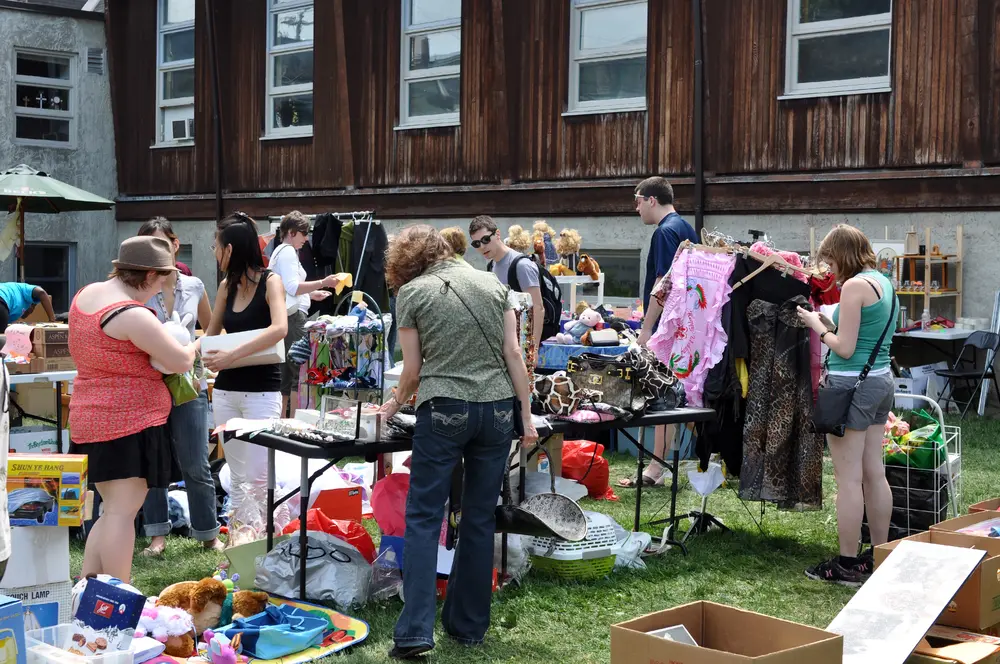 Pro Tip: Coordinate with engaged neighbors who will pull their weight promoting the sale!
Each family sets up their own display area, bringing tables and racks to showcase their particular items for sale.
It's best if everyone coordinates to have a good variety – one neighbor might focus on kids clothes and toys, another has kitchen gadgets and decor, someone else displays home improvement tools or furniture.
As a shopper, you get to walk around and explore different "stores" set up by each seller.
The vibe is more of a typical garage sale, focused on hunting for bargains and great finds rather than turning it into a big community party.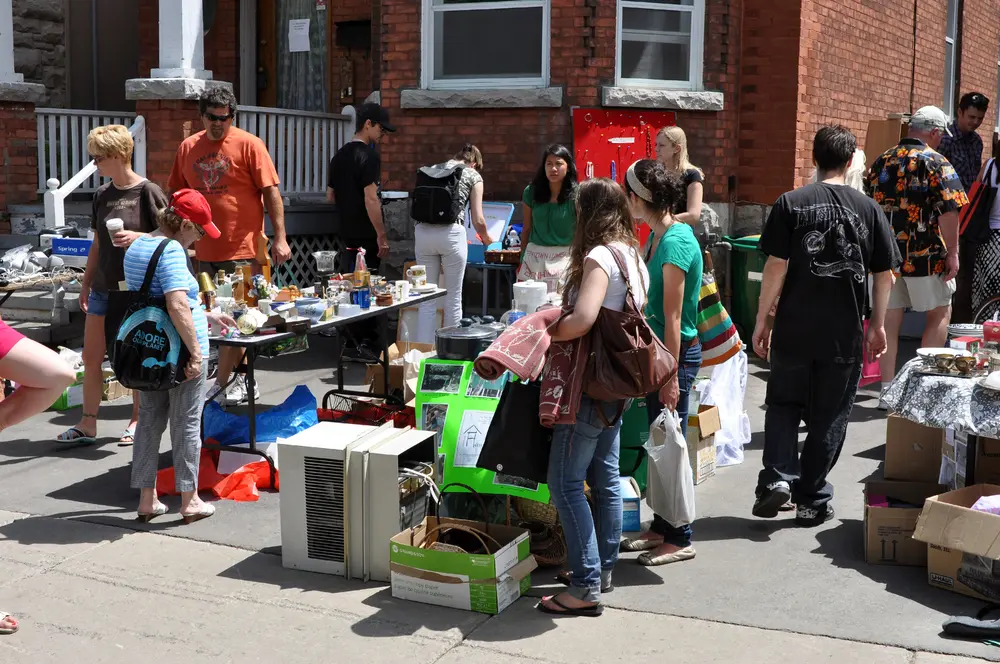 You want to make it easy for people to browse all the goods.
If you partner with the right neighbors – ideally ones who will pull their weight promoting the sale – a multi-family setup takes the work off your shoulders.
More households mean more shoppers and more potential purchases all around!
2. Consider a Block Party Celebration
Now if you're looking to take a more festive and community-focused approach, turning your garage sale into a full-block party is the way to go.
For a block party, you'll want to team up with engaged neighbors from homes all around your street or neighborhood.
Work with your city officials to get local permits to block off the street itself to traffic for the day. That creates a nice big car-free area for everyone to gather.
Set up games and activities in the street for kids to enjoy.
Have a potluck meal so everyone contributes food to share.
Play music from a central spot, ideally loud enough for people to hear but not so blasting it disrupts conversations.
Encourage neighbors to bring out their lawn chairs and just mingle and chat all day long.
You'll really get that sense of community spirit and bringing everyone together.
Yes, you can absolutely still sell a few items if you want – some neighbors may set up card tables with housewares or clothing along their sidewalk.
But the focus becomes more about celebrating your amazing neighborhood itself!
3. Join a Community Yard Sale
If going the official permit route sounds a bit overwhelming, another great option is to snag a booth at a local community yard sale!
Community sales are usually organized by local government agencies, schools, churches, or other non-profit groups.
They'll select a public space like a park, church parking lot, empty lot, school grounds, etc. Then individuals and families can purchase booth spots to sell their stuff.
Often these sales occur on a scheduled date like the second weekend of each month during spring and summer.
Spots fill up fast, so you'll want to register and pay for your booth space well in advance.
Some may let you bring your own table and tent set up, while others provide uniform spots with just enough space for your wares.
Pro Tip: Look for community sales with good previous records and a lot of walk in traffic to draw buyers!
The organizers will handle all the promotion, permitting, planning, and advertising for the event.
Your job is just to show up, set up your stuff, and sell!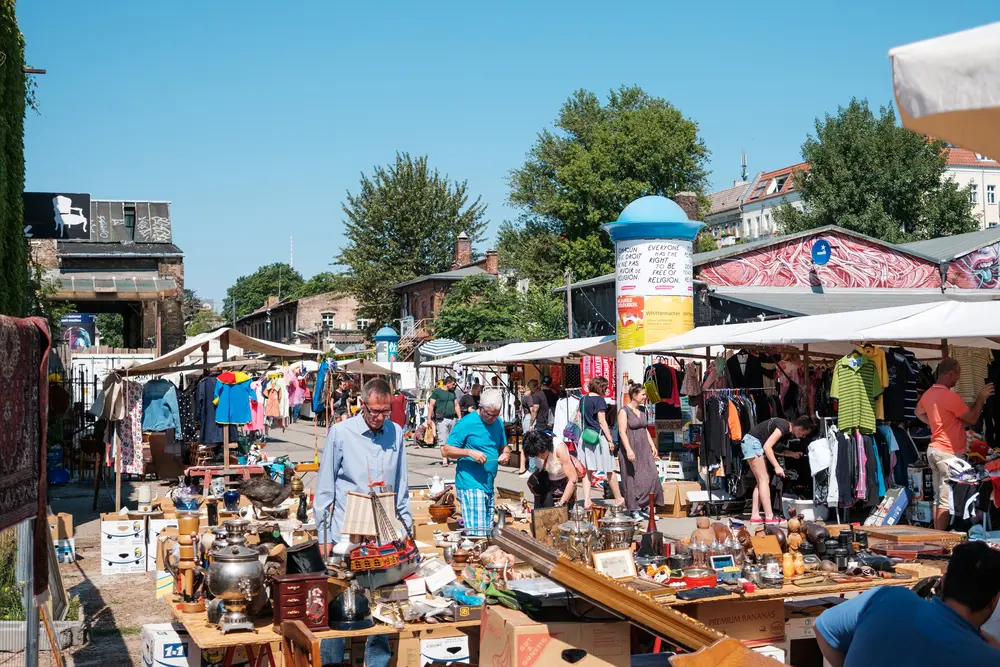 Having it in a central community space means a built-in customer base filtering through all day long.
Be sure to display items neatly, have clear pricing, and bring your own point-of-sale supplies like bags and change.
Keep an eye out for little kids or pets who may accidentally knock things over.
And don't be afraid to negotiate or offer bundled deals to interested shoppers.
4. Use Your Local Parkway
My next idea is to take advantage of the public parkway space in your neighborhood.
What's a parkway, you ask? It's the grassy strip of land between the street and the sidewalk in front of homes.
Now of course this doesn't offer a huge amount of space. But for a small casual operation, it can work beautifully! Just be sure to check your city regulations first.
Most allow parkway sales but may have rules about timing or permits.
Pick a section of your parkway wide enough to set up a table or two plus room for customers to browse.
You can also lay items right on the grass or on a tarp or blanket. Just don't block the sidewalk or street access.
Promote your sale around the neighborhood with signs and social media posts.
That way nearby residents know to stop by for some treasures!
Price everything clearly and have a cash box with enough change.
Once your sale wraps up for the day, be sure to clean up thoroughly and remove any unsold items or trash from the parkway.
Leaving a mess defeats the whole friendly neighborhood purpose!
5. Sell Online Or Consider a Virtual Garage Sale
You can also host a virtual garage sale through sites like Facebook Marketplace, Craigslist, or dedicated garage sale apps.
The key steps are taking great photos and writing detailed descriptions for each item you plan to sell.
You really want the condition, colors, materials, sizes, etc to shine through to potential buyers.
Research pricing for similar items so you can set competitive prices. But also consider bundled deals like "5 kids books for $10" that encourage multi-item purchases.
Spread the word on your social media pages, local Facebook groups, Nextdoor, and anywhere else your target customers may be online.
Be prepared to arrange safe no-contact pickup for local buyers, or calculate shipping costs you'll need to charge non-locals.
Only take secure digital payment methods – to avoid scams, do not offer cash on delivery if you are shipping the items.
Take the complete amount in advance, along with the shipping charges from the customer.
A virtual sale takes more work on the technical and marketing side. But you open up your customer base well beyond just your neighborhood.
FAQ on How To Have a Garage Sale Without a Garage
Here are some common questions that you might have on having garage sale without a garage.
Is it beneficial to have a garage sale?
Absolutely! With a little creativity and planning, you can find ways to connect with potential buyers in your community.
Clear out your clutter, have fun, and make some extra cash in the process.
What time do most garage sales start?
Early morning, around 8-9 Am, is ideal.
You'll get shoppers before the heat of the day kicks in.
Weekends tend to be the busiest. Some communities only allow sales on certain weekends too, so check local rules.
You've Got This!
As you can see, with a little creativity and effort, there are tons of options to host a great garage sale even without a prime garage location.
Partner with neighbors for a multi-family blowout. Throw a full-on block party. Join a community event. Take advantage of the parkway. Or go online to increase your reach.
No matter which approach you choose, focus on making it easy and fun for people to browse, buy, and gather.
Have fair prices, bundles, and the ability to negotiate. Offer a positive friendly experience. And don't stress limited space – just get creative!
I hope these tips and ideas help you on your quest to host the ultimate garage-less garage sale. Happy selling!
Hey there! I'm Rohit Lohia, a passionate SEO enthusiast and the proud founder of Branded Bucks. I'm all about helping small business owners achieve success online through my blog. Join me on this exciting journey as we explore ways to make money online and build a thriving digital presence.