This post may contain affiliate links and we may receive a commission if you make a purchase through our affiliate link at no extra cost to you. Please read our disclosure policy for more information.
Are you looking to start or grow an eBay store?
Awesome! I'm excited for you. But here's the key question – what products should you actually sell? and how to find top selling items on ebay?
Choosing the right products is what will make or break your eBay business.
Don't worry! In this comprehensive guide, I'll explain multiple proven strategies for finding eBay's best-selling items so you can build a highly profitable ebay store. Let's get started!
How To Find Out Top Selling Items On eBay (4 Ways)
If you're wondering what sells well on eBay, you're not alone.
With so many different items and categories to choose from, it can be difficult to know where to start.
But don't worry, we've got you covered. Here are three different ways to find out what the best-selling items on eBay are:
1. Using eBay's Terapeak Product Research Tool
Your first stop for product research should be Terapeak, eBay's proprietary product research tool. And the best part – it's free for all eBay sellers to use!
With Terapeak, you can search for any product keyword or eBay product ID to pull up detailed sales and listing data, including:
This data will very quickly give you concrete insights into product demand and sales opportunities.

For instance, if you search for "Dog Harness" in Terapeak, you'll see over 183,000 have sold recently, selling prices range from $0.01-$500, and demand has increased over the last 3 months.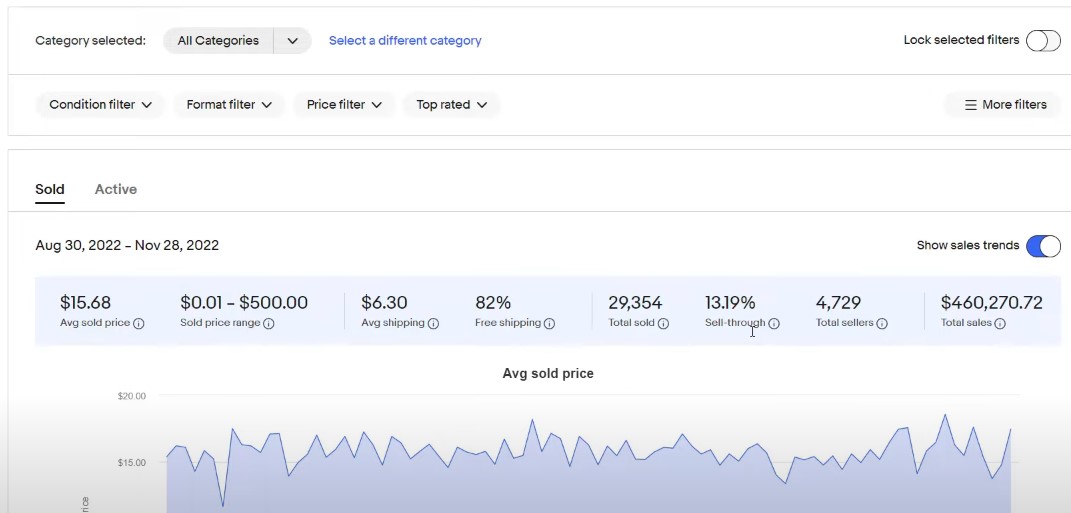 This would indicate yoga mats could be a profitable product to add to your eBay store.
Beyond historical data, Terapeak also offers:
Category drill-downs so you can narrow your search by product subtype
Search volume metrics showing monthly searches for a given keyword
Keyword ideas for refining your search to find related product opportunities
Click-through rates indicating how enticing those product listings are
Competitor benchmarking so you can analyze other top sellers' strategies
With this wealth of data, Terapeak should be your go-to resource for validating and estimating the profit potential of any product you are considering for your eBay dropshipping store.
2. Conduct Manual Market Research
While eBay's built-in research tools are invaluable, taking the time to manually research products, categories, and top sellers' stores will uncover additional opportunities.
The process is simple:
Browse categories – Dig into categories that interest you and look for listings with strong sales histories and high recent sales. Sort by "Best Selling" to bubble those up.
Analyze top sellers – Search eBay for top sellers in your desired niche, then thoroughly analyze their product selection. Replicate their winning products.
Search Google Trends – Look up product keywords in Google Trends to assess consumer search demand. Rising or consistent search volume indicates interest.
Follow trend sites – Sign up for popular retail and e-commerce trend newsletters to get curated product recommendations.
The extra effort of manual research provides unique insights you won't get from any software tool. Plus, it helps spark new product ideas and categories you may have overlooked.
Also Read: Can You Sell On eBay Without PayPal (Explained!!)
3. Check eBay's Best Selling and Trending Pages
In addition to Terapeak, eBay offers some helpful built-in pages that provide at-a-glance data on top-selling items and categories:
Best Selling on eBay
Just do a simple eBay search for any product and sort the results by "Best Match".
This gives you instant insight into what buyers on eBay are purchasing the most right now.
Metrics like the number of watchers and number of reviews really gonna help to figure out which items people are interested in.
Some consistently high-volume categories are clothing, auto parts, consumer electronics, collectibles, and sports trading cards.
Within each category, you can identify specific products that are selling well. For example, in the clothing category, athletic shoes, women's tops, and men's jeans are particularly hot.
Also Read: How To Sell Legos On eBay & Make Money ($2000/Mo)
Trending Products on eBay
Similarly, eBay's Trending page displays the products attracting the most purchases in real time. The listings on this page give you a snapshot of items that are spiking in demand right now.
Definitely browse through the Trending page to spot viral product opportunities before the competition catches on!
You can also filter by product category if you want to isolate trending items in your particular niche.
Monitoring both of these pages regularly will keep your finger on the pulse of eBay's hottest sellers and category trends.
4. Using Google Trends
While not strictly a product research tool, Google Trends provides valuable market data that you can use to find the best products to sell on eBay.
It shows you search volume and historical interest over time for given keywords.
For example, say you're considering selling Bluetooth speakers.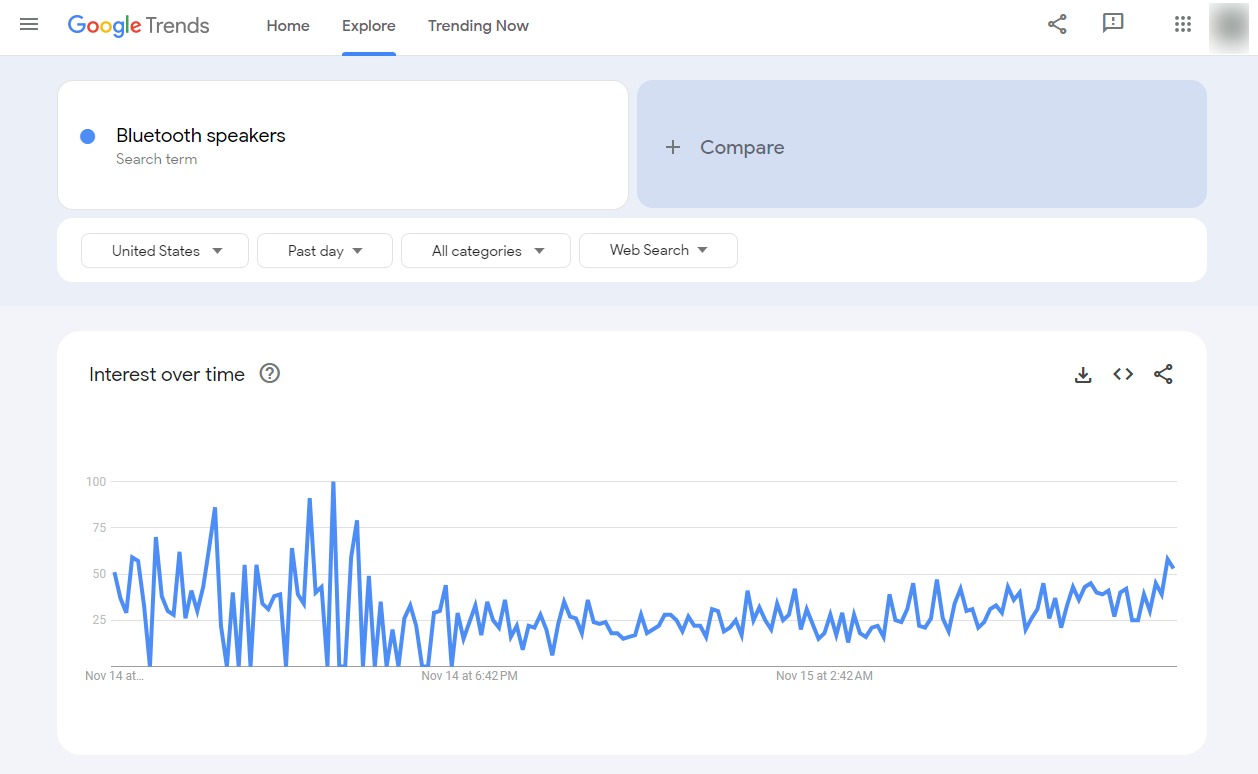 Type the keyword into Google Trends to see if consumer search demand is rising or declining. This helps validate product ideas.
Top Selling Items On eBay (Sell These Now)
Here are the top-selling items on eBay. If you want to make money on eBay, selling these items is a great way to start.
Now let's look at some of the specific product categories and items primed for eBay dropshipping success this year.
1. Clothing and Accessories
The apparel market is worth a staggering $1.7 trillion dollars in 2023.
Clothing is a proven top seller, so consider adding trendy dresses, coats, shoes, belts, hats, and other accessories.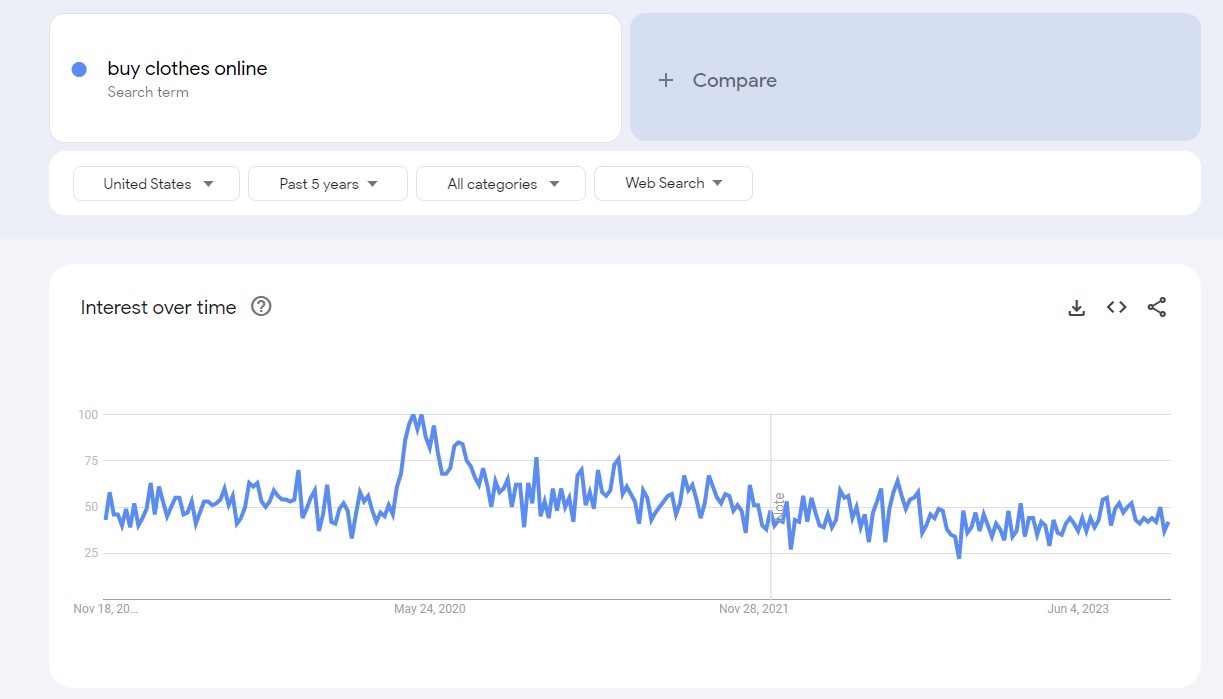 Be sure to source them from suppliers that are well known for quality and commitments to avoid returns.
"eBay dropshippers should absolutely tap into the massive apparel and accessories market in 2023 and beyond."
2. Jewelry and Watches
eBay has always been a hub for jewelry, with the market projected to exceed $330 billion by 2026.
Rings, watches, necklaces, earrings, cufflinks, bracelets – you name it. Vintage, modern, and handcrafted varieties are perennial top sellers.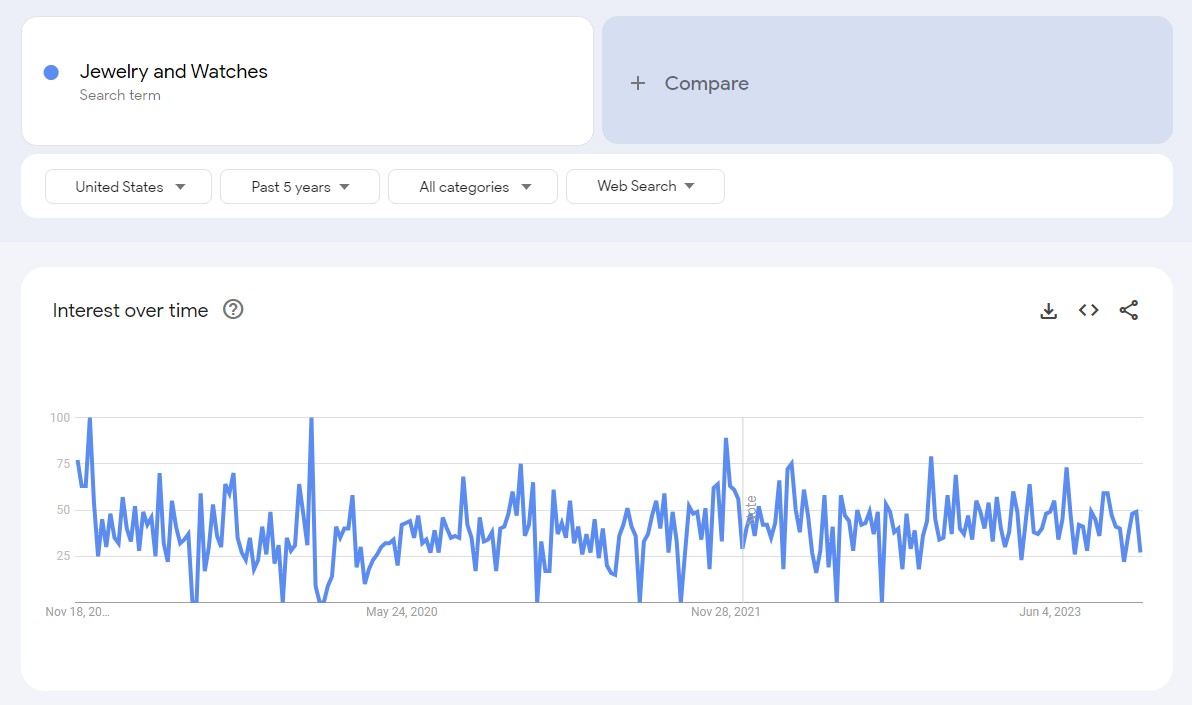 3. Cell Phones and Accessories
The smartphone industry is huge and growing rapidly.
In 2021, the global smartphone market was worth $457 billion. Experts predict it will grow 7.3% each year, reaching $792 billion by 2029.
The market for mobile phone accessories is also booming.
In 2021, phone cases, chargers, headphones and more generated $278 billion in sales. This market could grow 4.3% yearly, hitting $413 billion by 2030.
With consumers constantly buying new phones and accessories, selling these products is a major opportunity.
You can make good profits selling both top brands and lesser-known phone models.
Popular accessories like cases, screens protectors, Bluetooth speakers and car mounts are in high demand.
Replacement parts like batteries and chargers also sell well.
4. Beauty and Personal Care
The beauty and personal care industry is booming, valued at $625 billion in 2023. More and more, people are buying these products online rather than in stores. Focusing on beauty and self-care items is a smart move for eBay sellers.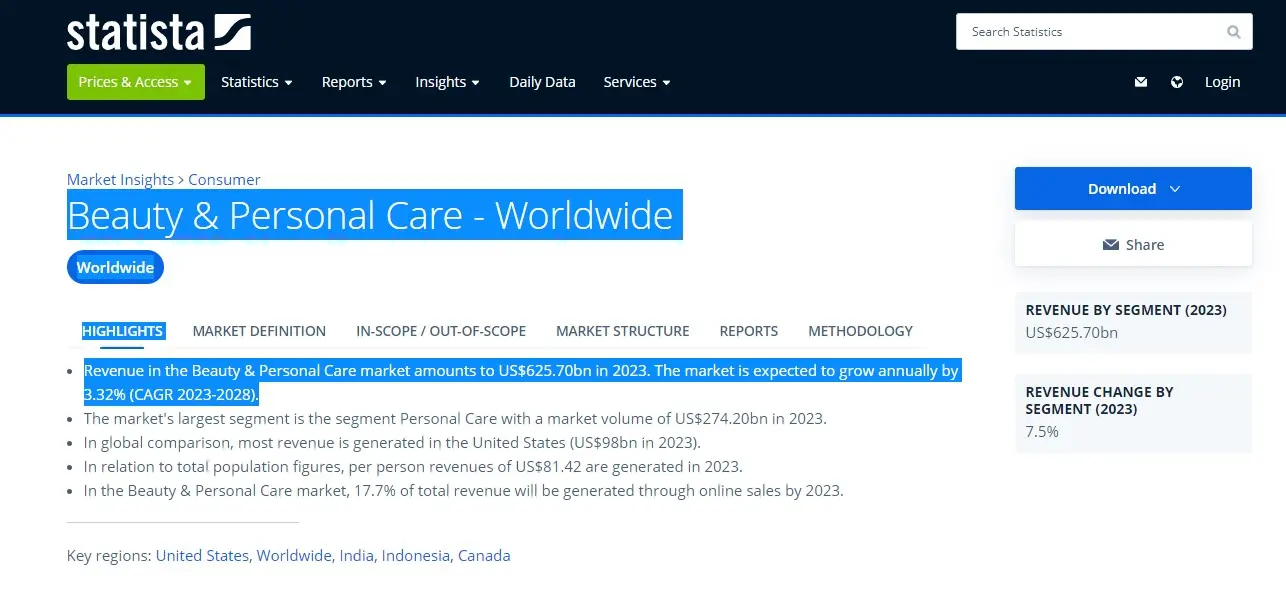 There is huge potential in skincare like sunscreen, lotions, anti-aging creams, and acne treatments.
Haircare products like shampoos, conditioners, oils and styling gels also sell very well. Cosmetics like perfume, makeup and lipstick have steady demand too.
Another hot segment is lifestyle supplements – vitamins, minerals and other nutritional supplements. As health consciousness grows, these supplements are increasingly popular on eBay.
5. Fitness Equipment and Apparel
Athletic wear, shoes, yoga mats, resistance bands, smart watches, weights, and more. Health-conscious consumers flock to eBay for affordable fitness gear.
And those are just the tip of the iceberg! Pet supplies, home goods, electronics, toys, automotive – tons of categories offer fertile ground for eBay dropshipping.
The key is finding the specific in-demand products within those broader categories.
FAQ – How To Find Out Top Selling Items On eBay
How Much Can You Make On eBay?
This is a difficult question to answer because it depends on a number of factors, including the type of items you sell, the prices you set, the level of competition in your market, and how effectively you market your products.
That said, it is possible to make a significant amount of money on eBay if you are strategic about your business.
How Can You Make $1000 a Month Selling On eBay?
In order to make $1,000 a month selling on eBay, you would need to generate around $33 in profits each day.
So to reach your goal of $1000 in monthly sales, you'll need to sell an average of 50 items each month with a $20 profit per sale.
While this may seem like a lot, it's actually not as difficult as it sounds. Generating 50 sales a month on eBay is very easy if you are selling the right items.
Final Thoughts
So, if you are looking to start selling on eBay, or are interested in increasing your sales, research what items are selling well and consider stocking those items.
To do this, you can either research online or ask people who are experienced with selling on eBay.
You also need to be aware of what trends are happening in the market and adjust your inventory accordingly.
Once you find a few good items to sell, make sure to take quality pictures and write detailed descriptions.
By following these tips, you can maximize your profits on eBay and make a good income.
Hey there! I'm Rohit Lohia, a passionate SEO enthusiast and the proud founder of Branded Bucks. I'm all about helping small business owners achieve success online through my blog. Join me on this exciting journey as we explore ways to make money online and build a thriving digital presence.