This post may contain affiliate links and we may receive a commission if you make a purchase through our affiliate link at no extra cost to you. Please read our disclosure policy for more information.
Picture this: you're creating a stunning presentation or an ebook, and suddenly you realize you need to add page numbers to your pages.
Uh-oh! but Canva does not have an automatic page numbering system like Ms word.
Now what would you do?
Just don't panic, In this article, I'll walk you through 3 different methods to effortlessly add page numbers to your Canva projects.
So, if you want your designs to look polished and professional, you better stick around!
Trust me, you'll wonder how you ever lived without it.
So grab your favorite beverage, cozy up in your favorite spot, and let's get see how to add page numbers in Canva.
Key Takeaways
How To Add Page Numbers In Canva
As I told you earlier, there are 3 ways to add page numbers in Canva, let's discuss them one by one.
Method 1: Using Simple Text Boxes To Display Page Numbers
Adding page numbers in your Canva project can be achieved through a simple method – adding text boxes on pages.
Here's how you do it:
We have used Minimal Finance Basic Canva template by Take Care Creative that for demonstration purposes.
1. Create or Open Your Canva Project
Open your Canva project or create a new one by visiting the Canva homepage and clicking on the "Create a Design" button from the top right corner of the screen.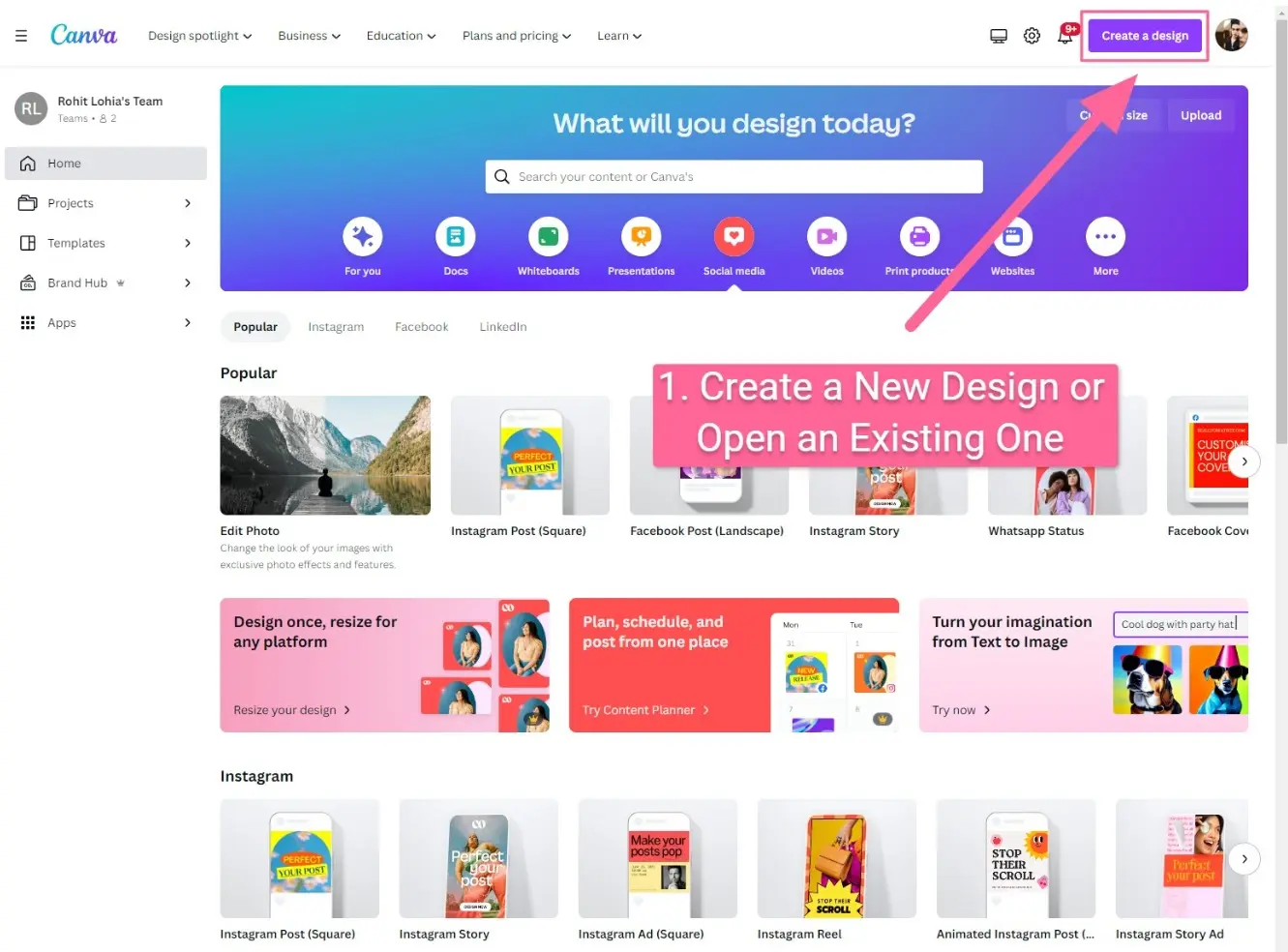 2. Add a Text Box
Once you are in your Canva document, click on the "Text" option from the left sidebar and drag and drop a Text box to your page.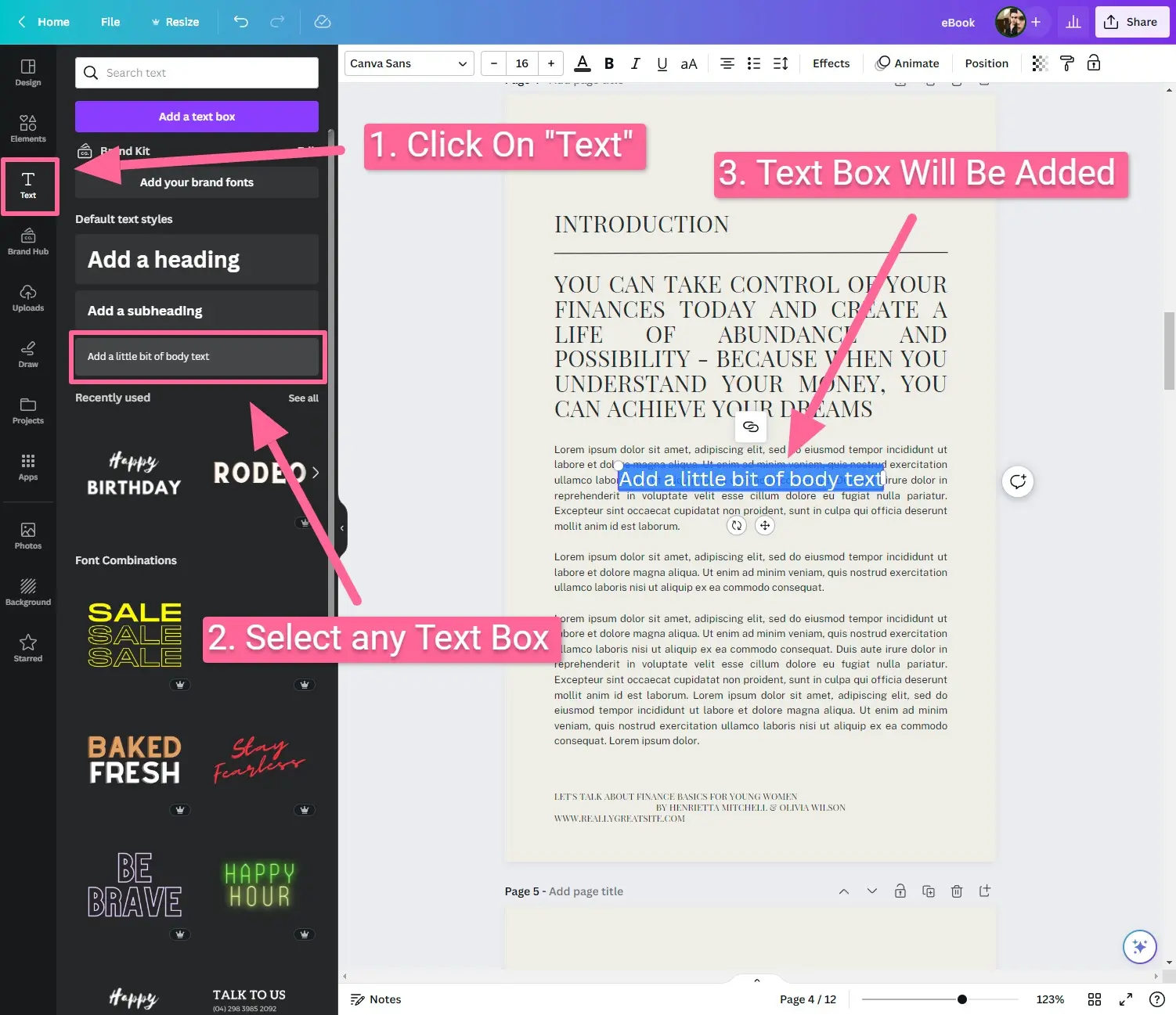 Or you can also press the shortcut key "T" on your keyboard to add a text box directly onto the page.
3. Type The Page Number and Position It
Type the appropriate page number into the text box.
Drag and position the text box to your desired location on the page where you want to display your page numbers.
4. Style Your Page Number
You can style your page number by adjusting its font style, size, and color by highlighting the number and customizing it using the options available in the top toolbar.
5. Repeat The Steps For All Pages
Repeat these steps for each new page, ensuring all numbers are correctly sequenced.
Quick Hack
Instead of doing the same steps again and again for every page, just create a duplicate page after adding the page number, and this duplicate page will be an exact copy of your previous page which means it will be having the page number at the exact same position with all the customizations that you have done.
You just have to click on the text box and change the page number according to your page.
If you already have a document created inside Canva then this duplicate page trick is useless for you, in that case, what you can do is, create and position the page number on the first page, then select the page number, press Ctrl/Cmnd + C to copy the page number.
Select your other page, and press Ctrl/Cmnd+ V to paste it, the page number will be pasted at the exact same location on the page, you can just keep selecting different pages and keep hitting the paste shortcut key to paste the number on all your pages.
Method 2: Using Fancy Graphic Number Elements as Page Numbers
Don't want to use the boring plain simple page numbers from the previous method? then this new method is for you, just read the steps below to add fancy graphical page numbers to your canva document:
Open your document in Canva
Click on the "Elements" tab from the left sidebar of your screen.
Type in the desired number in the search bar, let's say "1", then press "Enter".
A variety of number elements will appear with different designs. Simply click on the number element or drag and drop it to your canvas.
Adjust the placement and size by clicking and dragging the number of elements.
Some elements are also customizable means you can edit their colors as well from the color palette available in the top toolbar.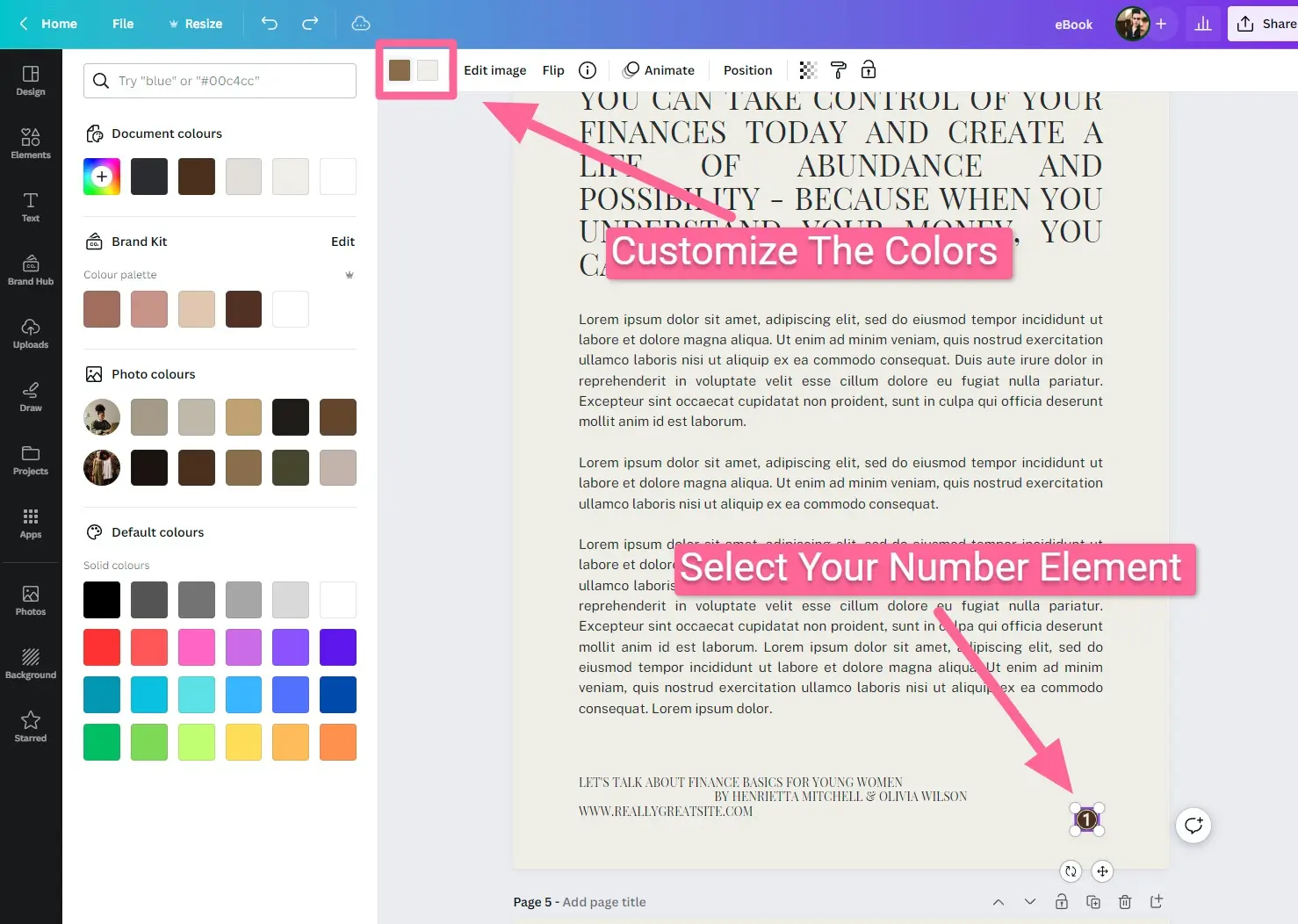 Repeat these steps for each new page, just search for new numbers every time and select the similar design
Some Drawbacks of This Method:
The elements are premade which means you cannot edit the page number text present inside the element
You have to rely on premade graphics with very limited or no customization options at all
Once your page number crosses "9" and requires two number digits, you have to add 2 graphical elements side by side in order to achieve your desired page number, this may look wonky.
Method 3: Using Shapes with Textbox For Page Numbers
This method is a combination of both method 1 and method 2 and thus gives you the flexibility to design your page numbers the way you want.
So let's take a look at the steps involved.
Start by clicking on the "Elements" tab located on the left side of the screen.
Search for "Shapes", browse through the available options, and pick a shape that you like, minimal shapes and circles tend to work best.
Click and drag this shape onto your canvas, adjusting its size to fit nicely on your document page.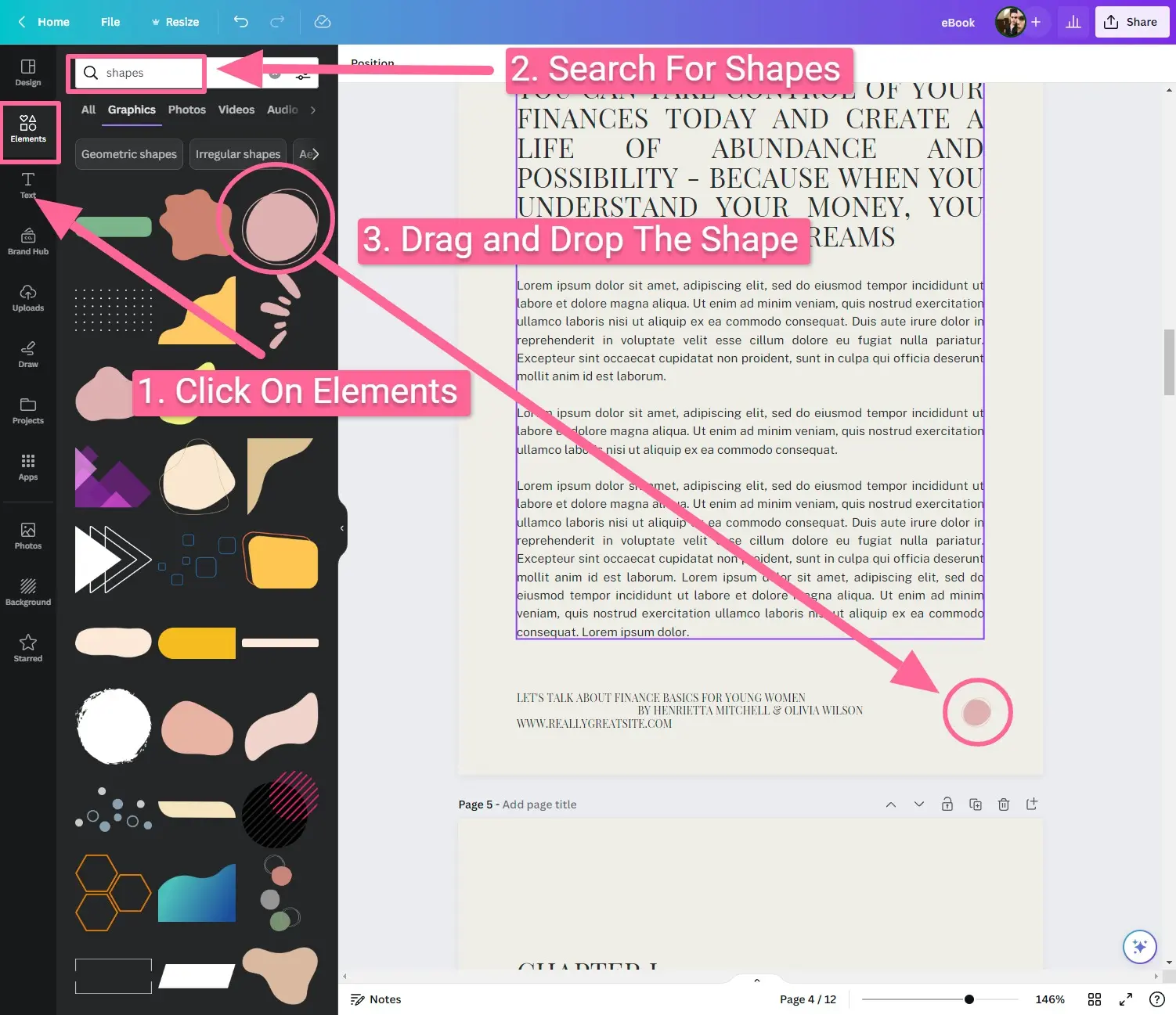 Personalize it further by changing its color, and adding a border from the top left corner, this will allow you to match it with your design's color scheme.
After getting your preferred size and color, add a text box like we did in method 1, resize and place it on the top of your shape layer.
Type in your desired number then adjust its color and placement until it sits perfectly within the shape.
You might need to resize or change the font size of the number for a better fit.
Once you're satisfied with one page, simply click on 'duplicate' to create a copy of the page, this will maintain consistency of your page number design on the new page so that you don't have to repeat it again and again.
Don't forget to edit each duplicated page with their respective page numbers manually.
Use Canva's "Position" tool found on top of the screen if you need help aligning elements exactly.
How To Align Page Numbers In Canva Using the Ruler
To maintain consistency, it's really important that your page numbers on the document are positioned at the exact same place on each page.
In that case, Canva rulers may come handy, follow these steps to use Canva rulers for aligning your page numbers:
1. From the top blue menu, click on File and then select "Show Rulers and Guides".
2. This will display a ruler on the top and left side of your document.
3. Drag the horizontal and vertical rulers toward the area of your project where the page numbers are shown. This will act as a guide and help you align your page numbers uniformly on all the pages!
Tips for Adding Page Numbers in Canva
When adding page numbers in Canva, there are a few tips that can help ensure a smooth and professional-looking result.
First, it's important to choose a font style and size that is clear and easy to read.
You can customize the font by clicking on the number element or the text box containing the page number and selecting your desired options from the toolbar.
To maintain consistency across all pages, make sure to align your page numbers using the ruler feature in Canva. This will help ensure that they are positioned correctly and evenly placed throughout your document.
You can activate the rulers by going to File > Show Rulers and Guides.
If you want to add a more decorative touch to your page numbers, consider using fancy number elements from Canva's Elements tab. However, keep in mind that the options for premade graphical number may be limited.
Lastly, don't forget that you can easily resize and adjust the placement of your page numbers by simply clicking on them and using drag handles around the numbers.
By following these tips, you'll be able to add professional-looking page numbers with ease in Canva!
FAQ – How To Add Page Numbers In Canva
How do I add page numbers quickly in Canva?
Unfornutaley, there is no automatic page numbering system in canva, or there is no button that will quickly add page numbers to all your pages on Canva.
In order to add page numbers in Canva, you have to follow one of the mentioned method in this article.
Can I add slide numbers in Canva?
Yes, you can use the text box to add slide numbers to your slides in Canva
Final Words
While Canva does not have an automatic page number tool, adding page numbers manually is a simple process. Whether you choose to use text boxes, premade number designs, or customized numbers, you can easily add page numbers in Canva.
So before you leave, please check out our list of 34+ Canva Tips and Tricks that will save you a lot of time in your day to day designing work in Canva.
Got any questions on "how to add page numbers in Canva"?
Comment down below, I would love to help you out.
Hey there! I'm Rohit Lohia, a passionate SEO enthusiast and the proud founder of Branded Bucks. I'm all about helping small business owners achieve success online through my blog. Join me on this exciting journey as we explore ways to make money online and build a thriving digital presence.