This post may contain affiliate links and we may receive a commission if you make a purchase through our affiliate link at no extra cost to you. Please read our disclosure policy for more information.
Selling your unwanted or lightly used shoes is a great way to earn extra money and declutter your closet at the same time.
But with so many options for selling shoes online, how do you know which sites and apps will get you the best price and be the easiest to use?
I've sold shoes online quite a bit over the years, so I wanted to share my experiences to help you start earning cash from your idle footwear today.
In this post, I'll cover the top places to sell shoes online, tips for pricing and listing your shoes, and even some options for selling locally too.
Whether you have just a few pairs to get rid of or want to launch a side hustle flipping sneakers, read on to find the ideal shoe-selling solution for you!
Things to Consider When Looking for Places to Sell Shoes
When deciding the best places to sell your shoes online, there are a few factors to keep in mind:
I compared over 20 different online marketplaces based on fees, exposure, protections, and more to compile this list of the absolute best places to sell shoes.
15 Best Places To Sell Shoes Online (All Verified)
Here are my best 15 picks for selling your shoes online.
1. eBay
With over 138 million active users (mostly from US), eBay is one of the largest marketplaces worldwide. This makes it one of the best sites to sell common shoe brands quickly.
eBay charges a 15% final value fee on shoes sold for under $2000 and 9% on shoes sold for over $2000. You also pay PayPal transaction fees.
While this might seem like a significant cut, the trade-off is access to eBay's massive marketplace, which can lead to quicker sales.
However, it's essential to be aware of the shipping charges, as sellers on eBay handle it independently.
Ensuring accurate package size and weight is crucial, and it's advisable to do your own research with different companies to figure out best shipping prices.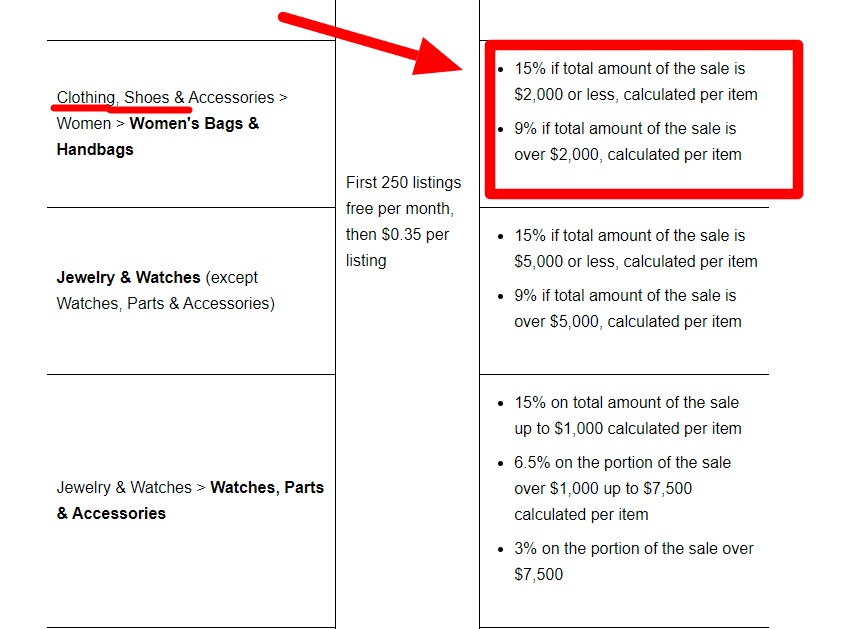 Listing is simple – snap some photos, set your price, and ship on your own. While fees are higher, the site's reputation and massive reach are ideal for fast sales.
2. Poshmark
If you've got a closet brimming with shoes that you no longer wear, Poshmark is your go-to platform.
Why?
For starters, listing on Poshmark is a breeze. With just a snap of a photo and a few taps on your phone, your shoes are up for sale in under a minute.
And when those shoes do sell? Shipping is straightforward with Poshmark's pre-paid label, ensuring a hassle-free experience for both you and the buyer.
Plus, you get to pocket the cash once the item is delivered. But what truly sets Poshmark apart is its commitment to authenticity and buyer protection.
With services like Posh Authenticate, buyers can shop luxury items with confidence, knowing they're getting the real deal.
This will drastically increase conversion rate and sales for sellers.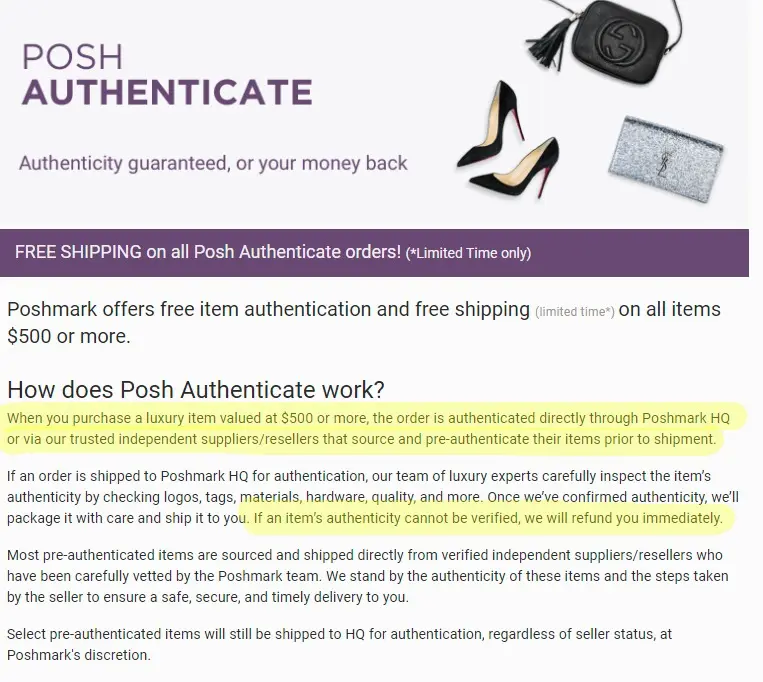 And if there's ever a hiccup? Poshmark's protected payments guarantee ensures buyers get their money back if the item isn't as described.
So, for a seamless, secure, and stylish selling experience, Poshmark is the platform to choose from.
3. Facebook Marketplace
Facebook Marketplace allows you to sell locally to people in your area. There are no fees to list, so you keep all your profits.
The downside is you have to handle meetups for exchanging the shoes. But for a few pairs, Facebook Marketplace is great for avoiding shipping.
Make sure to post plenty of detailed photos and descriptions when listing shoes to attract interested buyers.
4. Grailed
Grailed has carved a niche for itself in the world of men's fashion, particularly for those who appreciate high-end and luxury brands.
When you decide to sell on Grailed, you're stepping into a marketplace with over 10 million active users, ensuring your listings get the attention they deserve.
What's more, Grailed's fee structure is seller-friendly.
There are no listing fees, and the 9% commission they take upon a sale is competitive, especially when compared to other platforms.
In additional to the commission fees, they do charge some payment processing fees too.
But it's not just about the numbers. Sellers have the full control to set their shipping costs, and for those in the US, Grailed even offers shipping labels to streamline the process.
Payments are securely handled through PayPal, a platform many are already familiar with.
Plus, Grailed's commitment to customer service and their buyer protection policy, fosters a sense of trust, encouraging more sales.
So, if you've got quality men's fashion items, especially shoes, Grailed is a platform that's both efficient and effective for sellers.
5. StockX
If you're thinking about selling shoes, here's why StockX might be your go-to. First and foremost, StockX acts as a mediator, ensuring that all transactions are both safe and transparent.
When you list your shoes, you can either set a price or wait for a buyer to make an offer.
Once a deal is struck, StockX provides you with a prepaid shipping label. Your responsibility is to send the shoes to one of StockX's authentication centers.
Here, experts verify the authenticity of your shoes, ensuring the buyer gets genuine products.
Once verified, StockX handles the delivery to the buyer. In terms of fees, StockX takes around 10% as a transaction fee, but this can decrease as you sell more on the platform.
Payments are processed through PayPal or credit/debit card, making it convenient for sellers.
One thing to note: StockX is strict about the quality. They only accept brand-new, unworn shoes.
So, if you have authentic, deadstock sneakers and want a hassle-free selling experience, StockX is a solid choice.
6. GOAT
GOAT stands out as a trusted platform for sneaker enthusiasts, especially those looking to sell high-end and rare footwear.
Unlike traditional online stores, GOAT operates as a marketplace, akin to platforms like Etsy and eBay, but with a laser focus on premium resale products.
If you're a seller, the process is straightforward: set up an account, list your sneakers, and once a buyer shows interest, you'll send the shoes to a GOAT facility.
Here, experts authenticate the shoes, ensuring they're genuine and match the listed condition. Only after passing this rigorous check do the shoes get shipped to the buyer.
This system not only guarantees authenticity but also builds trust among users.
One of the standout features of GOAT is its commitment to ensuring every shoe sold is genuine.
If, for any reason, a shoe is deemed inauthentic or not as described, the buyer receives a refund in GOAT credit.
As for fees, GOAT does charge for its services, and if we compare it with other platforms it is quite a lot.
Here is the breakdown of their fee structure:
Payments are securely processed through various methods, including credit card, Apple Pay, Google Pay, and PayPal.
Additionally, GOAT's expansive customer base, spanning over 30 million users worldwide, means your listings have a vast audience.
So, if you've got authentic sneakers to sell, GOAT offers a reliable, secure, and efficient platform to reach potential buyers.
7. OfferUp
OfferUp is a mobile-friendly platform that facilitates local buying and selling.
The service is free to use and provides users with essential features like browsing items for sale, posting items to sell, sending messages to other users, and more, all without any fees or commissions for in-person transactions.
Additionally, the platform is user-friendly, making it easy for sellers to create listings and manage their inventory.
Selling shoes on OfferUp works by creating an account, taking pictures of the shoes, and writing a description.
Sellers can then list their shoes for sale, and interested buyers can contact them through the platform's messaging system.
Payment methods on OfferUp include cash (for in-person meetups), PayPal, or shipping labels for buyers who prefer to have the shoes delivered.
While OfferUp does not offer the same level of authentication and buyer protection as platforms like GOAT, it does provide some guarantees for sellers.
For example, the platform has a rating system that allows buyers to leave feedback on their experience with a particular seller. This can help sellers build a positive reputation and attract more buyers in the future.
Additionally, OfferUp has a secure payment feature called TruYou, which verifies the identity of buyers and sellers and provides an extra layer of security for transactions.
Overall, selling shoes on OfferUp can be a profitable and convenient option for sellers looking to reach a large audience without incurring high fees.
8. Mercari
Selling shoes on Mercari offers a straightforward and user-friendly experience.
Mercari, an e-commerce platform that originated in Japan and expanded to the U.S., allows individuals to sell a variety of items, including shoes.
The process begins with downloading the Mercari app, creating an account, and listing the item for sale.
Sellers can upload up to 12 photos, provide a detailed description, set their price, and then list the item.
Once a purchase is made, sellers receive a notification. They can then use Mercari's shipping labels to send the item to the buyer.
After the buyer receives the item they have the option to leave ratings, and after that, the seller gets their payment, with Mercari deducting a 10% fee.
Additionally, there's a payment fee taken from the seller which amounts to $0.50 plus 2.9% of the sale.
One of the standout features of Mercari is its simplicity in listing items, often praised for being easier than other reselling platforms.
Moreover, its selling fees are competitive, with no listing fees and only a 10% commission on each sale. Sellers also have the flexibility to decide who covers the shipping costs, and they can offer free shipping or set a rate for the buyer.
In essence, Mercari provides a seamless platform for sellers to reach a broad audience, list their shoes with ease, and ensure secure transactions.
9. The RealReal
The RealReal is an online consignment store for buying and selling luxury and designer goods.
It has a large customer base searching for high-end brands. As a seller, you can earn up to 85% commission on sold items.
To start selling, create an account by providing your contact and banking details. List designer shoes in good condition, as The RealReal only accepts certain luxury brands.
They determine the pricing based on brand, demand, and condition.
Choose between three selling options:
direct sale to The RealReal, a consignment where you earn a percentage of the sale price, or trade goods for site credit.
RealReal's commission structure ranges from 20-85% of the sale price.
Payment is issued to sellers only after the buyer receives the order. Services include personal concierge, in-home pickup, and detailed monthly statements.
Many find The RealReal to be a profitable way to sell unwanted luxury and designer items.
However, the fees can be high, especially for new sellers. Also, you don't control pricing or sale price.
Carefully weigh the benefits and drawbacks before committing to sell through The RealReal.
10. ThredUp
ThredUp is an online consignment store for buying and selling used clothes and shoes. It's user-friendly and easy to navigate.
To start selling your used shoes, request one of ThredUp's prepaid "Clean Out Kits."
Fill the kit with items you want to sell, and mail it back to ThredUp. This spares you the work of photographing, listing, and shipping items yourself.
Once received, ThredUp will thoroughly assess each item's condition and brand.
They accept about 40% of the items sent to them, as they are selective about quality and style. For accepted pieces, their team professionally photographs, lists, prices, and handles all shipping and sales.
ThredUp pays slightly more than competitors. Choose payment via PayPal, ThredUp credit, or prepaid card.
Fees vary: Under $15, it's $2.99 plus 5% commission. Over $15, it's a 20% commission.
ThredUp guarantees to donate unaccepted items and offers a 14-day return policy.
Overall, ThredUp provides a convenient, hassle-free way to sell used shoes online. The payout may be less than selling directly yourself, but the simplicity and ease make it worthwhile for many sellers.
11. Vinted
Vinted is a popular mobile marketplace in the US and Europe focused on used clothing and shoes. You can expect to find buyers looking for mall brands and common styles.
The platform makes it easy for sellers by not charging any listing or selling fees, so you keep all the profits.
You can quickly create listings by uploading photos, entering key details like size and color, and writing a short description.
Vinted encourages bundling by offering discounted shipping when buyers purchase multiple items from a seller.
Sellers have flexibility in choosing shipping carriers based on convenience and cost. To maximize sales, list items in the evenings when site traffic is high.
Timing new listings around paydays can also help attract buyers who have extra money to spend.
However, Vinted does not guarantee payments, so sellers should provide accurate descriptions and photos to avoid any disputes.
Overall, the simple listing process, zero fees, and other seller-friendly features make Vinted a great platform to sell used shoes and earn extra cash.
12. Tradesy (Now Vestiaire Collective)
Tradesy (now known as Vestiaire Collective) is a women-owned and led reselling platform that was designed with high-end fashion shoppers in mind.
With its chic, curated aesthetic, Tradesy attracts over 7 million shoppers looking to buy or sell designer clothing, handbags, shoes, accessories, vintage pieces, and wedding attire.
As part of Vestiaire Collective, the leading global platform for luxury and designer resale, Tradesy makes it easy for sellers to profit from their high-end fashion inventory.
After creating a seller account, you can list your items for sale and Tradesy will provide a free shipping kit and mailing label once an item is purchased.
Tradesy recommends competitive pricing based on past sales data and the original retail price.
While pricing is ultimately up to the seller, Tradesy's guidance helps maximize profits. Once an item is sold, you have 10 days to ship the order. Expect payment around 20 days after the sale.
Tradesy's seller fees include a flat $7.50 commission for items under $50 and 19.8% commission for items $50 and up.
There is also a 2.9% transfer fee to cover Tradesy's payment processing costs.
While the fees are higher than some platforms, Tradesy's reputation for luxury and contemporary women's fashion makes it a worthwhile marketplace for sellers with designer merchandise.
13. Flyp
Flyp connects sellers with professional resellers who photograph, list, negotiate, and ship luxury fashion on the seller's behalf.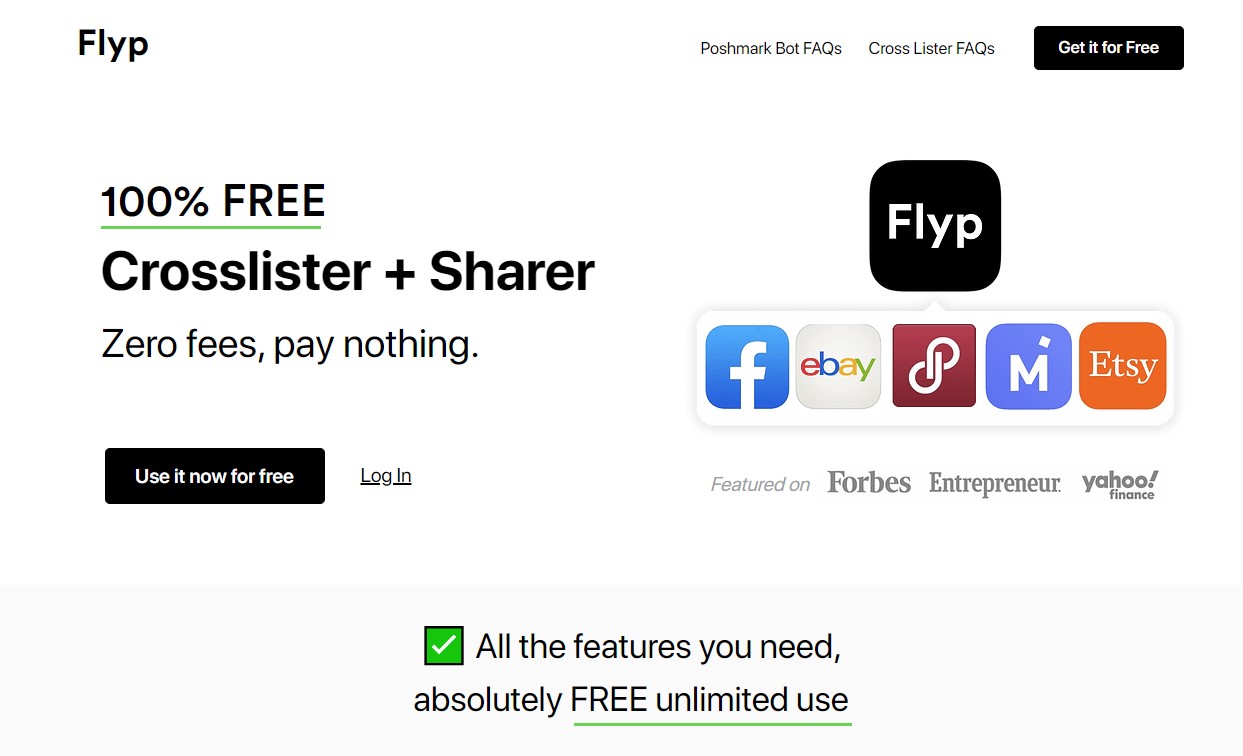 Experienced Pros handle clothes, shoes, and handbags across platforms like eBay and Poshmark.
Sellers (You) keep 40-60% of item profits after the Pro's commission, which covers photography, research, listings, shipping, and the reseller's time and efforts.
Flyp is ideal for those without the time to sell online themselves.
The Pros do everything: photo shoots, messaging buyers, packaging orders. For high-end fashion flipping without the work, Flyp's commission model and seasoned Pros make the service stand out.
14. VarageSale
VarageSale is an online garage sale platform and mobile app for buying and selling locally. It's ideal if you have a few pairs of used shoes to sell.
Simply download the app, take some snapshots, set your price and write up a short description. Meet up locally with buyers to exchange the shoes and cash.
The biggest benefit of VarageSale is there are no seller fees or commissions. You keep 100% of your sales if you sell locally. Definitely take advantage if available in your area.
15. LetGo
LetGo is another popular local mobile marketplace similar to OfferUp and VarageSale. It makes selling shoes in your city quick and seamless.
Like other local selling platforms, LetGo does not charge any fees when selling locally. Just post your shoes, communicate with buyers, and set up a public meetup for the exchange.
LetGo even shows you the proposed meetup spot on a map so you know exactly where to connect with the buyer. A very convenient option for avoiding shipping shoes.
Tips For Selling Shoes For Cash
To maximize your chances of selling shoes quickly and for the highest price, keep these tips in mind:
Take clear, well-lit photos that accurately show the condition – this helps attract buyers who will pay more knowing what they will receive.
Be detailed in your description noting size, brand, Materials, any defects, measurements, etc to build trust and value.
Research current resale prices for your particular shoe brand and style using sites like StockX to properly price your shoes.
Pack shoes securely in a box with padding or paper to prevent damage in shipping that may cause returns.
Ship fast! The quicker you get the shoes out the door, the faster you get paid. Don't keep buyers waiting.
Where Can You Sell Your Shoes Locally?
Selling shoes locally using online marketplaces and apps prevents you from having to mess with packing and shipping shoes. And you get paid instantly.
Here are some top options for selling your shoes for cash locally:
The key benefit of selling locally through these platforms is avoiding fees plus shipping time and costs.
Just make sure to meet buyers in safe, public locations and bring a friend or family member with you.
For a few pairs of shoes, local selling is quick and efficient. But for large volumes, online marketplaces provide more potential buyers.
FAQs on Best Places To Sell Shoes Online
Where should I sell expensive shoes?
For a high-end designer or limited-release sneakers, GOAT, StockX and The RealReal are ideal. They cater specifically to reselling coveted, expensive shoes at top dollar.
Where is it best to sell shoes online?
For a mix of convenience, fees, and exposure, my top picks are eBay, Poshmark, Vinted, and Facebook Marketplace. All provide access to tons of buyers.
Do shoes sell well online?
Shoes are consistently one of the highest demand shopping categories online. Especially sneakers, heels, sandals and boots from popular brands can sell incredibly fast.
Wrapping Up
Selling shoes and high-demand sneakers is an easy way to make extra cash. You just have to decide which online marketplace or local platform fits your shoes and your preferences as a seller.
I'd recommend trying a couple options to see which provide you with the fastest sales, highest profits and simplest selling experience.
Sometimes niche sites like Grailed or GOAT work best for collectible sneakers, while mainstream sites like eBay or general apps like LetGo and OfferUp are ideal for everyday brands.
And if you end up making a nice profit, consider reinvesting those earnings into some inventory to keep the shoe-selling side hustle going!
Hey there! I'm Rohit Lohia, a passionate SEO enthusiast and the proud founder of Branded Bucks. I'm all about helping small business owners achieve success online through my blog. Join me on this exciting journey as we explore ways to make money online and build a thriving digital presence.