Do you want to turn your hobby to create different products into a business and earn 10k a month on Etsy?
If yes you have landed on the right article.
With millions of sellers and competition worldwide, it may seem daunting to stand out from the crowd and make a steady income.
But fear not, I'm here to share my proven tips and tricks on how to make 10k a month on Etsy, my way.
From optimizing your listings to utilizing social media, I've got you covered. So let's get started on your journey to Etsy success!
How To Make 10k A Month On Etsy?
So whatever I will mention here is not just general stuff that you can find on every other blog but some really useful tips from a six-figure Etsy seller that can help you grow your Etsy store.
I promise this isn't just the same old generic advice you'll find on every other blog. These tips are tried-and-true, and I've personally used them to help grow my own Etsy store.
These tips are guaranteed to be super helpful in growing your Etsy shop, so get ready to take some notes!
Niche Down and Specialize
One of the biggest mistakes that I see many Etsy sellers make is trying to sell a little bit of everything.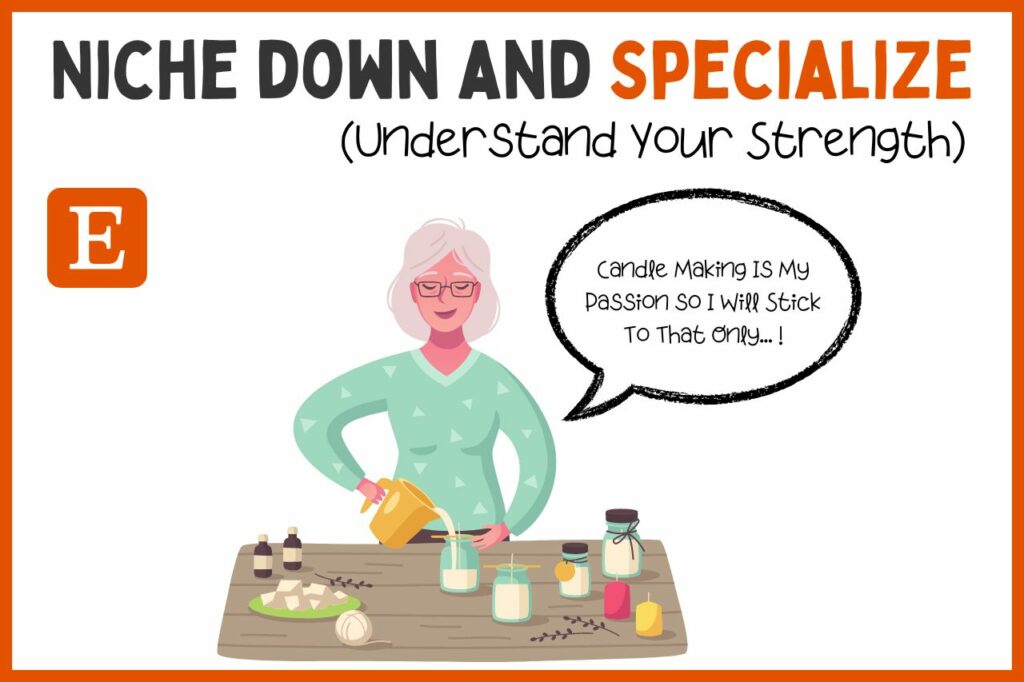 Instead, focus on a specific niche or product category and become an expert in that area.
By focusing on a particular area or product category you can offer specialized products that will attract a specific types of people who are interested in that category,
This can help you attract customers who are passionate about your niche and willing to pay more for high-quality products that meet their specific needs.
When choosing a niche, think about what you love doing and what products you can create easily. Once you've chosen your niche, commit to it fully and create a consistent brand identity that speaks to your target audience.
Now you must be thinking:
"If I narrow down my niche, won't I have fewer items to list and therefore fewer sales? How can I possibly make $10k a month with only a few products?"
Well, that's a misconception that you can only make money if you have thousands of items in your Etsy store.
So it does not depend on the number of listings, it all depends on the items you are selling, the quality, the demand, and how viral your products are.
If you get a couple of viral products on the marketplace, believe me, they can keep earning you a living for the next few years to come.
Develop a Brand Around Your Store
After choosing the niche and researching the market, focus on developing a strong brand identity.
A well-defined brand helps you stand out from the competition and build trust among your customers.
When developing your brand, choose a unique and catchy name, logo, and color palette that reflects your brand identity and what you do.
Your brand should be consistent across all of your product listings, packaging, and social media so that customers can easily recognize your products and know what to expect from your shop.
Consider incorporating your brand identity into the packaging of your products, such as using custom packaging, stickers, or thank you cards.
Developing a strong brand identity is an important step in building a successful Etsy business and achieving your goal of making 10k a month.
By creating a unique, consistent, and professional brand presence, you can establish yourself as a trusted and recognizable seller in the marketplace and attract more customers to your shop.
Create High-Quality Product
The next step is to create quality products for your Etsy store. Here I am sharing with you some tips which you can follow to make products that will stand out and attract buyers.
Make Unique And Visually Appealing Products
As you know Etsy is famous for handmade, custom, and one-of-a-kind items that you will hardly find anywhere else.
So you need to leverage that and create products that are focused on Etsy buyer's.
That means whatever items you are making should be unique that people cannot find anywhere else.
I can understand what you are trying to say, but you can offer similar items in a unique way?
Let me try to explain to you with an example, let's say you find a candle design that is selling pretty well on Etsy, now you can analyze the design and feel of the candle and try to recreate it in your own style.
You just have to offer similar stuff but in your own unique style because that's what Etsy is all about.
Regularly Update Product Listings
It is also important to regularly update your product listings to keep your shop fresh and appealing to customers.
Offer new, seasonal, or limited edition products, and consider discontinuing products that are not selling well.
Set The Right Price
It is very important to price your items correctly in order to make sales on Etsy.
You want to make sure that your prices are fair and reasonable but also reflect the value of your handmade products.
Don't forget to factor in the cost of materials, your time and effort, and the fees and taxes associated with selling on Etsy.
Look at your competitors and see how they are pricing their items and what value they are providing.
Remember, you want to set a price that will attract buyers while still allowing you to make a profit.
Repeat What is Working For You
When it comes to increasing your Etsy sales, it's important to repeat what is working for you.
Take a look at your most popular items and see what they have in common.
Is there a certain style or color that is resonating with your customers?
Are there specific keywords or tags that are helping your products show up in search results?
Once you identify what is working, try to replicate it in other products or listings.
You can also consider offering variations on your popular items or creating bundles that include them.
Don't be afraid to experiment with different pricing strategies or marketing techniques to see what works best.
Optimize your Etsy shop
To make sure you make a good amount of money on Etsy, it is important to optimize your product listings to leverage Etsy search traffic.
Etsy's search algorithm helps people to find products that they are looking for, so whenever a customer searches for any query on Etsy, let's say "Candles", it will show all the relevant and high-quality listings to him.
So listings with higher conversion rates, better SEO, and better CTR will rank higher on Etsy and generate sales.
To optimize your product listings, try to use the keywords that people will search for in your product titles, tags, and descriptions.
Ensure that your product images are high-quality and clear. This can help increase the click-through rate (CTR) of your listings, leading to more sales and exposure for your shop.
To achieve a better conversion rate, set competitive prices and offer more value than what customers are paying for, and try to include some freebies with your listings as well.
Marketing
You may feel that creating the best quality products or SEO optimization are the most important factors to generate profits and sales but it is not true.
Good marketing is the one factor that will help you to complete your goal of making 10k every month by selling on Etsy.
Use social media platforms to your profit to market your products and your Etsy shop.
Use Pinterest to promote products like jewelry, home decor items, digital products, bags, shoes, clothes, items related to food and lifestyle, etc.
Create pins and link your Etsy shop with your Pinterest account. If someone likes your product they could directly buy them off Pinterest.
If you have some budget and want to invest in marketing, you can try out Etsy ads and maybe Facebook ads too to market your products.
Diversify Your Income
While selling on Etsy is a great way to reach a large audience and make money, it is important to have multiple streams of income to reduce the risk of relying solely on one platform.
You can do this by expanding your product offerings, selling on other online marketplaces, or opening a second Etsy shop.
But before opening your second Etsy store, make sure you read the rules and regulations.
You can also consider creating complementary products or services to enhance your existing offerings.
For example, if you sell handmade jewelry, you could offer custom jewelry design services, or if you sell digital products, you could offer design or consulting services.
By diversifying your revenue streams, you can reduce your reliance on one platform and increase your chances of reaching your financial goals, making 10k a month.
What items to sell on Etsy to make 10k a month on Etsy?
Though it is not hard to achieve the goal of making 10k a month on Etsy it can become difficult to determine which items to sell.
Selling items that are high in demand and have great sales is the mantra for making a profit on Etsy.
Here I am listing 20 best items to sell on Etsy to reach the goal of making 10k a month.
Jewelry and accessories
Personalized gifts
Home decor items
Wedding and event decor
Art and prints
Clothing and fashion items
Pet accessories and toys
Handmade soap and bath products
Craft supplies
Vintage items and collectibles
Baby and children's products
Digital downloads such as printable art or planner pages
Handmade furniture and home goods
Greeting cards and stationery
Garden and outdoor decor
Handmade pottery and ceramics
Candle and fragrance products
Toys and games
Stickers and decals
Knitted or crocheted item
FAQ
Can you realistically make money on Etsy?
Yes, it is possible to make money on Etsy. Many sellers have built successful businesses on the platform, and some have even turned their Etsy stores into full-time careers.
However, it takes time and effort to build a profitable Etsy business. Success on Etsy depends on factors such as offering unique and high-quality products, pricing competitively, investing in marketing and advertising, and providing excellent customer service.
Like any business, there are risks and challenges, but with hard work and dedication, it is possible to make a good income selling on Etsy.
How much does the average Etsy seller make?
Well, it's a tricky question to answer as the income depends upon various factors such as what times you are selling, what is the demand for those items, how old your shop is, etc.
The majority of people make nothing on Etsy because they put efforts in the wrong direction, they don't know what they are doing and they give up too early.
According to Etsy, only 6% of sellers make more than $100,000 per year.
So some will make nothing, and others can even make more than 100k, you can see the difference now.
So it all depends upon smart work and dedication.
For more in-depth information, you should view this interview:
Final Thoughts
If you are still thinking about whether or not it is possible to make 10k a month on Etsy, the answer is Yes.
You can definitely turn your passion for creating products into a thriving business by selling the items on Etsy.
Make sure that you read the points mentioned in this article thoroughly and take action based on your learnings.
If you ever get stuck somewhere, the comment section is for you, drop your questions over there and I will reply for sure.
Happy earning!