A mockup is a design or prototype of a product. It can be used to see what the final product will look like, or to test different versions of the product.
Mockups can be created in a variety of software programs, but Canva is a free, easy-to-use option that is perfect for beginners.
You can create a basic mockup in minutes, and then improve it until you have the perfect design.
Plus, you can share your mockups with others for feedback. In this article, we'll show you how to create a mockup in Canva.
Top 34 Canva Tips And Tricks To Design Faster (Shortcuts Included)
Steps to Create a Canva Mockup Design
Designing a mockup in Canva is a simple and efficient way to generate a high-quality design. Here are the steps to follow:
Login To Your Canva Account
Simply go to www.canva.com and click on the 'Login' button if you already have an account. Or click on the 'Create an Account ' button in the top right-hand corner of the homepage if you are new to canva. You will be asked to provide your email address and password.
Once you have filled out this information, click on the "Create Account" button. You will then be taken to your Canva dashboard where you can start creating designs.
How To Draw On Canva Easily (New Update!!)
Create a Blank Canvas Or Choose a Template
Once you have logged into your Canva account. Click on the 'Create A Design' button in the top right corner.
Then you will be given a choice to choose your design. After choosing your design, you will be directed to a blank canvas.
The blank canvas is great if you want complete control over the design because it gives you a chance to start from scratch.
Or you can choose from one of Canva's many templates. Templates are pre-made designs that come with all the formatting and elements already in place.
You can customize them to fit your needs, or use them as-is.
How To Group And Ungroup Elements On Canva (Easy!!)
Add a Background (Optional)
You can add a background to your canvas to make it look more presentable.
To do this, you have to click on the canvas, and a few options will appear on the top of the screen. From there, click on the 'Color' icon and then you will be able to select a color for your background.
For a more creative look, you can also add a marble or wood surface background. Whichever background you choose, make sure it matches the tone and style of your mockup.
How To Print On Canva (2 Very Easy Ways!)
Add a Mockup Holder Frame
Frames inside canva allow you to place images inside them so that you can see how it will look on a finished product, which can be extremely helpful when designing for things like websites, flyers, or even posters.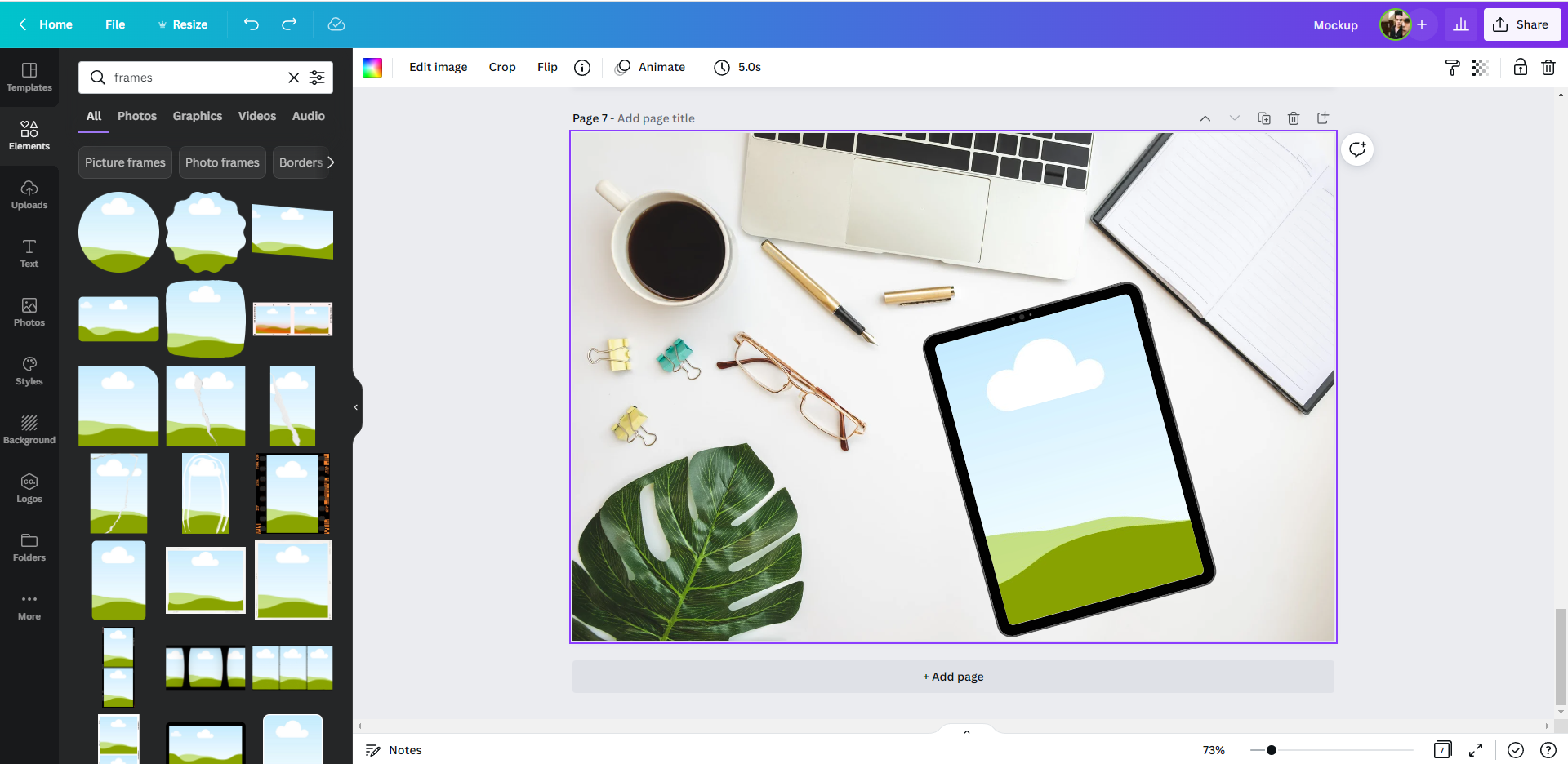 Just go to the "Element" option on the left-hand side of the screen. Then, search for "Frames". Now, you can see a variety of different frames to choose from.
Select the one that best suits your needs and add it to your design.
How To Add Custom Fonts To Canva (Step By Step!!)
Drag and Drop Your Image Into The Frame
After placing the frames into the design, it is time to add images to it. You can either select Canva's pre-loaded pictures or upload your own.
To add your image, select the "Uploads" tab on the left-hand side of the screen and then select "Upload files."
You can then choose the file from your computer that you want to upload. When the photo is successfully uploaded, you must drag and drop your image into the frame.
You can then resize and reposition it until you're happy with the results.
Can You Sell Canva Designs On Etsy? (Tips For Beginners !!)
Add Other Accessories
When creating a Canva mockup, it's important to add accessories to create a realistic and professional-looking design. This includes things like desk, desk accessories, plants, and other elements that will help to create a realistic look. You can also add shapes and icons to your design.
Luckily, there are many free elements available on Canva.
After uploading your images or using ones provided by Canva. Start arranging them in the layout, be sure to experiment with different placements until you find what works best for you.
How To Outline An Image In Canva 2022 (Easy Trick!!)
Download Your Mockup
When you're finished with your design, you can share it with others by clicking the share button in the top-right corner of the screen.
From here, you can choose to share your design by email, post it on social media, or place it on a website.
If you want to download your design instead, click the 'Download' button in the drop drown menu of the 'Share' Button. This will save your design as a PNG file on your computer.
How To Indent In Canva Text Box 2022 (Easy Way!!)
FAQ
How To Create Book Mockup In Canva
To create a book mockup, start with logging into your canva account and clicking on the 'Create A Design' button.
After choosing your required design, you can now add color or textural background to your design or leave it as it is.
Then upload your book cover and position it into your design. Make sure to add effects to the picture, so that it looks 3D.
You can also add accessories around the book like a pen, pencil, or eraser.
How To Create Gradient In Canva [2022 Secret Method!!]
How To Make A Tshirt Mockup In Canva
To create a t-shirt mockup, go to www.canva.com and login into your account. Then click on the 'Create A Design' button and choose your required design.
You will be directed to a black canvas, you can add color or textural background to your design or leave it as it is.
Now, upload a picture of your t-shirt by clicking on the 'Upload' button on the left-hand side of the screen.
You can also add other designs to your t-shirts like a logo, slogan, or graphics. To get more creative, add hangers and jeans around your mockup.
How To Fill A Text Box With Color in Canva (Easy Trick!!)
Conclusion
In conclusion, using mockups can give you a better idea of what the final product will look like. They are also a great way to get feedback from others.
By using mockups, you can be sure of your product before you launch it to the public.
Canva is an easy-to-use, online design platform that makes creating mockups simple and fun.
With its wide variety of templates and tools, you can create professional-looking mockups in no time. So why not give it a try?