This post may contain affiliate links and we may receive a commission if you make a purchase through our affiliate link at no extra cost to you. Please read our disclosure policy for more information.
The internet is filled with practical methods for you to earn money. But, how about the thought of selling feet pics online? Well, that's no less than a crazy idea to even think of.
But, let me tell you, it's true to facts. You literally can sell feet pics online for some handsome money.
If you have good feet and feel you have the potential, foot modeling is for grabbing. It is one of the easy-to-earn and learn formulas that can act as a side hustle.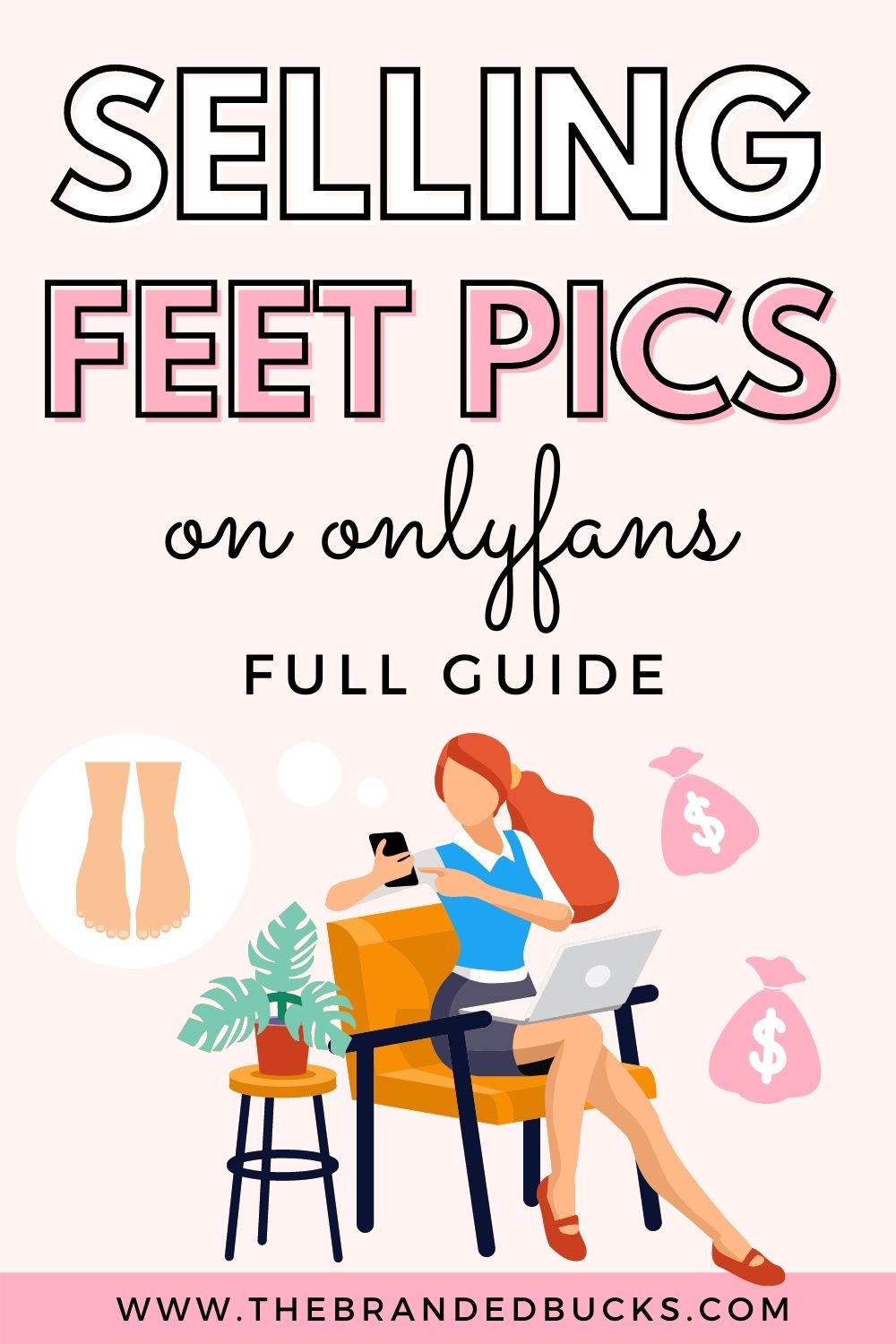 Pin For Later
If you still are wondering about how to sell feet pics online, I have quite some options for you. One of such outstanding options would be selling feet pics on Onlyfans. Yes! You can try it out.
Besides, there are other relevant aspects to be discussed throughout this article. Thus, hang around with me while I take you on a roller coaster ride.
Is It Legally Allowed To Sell Feet Pics Only?
At the very face of it, it is legally allowed to trade in feet pictures online. Especially in western countries, it is an authentic trade practice.
It is entirely legal in places such as Canada, New Zealand, Australia, the USA, UK, and several others. However, if you happen to be residing in an area with religious restrictions on such matters, it might not be your thing to do.
Other than that, the only required criterion established is for the seller to be a major by age and spirit. If your land permits it, selling feet picks online is a great way to earn the desired sum of money online.
If you are actually serious about making money online by selling feet pictures then this eBook is going to be very helpful for you.
Who Are Most Likely To Buy Feet Pictures?
Most of us might not be aware, but a diverse range of audiences are your buyers. I know lots of you are unaware that money can be earned with these crazy methods to lol.
Hence, I have here for you some of your target audiences: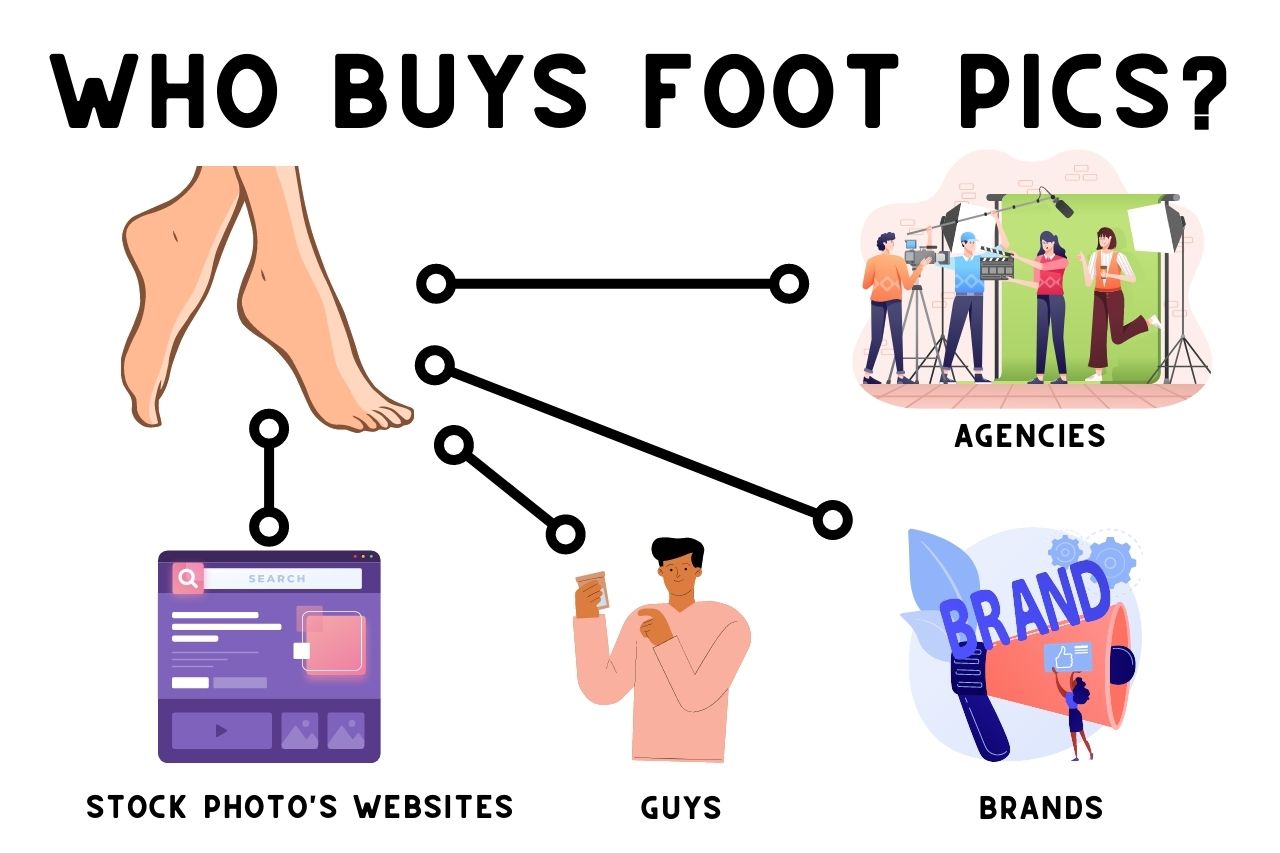 Publishing Agencies
Agencies that go about publishing content in different niches demand such pictures. When content eventually appears relating to the feet, a supporting image is a must. And that's where it meets your needs as a seller.
Brands Dealing In Foot-related Items
Well, it's pretty evident that a brand selling foot-related products would require glorifying images to support their claims. For example, you can reach out selling your feet pictures to nail paint, foot cream, or even foot accessories brands.
Also, such brands sometimes need not only images but also videos of legs to make a commercial reel.
Most often, editors cut out several frames from such videos, add sound to video, add visual effects, and ultimately get a commercial reel.
Stock Photo Websites
This is another obvious pick for you as a seller. Stock photo websites offer pictures on various topics. They aim to cater to audiences looking for relevant images. Thus, if you are creative enough, such websites are your go-to.
You can also check out our top 7 places to sell your feet pics for real cash.
Is It Profitable To Sell Foot Pics Online?
Let me tell you the rates and then it's on you to decide. By selling feet pics online, one can earn as high as $100 or as low as $5. In my opinion, it's an excellent means for the ones looking for easy earning methods.
How Much You Can Make Selling Feet Pictures Online?
Again, it totally depends upon your experience, your average selling price and how much returning customers you have.
But i believe in sharing real numbers rather than just estimates, here are some payment proofs shared by my friend Lisa Adam. So yes, this industry do have a lot of potential if done correctly.
My friend Lisa Adam is earning around $4000 per month just by selling feet pictures online. Check out her eBook guide over here.
However, the rates vary from one picture to the other depending on several factors. The image quality, the buyer you are selling to, and the demand acting as considerable factors behind the valuation of your feet pic.
Nevertheless, it is in any way profitable because it hardly takes time to prepare a shot. But it would help if you considered keeping your rates at par with basic industry standards.
Anything less or more is not likely to secure you a good customer and even keep you underrated. None would prefer such ambiguous rates; neither you as a seller or even your potential buyer.
Where To Sell Feet Pics?
Now that you've known your audiences, it's time you know where to look out for them. The sky is bigger than the biggest, and you can trust me when I say that you can sell feet pics anywhere online.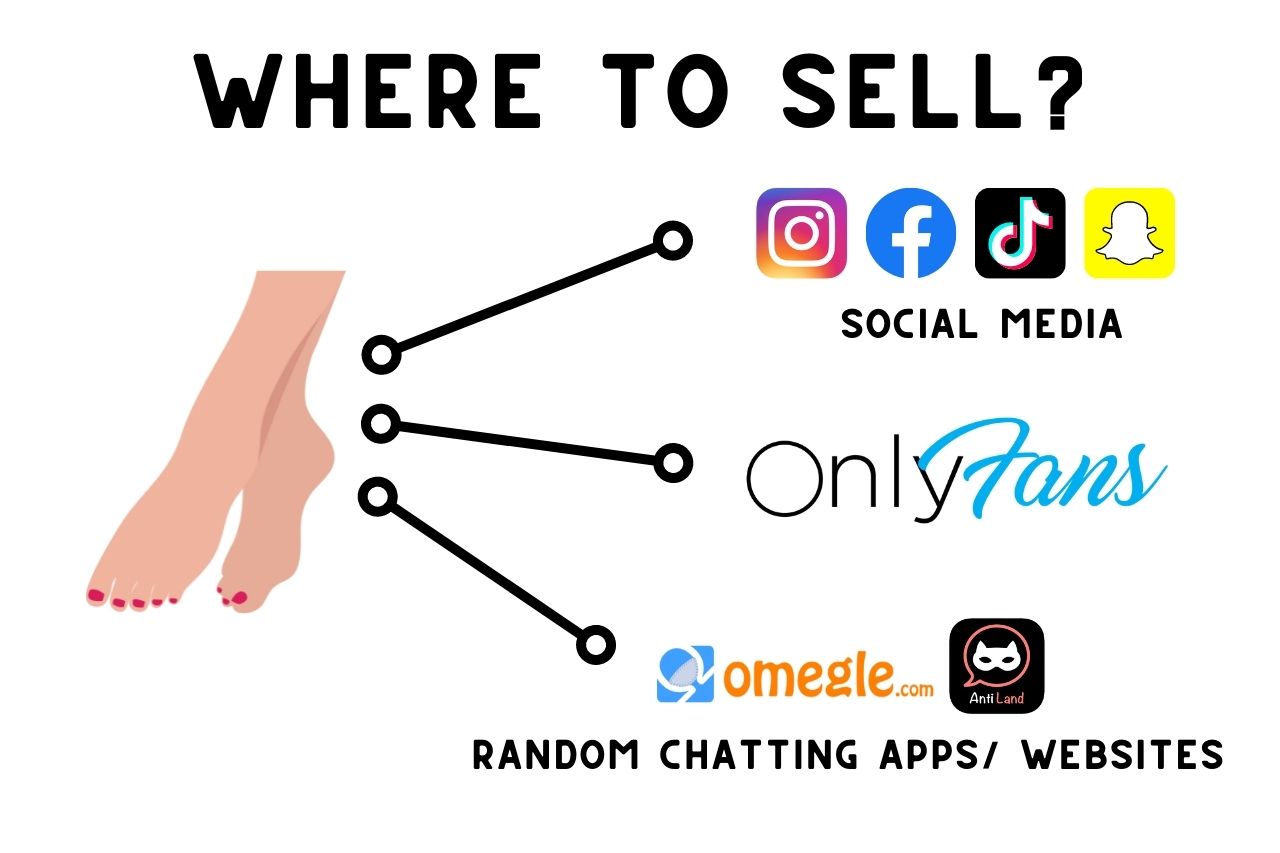 There is a comprehensive option for you to pick from. One of the most comply relied sources is none other than social media platforms and forums.
The reach is vast literally, anything you can think of.
You can sell feet pics on Facebook by joining existing groups with buyers and sellers or even by creating your own group.
While on Instagram, you can reach out to brands and seek if they have a specific requirement that suits yours.
Another commonly used method that mostly remains undercover is via websites.
Yes! Certain websites have been developed to cater to your needs.
Feet Finder (Our Recommendation)
Feetfinder.com is the safest, easiest, and most secure website to view, sell and buy feet pics.
Sellers have earned millions from their feet pics and videos on FeetFinder and they have hundreds of thousands of verified buyers.
With over 6,000 5-star reviews they are also incredibly safe and trusted!
Buyers can subscribe to modules, send tips, and custom offers, and message verified models. Sellers earn 80% of all payouts and we are available worldwide!
Sign up at Feetfinder.com
Fun With Feet
Fun with Feet is another great website to sell your feet pictures.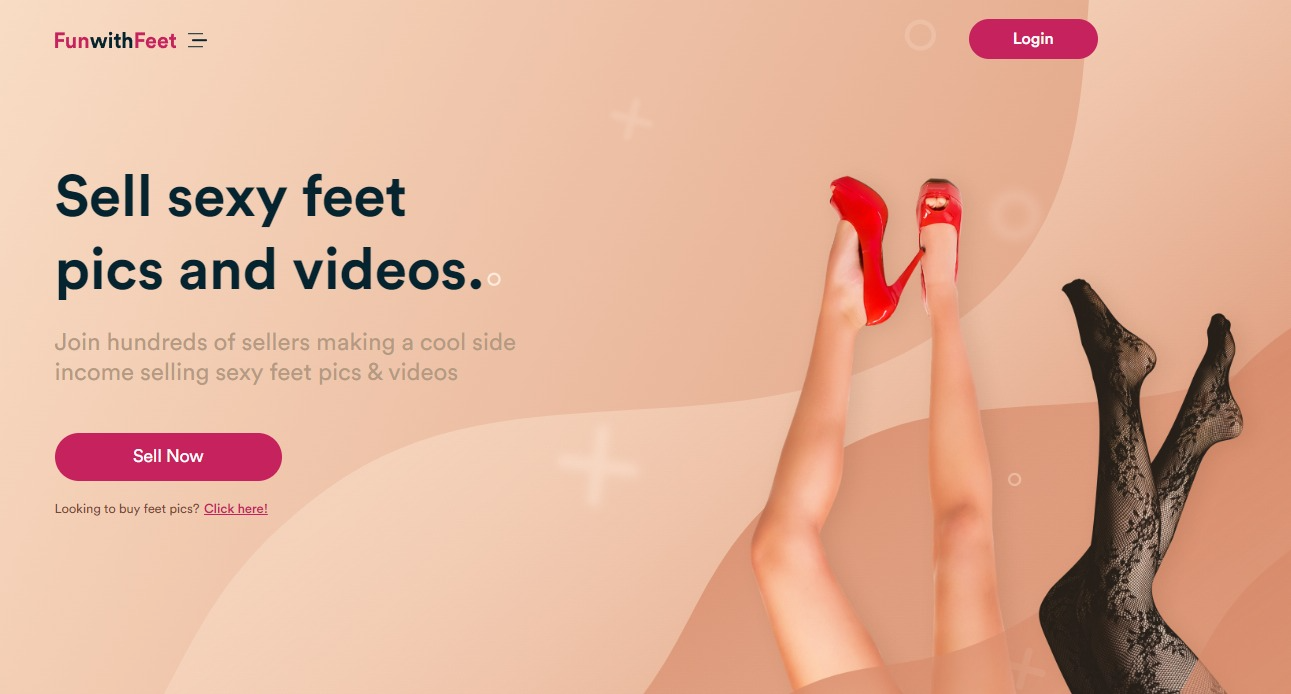 FunwithFeet is an online platform to sell feet pics. Here, sellers just like yourself have the capability to post high-quality feet pictures and videos for sale.
Buyers love the clear layout of the site allowing them to find the exact feet they're looking for by the seller, category, or collection.
Some of the top-selling categories on FunwithFeet are BDSM, high heels, sandals, boots, tattoos, and dancers.
Getting started on FunwithFeet is super simple. All you have to do is be 18 years of age or more and be able to take pictures of your feet.
FunwithFeet does not charge a commission, which means sellers keep 100% of sales and profit made!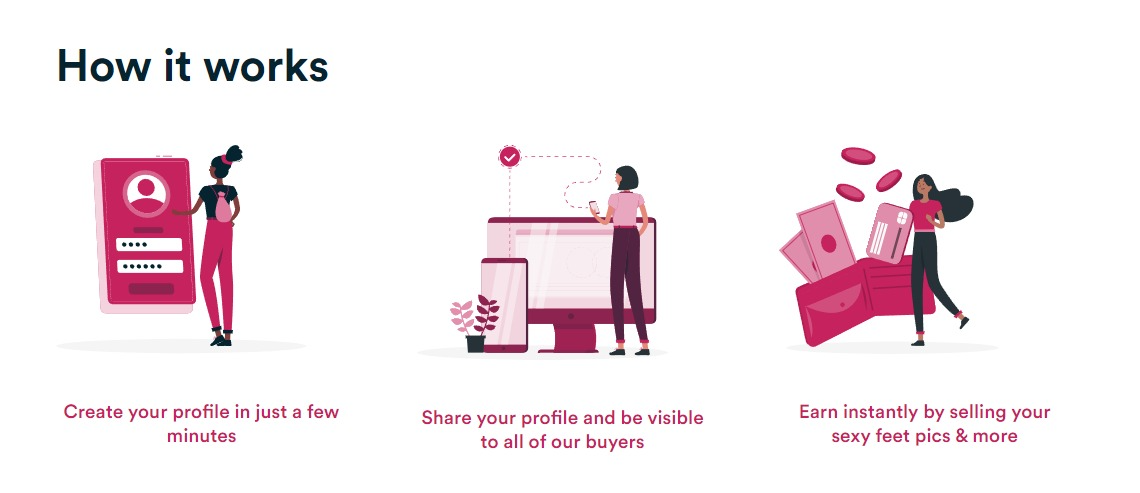 The only cost is a minimal listing fee that aids in keeping the website operating. There are two payment options: $9.99 for three months or $14.99 for six months.
When you sign up to be a seller on FunwithFeet, you will get the advantage of having your profile featured on the website's homepage.
This means that your feet photos will get a lot of attention right away, which can bring more sales, more dedicated followers, and increased revenue for you.
Selling Feet Pics On Onlyfans: An Introductory Guide
I am sure most of you are not aware of the platform Onlyfans. But, no worries! I am here to discuss how to sell feet pics on Onlyfans. If you are not familiar with the platform, Let's get started.
Onlyfans works just like any other social media forums. It's all about the game of how many followers/subscribers you have to your credit. The greater the followers, the vast is your reach out.
It would be best if you were your sole marketing agency. Yes, you read that right. Building up followers on various other social platforms and marketing your Onlyfans page there itself gets your job done.
However, it's not an overnight dream come true situation. You cannot expect people to reach out to you right after creating your account and doing with the advertising.
It is a gradual process, and you need to keep your account hyperactive and updated. With time, as and when your content starts to reach people, they will reach out to you for your content.
Why Choose Onlyfans To Sell Feet Pics Online?
If you are not convinced enough, I'll give you reasons why Onlyfans is profitable for you. Firstly, it is because the forum is easy to use with minimal restrictions on internet connectivity or the use of any specific device.
Secondly, you would hardly witness any unnecessary interruption. Your feed will be displayed to just the subscribers and nobody else.
Thirdly, there are no eligibility criteria. To be eligible to start your business, all you need is an account and an application for monetization. With that, you're all good to go about earning some bucks by selling feet pics on Onlyfans.
If you still wish to look for other options, there are an umpty number of options to choose from. You can go for social media or relevant websites and anywhere else where groups have been formed vested with the same interest at hand.
Where To Sell Feet Pics America?
No matter which part of the world you happen to reside in, the internet and online platform are vast enough to accommodate your skills and talents. You can always choose to go about with platforms such as Facebook, Twitter, Reddit, Instagram, etc.
However, if you are specifically based in the United States, you can pick the regional websites that are widely recognized. And, let me tell you, the list is unexhaustive.
Some of the industry's popular websites are Instafeet, Feet Finder, Zazzle, Shutterstock, iStock photo, and many more.
These are platforms where both buyers and sellers meet to get their specific requirements of feet pictures met. You can try any of these if social media is not your thing.
Also Read: How To Make Money Fast As A Woman (10 Easy Ways!!)
How Much To Charge For Feet Pictures
When you're just starting out selling feet pictures, it's important to find the right price point.
You don't want to charge too much and scare people away, but you also don't want to charge too little and make very little money.
So what's the right price?
For beginner sellers, I'd recommend starting out at around $5 per picture.
This will give you a good baseline and you can always raise your prices later on if you feel comfortable doing so.
Experienced sellers may want to consider charging more, especially if they have a large following or high-quality pictures.
Ultimately, it's up to you to decide what feels right for you and your business.
Whatever price you choose, make sure that it's reasonable and fair for both you and your customers.
Also Read: How To Make Money On Amazon Without Selling (Niche Blog)
Pros And Cons Of Selling Feet Pics
Pros of Selling Feet Pics
1. Increased income – Selling feet pics can be a great way to make extra money, especially if you have a nice pair of feet.
2. Flexibility – You can choose when and how you want to sell your feet pics, which gives you a lot of flexibility.
3. Variety – There are many different types of feet pics that you can sell, so you can find something that appeals to you.
4. Fun – Selling feet pics can be a fun way to make some extra money and show off your assets.
Cons of Selling Feet Pics
When it comes to selling feet pics, there are a few cons that come with this job. Here are few of them:
1. It can be difficult to find a buyer for feet pics. Not everyone is interested in them, which can make it tough to find someone who wants to buy them.
2. It can be tricky to take good pictures of your feet. If they're not taken well, they might not sell as well as you'd hope.
3. There is always the potential for legal issues if you're not careful about what you sell and how you sell it. Make sure you understand the laws in your area before getting started.
4. You cannot sell feet pics if you are below 18, it is completely illegal.
Specific Tips And Tricks To Ace Industry Standards
By now, you have known about the typical ways how it's all done. But with the few tips and tricks at hand, the journey would be easy going.
Be unique and creative: yes! That's the key. If you are capable enough to come up with variations in every picture of yours, it will take no time to get you enough buyers.
Start with blogging: in each of your social media platforms, initiate blogs that would grab people's attention. It can turn out to be an award-winning opportunity for you.
Initiate collaboration: initiating collaborations with people sharing the same interests can get you a more follower base, increasing your reach out. If possible, look for established models in the field to accelerate your growth cycle.
Promote as much as possible: Not just on Onlyfans, try to get your follower count on every forum you are active on. With constant effort, you can attract more and more buyers to avail your content.
Also Read: Does Walmart Takes Apple Pay
Final Words
In conclusion, selling feet pics on Onlyfans can be a great side hustle.
It's a great way to make some extra money, and it's also a fun way to express your creativity. If you're interested in becoming a foot model, I encourage you to give it a try.
It's a great way to make money and have fun at the same time.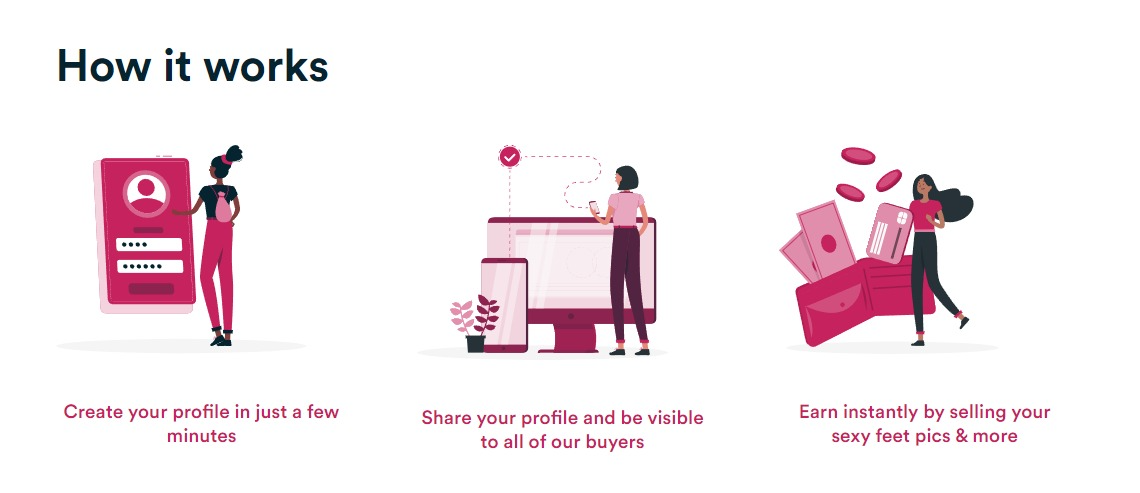 Hey there! I'm Rohit Lohia, a passionate SEO enthusiast and the proud founder of Branded Bucks. I'm all about helping small business owners achieve success online through my blog. Join me on this exciting journey as we explore ways to make money online and build a thriving digital presence.