This post may contain affiliate links and we may receive a commission if you make a purchase through our affiliate link at no extra cost to you. Please read our disclosure policy for more information.
Are you someone who loves shopping on Amazon and leaving reviews for the products you buy?
Do you wish you could get paid for sharing your honest opinions about the products you use?
If so, you're in luck! In this article, I am going to share with you 7 legit ways to Get Paid To Review Amazon Products.
I know that many of you are looking for ways to make some extra cash, and what better way than to get paid for something you're already doing?
I'll give you a sneak peek into how this process works, including information about Amazon Associates and the Amazon Influencer Program.
So, if you're ready to learn how to turn your product reviews into cash, keep reading!
7 Ways to Get Paid To Review Amazon Products
Here are some legitimate ways to get paid for Amazon reviews.
1. Amazon Vine Program
The Amazon Vine Program is one of Amazon's initiatives to gather honest and unbiased reviews for products. It's an invite-only program where selected members, known as Vine Voices, are provided products for free in exchange for their reviews.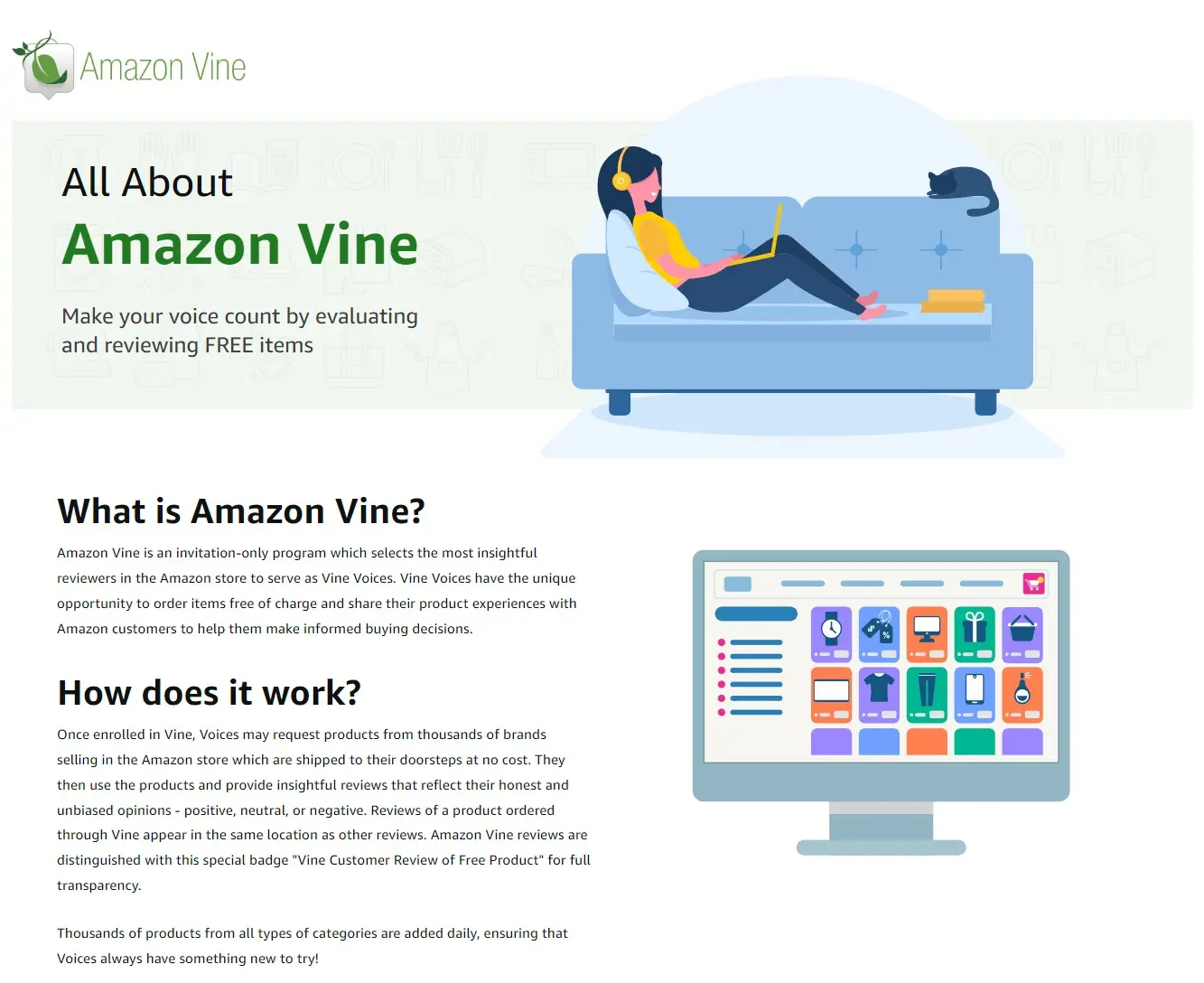 To be considered for the Vine Program, reviewers need to consistently provide valuable feedback that other shoppers find helpful.
Amazon's selection criteria for Vine Voices is based on several factors, including the helpfulness of the reviewer's past reviews to other customers and the reviewer's reviewer ranking.
While the prospect of receiving free products might be appealing, it's crucial for Vine Voices to maintain its integrity.
Amazon expects all reviews under this program to be honest, irrespective of whether the product was provided for free.
This ensures that the feedback remains genuine and continues to assist other shoppers in making informed decisions.
For those interested in becoming a part of the Vine Program, regularly writing insightful and helpful reviews can increase visibility and the likelihood of receiving an invitation.
2. Amazon Affiliate Blog
The Amazon Affiliate Program, also known as Amazon Associates, provides an opportunity for bloggers, content creators, and website owners to earn commissions by promoting products available on Amazon.
By adding affiliate links to their content, affiliates can earn a percentage of the sales generated through those links.
Key Features of the Amazon Affiliate Program:
Commission-Based Earnings: Affiliates earn a commission for every sale made through their referral link. The commission rate varies depending on the product category.
Wide Range of Products: Amazon's vast product catalog allows affiliates to promote a diverse range of products, catering to various niches and audiences.
Detailed Analytics: Amazon provides detailed analytics to affiliates, helping them understand their audience's preferences and optimize their promotional strategies.
Trust Factor: Promoting products from a reputable platform like Amazon will result in higher conversions as everyone blindly trusts Amazon and they won't have to think for a second before making a purchase.
Steps to Start an Amazon Affiliate Blog:
By maintaining transparency and prioritizing the interests of the readers, an Amazon affiliate blog can be a sustainable source of income for those passionate about reviewing products.
3. Amazon Influencer Program
In today's digital age, social media isn't just for sharing vacation photos or the latest memes.
It's also a powerful tool for influencers who want to recommend products to their audience and earn some extra money on side.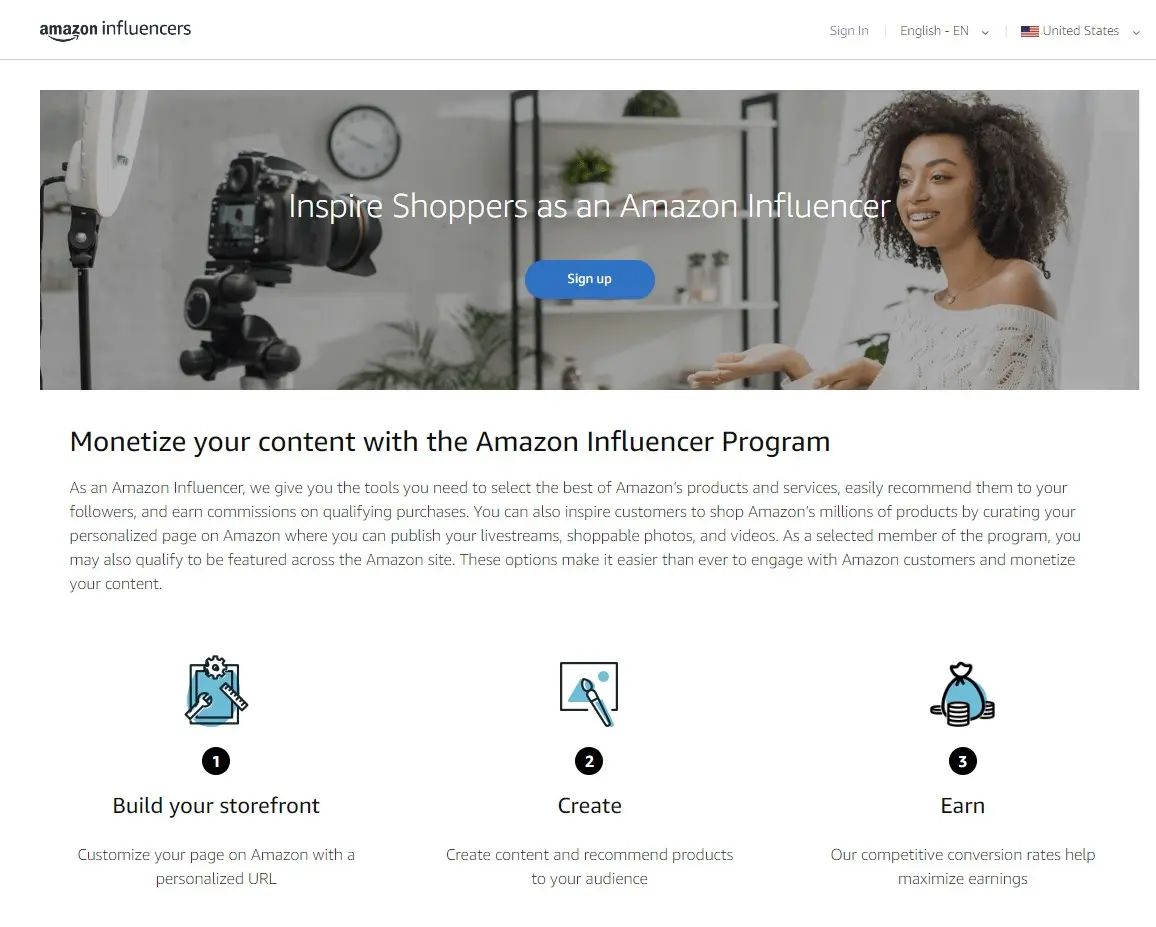 The Amazon Influencer Program taps into this potential, offering a unique opportunity for those with a decent social media following.
The program is designed for people who have established a strong presence on platforms like Facebook, Instagram, YouTube, or TikTok.
By joining, influencers can promote products available on Amazon and earn commissions for every successful sale made through their referral.
"Imagine having the ability to recommend products directly to your followers and earn from their purchases. It's not just about monetizing your content; it's about sharing genuine product experiences with your audience."
Here's a brief overview of how the program works:
Eligibility: To be a part of the Amazon Influencer Program, you need a decent following on either Facebook, Instagram, YouTube, or TikTok. Amazon evaluates accounts based on the number of followers and other engagement metrics.
Promotion: Once accepted, influencers can curate a list of their favorite Amazon products and share them with their audience. This can be done through dedicated storefronts or direct product links.
Earnings: Influencers earn a commission for every product sold through their referral. The commission rate varies depending on the product category, but it can range from 1-10%.
Building Trust: As with any influencer activity, authenticity is key. It's essential to promote products you genuinely believe in and have tried. This not only ensures trust with your audience but also maintains the integrity of your recommendations.
In short, the Amazon Influencer Program is a win-win. Influencers get to monetize their content, and their followers receive genuine product recommendations from a trusted source.
Now you may be wondering what's the difference between Amazon associates and Amazon influencer programs? well, the table below will help you out.
| Feature/Aspect | Amazon Influencer Program | Amazon Associates |
| --- | --- | --- |
| Eligibility | Based on social media presence | Open to anyone, primarily website/blog owners |
| Platform Focus | Social media platforms like Instagram, YouTube | Websites, blogs, some social media |
| Main Offering | Personalized storefront on Amazon | Custom affiliate links to Amazon products |
| Commission Earning | Earn on products recommended in the storefront | Earn on any qualifying purchase via the link |
| Target Audience | Social media followers | Website or blog visitors |
| Engagement | Direct engagement on social platforms | Engagement through content on websites/blogs |
| Program Flexibility | Curated product lists for followers | Flexibility in product promotion |
| Visibility & Exposure | Amazon promotes influencer storefronts | Relies on individual content promotion |
4. YouTube Review Channels
Imagine this: You unbox and try out cool Amazon products, record the whole experience, and then share it with the world on YouTube. Sounds fun, right? But wait, there's more!
Not only do you get to share your honest thoughts and maybe even become the next big YouTube sensation, but you can also make some money on the side.
How? By adding Amazon affiliate links in your video descriptions.
So, when someone watches your video, clicks on the link, and buys the product, you get a commission. Cha-ching! 💰
Here's how it works:
"Quick heads up: Always let your viewers know if you're using affiliate links in your video descriptions. It's all about being transparent and keeping that trust."
So, if you're passionate about products and love being in front of the camera, why not give it a shot?
Just remember to keep it real and honest. After all, people will tune in for your genuine opinions, not a sales pitch.
5. Writing Review Articles For Other Websites
Ever browsed through a blog and read those detailed Amazon product reviews? Yep, those that make you think, "I need this product in my life!"
Well, behind many of those compelling reviews is a talented writer like you. Let's dive into this world, shall we?
Here's the Deal: Affiliate marketing is booming, and blog owners are at the forefront, driving sales through engaging product reviews. But guess what? They often need a helping hand to keep that content flowing.
This is where freelance writers come into the picture, providing the much-needed content boost.
Stepping into the Role:
Third-Party Platforms
Below are some third-party websites and methods that will also allow you to make some bucks by reviewing products on Amazon.
Please do your own research before moving forward with these platforms.
6. AMZDiscover
AMZDiscover is a platform designed to bridge the gap between Amazon sellers and potential reviewers. It's a space where sellers seek out genuine feedback for their products, and in return, offer them to reviewers either for free or at a significant discount.
So, here's the deal: Amazon sellers are always on the lookout for genuine reviews. They want to know what people think about their products, and that's where you come in.
By joining AMZDiscover, you can become a product tester for some of the hottest items on Amazon.
"It's like being a VIP shopper, where sellers reach out to you with offers for free or discounted products in exchange for your honest reviews."
Now, I know what you're thinking. "Is this even legit?"
Well, while you're not getting paid in cash, you're getting products, often for free or at a massive discount. And if you're an Amazon shopping enthusiast (like most of us are), this can be a pretty sweet deal.
The best part? AMZDiscover operates independently of Amazon, so it's like this secret club for reviewers.
But remember, always keep your reviews genuine. Whether you got the product for free or at a discount, your feedback should be honest and unbiased.
So, if you're looking to get your hands on some cool Amazon products and share your thoughts with the world, AMZDiscover might just be your ticket!
Here are some similar sites that you can try:
7. Survey Sites
Yes, you heard it right, you can get paid just for giving your opinion on products through survey sites!
Lots of companies that sell products on Amazon will reward you for taking surveys and telling them what you think about their products.
They want to hear your honest feedback so they can make their products better.
The amount you'll get paid depends on the company and length of each survey, but usually, it's a few bucks per survey. Some sites also let you collect points from multiple surveys that can be traded in for Amazon gift cards.
Here are some of the top survey sites to check out:
Taking online surveys can be an easy way to pad your wallet a bit. Just make sure to sign up for reputable sites first, so you get paid fairly for your time. Give it a try during your free time and watch the extra earnings add up!
Tips for Writing Amazon Reviews
If you want to get paid for writing Amazon reviews, it's crucial to know how to write high-quality, effective reviews.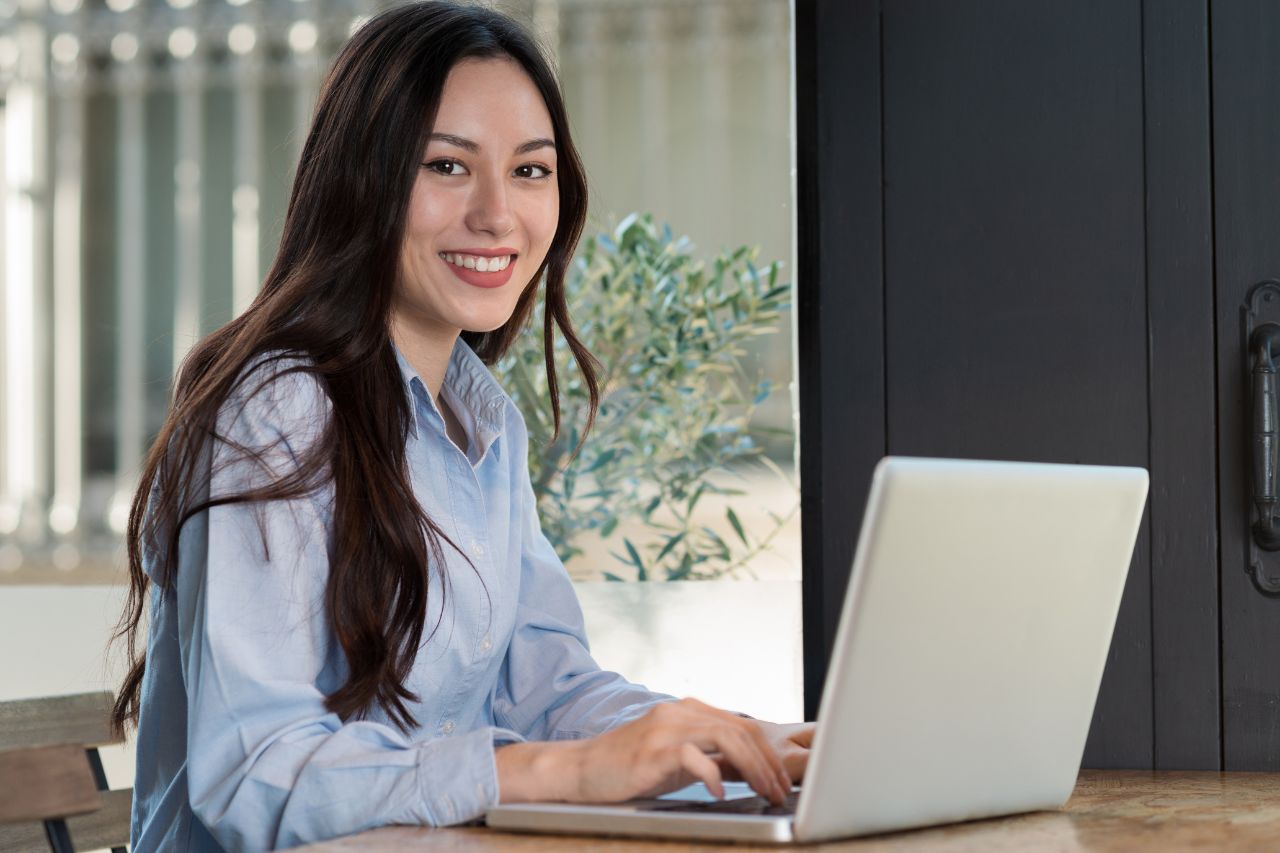 This skill is especially important if you want to join Amazon Vine, since it's an exclusive program that only accepts top reviewers.
So what makes for an effective, compelling Amazon review? Here are some tips:
Being Specific is Key
Writing a review on Amazon isn't just about sharing a quick thought; it's about helping others make informed decisions.
When you're gearing up to pen down your insights, start by being specific about what you liked or didn't like about the product.
Was it the color, the size, or the quality that caught your attention? Or was there something that didn't quite meet your expectations?
Relatability Matters
Remember, everyone has different needs, so what might not work for you could be perfect for someone else. For instance, if you found a notebook too flimsy for office use, a student might find its lightweight nature perfect for school.
Always aim for honesty and transparency. Share a personal story or experience related to the product. Did it save you time in the kitchen? Or did that book you're reviewing keep you up all night?
Add Images & Videos
Visuals bring reviews to life. Specifically, take photos highlighting key features in action and showing the product from different angles. Add photos of the unboxing experience and accessories.
Videos are even more powerful – record yourself using and testing the product. The more visual content you include, the more thorough and useful your review will be.
Disclosure is Crucial
If you're reviewing a product you received at a discount or for free, it's essential to disclose that information. Being transparent about any incentives ensures your review remains trustworthy.
Follow Amazon's Guidelines
Always respect Amazon's guidelines. Paid reviews directly on Amazon are a no-go, and flooding the platform with multiple reviews in a short span can raise red flags. So, take your time and be genuine.
Risks and Precautions (Disclaimer)
When it comes to getting cash or free products to review on Amazon, you've got a couple of options. Let me break them down so you can decide what works for you.
First, you can try to join Amazon's Vine program. This is invite-only for people who write really great reviews.
If you get accepted, each month you can browse products and choose some to test out and review.
The other way is to work directly with companies. Some will send you free items if you agree to review them on Amazon.
Now, Amazon does have some terms and conditions that say that sellers shouldn't give out freebies to customers to get free reviews in exchange. So companies doing this are going against their rules and risking their accounts getting banned.
But some still take the risk to get more reviews. Just know it violates Amazon's terms if the only reason they send you the product is a positive review.
So those are the two main paths to score free stuff to review. Vine is more "official" but harder to join. Working with sellers directly is easier but goes against Amazon's guidelines.
Whichever option you pick, be transparent in your reviews and share your honest thoughts!
FAQs On Get Paid To Write Amazon Reviews
Here are some frequently asked questions:
Is it legal to get paid to write reviews on Amazon?
Yes and no. Amazon changed its terms of service in 2016 and stopped allowing reviewers to be compensated with free or discounted products for writing a review directly on Amazon.
They aim for genuine product reviews that help consumers and aren't influenced by freebies.
However, there are still indirect ways to earn money for writing about Amazon products, such as through blog posts or social media, where you can legally get paid by Amazon for recommending their products in the form of commissions.
Can Amazon ban you from writing product reviews?
If you are using legitimate ways to get paid for recommending amazing products like Amazon affiliates or influencer programs then you don't have to worry about of getting banned.
But if you are charging sellers on Amazon to give them 5-star reviews on their product listing then this is against Amazon's terms and conditions and you might get banned.
How Much Can I Make Writing Amazon Reviews?
The earning potential varies.
If you write a product review for an Amazon product on your blog and add your affiliate links over there, you'll earn a commission on any sales from your review.
The potential earnings will depend upon the product category, its price, and the number of purchases made after clicking on your affiliate links.
On the other hand, if you working with companies like AMZDiscover, then the amount will totally depend upon the company and how much they are willing to pay for a review.
Can I Make Money Writing Amazon Reviews on Fiverr?
No, selling Amazon reviews directly on Fiverr is not allowed at all but you can sell indirect services related to Amazon product reviews.
For eg. you can sell an Amazon product review content writing services where you can write articles for bloggers reviewing different types of Amazon products.
What products can I review on Amazon to make money?
The sky's the limit! If you're using the Amazon affiliate program, you can review any product available on Amazon, be it a physical product, digital goods, or even services.
The key is to provide genuine, helpful reviews that resonate with potential buyers. Whether it's tech gadgets, books, kitchen appliances, or beauty products, as long as it's on Amazon, you can review it and potentially earn from it.
Final Words
And there you have it – 7 legitimate ways to get paid to review Amazon products! I don't know about you, but I was pretty shocked when I first learned you could earn cash just by testing out and reviewing stuff you can buy on Amazon.
But as you can see, there are real opportunities out there if you're willing to put in the time and effort.
Now get out there and start reviewing! Try out some of these methods and see which one works best for you and your lifestyle.
And be sure to come back and let me know how it goes!
I'd love to hear about your experiences making money reviewing products. I'm always happy to share tips.
Thanks for reading!
Hey there! I'm Rohit Lohia, a passionate SEO enthusiast and the proud founder of Branded Bucks. I'm all about helping small business owners achieve success online through my blog. Join me on this exciting journey as we explore ways to make money online and build a thriving digital presence.