Bored of your 9 to 5 job and looking for an idea for a start-up?
Well, when it comes down to thinking about a business idea, a lot of things might come up to your mind. And, one of the very first would be to start a t-shirt printing business.
Working in your own free time and earning money has a different level of satisfaction. Nothing has the chance to match up with the feeling of running one's own business.
T-shirt printing is thus, a great deal to start with.
However, the thought of coming up with a printing business needs you to focus on certain t-shirt printing equipment and also the cost you need to spend to have your own printing business started.
Thus, if you are looking for a guide on how to start with your t-shirt printing business, you are just in the right place.
Here is a detailed guide that will make your journey easier. So, without any further ado, let us begin with the topic at hand.
Why Choose T-shirt Printing Business?
Now that you have your mind on the kind of business you want to invest in, next up is choosing the area you want to deal in. in this regard, a t-shirt printing business can be a great pick.
There can be several reasons to choose a t-shirt printing business. Firstly, the very fact that wearing a t-shirt can never go out of fashion.
No matter which part of the globe you go to, you will always find people wearing t-shirts.
Secondly, the style and trends of t-shirts need to come up with new options for people to buy.
These trends keep changing and with that, people always look for new and better options.
Thirdly, there are many different places where you can sell your t-shirts.
Thus, you will never run out of a marketplace to sell your product.
And last but not the least, there is very little chance for your business to fail.
These are some of the features that make the t-shirt printing business a most picked choice, especially for beginners.
As a beginner, there is no risk you want to take regarding your online business, and considering that fact, the t-shirt printing business works the best for you to settle for.
Earning Potential Via A T-shirt Printing Business
The number of people who opt for t-shirts is huge to be considered after food.
Thus, the earning potential has quite good chances of making your business profitable.
Your earnings are dependent on the price you sell your products at.
Since you are your boss, you get to decide on the profit you want to earn from your business.
Keeping the profits aside, a retail quality t-shirt can be sold at $15 to $40 easily. Also, the quality is to be considered here.
If you are offering a high-quality item, you can charge accordingly and if your quality is minimum, the price of your products should be low.
This is the ultimate pricing trick that beginners should be well known about.
As a beginner, it will take some time for you to grab the marketplace but once you are good at it, you can easily earn about $100,000 a year by offering a high quality of products.
However, as your business tends to grow, your profits also get shared with your employees and other expenses too.
In a way, the earning potential depends on how hard you can go for your work. It is the extra bit of effort that brings success to you and with success, money comes on its own.
List Of Equipment Required With Their Estimated Cost
Talking about t-shirt printing business equipment, there are a few basic types of equipment that you need to start your online business of t-shirt printing.
The most common thought that most people might be facing at the moment is what do I need to print t-shirts at home.
Well, here is a list of a few t-shirt printing equipment you need:
Heat Press Machine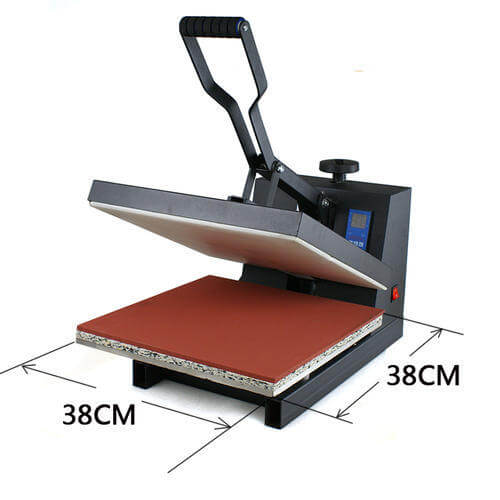 To print out your ideas into the fabric of the t-shirt, you need a heat press.
But the trick is, if you want to save some money, you can go for a manual device. Whereas on the other hand, an electric heat press is expensive.
But, if you want your printing job to go easy and simple, an electric heat press would be good.
Printer To Place Designs
To print your designs on your t-shirts, you either can go for a laser printer or an inkjet printer.
Both can equally serve your purpose but, a laser printer does the job easier for you and you do not have to take the pain of shifting designs in a transfer paper and then on the t-shirt.
In the case of price, a laser printer costs quite a lot than an inkjet printer.
Design Image Cutter
Who doesn't want accurate designs? Well, if you decide on hand-cut designs, they might not be a perfect fit and thus will not give a clean look.
But you can opt for a cutter that will cut your designs just right and give a good output of your printed designs.
A good quality cutter will cost you high but, any average quality will also serve your purpose.
Inks For Prints
Without inks, there can be no prints and thus this is a very important item you need.
For a printing business, you need a different variety of colors and also different shades of each color.
Inks are available almost everywhere and you can easily get them in bulk at fairly low prices.
Transfer Paper
Your job would be incomplete without a transfer paper. Depending on the printer type you are using, your transfer paper should be purchased according to that.
A laser printer would need a different type and an inkjet printer would need something else. The change of shades and light or dark sheets depends on the printer and material on which you are to print.
Thus, if you are looking for the right machine to make shirts, these are the few pieces of equipment you need to get the best printing results.
Where To Sell Printed T-shirts Online?
There is no lack of options for a marketplaces where you can sell your printed t-shirts online.
Many platforms look for sellers like you who want to start their own business and don't know where to go.
But, now that you are all good to go with the t-shirt printing machine and all the other equipment you need, next you need to know where to sell your items.
And therefore, here is a list of different websites that allow you to sell online:
Shopify
With Shopify, you can directly sell your printed t-shirts as a retail seller. It is an online e-commerce solution where you can create your online store and start selling your t shirts.
What i like about Shopify is it is very easy to setup and no coding required to setup your online store.
And you are your own boss on Shopify, you are not bounded with any rules and as in case of other marketplaces like Amazon, Ebay, etc.
Etsy
Selling hand-made products on the platform Esty is a good idea to start with. But, the competition on the platform is quite high and you need to do a hard job to find yourself a good place as a seller.
You can find different buyers who are interested to buy your products. Thus, Esty is a quite good option to consider.
Amazon
Amazon is a widely known platform where users from all across the globe meet at a particular marketplace.
So, it is quite simple for you as a beginner to reach customers who want to buy your product.
All you need to do is create an Amazon Seller Account and list your products that you want to sell, add categories and product descriptions and your product are all ready to sell.
Conclusion
Custom items are really popular in today's time. People like wearing things that are a perfect fit for them.
Similar is the case with printed t-shirts. The marketplace is always on the rise and the demand never goes out of place.
Thus, for a small business idea, a t-shirt printing business can bring quite a lot of money or you.
The very fact you get to get to work at your own free will, at your workplace makes it a fin activity along with some money-making means.
Though you need some sort of expense, to begin with, your business, the t-shirt printing equipment that has been talked about in this post is quite less as compared to starting any other form of business.
With that, we have come to the end of this post and all the readers out there looking for answers to start with their t-shirt printing business are all good to go about achieving their dreams.
Thus, start right away, get your t-shirts printed, get hold of your sellers, show them what you have, and get paid for your hard work. With that, you are all up with flying colors.
Hey there! I'm Rohit Lohia, a passionate SEO enthusiast and the proud founder of Branded Bucks. I'm all about helping small business owners achieve success online through my blog. Join me on this exciting journey as we explore ways to make money online and build a thriving digital presence.