Teenage is an important part of one's life. It is in this part of life that we learn new skills and make ourselves ready for better days ahead in life.
As a teenager, you might think that there are very few job opportunities for you.
But, let me tell you, you need not have a job when you can start your own business.
Many teenagers these days are looking for different ways in which they can earn some money and pay their bills.
If you are also one of those teens, this article is for you.
Pin For Later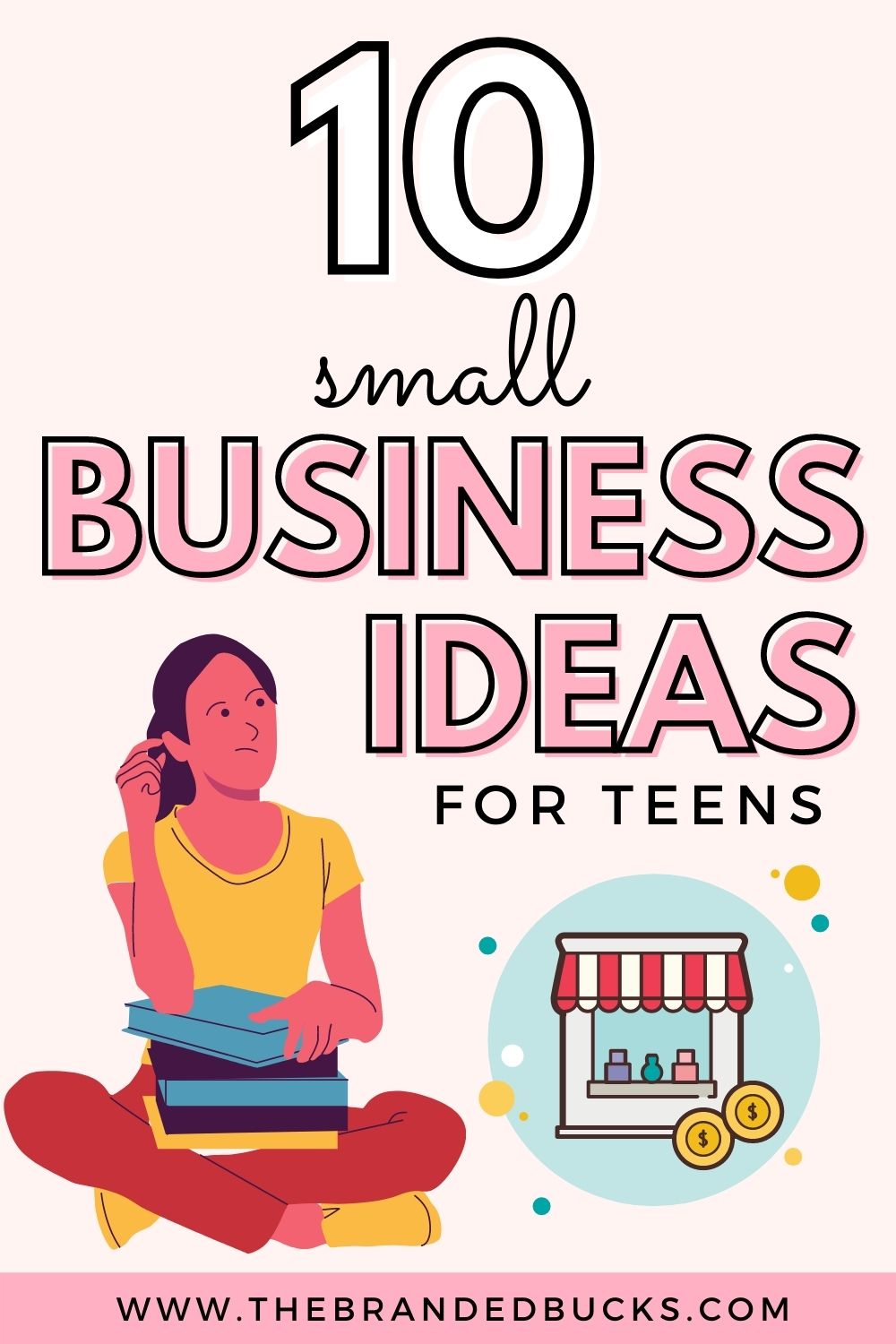 There are many small business ideas for teens. All you need to think of is your area of interest.
If you know which area of business you like the most, there will be no lack of options.
In this article, I will help you in planning your small business the right way.
If you do not have a plan and looking for ideas to start with, I will tell you everything you need to know. Come let's get started.
Importance Of A Business For A Teenager
The teenage phase of life should be all about fun, games, and enjoyment with friends.
But what if you have to pay your own bills? Yes, that's where you need a source of income to feed yourself.
Also, a business is very important for you to see where you stand in society.
In later parts of life, when you go about looking for a job, with no experience, your previous business experience can help.
With a business in the early years of your life, you can get better opportunities in the future.
With the experience of running a small business, you develop skills and that will benefit you.
But there are few things you need to decide before you start your business. Some questions such as how to start a business as a teenager must have come to your mind.
Don't worry, I am here to guide you on how to start a business of your own.
How To Start Your Own Business As A Teenager
As a teenager, you might not know how a business works. But now that you have decided to start your own business, you need to know certain things. Here are few steps for you:
Think Of A Plan
Setting up a business does not happen in a day. Moreover, if you need to start a business, what would you like to offer to your customers is a big question.
Think of an area where you think you can do best and have the confidence to put effort into it and make it a success.
Pick A Suitable Location
The location is a very important part of your whole journey. You can choose to go either online or offline.
Though setting up a business online would be easier for you, and you can save some money too.
Pick A Name
people need to know your business and for that, you need a name without which you cannot start your small business.
So, think of an interesting name that can attract people easily.
Research On The Market
before starting your own small business, you need to know who your competitors are, the demand for your product/service, etc.
You can also talk to your competitors and get some ideas from them.
See Who Your Customers Are
To make your business grow fast, you need to reach out to the right people who need your product/service.
You also need to see the age, gender, race of the customers you want to serve.
Financial Planning
For a business, you need money. So, do not miss out on calculating your savings and securing your source of finance.
If need be, you can ask your parents or elders to help you out.
Marketing
To make people know about your business, you need to promote it.
You can promote it through social media as a lot of people can see your posts. Also, you can share with your friends, family and loved ones to increase your reach in the market.
With these few steps in hand, I hope that your question on 'how to start a business as a teen' has its answer.
You can follow these steps and things will get easier for you.
Some Small Business Ideas For Teens
Now that you know what process you need to follow, you must be looking for some teen business ideas.
But let me tell you, your search ends here. I have some great ideas for you that you might like. Let's see what are they:
Social Media Influencer
It is all about a game of how many people you can reach. Social media sites such as Facebook, Instagram, etc have a huge crowd using such platforms.
So, as a teenager all you need to do is promote any product/service and earn money from it as and when people see your post and purchase on your reference.
Cake Decoration Business
If you are creative in designing and have a love for cakes, you have your small business idea here.
With the low investment, you can start with your own cake business and impress people with your skills.
Dog Walker
Most of the houses keep dogs as pets and you can take your opportunity.
Not all people have the time to walk their dogs, but it is an important activity for pet owners.
Hence, and you can take up the task to walk their dog and earn some money.
Blogger
If you don't have money to invest in a business and you are looking for some online source, blogging is perhaps the best option for you to grab your hands on.
If you have any particular area that you are good at, you can write about that and earn money easily.
You can start you blog with just $3.95 per month. Read my step by step guide to start a money making blog in 2021.
Car Washing Services
If you have a skill, that's great. But even if you do not have a skill, you can still earn some money by offering car washing services.
It is easy and simple and requires no investment. But even if you wish to invest, you can open your own car washing spot.
Photographer
A photographer is needed in any event that you can think of.  If you feel you have the proper photography skills, this business idea could be the best for you.
You can offer your services at different events and charge money out of them.
Lawn Care
It is very simple and you need not spend much time too. Just by spending some hours in a day to take care of the lawns, you can be paid a very good amount of money.
This business idea is best for those who have an interest in gardening and other related activities.
Sell On Esty
Etsy is a platform where you can sell anything that you are good at making.
You can sell any sort of goods and food on the platform. All you need to do is post your handmade products or crafts on Etsy with your desired price.
And soon you will start getting orders and sales and start earning enough money as a teenager.
Click Here To Get Your First 40 Listings Free On Etsy 
Freelance Writing
If you have good enough reading, writing, and spoken English skills, and you love to write essays, poems, etc.
You can start your small business as a freelance writer. You can reach out to clients that want your service and can get a good amount of pay for the job you have done.
For online writing and proofreading jobs, check out our 10 Online Proofreading Jobs For Beginners.
Event Decorator
If you are interested in doing decoration work for any small event such as a birthday party, a baby shower, etc.
You can try out to start offering such services.
Throughout the year, many events take place. thus, you can take the opportunity to show your decorative skills and earn quite some money on it.
These are some of the small business ideas for teens that I had in mind to share with you.
All of the options are good enough to help you earn some money by starting your own small business.
Pick any of the above ideas that you like and get started.
Tips And Tricks To Do Good
Well, you are your own master but I have some tips and tricks that can help you do better in very little time.
Firstly, do not charge a very high amount of your product/service right from the very first day.
If you do so, customers will shift to other business owners who offer lesser prices.
Secondly, try to build good customer relations.
Once you win the trust of your customers, they will come to you regularly, when they need your product/service.
Thirdly, ask customers for their reviews. When they give you good reviews, that will give you the confidence to do even better than before.
Also, if they have any complaints, you can try to improve on that area.
Ultimately, it's on you how you want to run the business, but for better results, keep these suggestions in mind.