This post may contain affiliate links and we may receive a commission if you make a purchase through our affiliate link at no extra cost to you. Please read our disclosure policy for more information.
Tumblers are everywhere lately. Those colorful, insulated cups and mugs with stylish designs and sayings printed on them seem to be the hottest drinkware accessory.
Have you ever thought about starting your own tumbler business and getting in on this craze?
The tumbler market has exploded in recent years and is projected to grow exponentially.
There's room for new players with creative ideas to grab a piece of the estimated multi-billion dollar industry.
In this guide, you'll learn:
What exactly is a tumbler business and how much money can be made
Steps for starting your own custom tumbler side hustle or brand
How to make personalized tumblers from start to finish
Tips for designing, marketing and selling tumblers profitably
Let's start at the beginning – understanding the tumbler business landscape and opportunity.
What Is A Tumbler Business
Tumblers are reusable, insulated drinking cups, usually made of stainless steel or plastic. They keep drinks hot or cold for hours.
What sets tumblers apart is their eye-catching designs, patterns, and decals. They've become popular statement pieces and "must-have" accessories.
Major companies like Yeti and RTIC helped kickstart the craze. Now small businesses and creative entrepreneurs are jumping in to offer unique, customized tumblers.
Some astounding facts about the surging tumbler industry:
The global tumbler market was valued at USD 663 Million in 2020.
It will be expected to reach USD 1025.54 Million in 2028 with a CAGR of 7.53% during 2022-2028.
Demand for customized tumblers has increased since last decade.
Social media driving sales – products go viral fast!
This growth presents a huge business opportunity. Let's look at the different ways you can capitalize on the tumbler craze.
Also Read: How To Start A Yard Card Business (Complete Guide!)
Types of Tumbler Businesses
There are several business models when it comes to making and selling tumblers:
Retailer – Buy wholesale tumblers from suppliers to resell online or in local stores
Manufacturer – Produce your own tumblers in bulk to sell to retailers
Customizer – Print/decorate blank tumblers with custom designs for individual buyers
Brand – Design, market, and sell your own Tumbler product line.
The easiest ways to get started are reselling wholesale or doing custom one-off tumblers.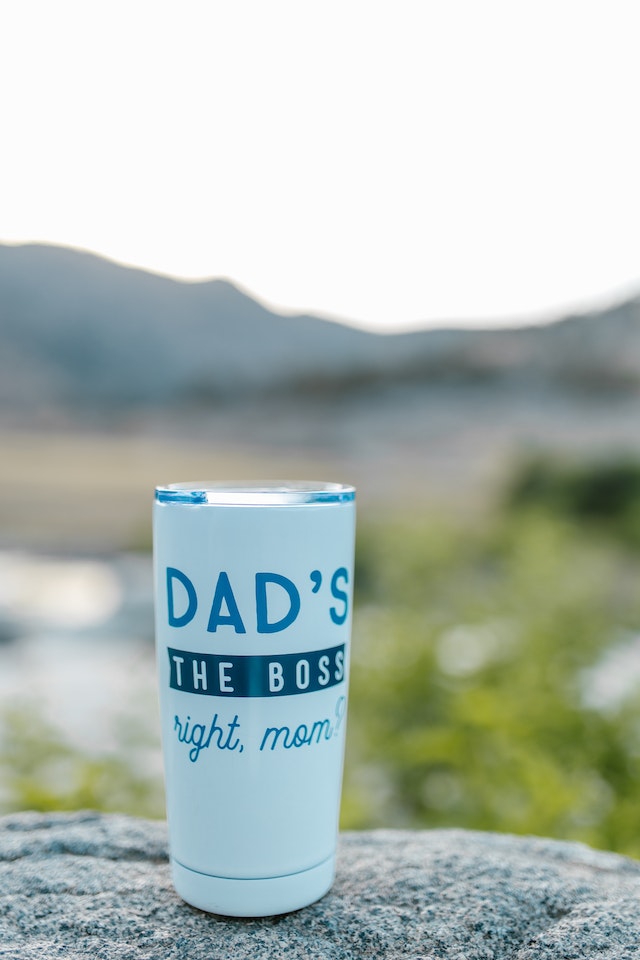 For this article, let's just focus on the small business side – making and selling custom tumblers
How Much Can You Make Selling Custom Tumblers?
To determine profit potential, you need to look at your:
Costs – supplies, equipment, labor
Price per tumbler
Number sold per month
Let's say your costs to make a custom tumbler are:
Blank tumbler – $3
Sublimation printing – $1.50
Packaging – $1
Labor – $2
That's $7.50 total cost per tumbler.
Talking about the prices, I have done some research on Etsy, and i found out that usually people are selling them for $10-$25.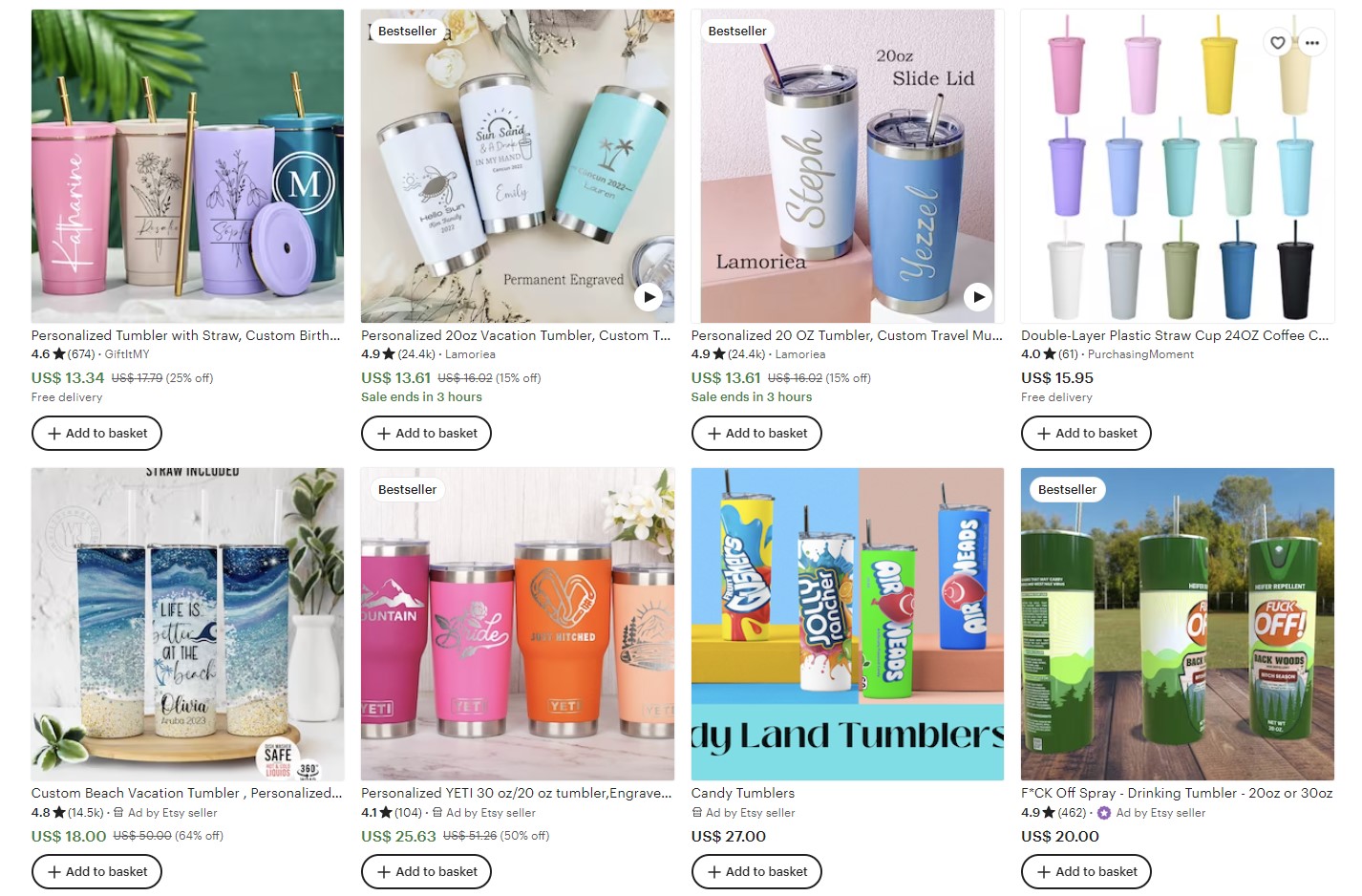 If you sell them for $20 each, you make $12.50 profit per tumbler.
Realistically, a new business can start by selling 25-50+ tumblers per month.
That works out to $312 – $625+ in profit for just a part-time side hustle. And you can scale up from there!
Next, let's go over the process of making customized tumblers step-by-step.
How To Start a Tumbler Business (Guide)
A tumbler business can be a fun way to earn money, but it's important to know what you're doing before you start.
Here are the steps to take to get started:
1. Research The Market
It is very crucial to research your industry before you start a Tumbler business. You need to look for your competitors, get to know the risks and benefits, and map out all of your finances before you dive into a business.
You must be aware of the work that is being involved in initiating a business, as it would lead to a successful launch.
Thus, it is very vital to do thorough research on the Tumbler industry before you start your business.
You can start with evaluating and understanding why people are using a tumbler. You can get to know these things by carrying out proper research and analysis.
One of the benefits of market research is that it lets you find the target customer and a good customer base. You will come to gather a lot of information such as demand for Tumbler, market pricing, and analysis of competitors.
Also Read: 8 Best Ways To Earn Money By Typing Online As a Beginner
2. Research The Competition
It is indeed crucial to research the competition before you start a business. By researching your competitors, you will get to know if there is a need for your product in the market.
It would give you an idea if there is an opportunity for you in the market. By knowing what your competitors are doing out there, you would get an idea of what you have to do, and what strategies you need to implement once you start a business.
Thus, make sure that you research the competition before starting your own Tumbler business.
3. Register Your Business
Registration of a business is very crucial as it gives protection to your Tumbler business, and would make your rights safe and secure.
Registration of a business is indeed a primary thing that needs to be done before you start a business.
Business registration plays a crucial role in getting a bank loan. Other than that, you will also avail of schemes of the government when you have registered your business.
4. Get a Right Team
Make sure you have a network of efficient people who would help you start and grow your business. The earlier you choose the right team, it would be great for the growth of your business. It is crucial to hire the right people that you can trust and rely on.
5. Create Your Website
There are various benefits of having a website for your tumbler business such as increasing visibility, trust, and sales.
A website allows customers to browse your products and learn more about your business at their convenience, rather than relying on in-person interactions or social media alone.
Additionally, with the help of a website you can reach a wider audience and expand your customer base.
Overall, a website is a valuable tool for any tumbler business, as it helps to increase sales, improve customer engagement, and establish your brand online.
6. Market Your Business
Marketing your business is important as it adds value to the conversation related to your products. It is regarding interacting with who you are and how you would resonate with your customers.
You can market your business in the following ways:
Use social media: Social media can be used to market your business. It can be used to make people aware of your business.
Hosting a giveaway: You will get eyes on your business by hosting a giveaway. You would come across groups of new people who would eventually become your customers in the long run.
Flyers: One of the best ways to market your business is to print flyers and distribute them in your local area.
Speak at an event: You can contact and gather local colleges or business networks and speak about your business to market it.
What Do I Need To Start a Tumbler Business
Ok Just imagine—designing and selling your own handmade tumblers. Sounds fun right?
But the question is, where do you even begin?
First, decide what types of tumblers you'll make.
Glass, plastic, stainless steel?
Different sizes and shapes?
Will they have lids or straws?
Next up, equipment. At a minimum, you'll need a few key supplies:
Tumbler Heat Press machine – for customizing and sublimating the tumblers with beautiful designs.
A Sublimation Friendly Printer
Sublimation Paper- to transfer sublimation designs on Tumblers
Some extra supplies like butcher paper, epoxy resin, packaging material, etc
You can sell your creations online, at local craft stores, or even to friends and family. As you grow your business, scale up your equipment and production.
But for now, focus on making each tumbler with creativity and care.
Is a Tumbler Business Worth It
A tumbler business can definitely be worth starting!
But it also takes a lot of work. You need to think about factors like:
Upfront costs – Tumbler-making supplies and equipment can get pricey. Budget for things like a Sublimation printer, heat press, inks, sublimation papers, shipping materials, etc.
Time investment – From designing tumblers to production to selling, it takes major time and effort. Be ready to put in long hours, especially at first.
Competition – The tumbler market is crowded. Your designs and marketing need to stand out. Offer unique, quality products that people can't find elsewhere.
Running the business – Managing inventory, orders, marketing, finances, etc. requires business savvy. Learn entrepreneurial skills like bookkeeping, social media, and SEO.
Earning potential – Profit margins can be slim, especially early on. Have a marketing plan to build your customer base. Offer promotions to boost sales.
The upside?
If you love making tumblers, the personal fulfillment alone may be worth it. Satisfied customers and growing your own brand can be hugely rewarding too.
Overall, while a tumbler business is very demanding, the opportunity for creativity and becoming your own boss can make it worthwhile.
How Much Does It Cost To Start A Tumbler Business
There are many things to consider when starting a tumbler business. How much does it cost to start a Tumbler business?
The answer is not simple, as the cost of starting a business can vary greatly depending on what type of business it is.
However, there are some basic costs that are common to most businesses, such as initial investment in equipment and supplies, licenses and permits, and marketing costs.
One of the biggest expenses in starting a tumbler business is the cost of buying or renting equipment.
You'll need to invest in some basic equipment, including tumblers, crystals, glitter, cup turners, waterslide tattoos, paper vinyl, popsicle sticks, and paintbrushes.
The cost of this equipment can range from several hundred to a few thousand dollars.
You'll also need to factor in the cost of shipping and supplies for your business. If you're starting out small, you may want to consider selling your products on Etsy or another online marketplace.
By doing so, you'll be able to reach a larger audience and generate more sales. Ultimately, the cost of starting a tumbler business will vary depending on your needs and the size of your operation.
But you can easily start a Tumbler business with $1000-$5000, if you want to have your own branding or website, it can cost you even more as running a website can be expensive.
Also Read: How To Make Money On Amazon Without Selling (Niche Blog)
Tumbler Business Name Ideas
Some of the Tumbler business name ideas are:
Sip & Savor
Tumble & Taste
Cup of Comfort
Take a Tumble
Sip Savvy
Tumble Time
Steady Sip
On-the-Go Tumblers
Sip & Adventure
Tumbler Trends
FAQs on How To Make Money Selling Tumblers
Here are some frequently asked questions on how to start a tumbler business.
Is It Profitable To Start a Tumbler Business?
Yes, it is quite profitable to start a Tumbler business. Especially if they are produced by machine and not manually.
What Kind Of Vinyl Is Used For Tumblers?
Permanent vinyl is the most common kind of vinyl that is being used for tumblers. Other than that, Cricut Permanent vinyl is also known to last long, and that too really well.
How Do You Keep Vinyl From Peeling Off Tumblers?
You have to make sure that you are using a permanent adhesive vinyl while creating tumblers. If you would use removable vinyl instead, there are chances that it will peel off instantly.
So you have to ensure that you are using a permanent vinyl so that peeling off does not happen.
Analyzing the Tumbler Business Opportunity
Let's pull together some key stats from this guide to show the profit potential:
Custom tumblers can retail for $15-$25 each
Raw materials cost around $5-$8 per tumbler
You can reasonably make 20-50 tumblers per week starting out
A monthly profit of $400-$1,500+ is achievable
Popular social media and online platforms provide built-in marketing opportunities
The market for customized tumblers is only expected to grow in coming years
As you can see, starting a tumbler side business requires reasonable startup costs and effort, but the ability to scale up sales and profits makes it an extremely attractive opportunity.
Is a Tumbler Business Right for You?
If you're crafty, creative, and enjoy designing and producing physical products, a custom tumbler business can be a perfect fit.
It allows you to tap into your artistic side and directly serve customers seeking quality personalized drinkware. Selling online opens up a global market from the comfort of your own home.
Start small, reinvest earnings to grow and optimize operations, provide excellent customer service, and promote creatively on social media.
The demand is there – now create a brand that shows off your unique talents, and you can ride the soaring tumbler wave to success!
So don't delay – grab your art supplies and heat up that tumbler press. The world of creative drinkware awaits. I hope this guide gave you the confidence and know-how to start your own tumbler business today! Let me know if you have any other questions.
Hey there! I'm Rohit Lohia, a passionate SEO enthusiast and the proud founder of Branded Bucks. I'm all about helping small business owners achieve success online through my blog. Join me on this exciting journey as we explore ways to make money online and build a thriving digital presence.