This post may contain affiliate links and we may receive a commission if you make a purchase through our affiliate link at no extra cost to you. Please read our disclosure policy for more information.
In recent years, teddy bears have become increasingly popular. They are seen as a symbol of love and comfort and are often given as gifts in birthday parties.
If you're looking for a business opportunity that doesn't require a lot of investment, starting a teddy bear business may be the perfect option for you.
Starting a teddy bear business is a great way to be your own boss and make some extra income. And the best part is, you don't need a lot of money to get started.
With just a few thousand dollars, you can purchase the supplies you need and start making teddy bears.
So in this article, I will be discussing how to start a teddy bear business with very low investment, so stick around!!
Also Read: How To Start A Golf Cart Rental Business (Easy Money!)
Is Starting a Teddy Bear Business in 2023 is a Good Idea?
Yes, starting a Teddy Bear business is a good idea and can be profitable here's why:
The global stuffed animals and plush toys market is expected to represent a value of over US$11,000 million by the end of 2026

Persistence Market Research
and not only that..
In 2020, retail sales of plush toys in the United States amounted to approximately $1.25 billion

Statista
Also according to Statista,
The Dolls & Stuffed Toys market worldwide is projected to grow by 2.87% (2023-2028), resulting in a market volume of US$24.70 billion in 2028
Even if you go and search for "Teddy Bear" on Google Trends, you will see a steady graph like this.
This clearly shows that the demand is huge and consistent in this industry,
I belive in numbers and the numbers are clearly showing that it's the best time to start a teddy bear stuffed toy business if you are planning to start one.
How To Start a Teddy Bear Business (Guide!!)
If you have no idea about the teddy bear business plan and how to get started then here is a step-by-step guide for you.
Here's a quick teddy bear business plan:
| Step | Description |
| --- | --- |
| Market Research | Conduct market research to understand demand, identify competitors, and determine pricing and positioning |
| Choose Niche | Decide on a niche by specializing in a certain type of teddy bear to differentiate your business and target an audience |
| Register Business | Register your business by choosing a name, registering with authorities, and obtaining licenses |
| Select Location | Choose a location like a storefront, kiosk, or mobile setup. Consider foot traffic, convenience, and cost |
| Source Suppliers | Source suppliers for bears, accessories, and packaging by considering quality, price, and delivery time |
| Production Process | Develop a production process to ensure consistent quality and efficiency if making your own bears |
| Online Presence | Set up an online presence with a website/ecommerce store and social media to showcase products and get sales |
| Market Business | Market your business using strategies like online ads, social media, and local partnerships |
| Customer Service | Provide excellent customer service through fast shipping, communication, and high-quality products to build loyalty |
1. Conduct Market Research
Starting a teddy bear business may seem like an easy and straightforward process, but there is more to it than meets the eye.
For your teddy bear business to be successful, you need to understand the teddy bear industry first and see what is currently working within it.
This means conducting market research to get a lay of the land and see what competition you might be up against.
Thankfully, market research is not as daunting as it sounds. There are many different ways to collect data on the teddy bear industry, you can analyze teddy bear shops around your neighborhood and see what kind of teddy is selling the most.
Once you have a good understanding of the industry and what consumers are looking for, you can start putting together your business plan and making your teddy bears!
Also Read: How To Start a Tie Dye Business (Beginner's Guide)
2. Decide a Niche
When starting a teddy bear business, it is important to decide on a niche before beginning production.
The type of teddy bear, gender, and even fur color can be important factors in deciding which market to aim for.
For instance, baby boy teddy bears are often blue or green, while baby girl teddy bears are typically pink or purple.
Furthermore, some teddy bear businesses focus exclusively on certain types of bears, such as black bears or grizzly bears.
Others may produce a variety of different types of stuffed animals but specialize in a certain size or style of a teddy bear.
Choosing a specialization sets you apart right out the gate. Narrow down based on factors like:
Bear types – e.g. specific breeds, characters, etc.
Materials – traditional plush, upcycled fabrics, organic
Uses – collectible vs playtime
Styles – from elegant to whimsical
Catering to a well-defined niche helps attract the ideal customers who will love your bears most.
Sometimes you need to make teddies for a certain occasion for eg. Christmas or Halloween, then you have to dress them according to the holiday theme.
So the most important factor in deciding on a niche for your teddy bear business is to consider your target market and the demand.
Also Read: How To Start A Yard Card Business (Complete Guide!)
3. Register Your Business
Once you've selected a business name and niche, it's time to make it official. The key steps here include:
Checking name availability & registering your business name
Obtaining necessary permits, licenses, or registrations
Choosing a business structure – sole proprietorship, LLC, etc.
Consult local government offices on specific requirements to operate legally in your region.
Having these ducks in a row protects your teddy bear brand as you gain customers.
4. Pick Your Workspace
Now it's time to determine where you will design, manufacture, and sell your cuddly creations.
Prime options include:
Storefront – Higher costs but excellent foot traffic and visibility
Kiosk in malls or markets – More affordable, but limited space
Home setup – If you do not care for foot traffic and want to sell online only then you can source raw materials from third-party vendors and start stuffing the bears at your home only. Then ship them out as soon as you start getting sales.
Consider upfront investment, storage, accessibility, and your production process when weighing options.
A small starter workspace can always expand as your customer base grows.
5. Get The Right Raw Material (Supplier)
Unless you plan to hand-make every bear (very time consuming!), sourcing wholesale materials is crucial.
Seek suppliers that offer:
Durable, soft fabrics in various colors and prints
Polyester stuffing or other filling materials
Customizable clothing, accessories and props
Packaging and tags for gifting
Samples and references help evaluate factors like pricing, minimum orders, and shipping reliability. Take time vetting to ensure excellent finished products.
Here are a few tips for finding good suppliers for your teddy bear business:
Do your research: Ask around and see if anyone you know has used a particular supplier before. Read online reviews and compare prices between different suppliers.
Make sure the supplier is reputable: Check their online reviews on Google maps/business, and see what others are saying about them, check out their factory, their office, etc to know more about them. And if possible ask for a sample first before giving them any order.
Make sure the quality of the materials is good.
6. Hire People If Needed
Although you can start a teddy bear business alone in starting phase, however, there may come a time when you need to hire employees to help you with the day-to-day operations. This is especially true if you want to scale your business.
When hiring someone to help with your teddy bear business, it's important to find someone who shares your vision and who is passionate about the industry. You also want to make sure that they are reliable and trustworthy.
The most important thing to remember when hiring someone for your teddy bear business is that they are an extension of your business. You want to make sure that they will represent your company in a positive light and help you grow your business.
Don't be afraid to ask for help when starting your teddy bear business. Hiring employees can free up your time so you can focus on other aspects of the business. With the right team in place, you can achieve great things!
Also Read: How To Start A Teeth Whitening Business (Step By Step)
7. Get a Business Website
A website for your business is a very important asset. After all, it's where customers will go to find information about your products and place orders.
But did you know that a website can also help you attract new customers and streamline payments? Here's why you should get a business website before starting your teddy bear business.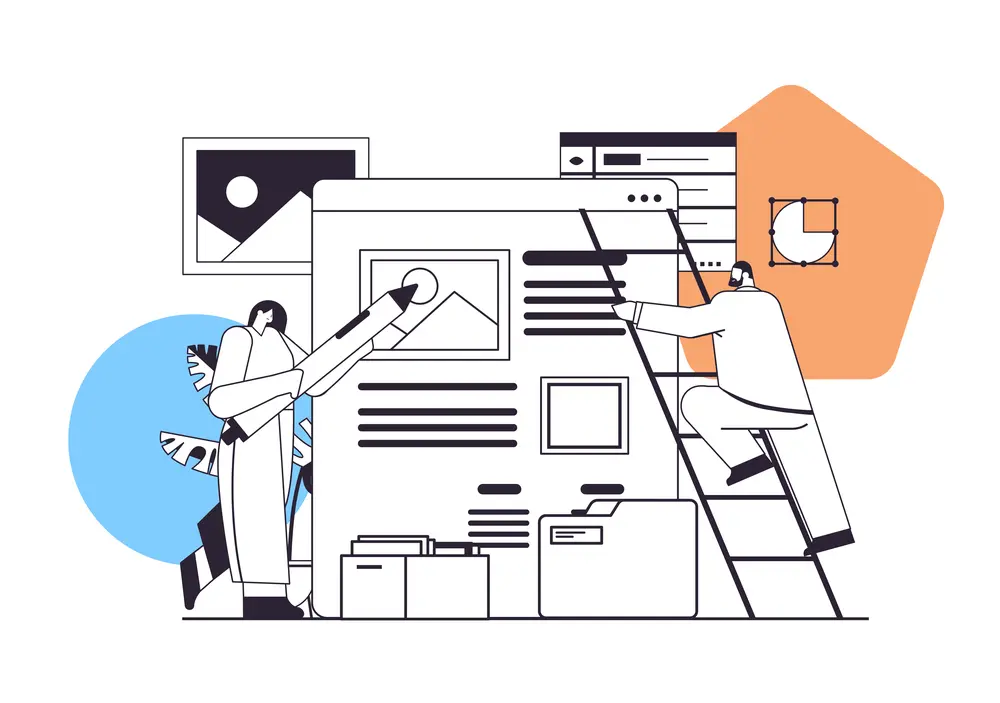 Your website is like an online brochure for your business. It's a great way to showcase your products and give potential customers all the information they need to make a purchase.
Plus, with a website, customers can place orders 24/7 – even when you're not at your desk!
A website can also help you attract new customers. Make sure to include keyword-rich content on your site so that people searching for teddy bears online can find you easily.
Getting a normal website for your business will cost you around $1000-$1500 but if you want an advanced e-commerce website that can handle payments and allow customers to place orders then it is going to cost you more, somewhere around $3000-$5000.
A cheaper alternative would be to start with Shopify but you are not going to completely own your business there, Shopify can remove your site anytime in the future if you go wrong (Which happened with my dropshipping store), so I recommend you invest one time and build your own self-hosted website.
8. Market & Start Taking Orders
When it comes to marketing your teddy bear business, there are a number of ways you can get the word out there and start taking orders.
While traditional marketing methods like print ads or distributing flyers can be effective, today more and more businesses are finding success with digital marketing.
There are a number of advantages to marketing your business online. For one, it's much easier to reach a larger audience than with traditional methods.
You can also target specific demographics with online advertising, making sure that your message is reaching the people who are most likely to be interested in what you have to offer.
Perhaps most importantly, though, digital marketing is often much more cost effective than traditional methods.
So how you can promote your teddy bear business online?
There are many ways to market your teddy bear business.
One way is to use search engine optimization (SEO) to make sure your website appears as the top result when people search for teddy bears online.
Another way is to use social media platforms like Instagram, Facebook, and TikTok to post pictures and short videos of your teddy bears.
You can also create YouTube Shorts videos to show potential customers how your teddy bears are made.
No matter which marketing methods you choose, the important thing is to be creative and have fun!
Also Read: 10 Best Small Business Packaging Ideas | Cute Packaging Ideas For Small Businesses 2022
Is It Profitable To Start a Teddy Bear Business?
Starting a teddy bear business can absolutely be profitable, especially if you find the right niche and execute well.
Here are some key reasons and real-world examples that show why teddy bear businesses can thrive:
With a smart plan and execution around pricing, promotion and customer experience, a teddy bear business can absolutely thrive and generate impressive profits over time. The key is finding an underserved niche and delighting your customer
Teddy Bear Business Names
Here are some business name ideas for your teddy business.
Note: Please do your own research about the trademark, availability and copyright before using these names.
Fuzzy Paws
Teddy Tales
Plush Haven
Cuddle Cove
Bear Hug
Snuggle Spot
Fluff Nook
Paws Paradise
Cozy Cubs
Hug Harbor
Loveable Bears
Whisker Whispers
Dreamy Bears
Paws and Play
Furry Friends
Bear Necessities
Cuddle Corner
Velvet Paws
Starry Bears
Rainbow Bears
Final Words
Starting a teddy bear business can be a fun and rewarding experience. With a little planning and research, anyone can be successful in this industry.
I hope this article has answered most of the questions about the teddy bear business if you still need to ask anything the comment section is for you, drop your questions and I will reply to all of you.
Thank you for reading !!
Hey there! I'm Rohit Lohia, a passionate SEO enthusiast and the proud founder of Branded Bucks. I'm all about helping small business owners achieve success online through my blog. Join me on this exciting journey as we explore ways to make money online and build a thriving digital presence.