This post may contain affiliate links and we may receive a commission if you make a purchase through our affiliate link at no extra cost to you. Please read our disclosure policy for more information.
Managing multiple profiles can be crazy without the right tools. Am I right or am I right?
It gets overwhelming posting fresh content daily while making sure it looks polished and branded.
But what if you could create stunning visuals on Canva and schedule them to go live on social media with just a few clicks?
How to schedule social media posts on Canva?
Enter Canva's Content Planner!
Canva's new built-in scheduler is a total game-changer for your social media strategy.
In this detailed guide, I'll walk you through exactly how to use Content Planner to plan and schedule posts directly from Canva!
Let's get started, shall we?
You May Also Like:
The Problem Faced by Social Media Users
Managing multiple social media accounts requires posting unique content daily to keep your audience interested.
However, this becomes difficult when you have different designs tailored for each platform.
Social media users struggle with:
Creating customized graphics for individual platforms
Finding time to design fresh content regularly
The inability to post designs directly from Canva to social media
This leads to rushed, low-quality content being shared online.
Canva's Content Planner: The Solution
Canva realized these pain points and introduced the Content Planner – a built-in scheduling tool.
This nifty feature lets you effortlessly plan and schedule social media posts with Canva designs.
The key benefits offered by Canva's Content Planner:
Schedule posts directly from Canva
Seamlessly publish to multiple platforms
Plan and queue content in advance
Save time and manage social media efficiently
With Content Planner, you can now create engaging posts when it's convenient for you and schedule them to go live on your social channels automatically at the best times.
How to Schedule Social Media Posts On Canva (Step by Step)
The process of scheduling content with Content Planner is quick and straightforward once you get the hang of it.
Here is a step-by-step walkthrough:
Using Content Planner From Canva Homepage
First, you need to access the Content Planner itself within Canva.
You can open it in two ways:
From the Canva homepage, Click on Apps
Now click on Content Planner from the left sidebar menu.
This will open up the calendar view for scheduling your social media posts.
Click the "+" icon beside the date you want to post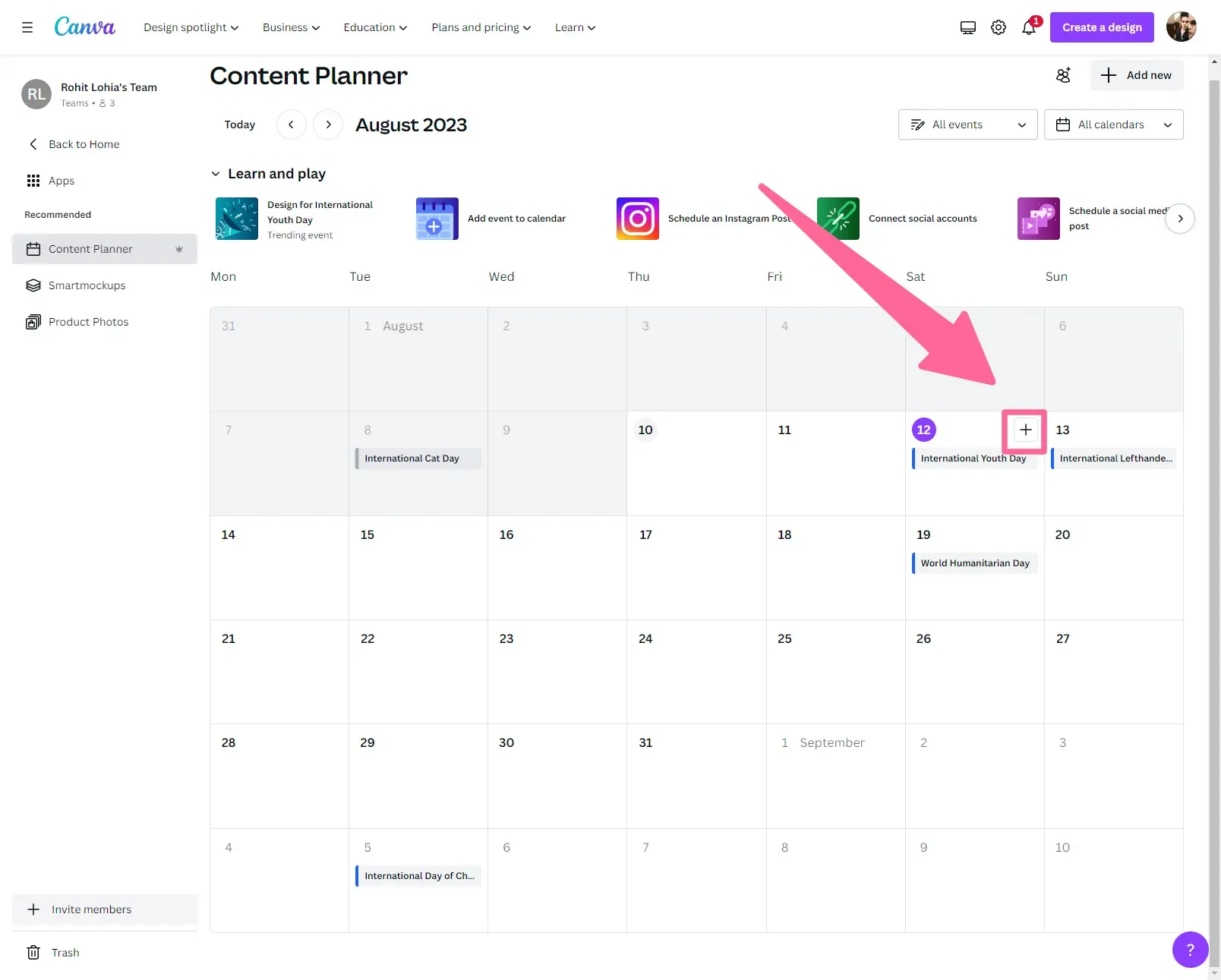 Select an existing design or create a new one.
Click the three dots icon to set the date, time, and timezone
Choose your social media channel – Facebook, Instagram, etc.
Add an attention-grabbing caption and relevant hashtags
Preview all details and click Schedule Post to finish!
Using Canva Content Planner From Editor Page
First, Open any of your social media designs inside the Canva editor.
Now, click on the "Share " button from the top right corner of the editor screen, then Click On "More"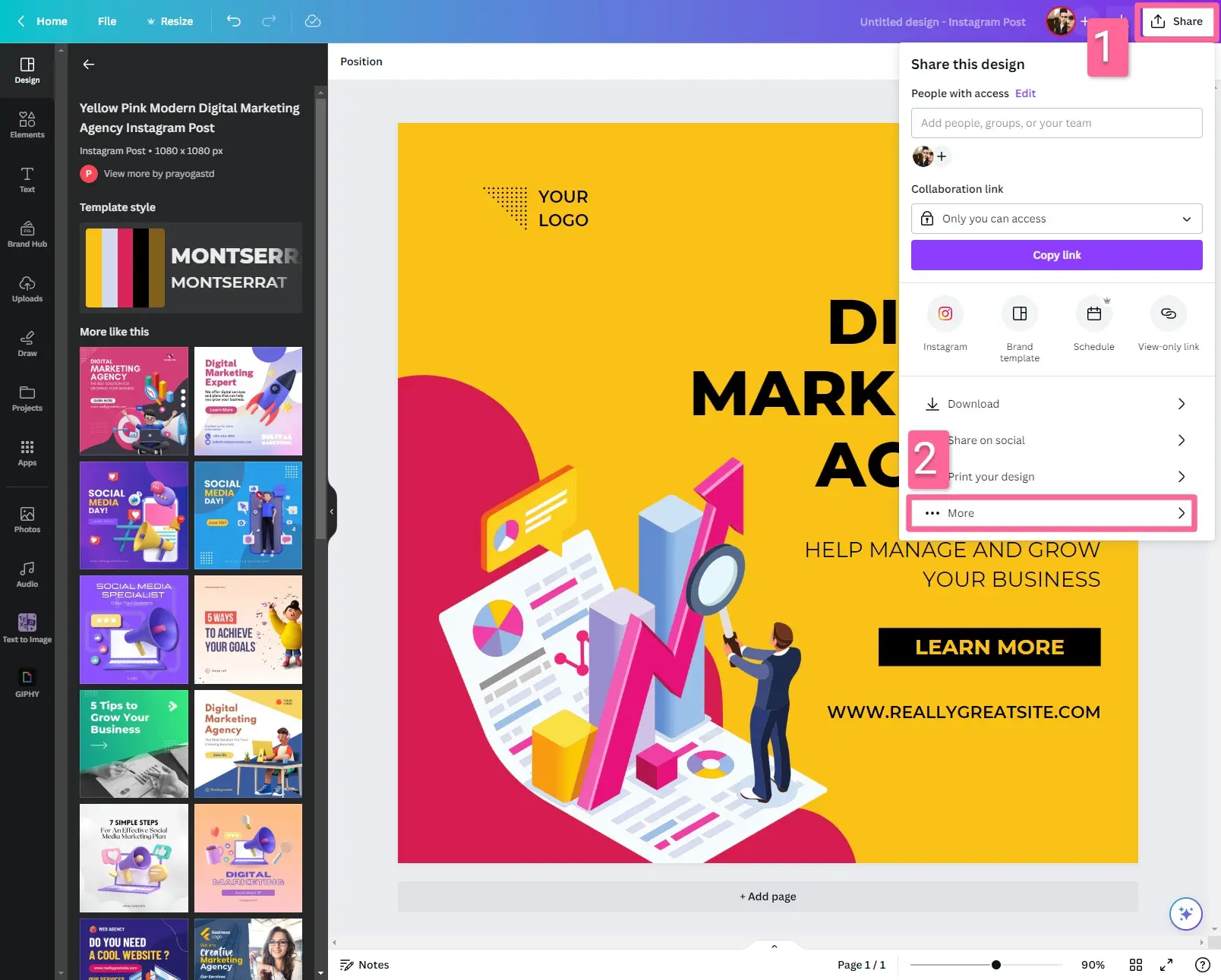 Search For the Schedule button and click on it.
Pick your preferred date in the calendar.
Select the right time and social media channel to publish to.
And write a caption for your post.
Review and click Schedule Post to line up your content!
Next, let's look at some common questions about Canva's Content Planner.
FAQs about Scheduling Social Media Posts on Canva
Here are quick answers to some frequently asked questions:
Can free Canva users access Content Planner?
Unfortunately, the Content Planner is only available for Canva Pro, Enterprise, and Nonprofit accounts. Free users cannot schedule posts.
What social media platforms can you schedule posts to?
You can schedule Canva designs to these platforms:
Facebook
Instagram
Twitter
LinkedIn
Pinterest
Tumblr
Slack
Can you reschedule posts?
Yes! You can easily edit the date or time of already scheduled posts.
Just click the three dots menu on that post and update as required.
How do you delete scheduled posts?
To remove a scheduled post, click the ellipses menu on that post and select Delete.
This will permanently delete it.
Can you edit captions after scheduling a post?
Absolutely! You can tweak the text, captions, hashtags or emojis of scheduled posts any time before they are published.
What's the maximum hashtag limit per post?
You can add up to 20 hashtags per post scheduled with Content Planner.
I hope these answers clarified some of your questions about Content Planner!
Now, let's wrap things up.
Wrapping Up
And that brings us to the end of this step-by-step guide on using Canva's Content Planner!
As you saw, Canva has really revolutionized social media scheduling for busy social media kings like you and me.
Content Planner makes it super easy to:
Create stunning, branded visuals
Customize posts for different platforms
Schedule content in advance
Publish directly to social media with a click
Optimize engagement and grow your audience
So don't waste time downloading your creatives and posting manually anymore!
Try Canva's Content Planner to take your social media game to the next level with beautiful, engaging content.
Let me know if you have any other questions in the comments below!
And if you found this guide helpful, share it with friends and colleagues who manage social media.
Happy Scheduling! 😄
Hey there! I'm Rohit Lohia, a passionate SEO enthusiast and the proud founder of Branded Bucks. I'm all about helping small business owners achieve success online through my blog. Join me on this exciting journey as we explore ways to make money online and build a thriving digital presence.