This post may contain affiliate links and we may receive a commission if you make a purchase through our affiliate link at no extra cost to you. Please read our disclosure policy for more information.
Stickers are a fun and easy way to add a funky and funny look to your belongings and with the tools like canva it's so damn easy to create stickers of your own.
And the best part is that you can also turn your passion for sticker-making into a small business by selling them online on marketplace like Redbubble, Etsy, etc.
With Canva, you can turn your favorite photos into stickers, create custom text stickers, or even make your own emoji stickers.
In this guide, I'll walk you through the process of creating stickers on Canva, from start to finish.
You'll learn how to upload your own images, how to use Canva's built-in design elements, and how to save and share your stickers.
So, grab your laptop, and let's get started!
How to Make Stickers on Canva (Step By Step)
Before we move ahead with the sticker-creating process I need to tell you about some basic type of stickers.
So to simplify things for you I have divided stickers into 3 different categories:
Vector/illustration Stickers: These stickers are made using vectors & illustration graphics.
Text Stickers: These stickers are only made up of text with various fonts.
Image/Photo Stickers: These stickers are created using real photos of humans, animals, places, etc.
So these are some basic sticker types that you can create using Canva.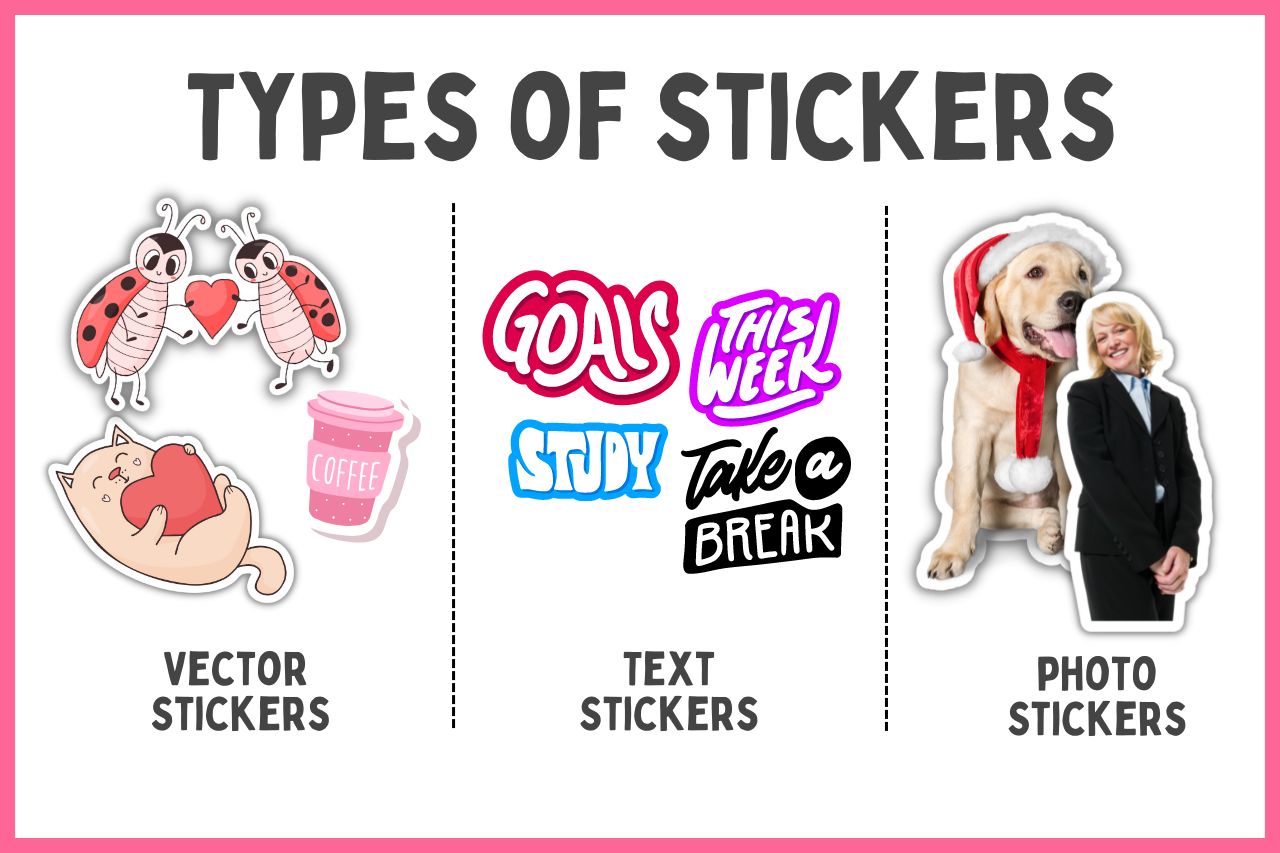 And here is some good news, In this article, I am going to tell you how to create all 3 types of stickers easily inside canva, so let's start.
How To Make Cute Vector Stickers On Canva
So this is the first sticker category and the cutest one that I have mentioned above.
As the name suggests, vector stickers usually need some type of vector art, digital illustration, or graphical elements that are the main highlight of the sticker.
You can either draw your own graphic illustration using applications like Procreate and then compose that inside canva or if you don't have digital art skills you can use premade illustrations from the canva library.
So let's see how to make vector stickers inside canva:
Step 1: Open Up Canva and Create a Document
So the first step to creating vector stickers is to go to the canva.com website, login with your account, and create a blank document by clicking the "Create a Design" button from the top right corner.
Now it will ask you to choose a dimension for your document, you can select it based on your needs, I am using custom dimensions for 2000Px X 2000Px for this tutorial.
Step 2: Choose Your Graphic Elements & Illustrations
Now you have a blank canvas in front of you, it's time to get creative and design your sticker.
I want to create a sticker for cat lovers so first I will search for some cat illustrations inside canva.
For that I will click on the Elements tab from the left sidebar and search for "Cat" in the search bar, then I will switch to "Graphics" from the top bar, this will make sure that I will only see the graphical elements for the search term "Cat".
Step 3: Add Text & Fonts (Optional)
Now if you want, you can add text, quotes, and sayings on your stickers to make them more cute and funny.
To do that, click on the text option from the left sidebar and drag and drop a heading into your canvas.
Now enter your text and align it properly with your sticker.
Now I suggest you change the font of the text to something more cute and quirky.
Fortunately, canva has a huge library of fonts that you can use in your stickers.
To change the font, click on the text layer and then click on the drop-down from the top left corner and there you will a huge collection of fonts and their categories.
Here I am using "Maely" font for my sticker, you can choose whatever you want.
You can also play with other settings like "Letter Spacing" & "Line Spacing" to achieve the desired results.
If you want to do something out of the box you can try flipping the text in canva and creating some unique designs.
Step 4: Add Border Outline (Optional)
You must have seen those white borders around stickers, well that type of border or outline is added to the sticker to enhance its visual appearance and separate it from the surrounding where it is used.
There are multiple ways to add a border around your sticker inside canva but here i am going to show you the easiest and most efficient one.
So How To Add Outline or Border To Your Sticker?
So to add a border around your image you have to first download the sticker as a transparent PNG after completing Step 3 which is after adding your graphic element and text.
Once the PNG image file gets downloaded in your system, you have to ten reupload it in your canva again. You can use the same canvas to simplify the process.
Now you have to select the sticker image and click on the "Edit Image" option from the top left corner. Now search for the "Shadows" option over there and click on it.
Now select the "Glow" option from there and then set the Transparency to 100% and Blur to 0% to achieve the outline.
Now you can play with the outline size and color according to your needs.
If you see an empty or blank areas after adding your outline, you can use the draw tool from canva and fill those blank spaces by using the same outline color.
Step 5: Download the Transparent PNG File
Once everything is completed, you can download your sticker again in transparent PNG format.
How To Make Text Sticker
Creating a text sticker is quite similar to the one we have created above, we are just not going to have any digital illustration/art/vector in this type of sticker.
Everything is going to be text.
So in short, create a canvas inside canva, add your text, align it properly, change the font, add the outline and your text sticker is ready.
How to Make Digital Sticker From a Photo on Canva
Want to make a sticker from a real photo?
Yes! you can do that with canva.
Just follow these steps:
Add Your Photo To Canvas
So first of all you have to upload the image that you want to make a sticker from to canva.
You can simply drag and drop your image on canva or you can go to the "Upload" section on the left sidebar and upload your image from there.
Remove Photo Background
After uploading your image on the canvas, you have to remove its background.
Fortunately, removing the image background using canva is child's play.
All you have to do is select the image and then click on the "Edit" button from the top left corner and then select "BG Remover" from there.
Add Text & Outline
Now after removing the background you can use the same Steps 3- Steps 5 mentioned above to add text and outline to your sticker.
And after finishing all the steps, your sticker will look something like this.
You can now download your sticker in transparent PNG format.
Now you can either print these stickers by yourself at home or you can order them online.
Canva also provides printing services, and you can order your prints from the as well.
FAQ
Can I use Canva to create and sell stickers?
Yes, definitely.
You can use canva to create and sell your stickers online.
How do I turn an image into a sticker?
It's so easy to turn an image into a sticker using canva, you just have to remove the background of the image and add some text and borders to your sticker.
We have mentioned all the steps how it is done in this article.
Final Words
So making stickers using Canva is a fun and easy process.
By following these simple steps, you can create professional cute stickers for personal or business use in no time.
Whether you're a beginner or an experienced designer, Canva's user-friendly interface and extensive library of templates, graphics, and tools make it an ideal platform for creating custom stickers.
So go ahead, get creative, and make your stickers using our go-to tool Canva!
Got any questions? comment down below, I reply to all the queries!!
Hey there! I'm Rohit Lohia, a passionate SEO enthusiast and the proud founder of Branded Bucks. I'm all about helping small business owners achieve success online through my blog. Join me on this exciting journey as we explore ways to make money online and build a thriving digital presence.