This post may contain affiliate links and we may receive a commission if you make a purchase through our affiliate link at no extra cost to you. Please read our disclosure policy for more information.
Are you looking to create eye-catching Instagram story highlights but don't know where to start?
I get it – designing polished highlight covers can seem daunting, especially if you're not a pro.
But don't stress! In this quick guide, I'll show you the easiest way to make Instagram highlight covers on Canva, step-by-step.
With Canva's user-friendly design tools, you can make beautiful, cohesive covers in minutes, even if you don't have any design experience.
By following this simple How To Make Instagram Highlight Covers in Canva tutorial, you'll quickly learn how to:
Selecting right dimensions for your highlight covers
Customize the colors and background
Add beautiful backdrops
Add your own texts and icons
Finalize and export your cover
Ready to create beautiful highlight covers for your Ig profile? Let's get started!
You May Also like:
How to Make Instagram Highlight Covers on Canva (Step By Step!)
Here are the steps that you can follow to make beautiful ig highlight covers without canva without Canva Pro account.
Step 1: Create a Blank Canvas or Choose a Template
The first step is to visit Canva website and create a blank Canvas for your Ig Highlight covers.
What's the correct Instagram highlight cover size?
The correct size for IG highlights is 1080 Px X 1920 Px
Widht: 1080 Px
Height: 1920 Px
To create a blank canvas for your highlights, click on "Create a Design" button from the top right corner and then search for "Instagram Story Highlight Cover" with the mentioned dimension.
Click on the "Instagram Story Highlight Cover" option and it will open up a blank canvas in a new tab.
Don't want to create highlights from scratch? you can even use Canva's premade templates.
How to do that?
Open Canva and type "Instagram highlights" or "Instagram story highlights" into the search bar.
Select an existing template from the options shown. Existing templates provide great inspiration and you can fully customize them as per your needs.
You can also browse Canva's massive template library by category to find a cover design you love. Then just replace the sample text and images with your own.
If you are using a template approach you can skip the next 2 steps and directly continue from step 4.
Step 2: Choose a Background Color or Background Photo
If you are designing the Instagram highlights from scratch using a blank Canvas then the next step would be to choose a background for your highlights.
The background could be an image, a color, a texture, or a gradient.
It all depends on what you actually want.
a) Select Color as Background
To set a color as a background, click anywhere on your blank canvas and then click on the color palette from the top toolbar, and from the color picker select any color you want as per your theme.
b) Selecting Image as Background
To set an image as background you can upload your own images into Canva or you can use Canva's stock images.
Canva has a great collection of stock photos like gradients, textures, glitters, etc.
Just click on "Elements" from the left sidebar and search for your desired image, switch to "Photos" and then add any of the image you want.
Step 3: Add a Backdrop (Optional)
The backdrop is usually circles that you see in the highlights, this is what is going to be displayed in the circle.
If you want to use the background that we previously added as a backdrop then you can skip this step.
There are many creative ways to add a backdrop you can search for shapes, frames, and elements from the canva library and select whatever works for you.
Make sure, the backdrop should not affect the readability or visibility of the text and icons that we are going to insert in the next step.
Step 4: Add/Customize Your Text or Icons
The background is done, the backdrop is done, and now that main part, adding relevant texts and icons to your highlights.
To add a text you can click on "Text" from the left sidebar and then insert a text layer into your Canvas and then add whatever text you wanna add.
So for eg: you can add text like :
Travel: To display your current travel images
Review: to display your client reviews
Prices: To display the pricing of your products and services
You can change the font and colors of the text using the top toolbar.
Generally, cursive fonts tend to work best for highlights.
If you are not a fan of text you can also add icons to display related stuff.
You can head over to the "Elements" section from the left sidebar search for your desired icons and add them to your highlight template.
Step 5: Download and Upload Your Highlight Covers
When you are done creating your highlight covers, you can download them and then upload them to your Canva profile.
To do that, click on the "Share" button from the top right corner and then click on the "Download" option.
Select your file type, JPEG or PNG is preferred.
Then select all the highlight pages that you want to download.
And Viola!! the highlight covers will be downloaded into your system.
How to Upload Instagram Highlight Cover
Now in order to upload the highlights, you have to transfer them to your mobile device first.
Open the Instagram APP and go to your profile page.
Tap on "Highlights" below your bio and tap the "+" to make a new highlight.
Give your highlight a name and tap "Add Cover".
Select your cover file from your camera roll or wherever you have saved the highlights.
And you are done.
Instagram Story Highlight Cover Templates (Cherry Picked!)
Here are some of the best Instagram highlight cover templates that are cherry-picked for you by me.
I haven't created these, so all the credit goes to their respective designers.
1. Teal Letterings Instagram Highlight Covers
Credits: Wylene Soriano Duque
Click Here to Use (Requires Canva Pro)
2. Black and White Modern Words Highlight Covers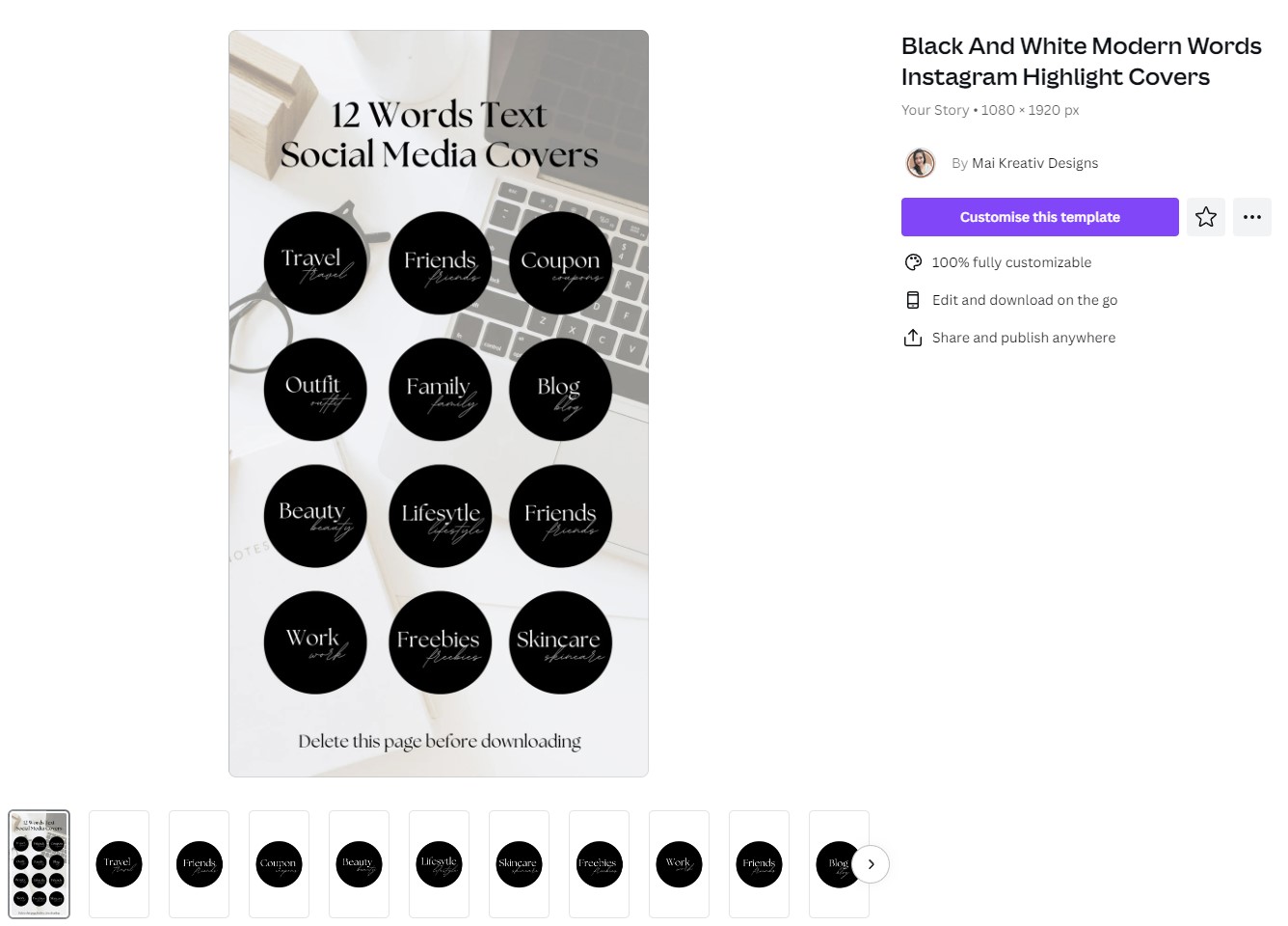 Credits: Mai Kreativ Designs
Click Here to Use (Free)
3. Purple Gradient Instagram Highlight Covers
Credits: Mai Kreativ Designs
Click Here to Use (Free)
4. Black Hand Drawn Beauty Highlight Covers
Credits: Mai Kreativ Designs
Click Here to Use (Requires Canva Pro)
FAQ about How to Make Instagram Highlight Covers in Canva
Here are some frequently asked questions on how to make Instagram highlight covers
How do you make a custom highlight cover on Instagram in Canva?
To make custom highlight covers in Canva, create a blank canvas with proper dimensions, then choose a background, add a backdrop, add your icons or texts and then download the highlight covers.
Can you make highlight covers on Canva?
Yes, you can easily make highlight covers on Canva. You can either choose a premade highlight template from Canva's massive library or you can even create from scratch.
What are the dimensions for Instagram highlight covers?
The ideal dimensions for Instagram highlight covers are 1080 px X 1920 px.
Wrapping Up
And there you have it – everything you need to know to create beautiful, polished Instagram highlight covers with Canva!
I hope you found these steps helpful.
Now it's your turn to put these tips into action!
Try out a few different styles and themes as you get comfortable with the process. Don't worry about perfection. The more you experiment, the more you'll develop your own signature highlight cover aesthetic.
Once you get the hang of it, you'll be cranking out cover after cover in minutes. Before you know it, your Instagram will be filled with eye-catching highlight covers that show off your vibe.
Let me know how it goes in the comments! And feel free to hit me up if you have any other questions.
Wishing you the best of luck – you got this!
Hey there! I'm Rohit Lohia, a passionate SEO enthusiast and the proud founder of Branded Bucks. I'm all about helping small business owners achieve success online through my blog. Join me on this exciting journey as we explore ways to make money online and build a thriving digital presence.