Whenever it comes to creating beautiful collages, canva is my go-to tool.
It makes it so easy to create beautiful images and video collages that even a beginner can easily do it.
So in this tutorial, I will show you how to make collage in Canva using photos and videos.
I will also share some tips and tricks for creating the perfect collage.
So without any delay let's take a look at how to make a photo collage in canva.
What are Collages and Why do People Create Them
The word "collage" comes from the French word "coller," which means "to glue."
A collage is a visual art form that involves combining different materials, such as photographs, magazine clippings, drawings, and other objects, into a single composition.
In the digital world, a collage is nothing but just a collection of similar types of images and videos that are grouped together to display a certain feel.
Why Does Everyone Prefer Collages?
One reason why people prefer collages is to showcase their photography or artwork skills.
By creating collages, people can bring a certain mood and feeling to their work, making it more engaging and memorable for their audience.
Another reason people use Canva to create image collages is to create marketing materials.
For example, businesses may use collages to showcase their products, highlight customer reviews, or promote a sale or event.
Below are some examples of photo collages based on different themes created using canva.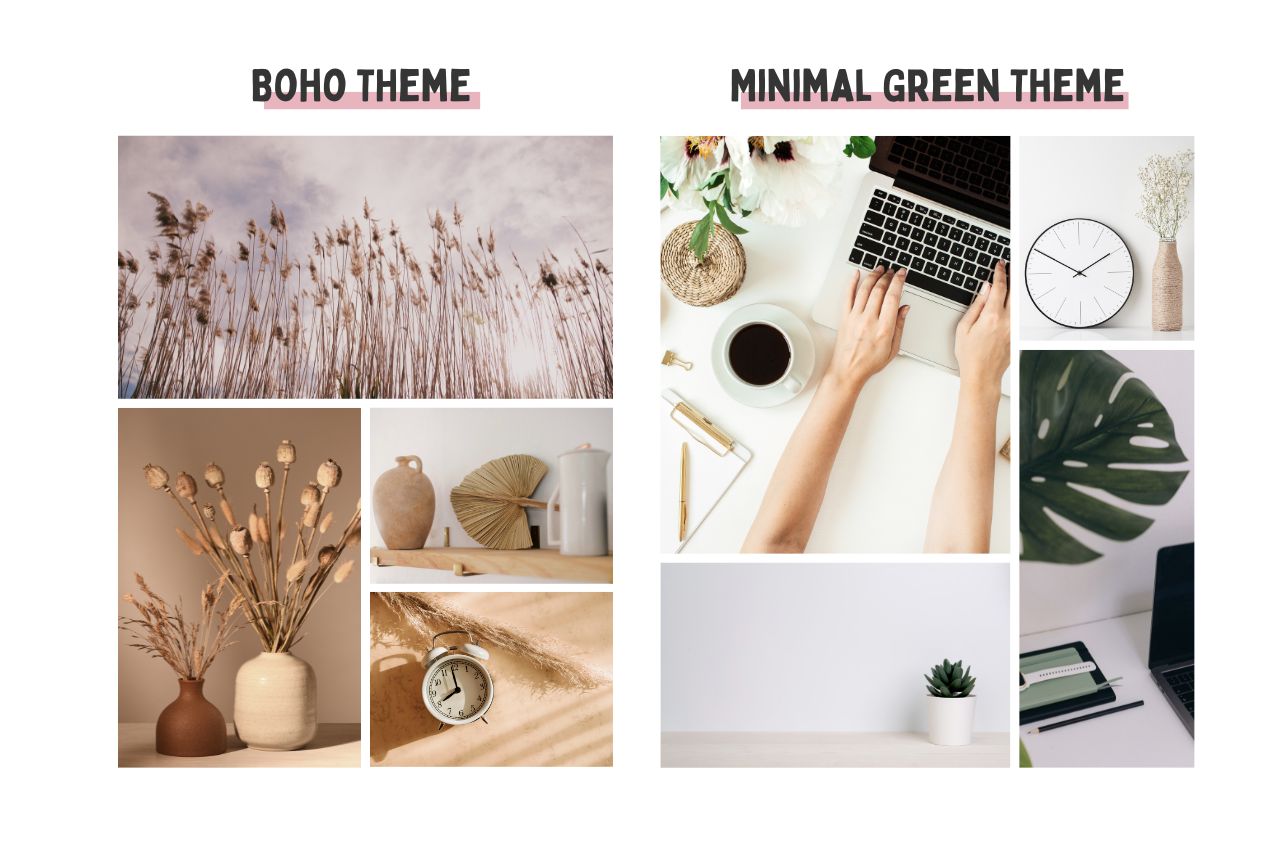 How To Make Photo Collage In Canva (Step By Step)
So now you know what are collages and what is their purpose, you must be getting curious about how to create one for you right?
Well here is a step-by-step tutorial on how to make collages in canva.
Method 1: Creating Collage Using Premade Templates
Step 1: Login And Type Collage In Canva Search
Log into your Canva account and after you logged in type "Collage" in the search bar at the home page.
Step 2: Select Your Design.
You will see a variety of premade collage templates, click on the one you like to use.
Step 3: Add Your Photos And Videos In The Placeholders
After clicking on the template canva editor will open with all the content of the template.
Now, Add your photos and videos by simply dragging and dropping them into the placeholders.
Also Read: 11 Best Cursive Fonts On Canva
Step 4: Resize And Reposition Your Pics Or Videos.
Resize and reposition your photos and videos as you like by using the handles around them.
Step 5: Download Your Design.
When you finish editing, click on "Download" in the top right corner and select your file format.
Also Read: How To Make A Vision Board On Canva
Method 2: Creating A Collage Using Canva Grids
Step 1: Login And Create A New Design.
Log into your Canva account and after you logged click on "Create a design" from the top right corner.
Step 2: Enter Your Dimensions Or Choose From The List
Enter your document dimensions (eg. 2000 X 2000 Px), you can also choose from pre loaded dimensions.
Step 3: Search For Canva Grids.
Now go in canva elements tab and search for "Grids".
Step 4: Choose The Relevant Grid Style
Choose the grid style that you love and click on it.
Step 5: Drag And Drop Your Images Into The Grids
Drag and drop your images or video in the placeholders. Your images and videos will automatically get stuck into the grids.
Step 6: Download Your Collage In Your Proffered Format.
When you finish editing, click on "Download" in the top right corner and select your file format.
Method 3: Creating A Collage Completely From Scratch
Use the below steps if you want to create a collage completely from scratch without relying on templates.
Step 1: Login And Enter Your Dimension.
After logging in to your canva account create a custom document with your preferred dimensions.
Step 2: Search For Frames Inside Canva Elements
Go under the elements section and search for "Frames".
Step 3: Select All The Frames That You Love
You will be able to see different types of frames, select the ones that you like and place them in your document.
Step 4: Create A Custom Layout Using Your Frames
You can create your own layout using these frames, you can fully customize it you don't have to rely on templates.
Step 5: Drag And Drop Your Images And Videos In Your Layout
Drag and drop your images or videos inside the frames and adjust their sizing accordingly.
Step 6: Download Your Collage
When you finish editing, click on "Download" in the top right corner and select your file format.
Also Read: How To Add Clickable Links In Canva Designs
How To Make a Video Collage In Canva
There is no special way to make a video collage in canva, you can use any of the above-mentioned methods.
Just be sure to add videos instead of images in the placeholders.
You can add videos from your computer or you can also select from Canva's library of over a million free photos and videos.
And also when you are done editing, make sure you download the document as MP4 instead of JPG or PNG otherwise the videos won't be included in the final file.
Here is a video tutorial on how to create a video collage in canva, i have used the grid method in this tutorial:
Tips And Tricks For Creating Perfect Collage
Here are some of my personal tips and tricks to create collage in Canva.
1. Use Different Canva Frames
Try to mix and match different types of Canva frames to hold your images when creating a collage, this will give your collage a dynamic and creative look.
2. Add Text
Adding text to your collage is a great way to add some personality and flair. You can use Canva's built-in text editor to add text to your collage.
Just click on the "Text" button in the left sidebar and then start typing.
If you don't know how to pair text in your design you can have a look at 10 Best Canva Font Pairings & Combinations
3. Use High-Quality Images And Videos Only
When creating a collage, it is important to use only high-quality images and videos. This will ensure that your collage looks its best when it is printed or shared online.
You can either use your own high-quality images and videos, or you can select from Canva's library of over a million free photos and videos.
4. Follow a Theme
Picking a unified theme is key to creating a cohesive and meaningful collage.
Decide on a color palette, specific subject matter, mood, or aesthetic you want your collage to have. For example, you could focus on warm tones and nature images for a peaceful vibe.
Keep your theme in mind as you select and arrange images.
Following a consistent theme will make your collage look purposeful, not haphazard.
5. Use Decorative Elements Or Stickers
Don't forget to decorate your collage!
Things like patterned paper, fabrics, ribbon, glitter, sequins and more can make your collage more interesting to look at.
Stickers are another fun way to decorate.
Look for sticker shapes, borders, letters or pictures that go with your theme.
Place stickers carefully around the edges or fill in empty spaces between photos.
Word stickers can add text and titles. Get creative with decorations and stickers to tie your collage together. They make your collage look artistic and complete!
FAQ on How To Make a Collage In Canva
Although making a collage inside canva is really straightforward process but here are some common questions that you might have.
Does Canva have a collage maker?
Yes, Canva does have a Collage Maker, which is nothing but a collection of premade collage templates based on various themes.
You can just open the template and replace the photos with your own and get your collage done in minutes.
Is Canva good for collages?
Yes, Canva is amazing for making collages whether its a photo collage or video collage.
You have a variety of templates, customization options, graphic elements, and fonts to make your collage beautiful and eye-catching.
How do I use Canva collage templates?
It's very simple, just search for any collage templates on Canva and then select any one that you like, you can then add your own photos in it, replace the text, add graphical elements, etc.
Conclusion
So In this tutorial, I have shown you how to make a collage in Canva using photos and videos.
I have also shared some tips and tricks for creating the perfect collage.
So don't hesitate to give it a try! And be sure to let me know what you think in the comments section below. Thanks for reading!
Hey there! I'm Rohit Lohia, a passionate SEO enthusiast and the proud founder of Branded Bucks. I'm all about helping small business owners achieve success online through my blog. Join me on this exciting journey as we explore ways to make money online and build a thriving digital presence.