Are you looking for an easy way to create a QR Code for your Etsy shop?
With QR codes, you can quickly and easily showcase your shop on business cards, in emails, or even on other promotional materials.
Not only will it help expand your business reach, but it also looks professional and modern.
Creating a QR code is simple and only takes a few minutes. Once you have your QR code, you can add it to your shop's banner, thank you cards, shipping boxes, etc.
Customers can scan the code with their smartphone and be taken directly to your Etsy shop or anywhere where you want them to redirect.
In this article, I'll provide you with a step-by-step guide on how to make a QR code for an Etsy shop in the easiest way possible.
How You Can Use a QR Code As An Etsy Seller
You can use QR code:
1. On Your Business Card
You can add a QR code on your business cards that will redirect your customers to your Etsy store whenever they scan it.
So instead of typing your shop address manually they can now scan the QR and visit your shop directly.
So, eventually, you will make it easier for them to visit your shop and make their purchase.
2. On Thank You Cards
If you include thank you cards with your orders, you can use them as an opportunity to promote your Etsy shop by adding a QR code. Customers can scan the code and be taken straight to your shop or social media profiles to check out your other products.
3. On Shipping Boxes
Another great way to promote your Etsy shop is by adding a QR code to your shipping boxes. Customers can scan the code and be taken directly to your shop to see what other products you have to offer.
Related Articles:
How To Find People, Sellers and Shops On Etsy (Easy Trick!)
22 Best Digital Products To Sell On Etsy (Real Examples!!)
How Much Can You Make Selling Art On Etsy (Exposed!!)
How To List a Digital Download On Etsy (Step By Step!)
How Does A Customer Scan And Use A QR Code?
Using a QR code is simple!
All your customers need is a smartphone camera and an app that can scan the code.
Once they have these two things, it's just a matter of pointing your phone at the QR code, allowing it to focus on the image, and then using the app to process it.
Depending on what type of content is encoded in the QR code, they can be taken directly to an Etsy shop page or even a social media page without having to type in any web addresses!
How To Make a QR Code For Etsy Shop
The easiest way to create a QR code for your Etsy store is by using canva, the only drawback is that you can only create URL Qr codes with this method.
This means you can only embed your Etsy shop, social media, and website URL in the Qr code.
But I guess that is enough for now, however, if you want to know how to create an advanced QR code you can read our guide here.
Step 1: Create a Blank Canvas In Canva
So the first step is to create a Blank canvas inside canva and that can be done by visiting canva.com, logging into your account, and clicking on the "Create a Design" button from the top right corner of the screen.
Now you can either choose from pre-defined templates or create your own using the custom size option.
The first step is to of course open the canva design that you want to add the Qr code in. You can create a new design or open an existing one.
Step 2: Select More From The Left Sidebar
After you have created your blank canvas, look at the left sidebar, and click on the "More" option.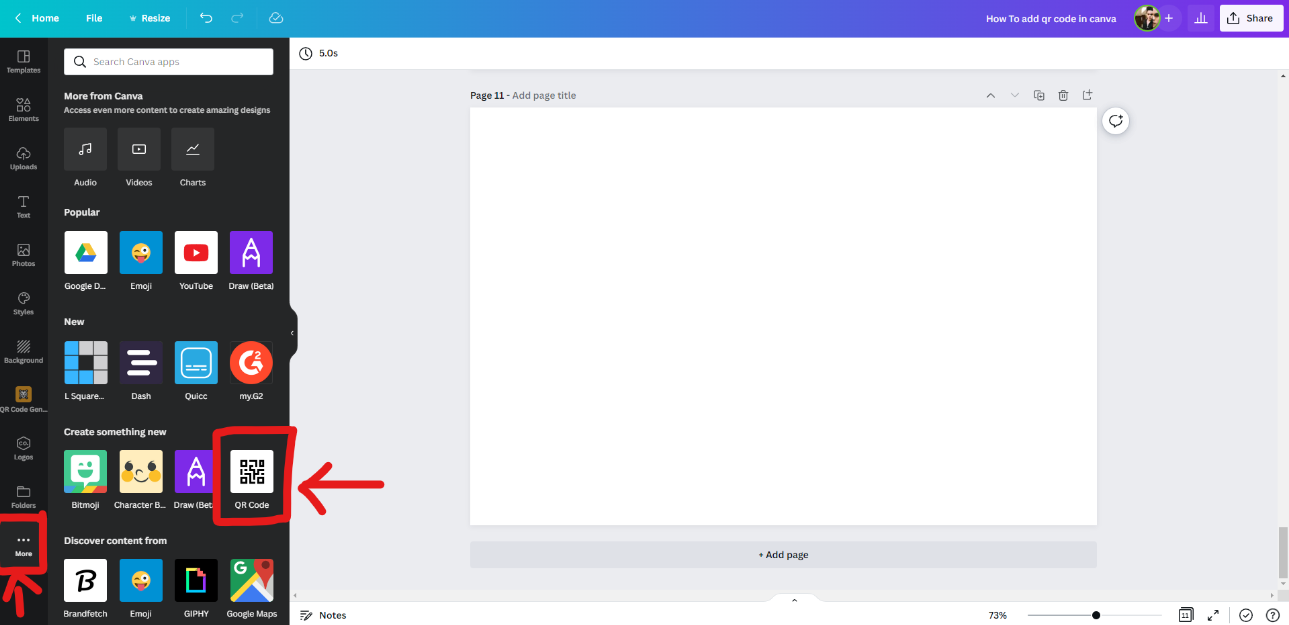 Step 3: Find the Qr Code Option
Inside more options, search for the QR code, you can use the search bar present at the top.
Step 4: Enter Your URL
It will now ask you for a website URL that will be embedded inside your QR code, now enter your URL and the URL could be of your Etsy store, your website, or your social media profile, wherever you want your customer's to redirect.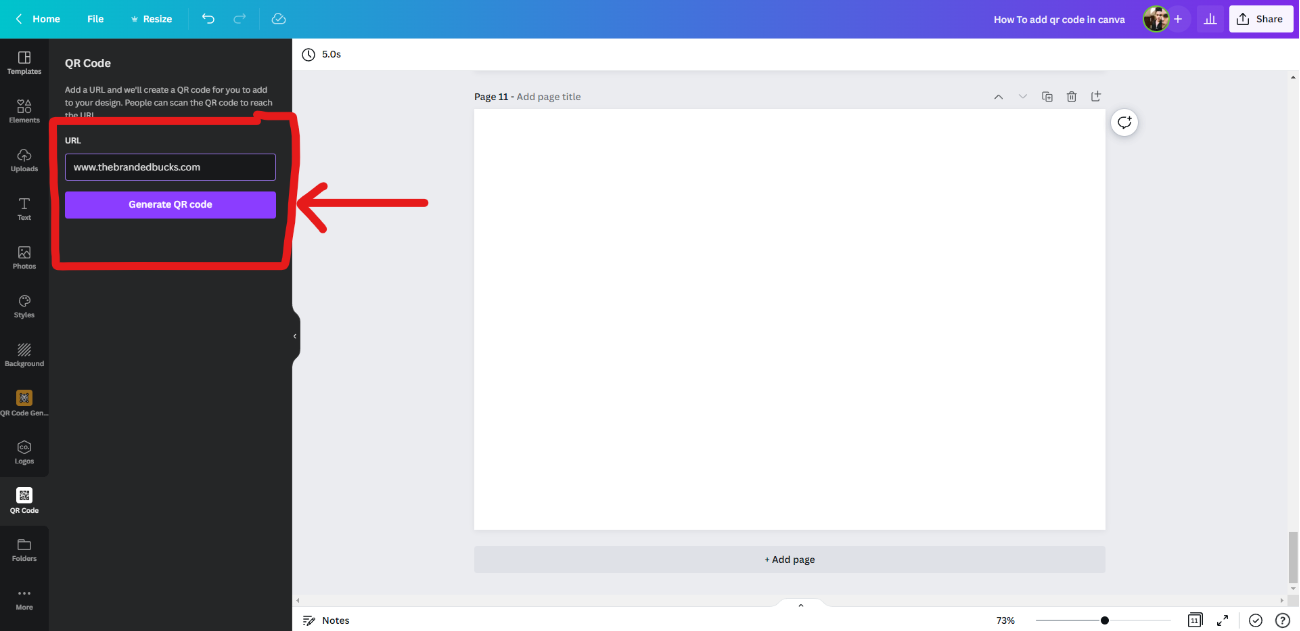 Your QR Code is now generated, just place it anywhere on your design. If anyone scans this QR code using their phone they will be redirected to the URL that you have entered.
Step 5: Add Additional Elements (Optional)
If you want to print this QR code, you can make it more engaging using text, elements, etc
For eg. I have added a little arrow and the text "Scan Me" to make it more engaging.
Final Words
In conclusion, you now know how to make a QR code for your Etsy shop in the easiest way possible.
With this knowledge, you can easily create a custom QR code for your shop and share it with potential customers.
Creating a QR code is surprisingly simple but can be incredibly powerful when it comes to marketing your Etsy store.