Searching for different tips and tricks to gain more followers on Pinterest?
Tried everything but nothing seems to work?
If your answer to both questions is yes, you have landed in the right place.
Pinterest is not only a popular social media platform but is a visual search engine as well where people come and search for their queries.
It is mind-blowing to see how many businesses, entrepreneurs, bloggers, and influencers are using Pinterest as their marketing tool.
Even I myself grew my Pinterest account to almost 2 Million monthly viewers in less than a year and it is my primary source of traffic now.
So in today's article, we are going to take a look at how to increase followers on Pinterest.
But before starting let's first know if does follower count even matters on Pinterest or not.
Does Follower Count Really Matter On Pinterest?
Does follower count really matter on the Pinterest app? – Yes and No!
Let's understand this.
Pinterest is a social media platform and visual search engine where the user will search for pins by putting keywords in the search bar and will click on pins if they are aesthetically pleasing to them.
So that means keywords are the primary way people will find you and your pins. But what is the role of followers then?
When you post a pin on Pinterest, it is first shown to your follower's feed. Depending on how your followers react and interact with your feed, Pinterest will then show your pin to others.
So does follower count really matter on Pinterest?
Yes, if you have a good amount of active followers on Pinterest, your pins will get a good initial boost as your pins will be shown in your followers feed by Pinterest algorithm.
But that does not mean you will not grow on Pinterest if you do not have a high number of followers.
Having a good amount of followers is a bonus but you having low amount of followers doesn't affect your growth in any way.
Even I reached up to 1 Million monthly viewers with less than 1000 followers.
You just have to focus on the right keywords, create content that people are looking for and focus on your pins.
Here are some tips which will surely help you to gain a good amount of followers on Pinterest.
How To Get More Followers On Pinterest
Yes, it is true that the Pinterest platform is visited by 150 million users each and every month. Pinterest is quite famous among millennials and the majority of the users are female.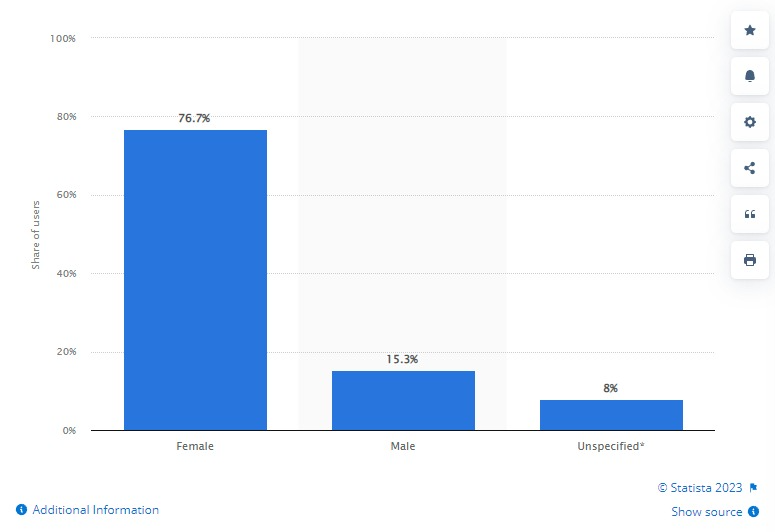 The popularity of the Pinterest app also means that it is a saturated platform and you may feel overwhelmed to gain followers.
If you are in a similar position where you can not increase your follower count on Pinterest or do not know where to start, you are at the right place.
Here are 5 tried and tested tips that you can use to gain followers on Pinterest. Use them and see your follower count increase in no time.
Focus On Keywords And Pin Visuals
The first thing you need to know is who's your audience on the Pinterest? what are they searching for? what keywords do they usually search for? what kind of content do they prefer to consume?
You can easily do all this research by using Pinterest platform alone, just search for something on Pinterest in your niche and see what keywords Pinterest suggests you and what type of content shows up.
People love to use Pinterest because of the aesthetically pleasing pins and feeds. Most of the popular niches on Pinterest are crochet, DIY, home decor, cooking, skincare, parenting, makeup, etc.
People will search keywords on Pinterest, and Pinterest will show them pins based on their query, so make sure that your pins are optimized for SEO in order to gain better discoverability.
Make sure your Pin Title is having the targeted keyword that you want to rank for.
Descriptions also play an important role in your pins. Add relevant keywords to your description and also use hashtags so that people are able to find you easily.
Once you have made sure that your pins are SEO optimized, now is the time to make your pins visually aesthetic.
Use only high-quality images, bold and easy-to-read fonts, and proper pin size.
Because most people use Pinterest on their app, use vertical images rather than horizontal ones.
Use Idea Pin
Never heard of Idea pins let alone use them?
If the answer is yes then you surely are missing out.
But wait, what are Idea pins?
Idea pins on Pinterest are multi-page (maximum 20 pages) images, text, or video pins. You can think of Idea pins as more than one Instagram story uploaded at the same time.
Idea Pins are a great way to directly engage people on Pinterest and produce creative content. Yes, you do not need any extra app or tool to make idea pins as you can make them directly on Pinterest.
Instagram stories or stories of any other social media platform do not last more than 24 hours. But these idea pins are permanent and other Pinterest users can pin idea pins on their accounts.
As Pinterest Idea pin is a new concept introduced by the app, the Pinterest algorithm favors them.
Using Idea pins can increase your reach and more people will interact with your content and follow your account even if you have a brand new account.
Be a Regular Pinner (Follow 80/20 Rule)
Do you know what advice Pinterest gives to build an audience?
Consistent create new pins for your Pinterest account and also repin relevant pins to your board.
My recommendation is to follow the 80/20 rule, i.e post 80% of your pins and 20% of other's pins.
So if you plan to upload 10 pins daily, 8 pins must be fresh and newly created by you, and 2 pins you can repin from others's but make sure that pins that you are repinning should be relevant to your board.
By remaining active on Pinterest, you will be aware of the ongoing trends and hot topics in your industry. You can customize your pins around the trend to get more reach.
So make sure that you are active on Pinterest, upload pins regularly, interact with other boards, pin other users' pins, and follow people's boards.
Leverage Video Pins
If you want to see a spike in your Pinterest follower counts, you need to start uploading video pins on your account.
Note: Here Is an example of a Video Pin By YarnHild.
It does not matter whether you are using a business account on Pinterest or a personal account, short video pins are the trend (same like TikTok, Insta Reels and YouTube Shorts)
In simple words, videos increase engagement rate more effectively than photo pins do.
Also, just like Idea pins, Pinterest algorithm favors video pins and if your content is solid your video pins will go viral in no time.
You should not, however, depend directly on video pins. Having a mix of video and photo pins on your account is a practical strategy to connect with your audience and gradually increase interaction.
Additionally, it is critical to make sure your pins are relevant and purposeful. Make video pins to connect with your audience and develop brand loyalty rather than merely because they increase interaction.
Join Group Boards
Group boards on Pinterest, if used in the right way, can be a great way to get initial reach and followers.
Group boards are not just limited to one user, instead, multiple Pinterest users can pin their pins on these group boards.
And because these group boards already have multiple Pinterest users pinning on them, your pins will get more reach and eyeballs even if you do not have any followers.
Whenever you pin something in a group board, people who have already engaged with that group board in past will see your pins in their home feed.
But make sure that you post only on those Group boards which are relevant to your Niche and company.
Search Group boards and check out whether they post pins related to your niche or not. If they do, follow them and put in a request to join the group board.
How To Join Group Boards?
You can directly join some group boards by clicking on the Join button as can be seen in the image below.
This group board is openly accepting new contributers and you can directly put a request to join the group board by clicking on the join button.
Once the admin approve your join request, you will instantly become a member of this group board and can start posting, however please follow the rules and regulations of the group board and do not SPAM!!
Some group boards usually do not have any Join button because their admins have put restrictions and are not openly accepting new members.
To join such group boards, read the instructions to join which are usually provided in the group board description.
Usually, you have to email them, follow their group board and their profile, and they will then send you an invitation on your Pinterest account to join their group board.
How To Get More Followers On Pinterest – Tips For Business Accounts
Using Pinterest as a marketing tool for your business is the best decision you have taken.
Pinterest has a large number of active users and it is really a gold-mine strategy to promote your business.
If you have a business account and need to gain more followers, follow the above-mentioned tips.
Along with them, here are 4 additional tips which you can use to gain more followers on Pinterest and promote your business.
1. Pay Attention To Your Brand Name And Profile Name
One of the most important steps in optimizing your Pinterest profile is to pay attention to your brand name and brand profile.
Your Pinterest username will tell your audience what your company does. And that is why both your Pinterest username and company name should be the same.
All your social media platforms like Facebook, Twitter, Instagram, and Pinterest should have the same username.
This makes it easy for someone to find your company across all social media platforms.
2. Claim Your Website
Claiming your website on Pinterest is a great method to appear more reliable and trustworthy if you already have a website.
A claimed website will look something like this on your profile, which will look really legit and trustworthy to your audience.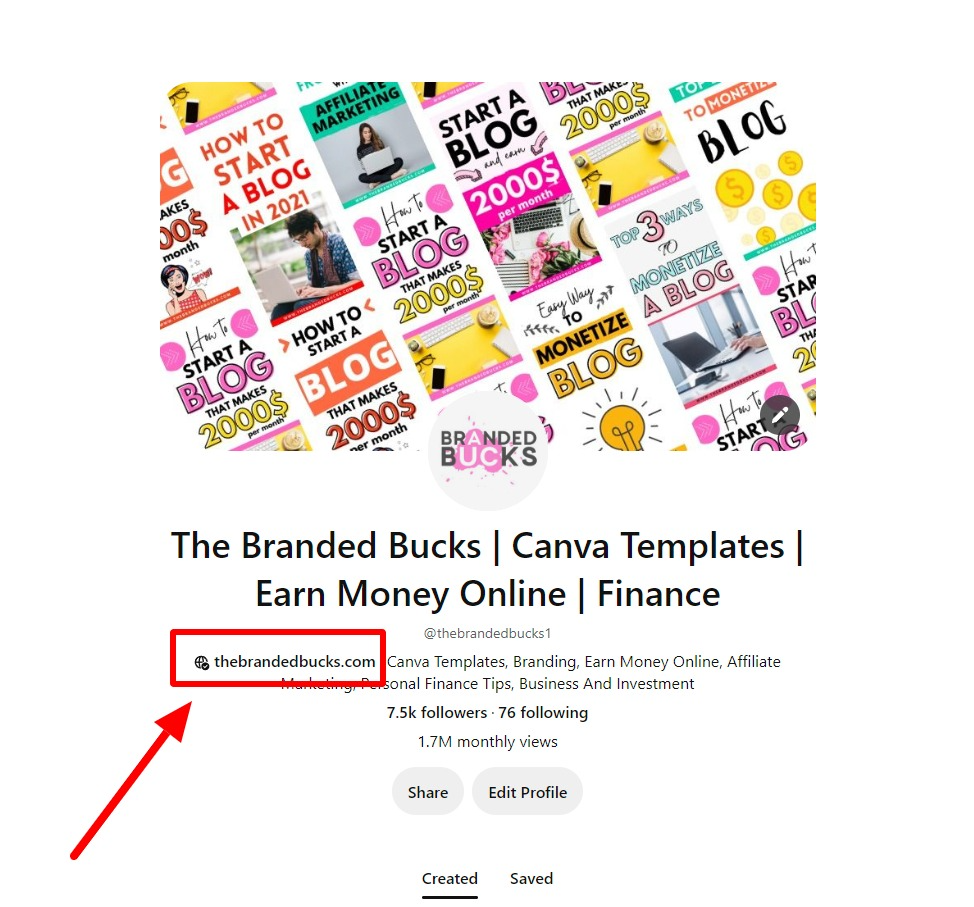 Here are some benefits of claiming your website on Pinterest:
Increased visibility: Claiming your website allows Pinterest to trust you and your content and your content is more likely to be seen by users who are searching for specific keywords or topics related to your website.
Rich Pins: Claiming your website also enables you to use Rich Pins, which are enhanced pins that provide additional information about your content, such as product pricing, availability, and more.
Rich Pins can help make your content more engaging and useful to users, which can increase engagement and traffic to your website.
Verification Tick: Another benefit of claiming your website on Pinterest is that you may receive a verification tick next to your website URL. This tick signifies to users that your website has been verified by Pinterest, which can help build trust and credibility with your audience.
More information on claiming your website on Pinterest can be found here.
3. Focus On What's Working and Dominate It
It is really important that you keep evaluating your Pinterest pins and website content and keep an eye on what's working and what's not.
If you have any pins on your Pinterest boards which are not performing well or pins which do not provide value for your audience, delete them.
Keep creating new boards for your Pinterest account regularly and if you see something is working maybe a board is performing well or a pin is going viral then repeat that stuff again and again with some changes and you will see similar results again.
For eg. let's say my "Blogging For Beginners" group is doing really well and gaining thousands of impressions every day then I will create a few more boards around blogging and name them "Beginner Blogging Tips", "Blogging Hacks", etc and pin similar content in these boards too.
This will double or triple my reach in no time.
4. Deliver What You've Promised
Ok, suppose you clicked on a pin showing 5 diet-free and exercise-free ways to lose fat in your body. You keep scrolling and scrolling but don't find any relevant content on that website.
How would you feel?
Irritated? Even angry because that pin has wasted your time?
But more than that you will make sure that you never interact or click on that user's pin.
This is what happens when you do not deliver the promised content, product, or information to your user.
Your audience and potential customers will feel cheated when they do not get what they were promised.
Make sure that your pins direct your followers and potential customers to the right blog or product.
Upload the right content on your website so that your followers get the information and content they were looking for.
This will increase the trust between your audience and they will surely follow you.
FAQ
Do Hashtags Work On Pinterest?
Yes, hashtags work on Pinterest.
There were times when marketers used to advise people to not use hashtags because they are of no use.
Some users thought they were spam and unnecessary because the social platform Pinterest had not yet used the tool.
But in September 2017, everything changed. Pinterest announced that the app was actively pushing hashtags as a new method of organizing and promoting content on the platform.
Like hashtags on Instagram, Twitter, and other social media platforms, hashtags help organize content and pins on Pinterest.
It would be simpler for a user to find what they are searching for without scrolling all over the place if a Pinterest user could search for "DIY videos" and view all Pins with that hashtag in the description.
Just make sure you use relevant hashtags in your content and do not just spam random hashtags.
What Are Popular Topics on Pinterest?
If you are still not using Pinterest as a promoting tool for your business, you are missing out.
But what are the popular topics and niches on Pinterest? What are people searching for on Pinterest?
Here is a list of Pinterest categories that are popular on the Pinterest platform.
Travel
Health and Fitness
DIY
Home Improvement & Renovation
Fashion
Beauty
Food
Craft
Quotes
Home Decor
Wedding
Art
Novels
Final Thoughts
So, there are various ways to increase your Pinterest followers.
By optimizing your profile for SEO, creating visually appealing pins, joining group boards, and posting in-demand and trending content, you can attract a wider audience and grow your following.
Remember to engage with your followers and consistently provide valuable content to keep them coming back for more.
Building a strong community on Pinterest takes time and effort, but with patience and dedication, you can achieve your goals and reach more people with your content.
So go ahead, put these tips into practice, and watch your Pinterest followers grow!
Hey there! I'm Rohit Lohia, a passionate SEO enthusiast and the proud founder of Branded Bucks. I'm all about helping small business owners achieve success online through my blog. Join me on this exciting journey as we explore ways to make money online and build a thriving digital presence.