This post may contain affiliate links and we may receive a commission if you make a purchase through our affiliate link at no extra cost to you. Please read our disclosure policy for more information.
Sometimes, you just wanna block someone out on Etsy, you know?
Like, whether you're a seller dealing with some annoying customer or a buyer who wants a shop owner to stop bugging you, you'd think that hitting that "block" button would solve all your problems and make the harassment disappear.
But here's the thing, blocking someone on Etsy ain't as powerful as it seems.
It's like, what does it even do? Does it really put an end to all the drama?
So if you also have these questions in mind:
what happens when you block someone on Etsy
how to block a seller on Etsy
how to block a buyer on Etsy
how to block a shop on Etsy
Then this article is for you.
So now the main question is can you block someone on Etsy?
And the answer is yes, Etsy gives you the option to block but it has a catch, let me explain you.
What Happens When You Block Someone On Etsy?
Ok so here is the thing, unlike other social media platforms, blocking someone on Etsy doesn't t prevent them to contact you or to buy anything
When it comes to blocking someone on Etsy. Blocking only keeps them from snooping around your personal account stuff like your personal account activity but it doesn't stop them from contacting you or checking out and buying items from your shop.
It's like they can still knock on your door and peep through the windows. Which is kinda annoying but that's how it is.
If someone is still annoying you and constantly spamming you, you can reach out to Etsy support and let them know what's going on.
They're the ones who can step in and put a stop to all that unwanted spam and purchasing.
So don't hesitate, give 'em a shout and let 'em handle the situation for you.
Related Articles
How To Block Someone On Etsy?
A lot of people have questions like "is there a way to block someone on Etsy ?"
In order to block someone on Etsy, you need to visit the user's profile.
Once you visit their profile you need to scroll down and find a button called "Block This Person".
Once you hit the button, the user will be blocked and won't be able to see your activities.
The main thing is that they won't be notified about this block. So you don't have to worry about it.
How To Block a Seller On Etsy
To block a seller on Etsy, first visit their store and click on their profile by clicking on the name that is displayed on their store page.
And after that, you can scroll down to the bottom and click on "Block This Person" the same as we did above.
That's how you can block a seller, however, the same conditions are applied here as well, blocking won't prevent them from contacting you, you will just stop receiving their recent activity in your Etsy feed.
If a seller has scammed you, instead of blocking him, you should report his store by visiting their store page and clicking on "Report This Store To Etsy".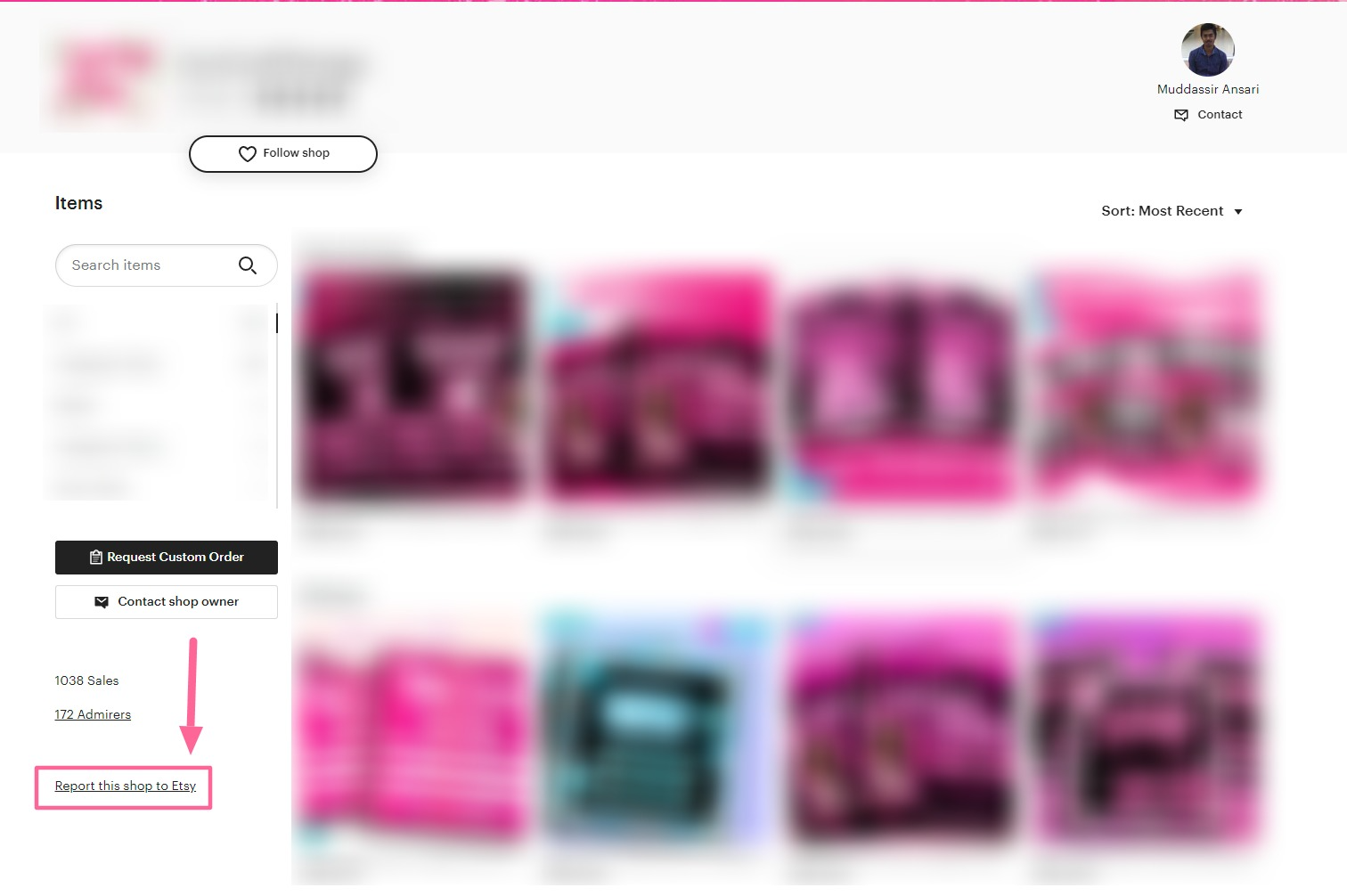 If I Block Someone On Etsy Can They See My Shop
Yes, even if you have blocked someone on Etsy, they can still see your complete shop and even make purchases and leave reviews. Currently, Etsy does not have any system that will prevent blocked people to view and purchase from your shop.
However, you can always cancel those orders but it won't stop them from ordering again from your store.
Sometimes people will start targeting you, they will make purchases on purpose and then leave negative reviews on your store to destroy your business.
In such cases, you can contact Etsy support and let them know the whole situation, screenshots, and proofs will come in handy.
If they were found to be harassing you, their account will be permanently blocked by the Etsy team.
Some people say that Etsy will ban their IP address as well so that even if they create a new account they will be auto-banned again but I am not really sure about this.
How To Block Someone From Messaging You On Etsy
Unlike other platforms, you cannot block someone completely from messaging you.
However, if it is the first time, you can ask them politely not to contact you again and not to buy from your store in future.
If they keep spamming you again and again, you can mark their messages as "SPAM".
If multiple people including you mark the user's conversations as spam then Etsy will take notice and may block the user's account for spam. Etsy can also contact you via email for knowing the exact matter.
One thing you can also do is report the buyer.
How To Report A Buyer On Etsy?
Unlike sellers, buyers cannot be reported directly on Etsy. There is no Report button on a buyer's profile.
In order to report a person, you have to contact the Etsy support team. You need to explain to them the whole situation and the reasons why you want to report the user.
You can also provide screenshots for proof to make the case stronger.
After getting all the details Etsy will contact the buyer on your behalf and ask them to stop contacting you.
If they contact you again, they will be banned from the platform
If You Block Someone On Etsy Can They Leave a Review
Unfortunately, Yes, even if you block anyone on Etsy, if he had purchased anything from your shop then he can leave a review within 100 days of the purchase.
So if a buyer is having a problem with the order, try to fix it asap as blocking them on the marketplace won't prevent him from leaving a negative review on your store.
FAQ
If I Block Someone On Etsy Can They See My Shop
Yes, even if you have blocked someone on Etsy, they can still view your shop and even can place orders and leave reviews.
How To Tell If Someone Blocked You On Etsy
No, you cannot tell in any way whether someone has blocked you or not. Etsy never provides any type of notification whenever someone blocks you.
If You Block Someone On Etsy Can They Still Message You?
Yes, even if you block someone on Etsy, they can still message and make purchases from your shops.
How do I block someone from following me on Etsy?
I don't think you can block someone directly and prevent them from following your profile but you can block the person who is following you to prevent them from seeing your actions in their feed. All you have to do is visit their profile page and click the Block link at the bottom left.
Note: Etsy won't notify the member that you blocked them.
Before You Leave
So I hope I have answered your question "how to block someone on etsy".
Now before you leave I want to tell you something important, see there can be situations where you might have used copyrighted items in your Etsy store, maybe in listing images, titles, descriptions, etc.
Your buyers can take advantage of that and may report you to Etsy to destroy your business, so I have prepared a full in-depth guide on how to avoid copyright on Etsy.
I suggest you read this article and figure out if by mistake you have used any copyrighted material in your store.
Got any questions? Comment down below, i will reply to you asap!!
Hey there! I'm Rohit Lohia, a passionate SEO enthusiast and the proud founder of Branded Bucks. I'm all about helping small business owners achieve success online through my blog. Join me on this exciting journey as we explore ways to make money online and build a thriving digital presence.