This post may contain affiliate links and we may receive a commission if you make a purchase through our affiliate link at no extra cost to you. Please read our disclosure policy for more information.
Have you ever wondered how to become a content creator and start making some money?
Maybe you had and even tried to be the one but due to the competition and hard-to-crack algorithms of social media platforms like Instagram, and Facebook, you left your content creator journey in middle.
Isn't it?
But let me ask you one thing. Have you ever tried becoming a Pinterest creator?
Well if you don't know Pinterest has recently released its creator fund and now creators can make money on Pinterest by posting inspiring content.
So if you love creating content to help people, then becoming a Pinterest creator is a great way to make some extra money.
You can easily earn $1000 or more per month by creating pins that promote products and services. Here's how to get started:
What is a Pinterest Creator?
A Pinterest creator is like an influencer who creates helpful pins and educates people about various topics.
Their main motive is to help others to achieve something in their life and be a better person.
As a Pinterest creator, you can monetize your interest account using paid sponsorships, affiliate marketing, selling your own products, or by using Pinterest creator reward program.
Wait what is Pinterest creator Program? Let's talk about that.
What is the Pinterest Creator Rewards program?
The Pinterest Creator Rewards program is a Pinterest official monetization program that allows creators to make money on Pinterest for creating inspirational content on the platform that drives engagement.
How does it work?
In the Pinterest creators reward program, you will get some campaigns inside your Pinterest account that has some step to follow, you can choose and campaign of your choice and start it.
Once you start a campaign, you have to complete the requirements related to that campaign before the deadline.
Once you completed the requirements, Pinterest can take up to 1 week to review your submission and credit your reward.
Note: Pinterest says that it is not necessary that all the creators will get paid for a specific campaign even if they met all the requirements.

Because too many creators are going to apply for 1 campaign and if their submissions are better than yours then definitely you are not going to get paid for that campaign.
But if you failed to get the reward, do not panic, learn from other creators and see what special they are doing, i am sure that next time you will be able to improve yourself and get the reward.
Here's what a reward campaign inside Pinterest looks like.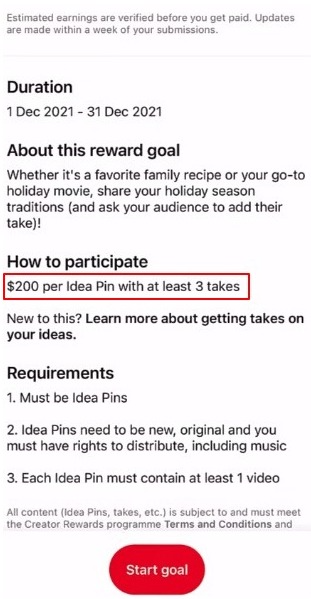 As you can see there are some specific requirements for this campaign, if you will be able to meet them before the deadline you will be eligible to make $200 for this idea pin.
Requirements For Creator Rewards Program
You should have the latest Pinterest app installed in your phone
You should have a Pinterest Business account
Should be 18 years old or over
Be a legal resident of, and located in, the United States or the District of Columbia
You should have at least 250 Pinterest followers
You should have published at least 3 Idea Pins in the last 30 days
You should have a minimum of 150 saves on your all published pins in the last 30 days
All original content
How To Become a Pinterest Creator (Step By Step)
Yes, anyone can become a creator on Pinterest and start making money, you just have to follow these simple steps:
Create a Pinterest Business Account
As I said earlier, in order to become a Pinterest creator having a business account is a must.
You can signup for a Pinterest business account using your details like Name, email, etc.
If you do have a website you can claim your website to your Pinterest business account.
The best thing about a Pinterest business account is that you will have access to analytics inside the Pinterest dashboard that will allow you to see which of your pins and boards are performing better than others.
You will have access to the Pinterest ad campaigns also so I highly suggest you to create a Pinterest business account in order to become a Pinterest creator.
Create Original Content (Including Idea Pins)
Once your Pinterest business account is set up, the next most important thing you need to focus on is creating original content.
You should focus on creating high-quality pins that are helpful and informative.
You can use free online tools like Canva to create high-quality pins for your Pinterest account.
Make sure to include Idea Pins in your pinning strategy as creating idea pins is necessary to get accepted into the Pinterest creator rewards program.
How To Create Idea Pins?
Idea pins are those pins that usually consist of multiple slides including images, videos, texts, tips, etc.
Pinterest idea pins can be helpful in many ways, as you can use them to:
Create a step-by-step guide, tutorial, recipe, etc
Tell a story
Post multiple videos (Short videos) in a single pin
A showcase collection of items, services, etc.
And If you don't know to create idea pins then don't worry, you can read Pinterest's guide on how to create idea pins.
Here is a screenshot of the steps you can take in order to create Idea Pins.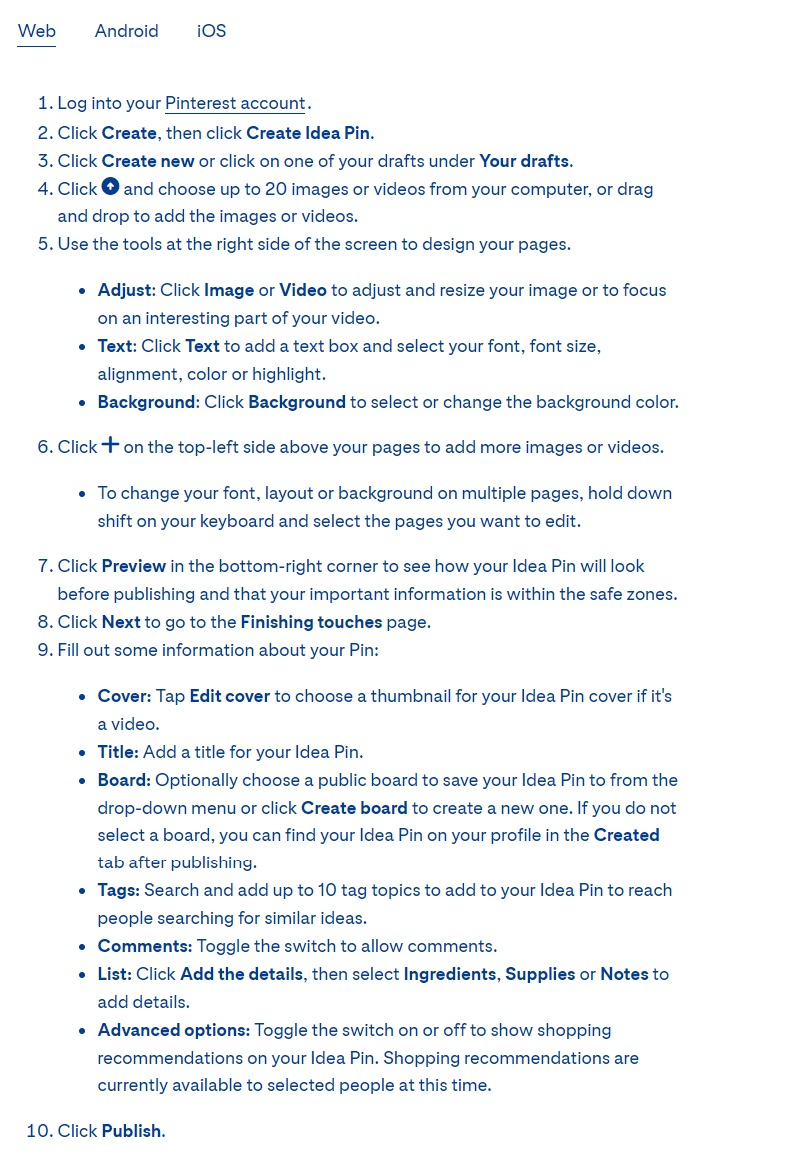 So I hope now you had a good knowledge about idea pins and how to create them.
Sign the Creator Code
After you have created an idea pin, the next thing you need to do is sign the creator code.
It's a pledge to follow Pinterest community guidelines and ensure a safe and positive environment on Pinterest.
By accepting the Creator code, creators admit that they will be posting educational and inspiring content without breaking any of the Pinterest rules.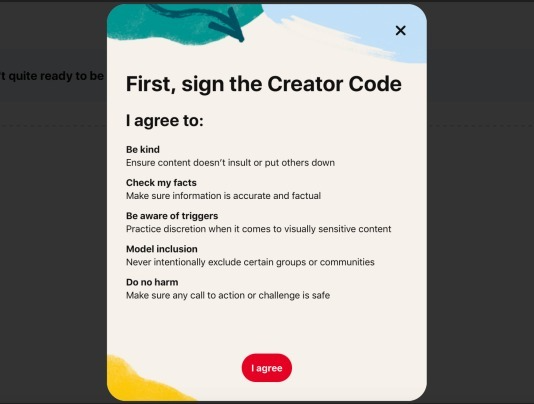 Some of the things included in the creator's code are:
You will not post content that will insult others and put them down in any way.
You will not use misleading, inaccurate, or false information while participating in the program.
You will not post visually sensitive content.
And of course, whatever you will be posting should be original and should not harm anyone in any way.
Once you have read and agreed to the terms, you can click on the "I Agree" button at the bottom of the page.
Once you click on the "I Agree" button you will become an official Pinterest creator and will have access to other Pinterest programs.
Apply For Pinterest Creator Reward
Now that you are an official Pinterest creator, now you can apply for the Creator Rewards program using the Pinterest app in your mobile.
All the requirements for the reward program are mentioned above.
If you meet all these requirements then congrats, you can apply for the Pinterest Creator Reward program by clicking on the "Get Started" button.
Link Your Bank Account
Once you get accepted into the reward program, then you need to link your bank account so that Pinterest can pay you.
You have to provide some documentation to verify your identity and long with that you need to provide an active US bank account also because the reward program is only for US residents right now.
How Much Do Pinterest Creators Make?
Pinterest creators use multiple ways to make money on Pinterest, some of the most common ways are:
Affiliate Marketing
Sponsored Content
Display Ads (Using their blog)
Product Sales
Pinterest Reward Program
And the amount they make depends on many factors such as the niche, the size of their audience, their monetization method, etc.
But on average, a Pinterest creator can make anywhere from $500 to even $10,000 per month.
How To Become a Successful Pinterest Creator
To become a successful Pinterest creator, you need to have a strategy in place for creating engaging pins that draw attention and compel viewers to take action.
Here is my personal strategy that you can copy-paste in order to become successful on Pinterest.
Start by researching what kind of content is popular on Pinterest so you can create idea pins that will appeal to your target audience.
Consider the colors, fonts, and images used in other popular pins and use them as inspiration for creating content that stands out from the crowd.
Additionally, it's important to ensure all your Pinterest pins are optimized with relevant keywords that make it easier for people searching for topics related to your business or niche can find them.
Finally, don't forget to include calls-to-action within the pin descriptions so they know exactly what steps they should take after viewing your boards or posts.
How Many Pinterest Followers Do You Need To Be a Pinterest Creator
To become a normal Pinterest Creator you don't need to have a specific number of followers as anyone can become a creator by creating engaging, informational, and helpful content for others on Pinterest.
But if you apply for the Pinterest creator reward program you should have a minimum of 250 followers.
Do You Need To Have a Website To Become a Pinterest Creator?
No, you don't need to have a website to become a Pinterest creator, all you need is a Pinterest business account to get started.
But I suggest you create a blog or website in your niche as it will build trust between you and your audience.
Final Words
Pinterest is a great platform for content creators to show their creativity and skills and make money at the same time and it's really easy to get started.
All you need is a Pinterest business account, some great pins, and a little bit of creativity and you will be all ready to make money on Pinterest.
If you want to take your Pinterest game to the next level you can apply for the Pinterest creator reward program as it can help you make some extra money.
So that's all for today, I hope you have enjoyed reading this article, if you have any doubts please comment down below, and I will reply to you as soon as possible.
Hey there! I'm Rohit Lohia, a passionate SEO enthusiast and the proud founder of Branded Bucks. I'm all about helping small business owners achieve success online through my blog. Join me on this exciting journey as we explore ways to make money online and build a thriving digital presence.