This post may contain affiliate links and we may receive a commission if you make a purchase through our affiliate link at no extra cost to you. Please read our disclosure policy for more information.
What do you think about the idea of making money online by just doing friendship with strangers?
Weird but interesting right?
Well, the good news is this actually exists and there are multiple websites that offer such services.
In today's world, everyone spends ample of their time on their phones or computer.
So when we think like that it is probably not a very surprising concept to get paid to be an online friend for someone who does not have any friends to talk to or share his thoughts with.
In this article, we will cover everything from what is a virtual friend to how much it can earn, and not only that I have listed the 5 best websites where you can sell your virtual friendship services.
So let's start!
How To Make Money On Youtube Without Showing Face ($10k/mo)
What Is a Virtual Friend? and What They Usually Do?
A virtual friendship can be described as a friendship with a person that you know from the internet and sometimes or never comes to a real-life interaction with them.
A virtual friend usually talks with you through an online medium via text, video chat, or call. He can communicate about anything of his interest or your interest and get paid for his job.
When a person applies for this job, he has to undergo several tests before actually getting hired, the company usually checks whether or not the person is a good for for the job or not.
Also Read: 10 Websites To Make Money By Answering Questions
Why Do People Even Hire Online Virtual Friends?
I know you must be thinking,
Huh, virtual friend? is that even a thing? do people actually hire them?
Well yes, it may sound weird but it's true, people do hire paid virtual friends online.
Why?
Because there are a lot of introverts in this world who struggle to make real-life friends, they usually don't have anyone to talk with and share feelings with.
Loneliness and lack of emotional support are other reasons why people prefer to have virtual friends.
Senior citizens and people with certain disabilities prefer to hire virtual friends as they provide them with emotional support & companionship.
How Much Can You Get Paid As a Virtual Friend?
Now you must be thinking how much people get paid to be a virtual friend, well before you think about some crazy numbers let me tell you one thing, being a virtual friend is not a get-rich-quick scheme.
And I do not suggest you opt for this as a full-time career as a beginner.
Now talking about the pay rate:
According to Rent a Friend, beginners usually charge around $10 per hour for being an online virtual friend.
However, experienced people with good communication skills can earn up to $50 per hour.
It makes sense too, as like other jobs where more experienced players usually get better pay, it's the same here also.
That means the more time you spend on these platforms with clients the more the hourly rate you can charge and the better clients you will get.
I know it is quite mean to charge someone for just being a friend, but that's how it works, if you see it from a different angle you are actually providing them a service that they need.
And you are charging for your time and there is nothing wrong with it.
You are actually helping them out.
Here are some types of people who are more interested in hiring virtual friends:
People experiencing loneliness or social isolation.
Introverts looking for new friends
Senior citizens seeking companionship and support.
People with disabilities.
Travelers in need of virtual companionship or local guides.
Language learners and cultural enthusiasts.
People seeking for emotional support and advice.
How To Make Money By Writing Blogs (Without Experience !)
10 Websites To Get Paid To Be an Online Friend
Renting a friend is not a new concept. It has been around for years, but it has gained more attention in recent times.
Here are the 10 best websites to get paid to be a virtual friend:
1. Rent a Friend
If you are looking for a site to get paid to be an online friend then Rent a Friend is something you might be interested in.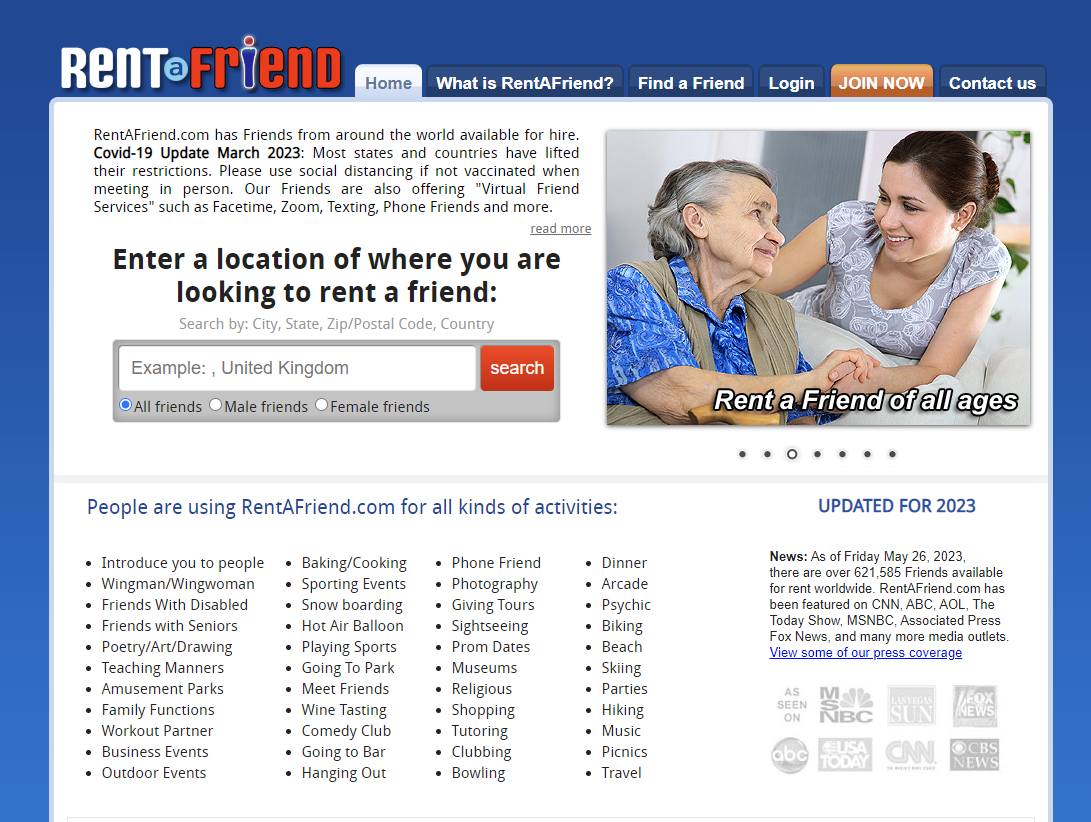 As the name suggests, people can visit the site and rent a friend on an hourly basis.
Rent a Friend was founded in 2009 and till then the platform got over 600,00 registered users.
Rent a Friend focuses more on in-person friendships where people who are new to a certain area, having difficulties making friends, or want someone to hang out with can browse through the list of local people and choose them as friends based on their profile.
But that doesn't mean Rent a Friend does not offer online friendship, they do focus on online friendship as well.
How does It work?
It's very simple, you just visit their website and create a free friend profile over there and add your personal details like name, country, interest, etc.
Once your profile is live, people can search for your profile on the platform and the algorithm matches your profile to the user based on your interest, area, etc.
If they like you and your profile they can hire you as a friend and you will get paid to be an online friend.
A profile page on Rent a Friend looks something like this: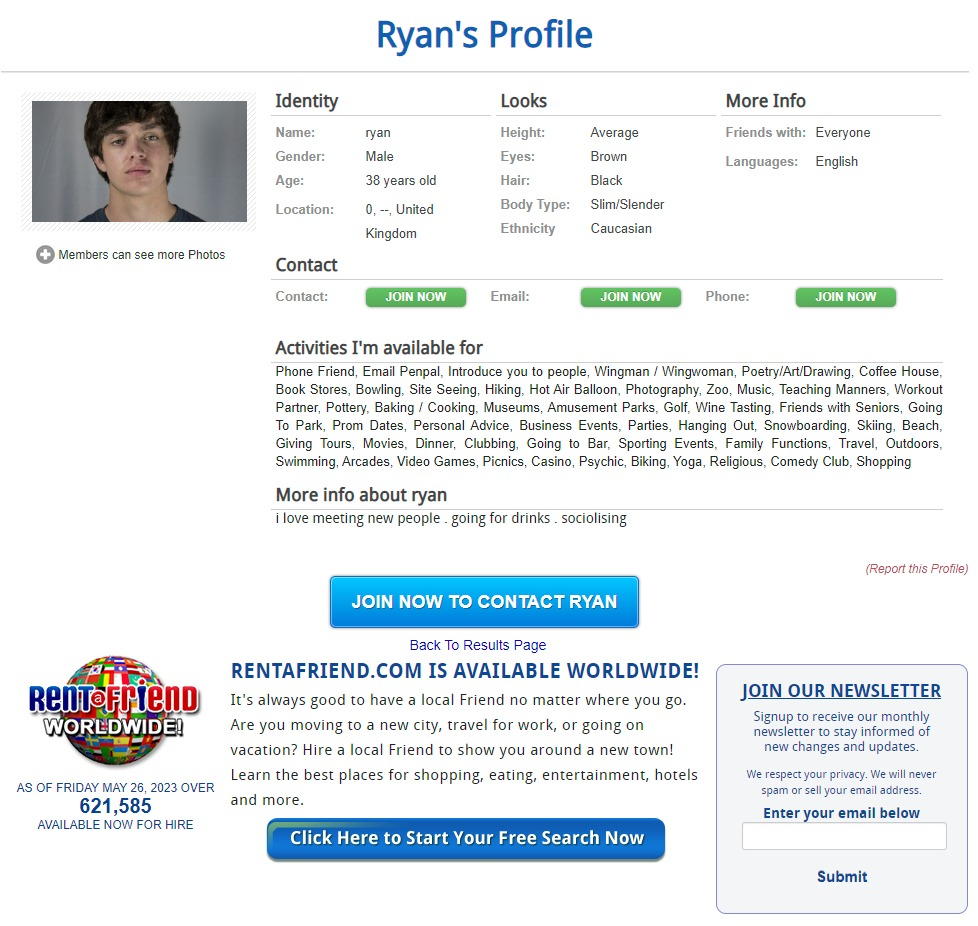 How Much Does It Costs To Create a Friend Account On Rent a Friend?
It costs nothing to create a friends account on Rent a Friend, you can go and signup for free.
How Does Rent a Friend Make Money?
You must be thinking if Rent a Friend does not charge money to create friend's account how doe it makes money?
It's simple, Rent a Friend charges a subscription fee of $24.95 a month from the members (Not from friends) to access their database of friends.
How Much Money You Can Make On Rent a Friend?
According to Rent a Friend itself, people usually start with a base price of $10/Hr and keep increasing their prices according to their experience.
You are free to set your own prices and you can even charge more for additional activities like in-person meetings, hangouts, video calls, etc.
Is Rent a Friend Safe?
Rent a Friend as a platform is completely safe, they do not allow anything more than friendship on the platform and people involved in such activities may get banned.
However you are talking with a stranger online, you need to take your own precautions to be on the safer side, do not share any personal info, image, or video with anyone.
And for In-person meetings, take extra precautions and try to meet people in crowded public places like restaurants or cafes, make sure to inform your family where you are going and keep them updated.
2. Rent a Cyber Friend
Rent a Cyber Friend is a similar site that connects people with similar interests through their platform but unlike Rent a Freind, Rent a Cyber Friend is completely online and does not allow real face-to-face meetings.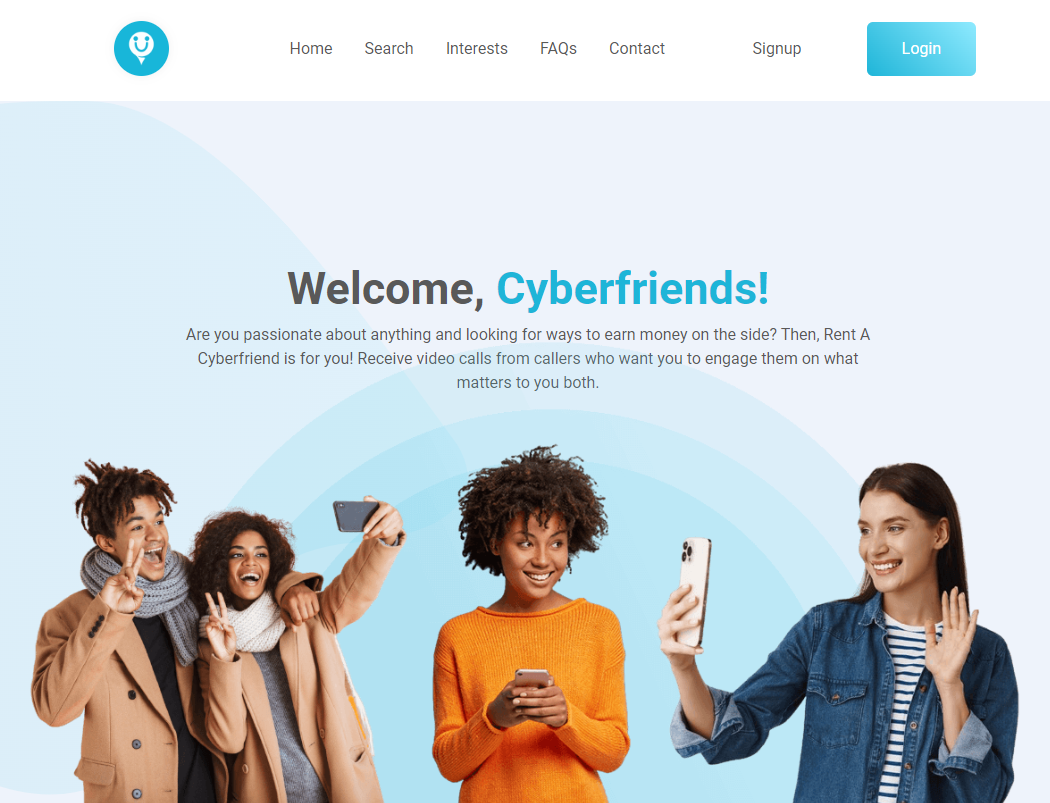 You can create a profile on Rent a Cyber Freind and people throughout the world can hire you as their friend if they like your profile. They can do chats, video calls, etc once they become your friends.
On this site, people usually charge around $0.10-$1.00 per minute.
The platform also charges a flat fee of 20% on your earnings which means based on the above-mentioned charges you will make somewhere around $4.80 and $48 per hour after deducting the 20% platform fee.
To create a profile on Rent a Cyber Friend you must be at least 18 years old and have an active internet connection and a good camera.
Make sure to fill your profile with relevant information and keywords so that it will be easier to find you among other profiles.
For eg:
Hobbies
Location/Area
Skills
Interests
And do not forget about the profile picture, it's the first thing that a user will see before hiring you as a friend.
Best Places To Get Paid To Talk To Lonely People
3. Rent a Local Friend
Rent a Local Friend is another great site to get paid to be someone's friend online but this site focuses more on travel and tourism.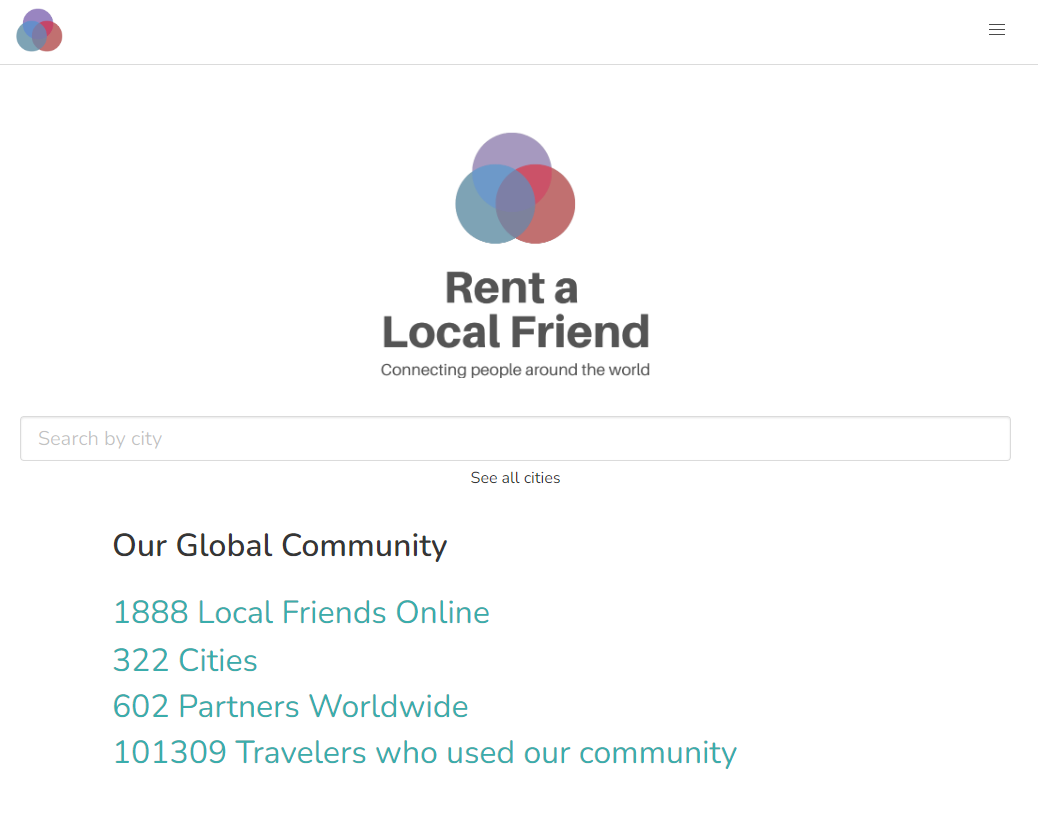 So the main concept of this site is to connect travelers with locals (like you) through their platform so that you can actually help them around your hometown and do fun activities together.
So you will basically act like a tourist guide in the form of a friend.
Does that mean you cannot have virtual friends on Rent a Local Friend?
Not at all, you can even make virtual friends over there and guide them about your hometown online.
You can share your talents, stories, and local tips with travelers and get paid for doing so.
Here is a quick 4 step process to create an account on Reant a local friend:

Yes, you need to contribute a small fee of at least $20 in order to activate your account on the platform, that's kinda weird to me but I guess that's one of their ways to make money.
But the site claim as that you will make up this money by being a friend for an hour if you charge $20/Hr, which makes sense, but you need to get hired for that.
The company claims that the average rate on the site that people charges is $35 per hour so you can also set your rates accordingly.
4. FriendPC
FriendPC is a great platform to get paid as a virtual friend.
It is like a combination of all the platforms we have mentioned above.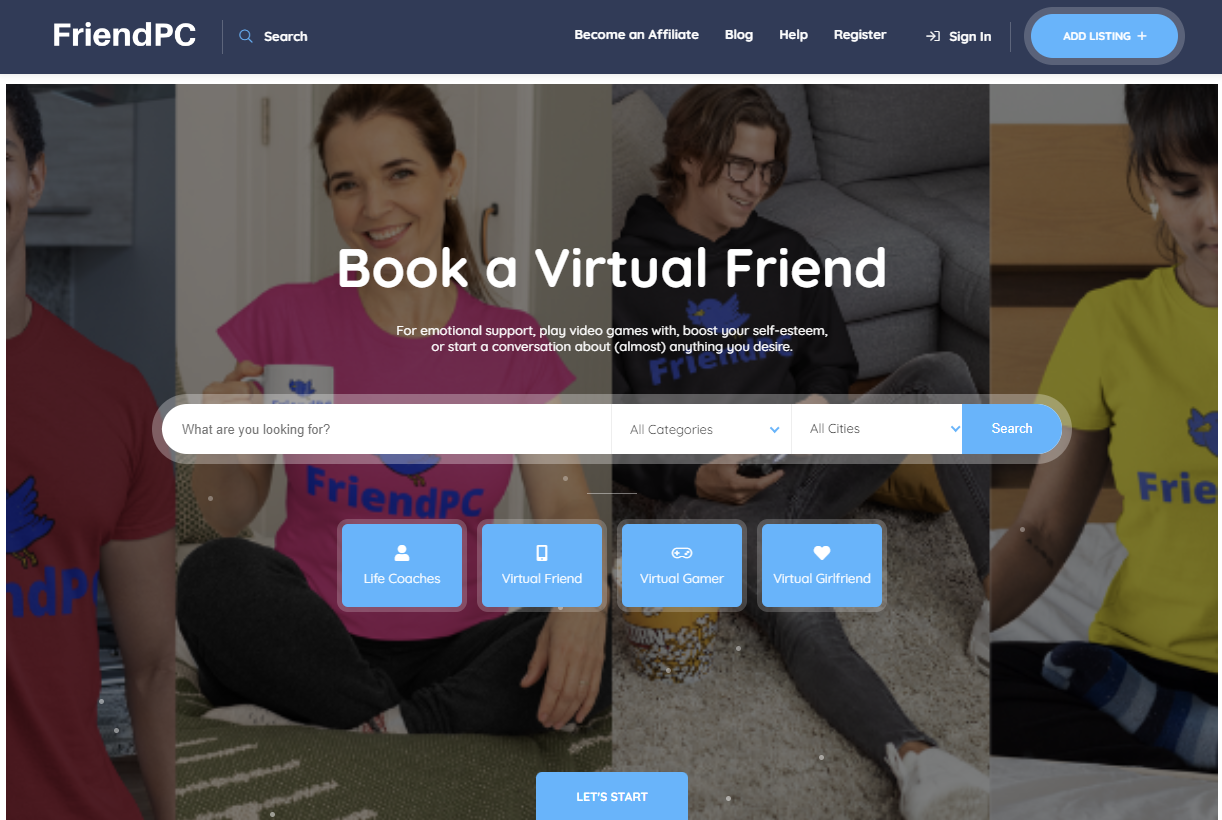 You do almost everything from proving simple support, and companionship to offering in-person meetups, gaming sessions, video calls, tour services, etc.
Not only that, but you can also offer virtual Girlfriend/Boyfriend services and charge anywhere from $5 to $15 per hour for a chat session to $20-$30 per hour for video calls.
You can offer what you are comfortable with unless it is not affecting anyone's life in a bad way.
FriendPC handles all the payments for you so you don't have to worry about that.
You can completely focus on running your online friend business by managing clients, scheduling calls, and setting your rates.
FriendPC pays as soon as you finish your job as a friend so you don't have to wait for weeks and months for your payment.
You can also pay a small monthly membership fee to FriendPC to get extra benefits like getting featured on their homepage.
5. Fiverr Gigs
You must have heard about this website already, Fiverr is a freelancing platform where people offer different types of services (Fiverr call them as Gig's) for different prices.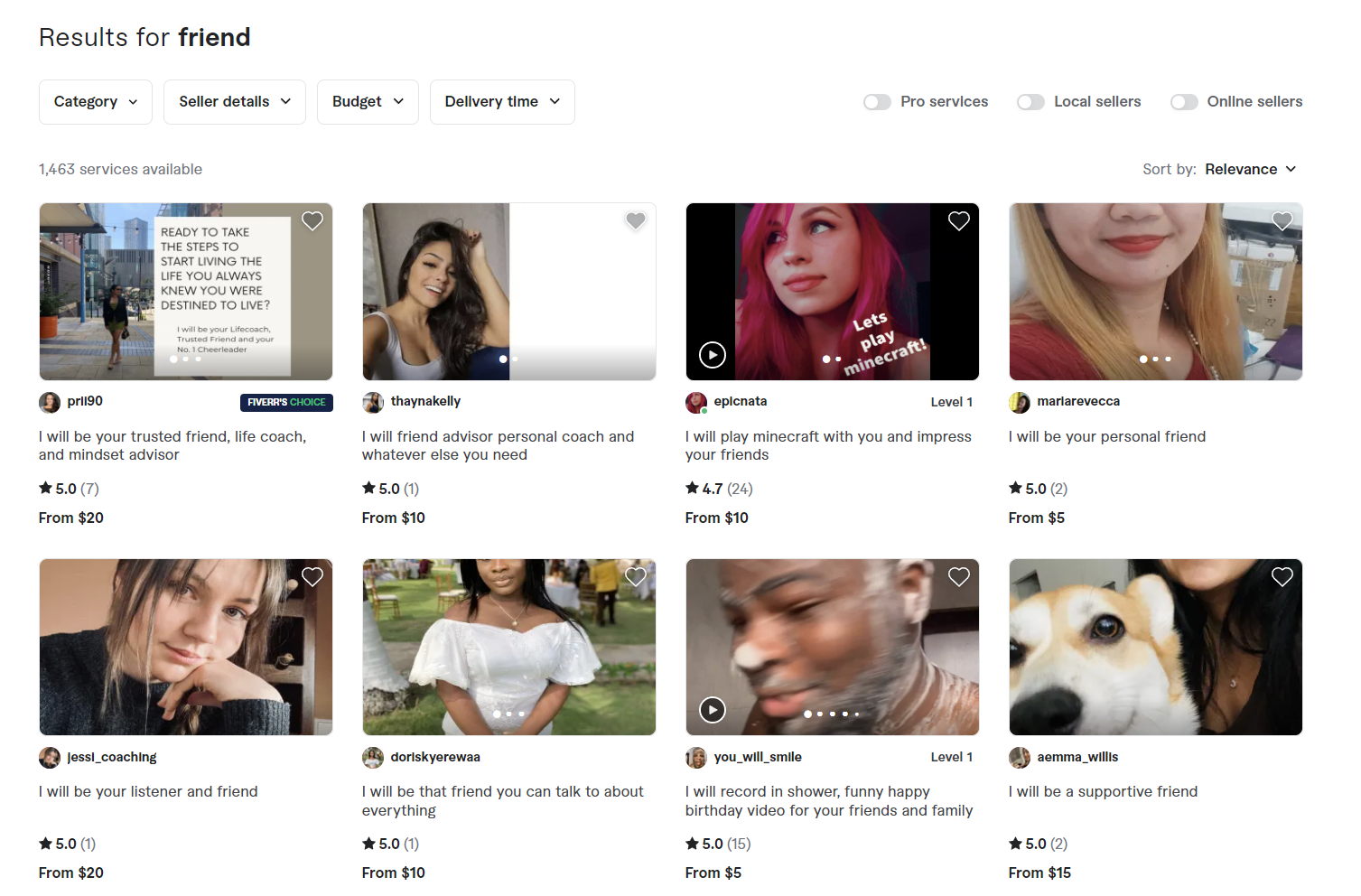 Now Fiverr is just a platform and it is not totally focused on online friendship services.
But I have seen people create gigs on Fiverr where they offer their friendship for a certain price.
While it's true that people are selling their online friends Fiverr gigs but I don't think it's a good idea.
As you can see from the ratings, there is not a huge demand for these types of services on Fiverr.
But yeah if you can get a little creative (like the 3rd gig in our screenshot above), you may end up making good money through Fiverr.
For eg. instead of offering simple friendship services you can offer services like:
Relationship counseling
Life Coaching
Gaming friend
Friend For Youtube Videos (Usually Omegle Videos)
On Fiverr as well, you can set your own rates starting from $5, and keep in mind that Fiverr also takes 20% of your earnings.
Conclusion
So, to conclude making a virtual friend online can be of great help to the ones who do not have anyone to talk to and have a great time with them. Missing out on a good friend in life is no longer an option.
You can very easily look for an online friend on any of the platforms and get satisfactory results from it. It is indeed going to be a very good experience for almost all age groups people. hence. Do not forget to try it out.
Hey there! I'm Rohit Lohia, a passionate SEO enthusiast and the proud founder of Branded Bucks. I'm all about helping small business owners achieve success online through my blog. Join me on this exciting journey as we explore ways to make money online and build a thriving digital presence.